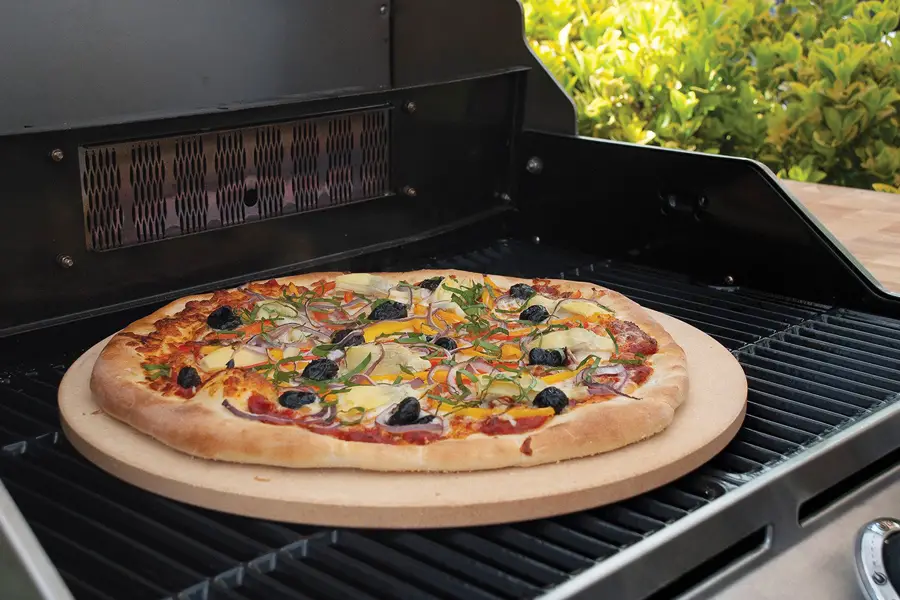 Pizza Stone Reviews
If you love pizzeria pizza, but prefer to bake at home, the pizza stone can produce restaurant quality pizza right in your own oven. It even makes frozen pizzas taste better. In earlier days pizza was made in kilns and brick ovens. Some of the best pizzerias still use brick ovens. The pizza stones resemble this method of cooking. They are built to withstand very high temperatures. This creates a crispy pizzeria style crust, directly from your home oven. After reviewing the pizza stones available on the market, we have narrowed the list down to the few best stones available.
Most Popular Pizza Stone
Honey-Can-Do – Round
The Old-Stone-4461-16-Inch Oven Stone is a round pizza stone that is made from top quality construction, for restaurant quality pizza crust. For smaller ovens or smaller pizzas Old Stone has a 13 inch and a 14 inch stone available. The Old-Stone-4461 is a 16inch stone and is perfect for making pizza, breads, rolls and even biscuits. The ½ inch stone is thicker than most of its competitors and has an additional ½ inch built in pedestals. This thickness gives it the strength to withstand rapid temperature changes. Meaning you can take a premade pizza from the fridge and put it directly on the Old-Stone-4461 without any worry of cracking. It also can withstand the high temperatures of a hot grill. The Firebrick construction allows for excellent heat retention. It heats the stone evenly for perfect crusts every time. To clean, simply wash in hot water, without soap. The material is porous so it absorbs things like soap. The Old-Stone-4461 is made in the USA.
16 inch round stone
Made in the USA
Duplicates pizzeria style crust
Firebrick cast for even heat distribution
Easy to clean in hot water
– Anthony Dawson
Best Overall Pizza Stone
Solido – Rectangular
The Solido Pizza Stone is a 14 inch pizza stone that creates restaurant quality pizza crust right from your home oven. The Solido is a rectangular pizza stone that is 14 inches by 16 inches. It is perfect for baking pizza crust and breads. It is not good for cookies or baking items that contain oils. The oils will absorb into the porous stone and create smells that are unpleasant. If you use the stone for these items be sure to cover the stone with parchment paper or aluminum foil.
The Solido is made in the USA and duplicates pizzeria crust. The Firebrick cast provides excellent heat retention and even distribution of heat. The pizza crust lifts easily off the pizza stone without sticking. To use place the Solido in a cold oven, then pre-heat the oven to 500 degrees. Then add your pizza and bake. Allow the baking stone to completely cool before cleaning or using it again. The Solido Pizza Stone Company has been making pizza stones in the USA for over 30 years. They are thicker and sturdier than other brands and retain heat providing a perfect crust every time. Many customers find they can leave the stone on the bottom shelf of the oven. This helps with heat distribution even when baking other items that are not related to the pizza stone.
14 X 16 inch stone
Made in the USA
Duplicates pizzeria style crust
Firebrick cast for even heat distribution
Easy to clean
– Anthony Dawson
Best Budget Pizza Stone
Pizzacraft
Pizzacraft-PC0102-2-Inch-Rectangular-Cordierite pizza stone is 22 ½ inch by 13 ½ inch rectangular stone. It is made of cordierite for top quality heat retention and distribution. The Pizzacraft-PC0102 arrives ready to use. There is no seasoning or conditioning that needs to be done before using the pizza stone. Since the stone produces uniform heat distribution, the crust of pizza dough and bread comes out perfectly crisp every time. It can be left in the bottom rack of the oven to improve all of your baking. The stone will help with even heat distribution for all of your baking needs. In addition to the even heat distribution, using the Pizzacraft-PC0102 pizza stone will reduce your cooking time for making pizza and breads. The stone is perfect for making artisan breads, rolls and biscuits. The Pizzacraft-PC0102 is easy to clean in hot water. It does not need any soap or harsh abrasives to maintain.
22 ½ inch by 13 ½ inch rectangle stone
Easy to clean in hot water
Cordierite material for even heat distribution
Duplicates pizzeria style crust
Great for making artisan breads, rolls and pizza crusts
– Anthony Dawson
Pizza Stone Buying Guide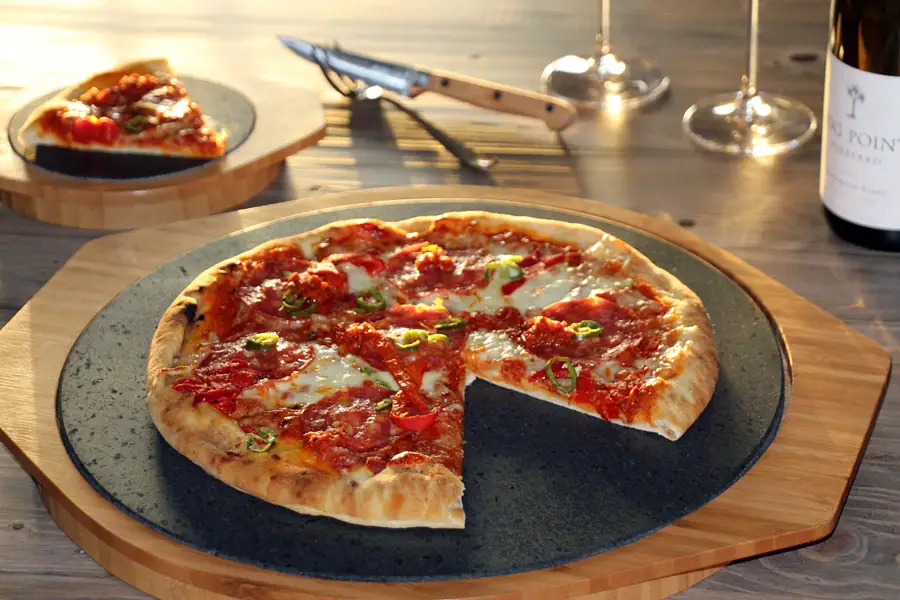 Home-baked goodness is always the best. Today, there are lots of ready-to-eat frozen pizzas but commercial and fast foods just don't cut it. That's why a lot of people prefer to make their own food instead. If you have an oven, then you need a pizza stone to make the best-tasting pizza. Read the following guidelines on how to choose a pizza stone.
What is a Pizza Stone?
A pizza stone is a flat and durable kitchen ware usually made from stone and ceramic. It is interchangeably called baking stone because the uses of a pizza stone aren't limited to making pizzas. It can also excellently make cookies, bread and biscuits. Pizza stones absorb excess moisture from the food, making it crispier. They distribute heat evenly and retain the heat well, resulting to a faster cooking time.
A lot of people have found the same results from using quarried tiles, unglazed ceramic tiles and clay fire tiles that cost from US$3 to US$5 each in home depots and hardware stores. The concern of many lies within the unsanitary handling of the tiles because they aren't meant for baking, these kinds of tiles are placed, stored and handled together with carpentry and masonry materials. Ceramic, clay and quarried tiles are also very porous like pizza stones, so whatever they have absorbed during the handling process, they gradually release during the oven baking process. The taste of the tile would affect the taste of the food, unless it has been repetitively used for baking and it already tastes like food itself.
Extra care should be practiced when preparing food with a pizza stone. Pizza stones are fragile. When using them, it is advisable to preheat them for at least 10 minutes depending on the size to avoid temperature shock, which will cause them to break. Preheat only from 180-220˚C, any hotter can burn the base of the crust while the toppings are not yet fully cooked. Always place them on the lowest oven shelf and start preheating the pizza stone in a cold oven. It is important not to shock it with any sudden temperature change. When taking out the pizza using a pizza peel, the crust would stick slightly to the stone. Simply wedge the pizza peel carefully between the stone and the crust. To avoid the crust from getting stuck hard, preheat the stone well according to the instructions included and sprinkle a dash of flour on the stone after preheating. Be careful not to touch anything inside. After using the pizza stone, do not throw it under running water. Let it cool down inside the oven after turning it off and let the heat dissipate by itself. When finally cool, wash the pizza stone with water and brush only. They are very porous and will absorb detergent and dish washing liquid.
Guidelines on Buying a Pizza Stone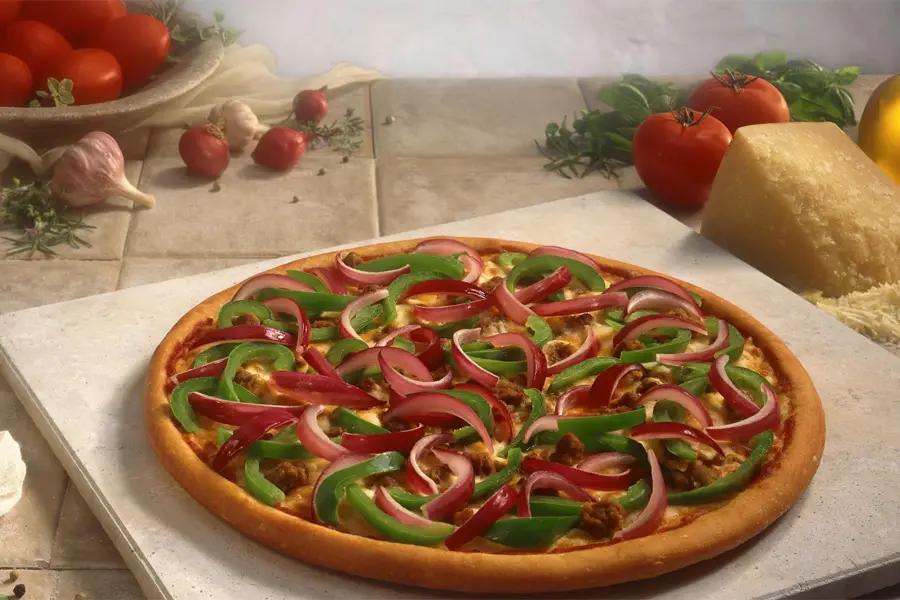 What Matters — Size, Shape and Thickness
The type of pizza stone would greatly depend on the capacity of your oven. Measure the inside of the oven space while it's cool. Some pizza stones can be heavy, so be careful when handling them and never handle a hot one. Common oven mittens aren't thick enough to block away the heat. Thicker pizza stones are better. While ideally pizza crust should be around 1 centimeter thick, pizza stones should be at least half an inch thick. This will allow them to retain enough heat. Thick pizza stones also provide shorter baking time. A 1.25 inch thick 16″x20″ pizza stone have enough heat to bake 4 pies even when the oven is turned off already. Thinner (around ¼ inch) and smaller baking stones are available for making cookies and breads.
Pizza stones are made either circular or rectangular. Circular pizza stones allow the user to rotate it in the oven before and after baking. Rectangular pizza stones are more common to find and suit most oven designs and grills. That said, most ovens for home use can only accommodate pizza stones about 16″ long or 16″ in diameter. Some baking stones come with a metal handle.
Most pizza stones are just light gray, white or hay in color. Dark gray pizza stones are claimed to conduct heat better. If your cream colored pizza stone has gotten black spots and stains, it's time to run them in your ovens clean cycle. Remember not to store the pizza stone away when it's wet or slightly damp. It would cause unwanted molds and unpleasant smell on your stone.
Pizza stones can cost from US$15 to US$100.
In addition to pizza stones, pizza or baking steel is placed above the stone to conduct heat even more resulting in crispier and crunchier bottoms. If you opt to buy a baking steel, do not improvise. Baking steels do not contain chemicals and metals that produce harmful fumes when heated. Galvanized metal, for example, produce zinc fumes when heated.
Customer and Aftersales Service
When buying a pizza stone online, remember that a heavier stone can fetch a high shipping cost, unless it's free shipping. Also make sure that the seller online can be trusted. Poorly shipped pizza stones can arrive broken. There won't be a lot of concern after purchasing a pizza stone and stores won't accept a return just because it didn't make your pizza as crisp as you want it to be or it broke easily. Nevertheless, it should contain instructions on proper care and handling and in some brands, even short recipes using the pizza stone. It should also present a note of caution and must certify that it is free of lead. Most stones are certified by the NSF international. The more expensive the pizza stone, the bigger and thicker it should be, although most won't exceed 2″. Some pricey pizza stones are handmade. They are simply made from terra cotta, ceramic or stone (mostly soapstone) that is specially handled to be suitable for baking.
Ratings and Reviews
Nobody would go wrong from reading reviews and ratings online. Most people voluntarily write their review and rating of their purchase. Do not hesitate to visit Amazon or Ebay to check the brand's rating.