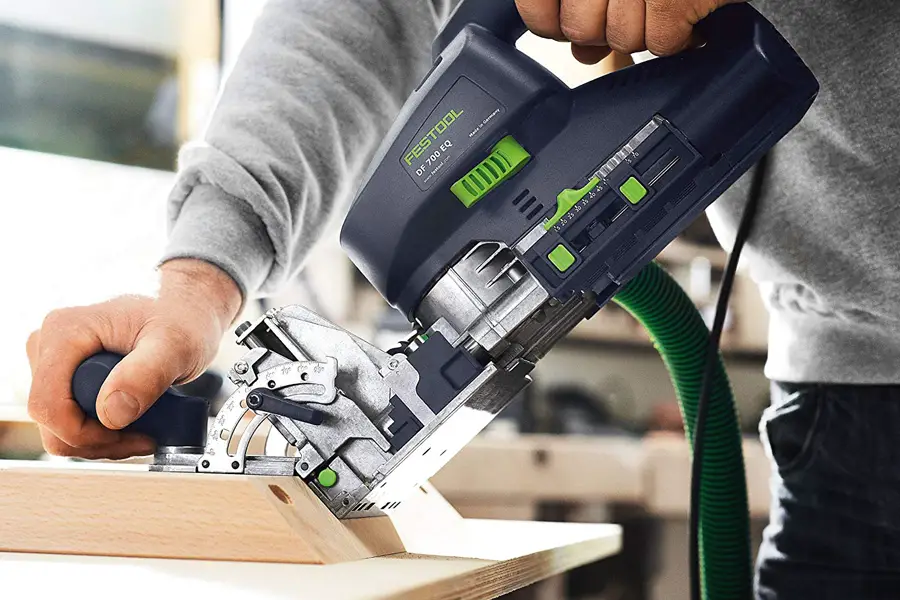 Plate Joiner Reviews
If you love working with wood you will often realize that you sometimes need to join two pieces of wood especially when making relatively large pieces of furniture. For instance if you need to make a wall unit or even a table top it is important to have the various pieces of wood join together as one without being easily noticed. This is why having a plate joiner or biscuit joiner as it is sometimes referred is important. The plate joiner or biscuit joiner is a single use tool. However it does the job so well that it is a must have if you are serious about your woodwork activities. The plate joiner will enable you come up with better pieces as well as making your finished pieces look professionally done. How a plate joiner works is quite simple. A groove of similar size is made in both pieces that you intend to join. A small biscuit is then placed within the grooves as is some glue. The pieces are then clamped together for a firm joint.
Most Popular Plate Joiner
PORTER-CABLE
This is a great joiner which handles various types of wood. It has 7 cutting options that are actually different. It has a 7A, 120V motor that delivers output of up to 10,000 RPM. It has a fence that tilts from 0-135 degrees. It however has a positive adjustable stop at 90 degrees and has a 4″ blade that makes cuts of standard size. There is however an option of using a 2 inch blade sold separately for making smaller cuts. These cuts may be as small as 1.5 inches. It comes with a 4″ blade, dust bag, and centering plate. It also has a chip deflector. When shipped the package weighs in at 3.6lbs. The tool uses a power cord. The tool has an easy mechanism for removing and replacing blades.
Adjustments are easy to make
It is an easy product to handle
It makes cuts quite fast and effortlessly
Quite a portable piece of equipment
Powerful motor works through all kinds of wood with ease
– Anthony Dawson
Best Overall Plate Joiner
Festool
This joiner is a great tool designed to ease your joining duties very effectively. It makes perfect mortises which ensure that you come up with great pieces. The mortises are made using a patented technique which is not only fast but accurate. The tool has a 420W motor which delivers a maximum output of 23400RPM. When shipped the set weighs in at 18lbs although the tool itself weighs just 12.3lbs.
It is a portable piece of equipment and has a fence that is adjustable for joints that are beveled or mitered with ranges running from 0-90 degrees. There are however positive stops at the 22.5,45, 67.5 and 90 degree points. It comfortably handles materials with a thickness ranging from 16 to 40mm.
Very fast in making joints
High precision tool so that you create flawless pieces
Very durable material
It is easy to operate adjustments
Saves time consuming tenon creation time
– Anthony Dawson
Best Budget Plate Joiner
DEWALT
This wonderful joiner from the legendary Dewalt features a 6.5A Motor with a maximum output of 10,000 RPM. The adjustable fence rotates to a maximum of 90 degrees and the design ensures that the fence and blade are parallel. The fence has a notch at the 45 degree point for easy locating. The tool cuts to a maximum depth of 20mm for any type of wood. The joiner can be clamped down to enhance stability and precision. When shipped the package weighs in at 10.8lbs although the tool itself weighs 6.6lbs. This enhances the ease of handling the device. It has standard depth stops for ease of use at 0, 10 and 20 which are the standard sizes for biscuits. The tool creates very accurate joints and is a must have for your joinery needs.
The switch location is excellent
The ability to clamp it down is simply priceless in terms of stability and output
It creates accurate joints
It has great power as well as the capacity for adjustments
It has a powerful motor that runs smoothly for a relatively long period of time
– Anthony Dawson
Plate Joiner Buying Guide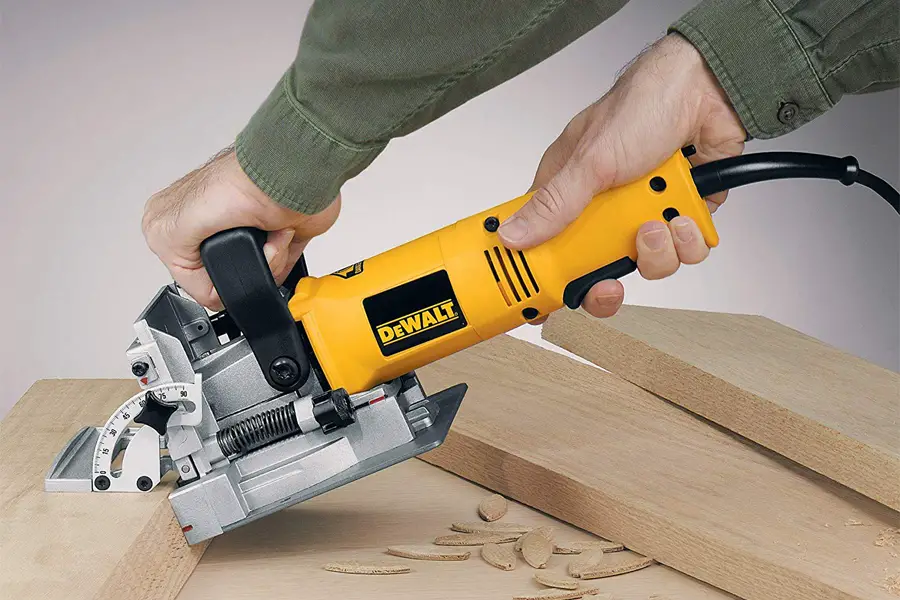 Plate joiner tools are sometimes also referred to as biscuit joiners. Joiners are used to create a strong bond between two pieces of wood. They do this by cutting small openings in wood pieces for adding "biscuits" – small wood fragments in the shape of an oval, hence their name. Biscuits are used by builders to connect separate pieces of wood, and create larger objects. They are inserted into the slots made in the wood by the joiner and glued in place. The final result is a joint that is not visible from the finished surface.
By using a joiner tool, you can create various wood projects such as photo frames or tabletops. Joiners allow builders to create 90-degree corners, offering convenience to what was once a complex process.
Joiner Types
If you're buying a joiner for home improvement projects, a hobby joiner is an inexpensive solution that is suitable for most small tasks. Hobby joiners may not provide the same features a and options as a professional joiner, so if you need to complete more complex work, you'll need a more powerful tool. Below are the different types of joiners available on the market.
Plate Joiner
The plate joiner, also called a biscuit joiner, is a tool that features a 4-inch round blade. The blade has between four and six teeth, and can cut slots for three different sizes of biscuits: #0, #10, and #20. The blade can be changed out for a smaller 2-inch blade, which is used for cutting channels for smaller biscuits.
Detail Joiner
Detail joiners use a 2-inch blade to cut small channels; these allow you to insert mini-biscuits. If deciding between this and a plate joiner, you may want to consider the former, a it's capable of making large and small cuts.
Domino Joiner
The domino joiner is a new advancement in joiner technology. This type of joiner will allow you to make grooves for domino biscuits. Domino-shaped biscuits combine the benefits of a regular biscuit with the precision of a dowel joint.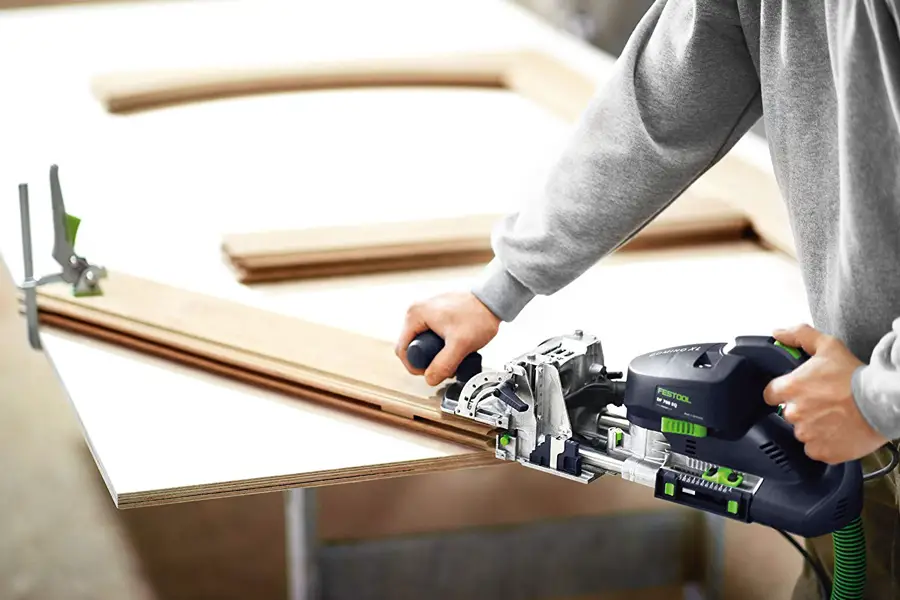 Joiner Features
Among the common features you'll find on a plate joiner tool are stop pins, depth halts, and a dust-collection mechanism. Below, you'll find more details about each of these features.
Stop Pins
Stop pins let you hold the blade in place when making a cut. Make sure the stop pins are securely in place before you begin cutting.
Depth Halts
A depth halt prevents a joiner blade from cutting too deep. With the traditional plate joiner, you can make three different depths of cuts. This allows you to control when the blade stops. When the depth halt is set, the blade will stop cutting at a predetermined distance. Some joiners have more than three depth levels. These additional levels will be indicated on their label by the letters S, D, and M. The added depth halts let you create channels for duplex hinges and other joiners.
Dust Removal
When making a groove in wood, the cutting blade will produce dust, this can be an issue while working. Too much dust can also block the inside of the channel you've cut and prevent the biscuit from being inserted properly. Choose a joiner tool that has a dust bag attached for capturing dust. You can also connect your joiner tool to a shop vac to collect extra dust and debris.
Additional Options
Additional options and accessories for plate joiner tools include replacement blades, wooden biscuits, a clamping plate and glue.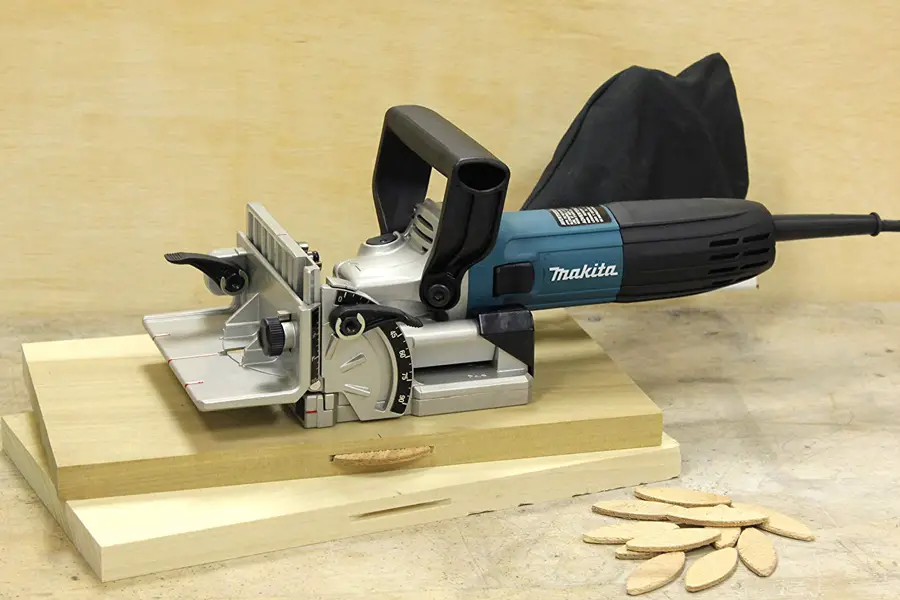 Replacement Blades – Once you've chosen your joiner tool, consider buying a few replacement blades as well. Standard joiners will require a 4-inch blade, while a detail joiner will need to use a 2-inch blade.
Wooden Biscuits – In order to join two pieces of wood together, you'll need biscuits. Wooden biscuits are available in a wide range of sizes, and are usually made of beech wood. Make sure you have an ample supply of biscuits before beginning your project.
Wood Glue – Wood glue is essential to any woodworking project. Make sure you have a lot of wood glue on hand, and consider using a brush to apply the glue evenly to the biscuit.
Clamping Plate – This is used to hold the biscuit in place while the wood glue dries. Clamping plates are great for ensuring a proper set on fragile projects.
Tips
Before you buy a joiner, think carefully about the sizes of biscuits you'll need to use. This will largely determine which type of joiner tool you buy, as most tools are designed to cut for specific biscuit sizes and shapes. If you need to create a unique type of groove, a detail joiner tool may be a better purchase.
Some tools have carbide-tipped blades, which offer better durability. These tools will allow you to make a cleaner groove than joiners that use a steel blade. Look at the joiner's fence, which allows the joiner tool to tilt at different angles. Most joiner fences will let you tilt the tool to a 45-degree angle. Joiner fences let you make precise grooves in angled or beveled wood pieces.
Finally, assess the flush-cut feature of the joiner tool. Some machines don't sit properly on a flush surface, which can cause cutting and joining problems. Make sure your joiner tool doesn't shift when you set it at a 0-degree angle.
Joiners are great tools for connecting wood pieces and creating a variety of woodworking projects. With different blade sizes and options to choose from, joiners make a wide range of simple to complex projects possible. Once you've added a plate joiner tool to your arsenal, you'll wonder how you ever finished wood projects without it.