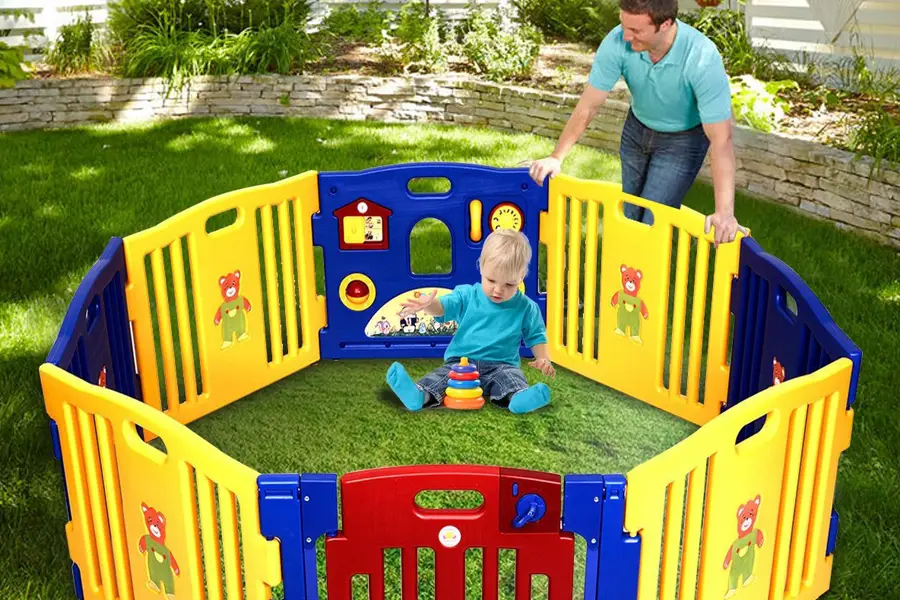 Play Yard Reviews
As children begin to crawl and walk, they have curious minds and want to explore and will want to get into everything. Play yards help establish boundaries for where your child can safely play. This prevents your child from getting hurt and giving the parent the freedom to get things done, like fixing dinner or straightening up the house. The following reviews are products that provide excellent solutions that are safe and secure spaces for your child to play. These play yards can be used inside and outside, are lightweight allowing for easy mobility creating a mobile place for your child to play, keeping the child safe.
Most Popular Play Yard
Best Choice Products 8-Panel Indoor Outdoor Home
The North States Superyard Play Yard comes in a 6 panel or an 8 panel model. The 6 panel play yard comes in color play or grey and the 8 panel model comes in ivory or color play. The color play colors are bright colored panels that include red, yellow, green and blue. The North States Superyard Play Yard is made if weather resistant plastic enabling you to use the play yard both indoors and outside. The play yard is easy to set up and easy to clean. The interlocking sides clip together and set up in seconds. Adults can release the interlocking system making to easy to get into the playyard yet secure enough to keep the child safely inside. So whether you want to spend time in the garden, cooking dinner or cleaning the house, the Superyard playyard will provide a safe place for your child to play. The North States Superyard Play Yard has non-slip pads that will not scratch hardwood floors. The play yard stands 26 inches tall. The North states Superyard Play Yard 6 panel is 18.5 square feet covering a space of 5 ½ feet from corner to corner. The 8 panel play yard is 34.45 square feet covering a space of 7 feet corner to corner. If you purchase the 6 panel playyard, it is simple to add 2 additional panels at a later time, if needed. It also includes carry straps for taking to the park or other location. The North States Superyard Play Yard is made in the USA.
Made in USA
Weather resistant for both inside and outside use
Non-slip pads for stability and interlocking panels for easy set up and take down
26 inches tall
Covers either 15.5 or 34.45 square feet depending on the size purchased
– Anthony Dawson
Best Overall Play Yard
Best Choice Products
The Baby Kids Playpen 8 Panel Play Center Safety Yard Pen (Jbw-8 Model) is yellow, blue and red with different graphics on the panels. The panels also include ball spinner, play telephone and other features on the panels. The weather resistant rugged plastic is tough and can be used indoors or out. The play yard is very convenient for parents who want to keep their young ones safe while completing chores around the house or completing outdoor tasks like gardening. The Baby Kids Playpen 8 Panel Play Center is built for children up to four years old. The door to the play yard was created with the parents in mind and has a swinging hinged door with a safety lock. This makes it easy for parents to enter and exit, but prevents children for being able to open. The Baby Kids Playpen 8 Panel Play Center Safety Yard is 6 feet in diameter. The panels are 31 inches wide and 23.5 inches tall. The play yard is a great investment for keeping young ones secure.
Safety lock on doors with a hinged swinging door
Colorful panels made of weather resistant plastic
For children up to 4
8 panels
6 Feet in diameter
– Anthony Dawson
Best Budget Play Yard
Evenflo
The Evenflo Playsafe Playard can be purchased with 6 panels or 8 panels and comes in a tan color. The play yard is very light weight which is convenient when transporting the product. When you need a safe place for your child to play this lightweight option moves to where you need it. The setup is simple and fast and can be set up either indoors or outdoors. The Evenflo Playsafe Playard has a portable carry handle providing a way to take the play yard with you. The play yard panels are made out of plastic creating a weather resistant easy to clean play yard. The play yard has a walk through door that secures so your child cannot get out, but this makes it easy for an adult to enter and exit the play yard. The play yard is 30 inches tall and covers 18.5 square feet which is 5 ½ feet from corner to corner. The 8 panel model covers 34.4 square feet and is 7 feet from corner to corner.
Walk through door
Freestanding and comes in 6 or 8 panel model
Covers 18.5 square feet or 34.4 square feet
Weather resistant plastic that can be used inside or outside Carry handle for easy transport
– Anthony Dawson
Play Yard Buying Guide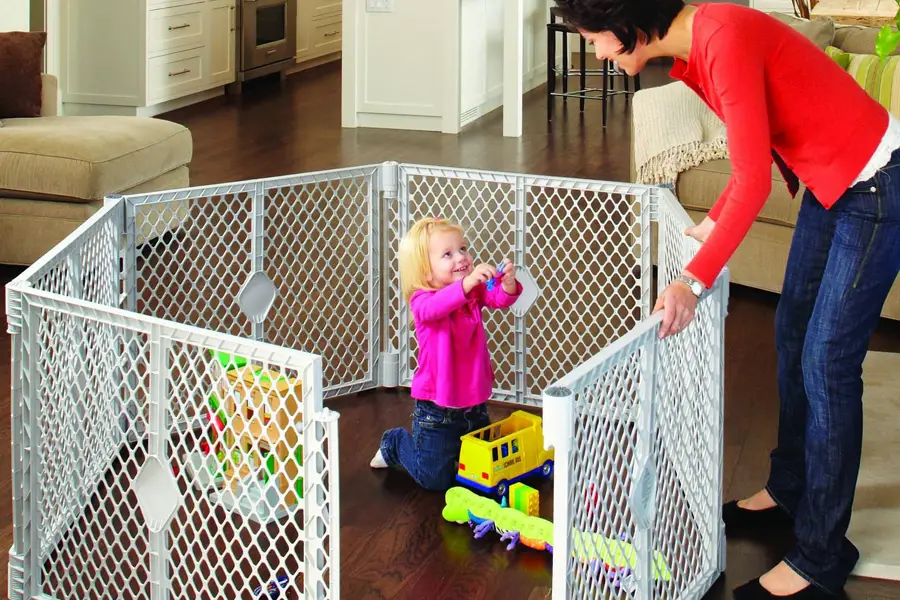 Purchase Consideration
A play yard is essentially a playpen for young children. It allows children to have a small area to run around in and play, without giving them too much freedom to run around and hurt themselves. It's the perfect addition to any parent's tools for parenting. Here are a few reasons why.
Mobility
Pal yards let you take your child with you even if you're going to be outside for a long period of time. A lot of them have an area on top that provides shade. Many of them come with things for the children to play with inside. Some of them have specific attached tools for letting the baby feel secure while sleeping, as well as pockets for storing various things the baby will need while on the go such as juice, bottles and so on. Some play yards are larger and can even fit multiple children. So, if you're having a cookout with several parents who all need somewhere to allow their children to play safely while they are doing cookout related things, it can be a real life-saver. The play yard will keep all of the children in an enclosed space which helps prevent them from hurting themselves, but at the same time they can still play and have fun. It allows parents the freedom to not have to monitor their children around the clock without doing anything more restrictive to the child's movements.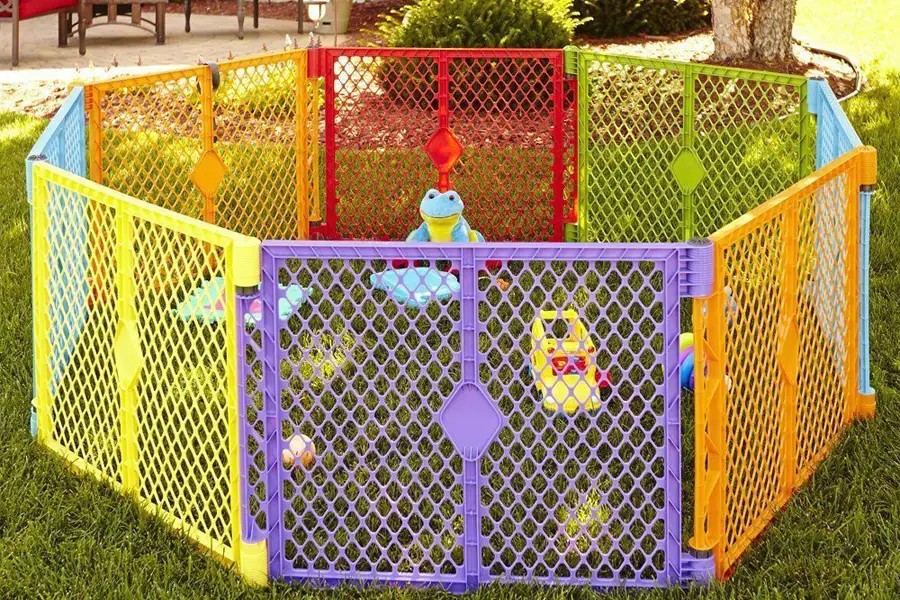 Choosing Play Yards
Examples of good play yards include those from the company Ingenuity. This is because these play yards tend to be extremely easy to wash and clean out, which is obviously something that's important to watch out for if you're going to be dealing a lot with very young children. Some companies like Graco have play yards that are smaller and that are focused more on helping very young children sleep. You'll want to choose a yard that works well for your particular needs. You should ask yourself how much you want your child to be able to move around, whether you're going to need more than one child to fit comfortably in the play yard, how much they will be sleeping inside and how much they will be running around, and so on.
Features
One of the things you should look out for carefully when choosing a play yard I the type of features that each of them has. For example, one important feature that they often need is good security locks. You should read about how exactly the security locks function, and read up on recommendations for what type of security locks to use for what age of child. The simpler child locks may be the kind of thing that children can figure out past a certain age, so it's often worth investing in true child-proof locks to make sure that they don't bust out of their play yard and get into serious trouble at the worst moment when you're not paying attention. Investing a little more in this will be well worth it in the long run.