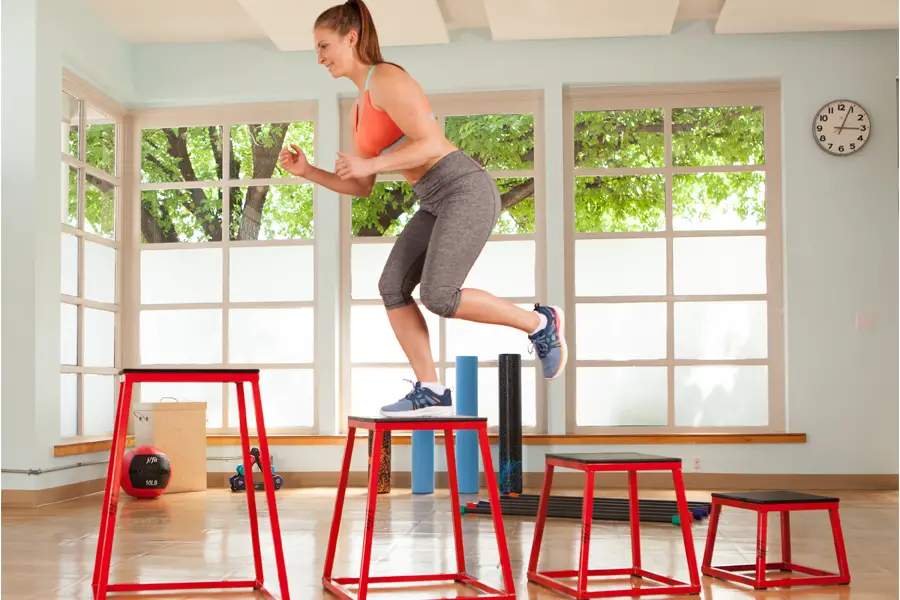 Plyometric Box Reviews
If you are an athletic individual, you probably know how important it is to keep your body in great shape. There are numerous types of equipment used for athletic training but one of the most dynamic is known as the plyometric box or plyo box. A plyometric box is used for all types of athletic training, and due to the intense nature of this training, the boxes are well designed and very durable. Plyometric boxes are sometimes made of steel or wood and some plyometric boxes are height adjustable, while others their height is fixed. In case the height is fixed, you can opt to buy a set of different heights and combine them. Most plyometric boxes have stoppers at the base to reduce damage to floors in the workout area and to provide grip.
Most Popular Plyometric Box
Fuel Pureformance
This plyometric box is an adjustable box from Fuel Pureformance. The plyometric box is adjustable to 3 separate height levels of 14 inches, 22 inches and 18 inches. The box has a powder coat finish with a landing slip that provides a non-slip surface. It is simply a "must have" for your vigorous and intense athletic training. By using this box for training you will not only increase your foot speed, you will also improve your vertical jump and overall fitness. This plyo box opens a variety of exercises that only your imagination can limit and is designed to save on space, meaning you will not have to worry about tight workout spaces at home or at the office.
Excellent value of quality vs. price
Easy to assemble and portable
The adjustable height is just welcome and saves money
The plyometric box is made of steel and very durable
Space saver design
– Anthony Dawson
Best Overall Plyometric Box
j/fit Plyometric Jump Boxes
These amazing plyometric boxes from J-Fit and come as a set of four. The four plyo boxes are of varying height including 12 inches, 18 inches, 24 inches and 30 inches. Theyhave a frame made of solid steel and have rubber pads at the base of all four edges to prevent slipping. The rubber padding is actually screwed into place to make sure that they do not fall off and ensure that the boxes do not slide and cause injury to the user. The box is excellent for lateral jumps, forward jumpsand plyometric drills. Using these plyometric boxes ensures that you develop the agility, strength and power required in most athletic sports. The boxes feature a tapered design that offers greater stability and easier jumping. The boxes stack easily on top of each other for easy storage. When shipped the package weighs around 95lbs.
The solid steel frame makes the boxes durable for long term use
They come as a set of four of different sizes which saves money
Built to avoid slipping for safety and ease of use
They are useful for a wide variety of exercise programs
The boxes stack on each other for easier storage and to save space
– Anthony Dawson
Best Budget Plyometric Box
The Plyobox Warehouse
This plyometric box from Plyobox Warehouse comes with an exercise book included. It is made of quality plywood that does not warp or lose its structural integrity over time. The product is made in the United States and provides a good value of quality vs. pricing. The box is commercial grade, which means that it can support weights of up to 350 lbs and the edges of the box are machined for safety and eye appeal. This box is perfect for a variety of exercises and assembling the box takes just a few minutes using a regular screwdriver.
The box is easy to assemble
The price provides a good value of quality and durability
Made with strong Hardwood which enhances structural integrity
Fit and finish is nicely designed and carried out in production
Small enough to fit in most workout spaces at home or at the office
– Anthony Dawson
Plyometric Box Buying Guide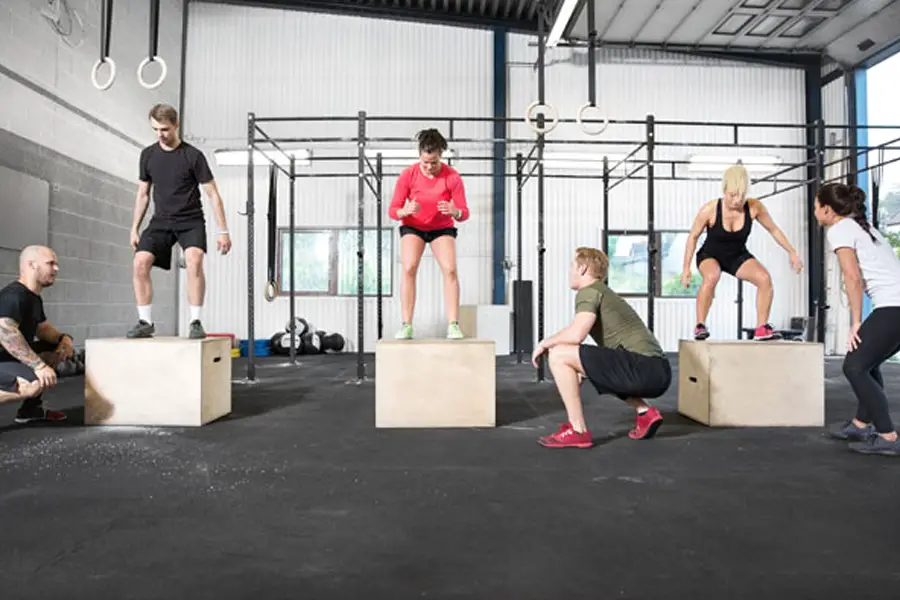 Going to the gym can be a lot of fun. Seeing other people can also be a great way to motivate one's self to stay fit and reach their fitness goals. For some people, going to the gym may be difficult because it makes them conscious. For others, they just don't have the time to drop by the gym frequently and they don't want to waste their money on an unused gym membership. This is why more and more people are getting their own gym equipment inside their homes.
A popular equipment for exercise are plyometric boxes. These are boxes or stool-like equipment that comes in different heights, sizes, and material used, depending on how you intend to use them.
Due to this, plyometric boxes are great household gym equipment. This is because they don't have to take up a lot of space, and you can do a variety of exercises even with just one box. You can do different agility, jumping, and strength exercises that are most especially ideal for cardio training. This is definitely something worth investing on because it can last you as you go from beginner to expert in fitness training.
It's important to educate yourself with a few guidelines especially for long term gym equipment so that they would be able to last for a whole time. This article discusses some important things that you have to consider when you buy plyometric boxes that are intended for long term use, especially if you're starting out as a beginner. In terms of these boxes, there are three really crucial things that you have to consider before buying one.
Things To Consider
The first thing that you must consider is the box's size and dimensions. For long term use, you might want to get a box with an adjustable height. This is so you can start with a low height and work your way up as you get comfortable. Adjustable boxes commonly range from 12 inches as the lowest point and 20 inches as the highest point. This is a great choice if you are beginner since you might not be able to reach a particular height at first. Getting adjustable boxes will lessen the cost of you purchasing taller boxes as you get used to a height. Of course, there are also boxes that come in fixed heights.
Second, consider the material that your box is made of. While there is no ideal or perfect material, people will have their own preference on what is safer or more durable. However, always keep in mind that regardless of material used, as long as you purchase from reliable stores, then you won't have to worry about your box breaking when you start your exercise routine.
If you are looking for cheaper boxes, then you may get the ones made from metal. Despite their cheap price, the metal finish makes them attractive to look at. Metal boxes are usually adjustable. This is a great choice if you're looking to save money and to have a box that can be good for long term use.
If you prefer an aesthetically pleasing look, then wood boxes might be good for you. Since they are made of wood, they usually have nice designs and paint on them. Another bonus is that compared to other materials, wood boxes are the most lightweight of them all. If you're going to be doing plyometrics in different parts of your house, then you might consider buying wooden boxes since they are lighter and thus easier to carry. The downside, however, is that they usually have non-adjustable heights.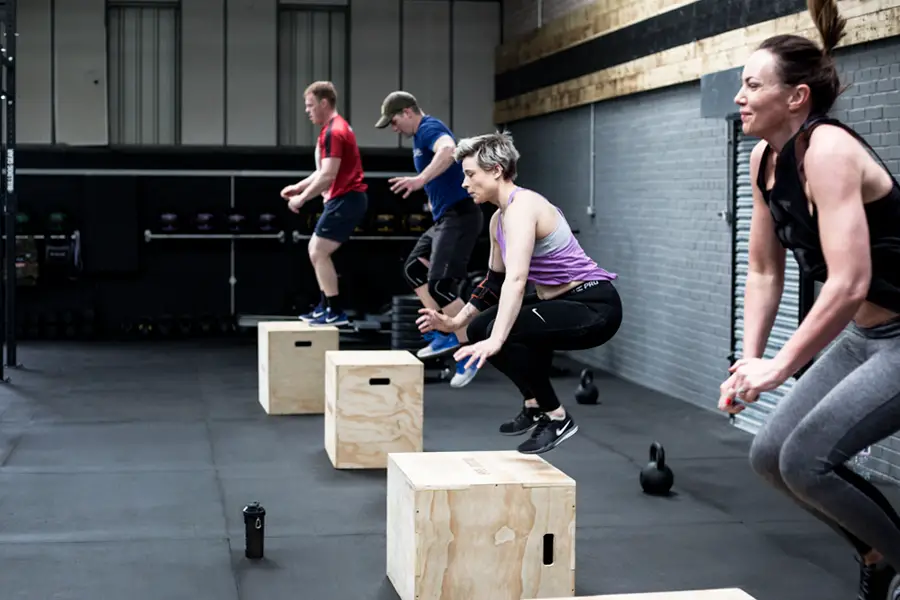 Material
Plastic plyometric boxes are good options if you don't have that much space in your house. While they are longer compared to the two materials, they can be broken apart for easier storage. Plastic boxes are always designed to be adjustable. You can consider buying this if you don't want to keep your box out in the open. If you have a cramped space then you can just disassemble them and hide them in the closet until your next use.
Another part of plyometric boxes that you have to consider are the landing areas. All of us try to avoid injury as much as possible. The landing areas created are all safe regardless of the user. Still, there is a variety of landing surfaces to fit what you need and match your aesthetic preference.
The most common landing areas are made from non-slip rubber. As the name says, you can be assured that you won't be having "oops" moments and that you can land firmly on the area. Moreover, they are easy to clean up. This is a really good choice for a lot of people. While they lack the aesthetic quality, they look very durable and sturdy – which is what's important for most people.
Wood boxes will also have wood landings. Though it might seem scary, the wood is ensured to prevent you from slipping. They are also created in a way that they will support you when you land so that they won't break from the impact that happens when you land. Wood is definitely pretty to look at. If you're aiming for aesthetic appeal, then the wood landing definitely hits the spot.
Plastic landings might sound dangerous as wood landings. However just like wood, they are created to be non-slip and have support for impact. They are also easier to clean in comparison to wood.
Conclusion
All boxes are carefully created to ensure safe plyometrics for as long as the user is doing it right. However, it's still wise to know all the choices that are possible. A lot of people can get carried away in terms of design, color, and other physical quality. This is mostly why various choices are available for the boxes. This is to ensure all users that there will be something that fits their fancy. Most of us want to look trendy while working out, even if we are just staying at home. At the end of the day, whatever equipment you choose to get for yourself, as long as you are careful and you practice discipline when using it, then you will be able to achieve your fitness goals.