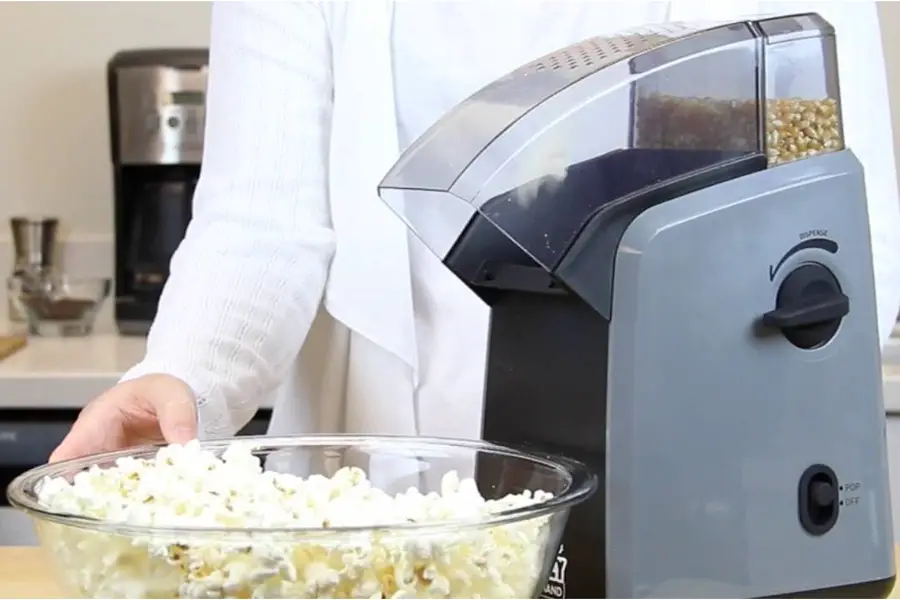 Popcorn Popper Reviews
If you love enjoying a healthy snack that is quick and easy to make then getting a popcorn popper is the answer. Many customers are looking into popcorn poppers, as opposed to microwave popcorn due to health concerns from the chemicals used to coat popcorn bags. With electric popcorn poppers you can enjoy a healthy treat with very few calories and fabulous taste. Popcorn poppers can produce theatre quality popcorn, if you buy the right popper. Here are the best popcorn poppers on the market that are creating healthy treats for families across the country.
Most Popular Popcorn Popper
Air Popper
The Air Popper Popcorn Maker is a great hot air popper. Because it uses hot air, rather than oil, it makes a healthier snack than the electric poppers that require oil. The Air Popper Popcorn Maker has 1500 watts of power and can pop up to 10 cups of popcorn in less than 3 minutes. It is quieter than most hot air poppers and has a chute that sends the popcorn directly into a bowl you place at the end of the chute. All removable parts are dishwasher safe, which makes clean up easy and fast. The Air Popper Popcorn Maker has an on/off switch. This is much better than having to pull a hot cord out of the electric outlet for starting and stopping the popper. The Air Popper Popcorn Maker has BPA free plastic parts. This hot air popper provides hot, fresh, crunchy popcorn for a healthy snack, anytime. The Air Popper Popcorn Maker comes with a butter warming tray and a 3 year warranty.
Up to 10 cups of popcorn at a time
Hot air popper for a healthy snack
Butter warming try
1500 watt motor
3 year warranty
– Anthony Dawson
Best Overall Popcorn Popper
West Bend
The West-Bend-82515-4-Quart-Electric popcorn popper has a 4 quart capacity for making fresh popcorn. It cooks a full bowl of popcorn in less than 5 minutes. It is very easy to use and only needs a few tablespoons of oil, making it a very healthy option for evening snacks and movie treats. The West-Bend-82515-4-Quart-Electric popcorn popper has a unique motorized stirring arm that ensures the maximum numbers of kernels are popped. After popping the corn, there is often less than a tablespoon of un-popped kernels, with even the cheapest popcorn purchased. There is a non-stick coating on the interior of the popper. This makes for easy clean up. It just needs to be wiped down. The West-Bend-82515-4-Quart-Electric popper also has heat resistant handles, for easy mobility. The top doubles as a serving bowl, making the transition from cooking to serving one easy step. The West-Bend-82515-4-Quart-Electric popper has a built in butter well, which distributes butter onto the popcorn while it is popping.
4 quart capacity
Motorized stirring arm for fewer un-popped kernels
Built in butter well
Non-stick interior
Plastic cover doubles as a serving bowl
– Anthony Dawson
Best Budget Popcorn Popper
Presto
The Presto-04820-PopLite-Popper is an air popcorn popper that can produce 18 cups of hot, fresh popcorn in less than 3 minutes. If you like popcorn the Presto-04820-PopLite-Popper will save you a lot of money over microwavable popcorn. It is cheaper and healthier than the microwavable bags. You control the amount of butter and salt that is used on your popcorn, giving you complete control over the flavor and calories. The Presto-04820-PopLite-Popper pops 30% faster and with fewer un-popped kernels than its competitors. Since it pops with air instead of oil, you get a healthy snack with fewer calories and all the great flavor of freshly popped popcorn. The unit is very simple to use. Simply plug the unit in and it begins popping. When the popping is complete unplug the unit. Be sure to shake out any loose un-popped kernels before putting the unit up and it will be ready for the next use. The Presto-04820-PopLite-Popper is easy to clean with warm soapy water. It comes with a 2 year warranty.
Up to 18 cups of popcorn in less than 3 minutes
Hot air popper for healthy snack
30% faster popping than competitors
Easy clean up
2 year warranty
– Anthony Dawson
Popcorn Popper Buying Guide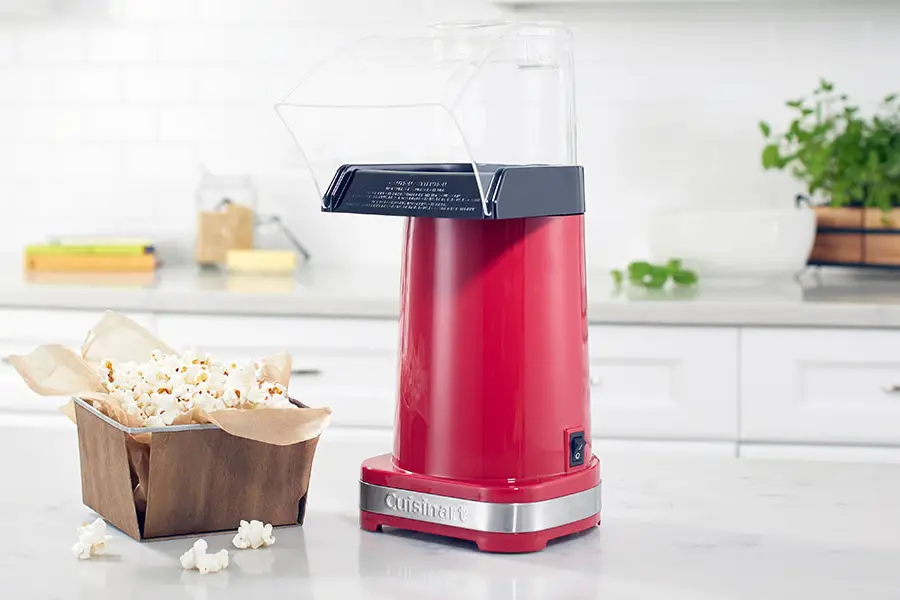 There are many occasions when having the ability to pop some delicious popcorn would come in handy. Sure you can go with the regular bags of popcorn that you easily toss into the microwave and pop within minutes. But there are other options available for cooking popcorn, specifically with popcorn poppers that are designed to give you the freshest popcorn you've ever had. If you want to turn making popcorn into more of an event for the family or movie night, then choose to pop your popcorn using one of many different popcorn poppers. Certainly there is a model for every taste and a size to fit every popping need.
Don't just settle with having regular and boring popcorn that you just pop in a bag in the microwave. You can have fresh kernels and pop them using your popcorn poppers, even adding spices and other ingredients to make the dish all the more delicious.
Brands For Popcorn Poppers
There are a variety of different popcorn poppers that you can choose from and it's easy to go online and find some great deals. If you can't locate any popcorn poppers in your local supermarket, then you should be able to find some online and have them sent to you easily within days.
Some various popcorn poppers are brands like Presto, VonShef, West Bend, Nordic Ware, FunTime, and others. The FunTime popcorn poppers are really fun to make popcorn with because they offer antique popcorn popping style, it's as if you have a movie theater right in your own home. This is a great option if you plan on having lots of movie nights and want to share popcorn with friends, investing in a great FunTime popcorn popper is a fun way to make the movie nights more entertaining. FunTime offers a lot of carnival-style popcorn poppers for you to choose from if you are looking for a more whimsical option with popcorn popping.
Easy To Use
The best popcorn poppers are going to be the ones that are easy to use, don't bother going with some difficult contraption that you won't be able to figure out how to use. There are plenty of popcorn poppers that are simple and efficient. You shouldn't have any difficulty in choosing a simple popcorn popper and starting to make your own delicious snack right from the comfort of your own property.
There is a reason that so many people choose to opt for a convenient popcorn popper and it's because it makes movie night more fun and special. Cook more popcorn and see how much you are actually cooking when you use a professional popcorn popper. Usually when we cook popcorn bags in the microwave, most of the popcorn can remain unpopped and this just causes us to take even more time to try and get the snack cooked correctly. With a professional popcorn popper, like one from FunTime or West Bend, you don't need to worry about the popcorn not being popped because you can easily see the progress that has been made while you are popping. For more of your popcorn popped, go with a professional popcorn popper.
Popular Popcorn Poppers
Everybody loves popcorn. One simply cannot do without a bowl of popcorn when watching their favorite stars on screen. Theatres never run out of popcorn, but what if the kids suddenly schedule a movie marathon sleepover or your family decides to watch your favorite movies in the comfort of your home? You may have tried those microwaveable popcorns, but one out of four, you're going to have to put up with unfavorable results – burnt popcorn with lots of unpopped kernels and uneven distribution of butter and salt. Also, there've been issues regarding the ingredients of these microwaveable popcorn which might not be favorable to your health.
Manually popping kernels with the use of a stove and a pan is tiresome work, not to mention a bit dangerous. You risk burning yourself or get spilled by boiling oil. To save you from all those inconveniences, you're going to need a reliable popcorn popper to make you a delicious bowl of popcorn in less than 5 minutes.
PopCorn Maker Reviews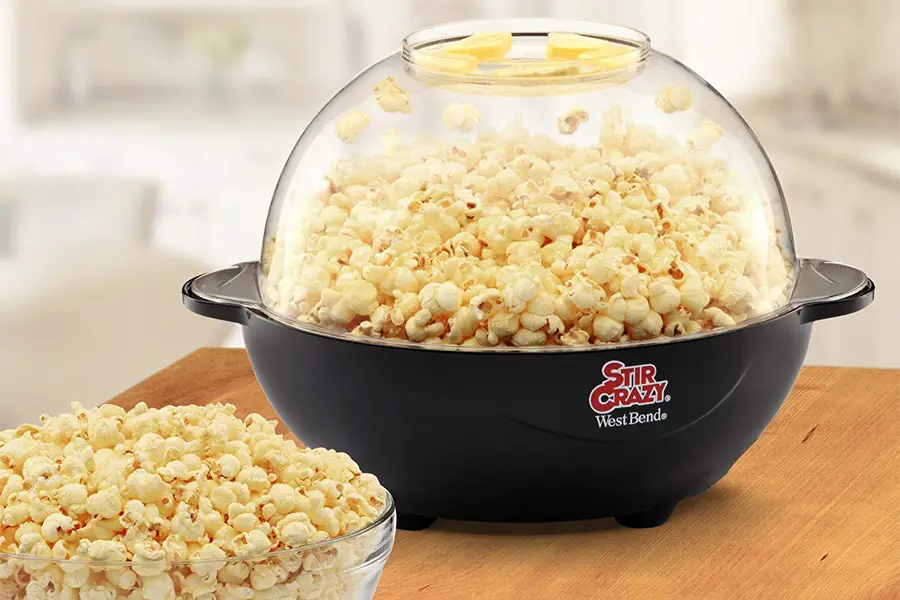 1. West Bend 82306
Price:                     $45.99
Rating:                  4.5 out of 5
Features:
6-quart capacity
LESS unpopped kernels (motorized stirring arm)
LESS oil
Non-stick interior
Built-in butter well
Heat resistant base and handles
Top functions a serving bowl
1000 watts
A lot of hot air poppers have flooded the market, but it still is the old-style West Bend 82306 popper that tops our list. Even with oil, it is still healthier and more eco-friendly than the microwaveable popcorn!
It requires only a few tablespoons of oil and can pop a large bowl of kernels in just a matter of 4 minutes. It is equipped with a motorized stirring arm to make sure that only a small number of kernels remain unpopped. Working at only 1000 watts, it gives you theatre-quality pops even with the cheapest brands of popcorn and you only get a tablespoon of unpopped kernels. The West Bend popper pops 25% more than all other contenders!
It comes with heat resistant base and handles so you do not accidentally burn yourself. It has a built-in butter well for even distribution of butter to make your popcorn extra tasty. The interior of the popper is lined with a non-stick coating for easy cleaning and maintenance. You just have to wipe it with a clean cloth and you're good to go! The top of the popper can also be used as the serving bowl. After several minutes of popping your healthy treats, you can tip the West Bend popcorn popper upside down and your hot and fresh bowl of popcorn is ready to serve!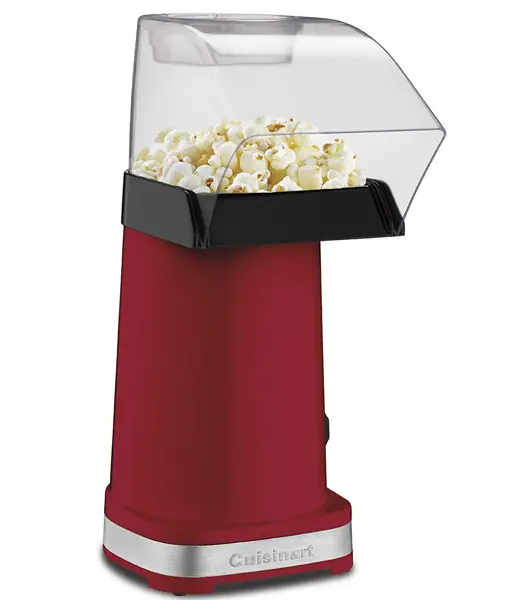 2. Cuisinart CPM-100 EasyPop
Price:                     $49.95 – $75
Rating:                  4 out of 5 stars
Features:
Can pop 10 cups of kernels
Hot air popper – NO oil needed
Butter tray
On and off switch
1500 watts
3 year warranty
The Cuisinart CPM-100 EasyPop makes it to  in our list because it simply is the best hot air popper in the market. No need to add oil because it uses hot air to pop your favorite treats making it a healthy snack suitable for the whole family. It pops more quietly than other poppers and the popcorn drops right into the bowl at the end of the chute.
It can pop a whopping 10 cups of kernels in just a meager 3 minutes. Well, it uses up more electricity at 1500 watts, but it does its work so efficiently you forgive it for the rather big energy consumption. It also comes with a on and off switch (alas!), so when you observe that the kernels are already popped, you can conveniently turn the appliance off. No more pulling of plugs from the outlet which can be a bit dangerous, especially if you let kids operate on the appliance alone.
It has a butter warming tray so that the popcorn are evenly coated with flavoring. All removable parts can be placed in the dishwasher for easy cleaning. It also has a nice red or white exterior that makes it a lovely piece in your kitchen table top. It also comes with a 3-year warranty! The Cuisinart CPM-100 EasyPop is guaranteed to make you hot, fresh and tasty popcorn so you and your family enjoy a healthy snack in just a jiffy.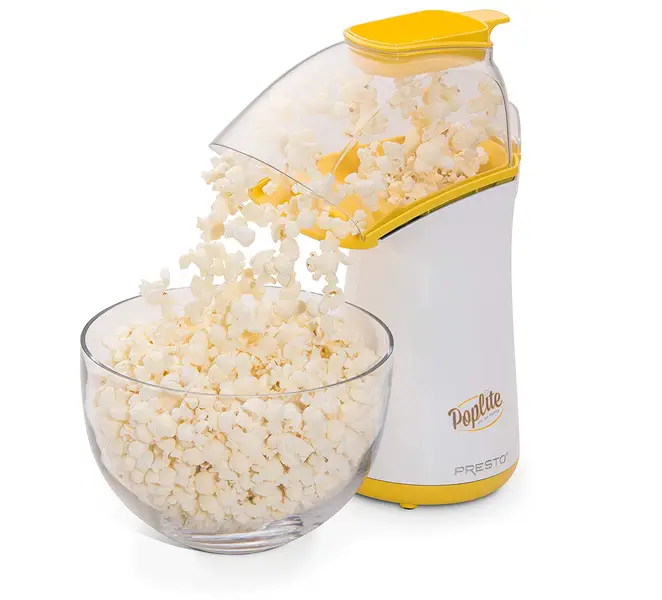 3. Presto 04820 PopLite Popper
Price:                     $19.88 – $27
Rating:                  4 out of 5 stars
Features:
Hot air popper
Pops 18 cups in 3 minutes
Fast popping
Easy to clean
2 year warranty
Next in our list is another hot air popper – the Presto 04820 PopLite Popper. It is very easy to use! The kernels go into the popping chamber, no need to add oil; plug the appliance into the socket and watch the kernels get popped into perfection! The popcorn comes out of a chute directly into a bowl you will place at the end. It is a lot cheaper and way healthier compared to buying microwavable popcorn products!
The Presto 04820 PopLite Popper has by far, the biggest popping capacity of 18 cups! Also, it pops such many cups of popcorn in a matter of 3 minutes! That popping speed is 30% faster than all other poppers in the market!
The only downside in this amazing hot air popper is that it is missing an on/off function. This can be very inconvenient because you will have to directly pull the plug out from the electric socket to make the machine stop. You will have to be extra careful in letting kids use this popper on the own to prevent untoward accidents.
It is very easy to clean – the removable parts can be chucked in your dishwasher or you can simply use warm soapy water then wipe it dry. And after popping, just shake out the un-popped kernels before plugging your unit up and it's ready again to pop the next batch of delicious goodies! Now, you can serve healthy snacks to your entire family, especially the kids with Presto 04820 PopLite Popcorn Popper!