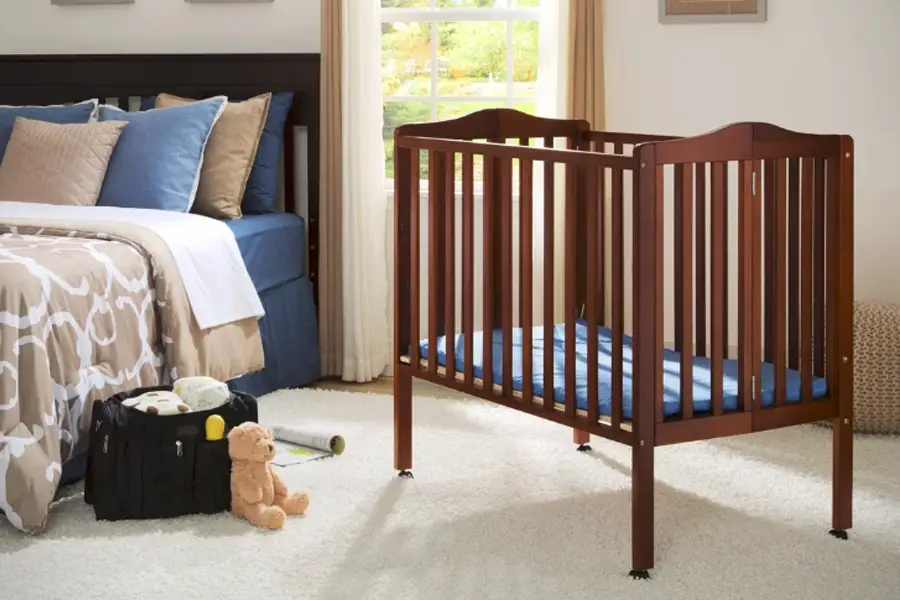 Portable Crib Reviews
When traveling or taking a trip to visit family having a portable crib is very handy. Unless you are home there is always a question about where your child may sleep or take a nap. By investing in a portable crib, your child will always have a convenient place to rest when the time comes. These portable cribs fold up into a compact case making it easy to transport. They are quick to set up and ready to use in minutes. The following portable cribs are great selections for keeping your child safe and comfortable while resting.
Most Popular Portable Crib
Dream On Me
The Dream on Me 2 in 1 Portable Folding Stationary Side Crib comes in five different colors including espresso, black, cherry, natural, or white. This portable crib is convenient to use when traveling or can be set up at home as needed when company arrives with young children. This is a perfect portable crib for grandparents who have young ones visiting, but do not want a permanent crib set up in the guest room. Dream on Me 2 in 1 Portable Folding Stationary Side Crib comes with a 1 inch mattress pad along with all of the tools necessary to put the portable crib together quickly. The portable crib has two mattress positions enabling you to change the height depending on the size of your child. This makes it easier for you to get your young one in and out of the crib based on their age. The Dream on Me 2 in 1 Portable Folding Stationary Side Crib has a patented rail system and was made in the USA. The rail system is stationary and has a side that does not drop to prevent accidents and reduce the possibility of your child climbing out of the crib.
2 height positions for mattress
1 inch mattress included
All tools necessary for quick set up
Made in USA
Patented Stationary rail system
– Anthony Dawson
Best Overall Portable Crib
Graco Pack 'n Play Playard
Graco Pack 'N Play Playard with Reversible Napper and Changer, Playard comes in five different colors. The portable crib is easily moved from location to location due to its compact design and travel features. The Graco Pack 'N Play Playard with Reversible, Playard has a simply push the locking button to switch from diaper changer to cozy Newborn Napper. The feet of the portable crib automatically fold for easy take down. There are wheels on one side of the portable crib for easy mobility after the playyard has been set up. The Graco Pack The Graco Pack 'N Play Playard with Reversible, Playard has an airy mesh on all sides to allow the maximum amount of ventilation. The mesh sides make it easier to watch your child from a distance as well as creating better ventilation while sleeping or napping. This playyard also comes with a bassinet which is perfect for infants. Then when the child gets big enough for a crib, the foldable playyard can be used for sleeping, napping, and playing. The frame is very strong and will allow you to use the portable crib for traveling purposes as well as use at home.
Bassinet for infants
Airy mesh on all sides for good air circulation and ability to see in crib
Automatic folding feet and push button release for easy take down
Compact design making is easy to storage and carry with you while traveling
Wheels on one side for portability
– Anthony Dawson
Best Budget Portable Crib
Costzon
The Costzon Play Playard Safety Bassinet for Baby On the Go, Portable and Foldable Play Yard  comes in Fashionable brown color with patterned handrail. This portable crib has wheels on the bottom of one side of the crib making it convenient to move from one place to another after it is set up. It comes with a handy push button set up which allows you to close the portable crib quickly without extra effort. The Costzon Play Playard Safety Bassinet has breathable mesh on all sides for maximum ventilation. The easy squeeze latch fold will allow you to store the portable crib in a compact manner not taking up much space. The setup is also fast with locking sides to ensure the crib stays up. Even if the child leans on the sides, it will hold up securely creating a safe environment for your child. The portable crib's frame is very strong allowing you to bring this crib anywhere reducing the need to pay extra fees for play pen rental at your destination.
Compact for on the go play yard needs
Wheels on one side of crib for portability
Easy squeeze latch fold crib quickly and compactly
Breathable mesh on all sides for maximum ventilation 
Strong frame
Equipped with a mattress and portable carry bag 
– Anthony Dawson
Portable Crib Buying Guide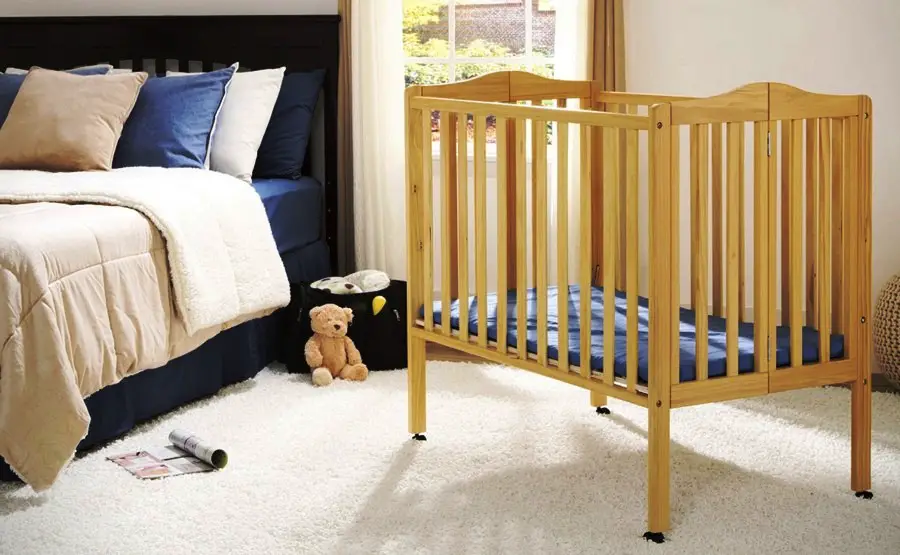 A portable crib is a portable bed meant to be used by newborn and infant children. These products are also useful when moving into a new home or apartment until more permanent furniture can be established.
Also, portable cribs can be used like a pack-and-play where babies can safely lay down or play inside without fear of crawling away and getting into a dangerous situation. There are many different designs and colors available for purchase. Often it can be challenging to know which model is the right one, especially if you are new to parenting.
Below are some helpful suggestions for selecting the perfect portable crib.
The Perfect Design
Most portable cribs are wide with mesh net sides and offer some padding on the bottom. They usually fold open, and the metal bars lock securely within the padded rail. Most require the baby to be lifted out but some offer designs where the sides have a zipper. A zipper is especially helpful if the mother cannot lift a heavy baby for whatever reason.
For younger babies, such as newborns, there are travel-bassinet designs where the child can sleep safely in a mesh net area that is much smaller than a pack and play. Some of the models have bottoms whereas some do not. Some are even available with legs to prop it off the floor.
Wheels Vs. No Wheels
It can be safe to assume wheels are not very suitable for carpeted rooms. If traveling and staying at a bed and breakfast with old-world charm, a wheeled portable crib would be quite perfect for those old wooden floors. Also, you won't have to worry about the crib rolling away either. Modern designs come with wheel locks so you can rest for a while with one less thing to worry about.
While wheels are not ideal for carpeted rooms it does not mean those designs can't be used. They just won't go anywhere. The carpet will be too plush or too thick for the wheels to move.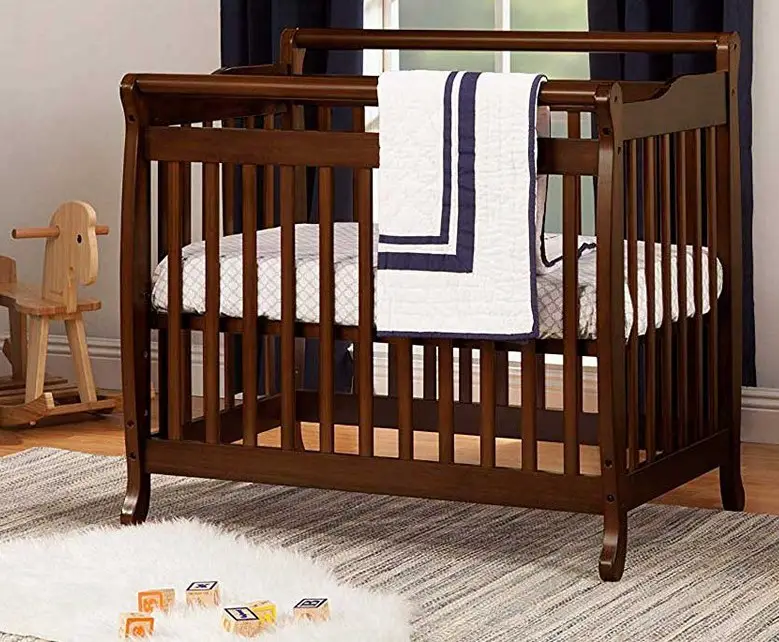 Weight
It is always best to check to see what each design can offer for maximum weight. Don't always assume that just because it is a travel crib that all the designs will hold the same weight. Generally, as a good rule of thumb, if the portable crib is lighter in weight and smaller in design, the maximum weight will be less as well (say up to 30 pounds or so). The sturdier cribs can hold somewhere around 50 pounds.
Convertible Portable Cribs
These are the types of beds that convert into everything your baby needs as he or she grows from newborn, infant, to finally toddler. It can serve as a bed, a changing station for newborns, a flat but padded surface for tummy time, a safe play area with walls high enough for your baby to play without fear of falling out, and wheels to move it anywhere it's needed. If not wheels, some designs offer a simple setup and breakdown that takes the stress out of hauling it around when not at home.
Deciding Factors
Ultimately the best way to choose a portable crib is to select a design that offers good safety ratings and a decent maximum weight capacity if planning on using the product into the toddler years. After all, buying a portable crib for each stage of a child's life can grow very expensive. That's why it is always best to buy a product that offers multiple features that grow with the baby.
However, personal budget does come into play a little bit. If traveling frequently, it may be wiser to purchase a portable crib with multiple features in comparison to say only visiting Grandma's house a couple of times a year in which case, one with less bells and whistles might be more reasonable.
Also, another thing to note is that portable cribs are an excellent substitute if traditional cribs are too expensive to purchase. They are safe and convenient, leaving it as an ideal sleeping area for little ones while money can be saved up for a traditional crib for the home.
Colors and shapes do vary, and although most stores do charge a lot for traditional cribs, don't forget to check the local newspaper and online for ads (like garage sales) and scope out secondhand stores. The time spent is well worth the money you will save.