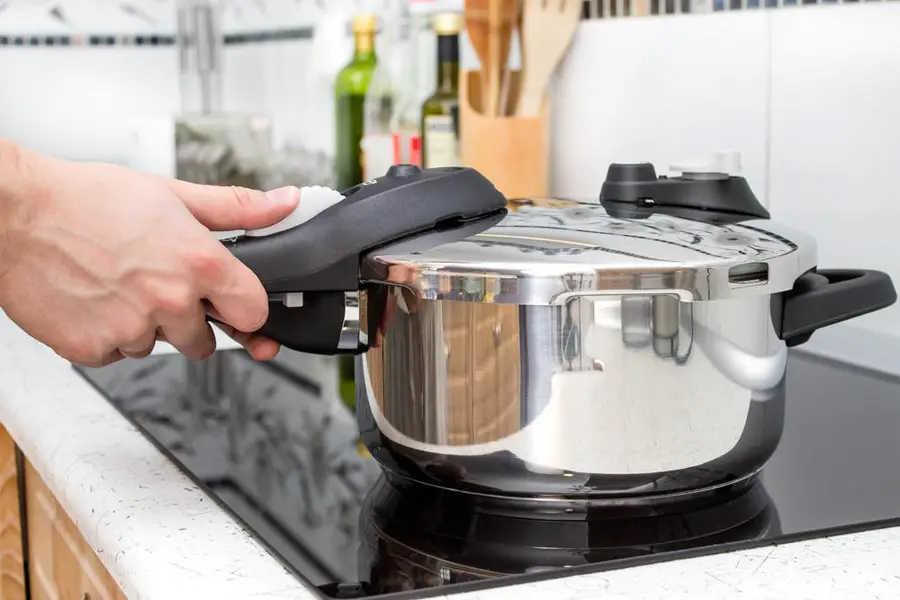 Pressure Cooker Reviews
When it comes to canning fruits and vegetables, soups or chicken stock, having a reliable canner is essential. You need a pressure cooker that is built to last and can be used season after season. Canning not only saves money but it produces high quality food that can be preserved and enjoyed by your family for many years to come. Pressure cookers are also being used as regular kitchen appliances that will cook soups, serve as a slow cooker and even a rice cooker. So whether you are looking to can fresh fruits and vegetables from your garden, or simply have an appliance that will serve multiple needs, we have a pressure cooker for you. We have selected the best pressure cookers on the market today for you to determine the pressure cooker will meet your needs.
Most Popular Pressure Cooker
Presto
Presto-01781-23-Quart-Pressure-Canner is a large capacity pressure cooker. It can hold 20 pint jars or 7 quart size jars for canning fruits, vegetables, meats and seafood. The Presto-01781-23-Quart-Pressure-Canner can be used on both regular and smooth top stoves, but is not made for outdoor use over open fire. The Presto-01781-23-Quart-Pressure-Canner doubles as a water canner for canning jams, jellies, pickles and salsa. It has a canning rack for easy set up and removal of jars. The heavy gauge aluminum construction allows for fast and even heating. It also has stay cool handles. The lid locks down during cooking and the inner sealing ring prevents steam from escaping. There is an over pressure plug that will let off steam to maintain the proper pressure during cooking. The pressure gauge has precise measurements which allows for a complete range of processing temperatures. It is easy to maintain the correct pressure so you are able to can with confidence. The Presto-01781-23-Quart-Pressure-Canner comes with a 12 year warranty.
23 quart capacity
20 pint jars and 7 quart jars capacity
Doubles as a water canner
Heavy gauge aluminum construction
12 year warranty
– Anthony Dawson
Best Overall Pressure Cooker
All American
All-American-921-21 ½ -Quart-Pressure Cooker is made in the USA and will stand up to the test of time. This canner holds 19 pint jars and 7 quart size jars. It is built to last being made of hand cast aluminum. It has a satin finish which looks good year after year. The unique thing about the All-American-921-21 ½ -Quart-Pressure cooker is that it does not have any gaskets. Gaskets are hard to find and need constant replacing. By creating a pressure cooker that is designed for metal to metal sealing it creates a steam tight seal without any gaskets. This means there are no parts to replace each year. The All-American-921 has a geared steam gauge with 3 pressure regulator valve settings. This provides perfect canning with every batch. The auto over pressure release valve maintains the exact pressure needed for healthy, sealed food that will store for several years.
21 ½ quart cooker
Holds 19 pint jars and 7 quart jars
Sturdy Hand Cast aluminum construction
No gaskets, metal to metal sealing system
3 pressure gauge setting regulator valve
– Anthony Dawson
Best Budget Pressure Cooker
Instant Pot
The Instant-Pot-IP-LUX60-Programmable-6.33-Quart pressure cooker serves to replace several kitchen appliances in one convenient appliance. If you are looking for a pressure cooker for more cooking needs, than canning needs, this is an excellent cooker. The Instant-Pot-IP-LUX60-Programmable-6.33-Quart pressure cooker will sauté, brown, slow cook, cook rice, steam and warm food perfectly. It comes with 10 programmable settings which allow for the perfect temperature and pressure no matter what you are cooking. The lid seals shut so there is no steam or leakage from the lid. It creates fluffy rice, hot steamy chili, or sautéed meats with the push of a button. There is a built in delay timer for up to 24 hours along with a manual setting that will operate up to 120 minutes. The Instant-Pot-IP-LUX60 is made with heavy duty 3 ply stainless steel constructions. The cooking pot has a brushed nickel exterior that is finger print resistant. The Instant-Pot-IP-LUX60 allows you to cook food twice as fast using less energy and healthier, delicious food every time. It does not heat up the kitchen or take up much counter space. The Instant-Pot-IP-LUX60 also comes with a steam rack, rice paddle, soup spoon, and recipe book.
6.33 quarts cooking pot
10 programmable settings
3 adjustable temperature settings
24 hour delayed cooking timer
Cooks food twice as fast with less energy than traditional cooking
– Anthony Dawson
Pressure Cooker Buying Guide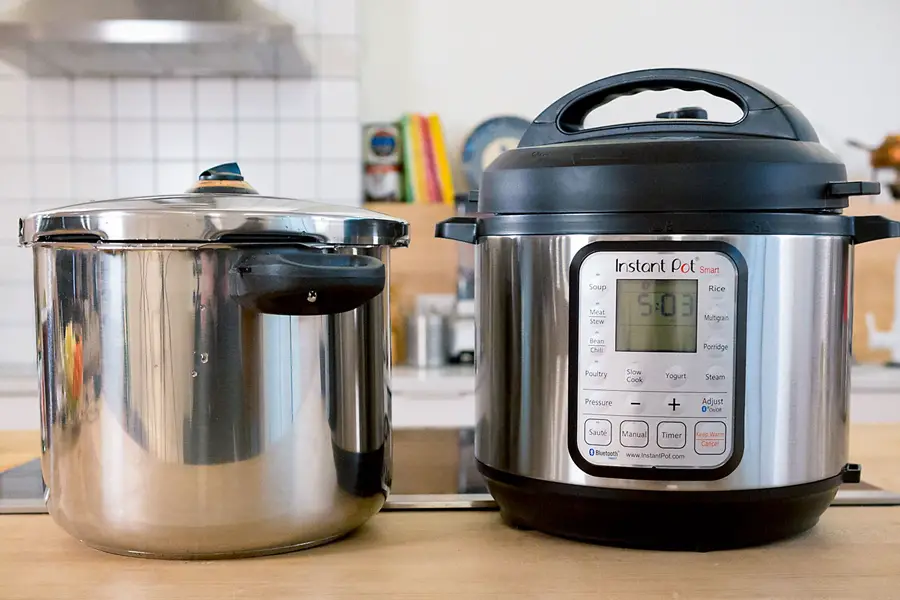 If you are planning to buy a Pressure Cooker for The first time or you want to upgrade to a new model, you are going to be faced with a lot of choices as you start shopping for Pressure cookers. These are some of The things you need to take into account When buying a Pressure cooker.
Size
These cookers comes in different sizes as they vary from four to ten quarts or bigger. As you will be making up your mind on size, consider how many people you are going to be cooking for. Take into consideration that type of recipe which is best made in this appliance such as stews, grains and soups are often made for big groups of people. It is wise to get a larger one than you think you will need if you have the money and room for it since you can cook lesser portions in a large cooker.
You should also consider that you can only fill it two thirds with food which means that having six quarts does not mean that you will be able to make six quarts of soup.
When choosing a cooker, you need to consider which type of material it is made of. Aluminum is lighter in weight but stainless steel is more durable. The best is a stainless steel that has a thick base with an encapsulated copper or aluminum both of which are ideal for heat retention and conductivity. You should also look at handles, locking mechanism and ensure that handles and lid are well attached.
With a bigger size than four quarts, a longer handle or two handles with a helper handle on the side will make it easy and also safer to lift as it is filled with food and is hot. The Cooker must also have a locking lid with a mechanism that does not allow lid to be opened before the Pressure has been released. This is a main characteristic for modern cookers.
The Pressure Regulator
There are different types of regulators that show When the Cooker has reached an ideal pressure for you to cook your food. They all work equally too and it is just an issue of preference as to the one that is easier for you to use.
A spring valve will pop up the appliance and it is mostly used for cookers that have a low and high Pressure setting. The valve is going to pop up to a certain level when a low Pressure has been reached and then pop up more when a high Pressure is achieved. There will be a color change or a line to inform you of the difference between The two Pressure levels.
As seen above, it is clear that indeed you need to be careful while selecting a Pressure cooker. Buying one that is not up to standard will endanger both you and your family. You should also consider asking for a warranty. This will help you if something goes wrong with the appliance and it is not your fault.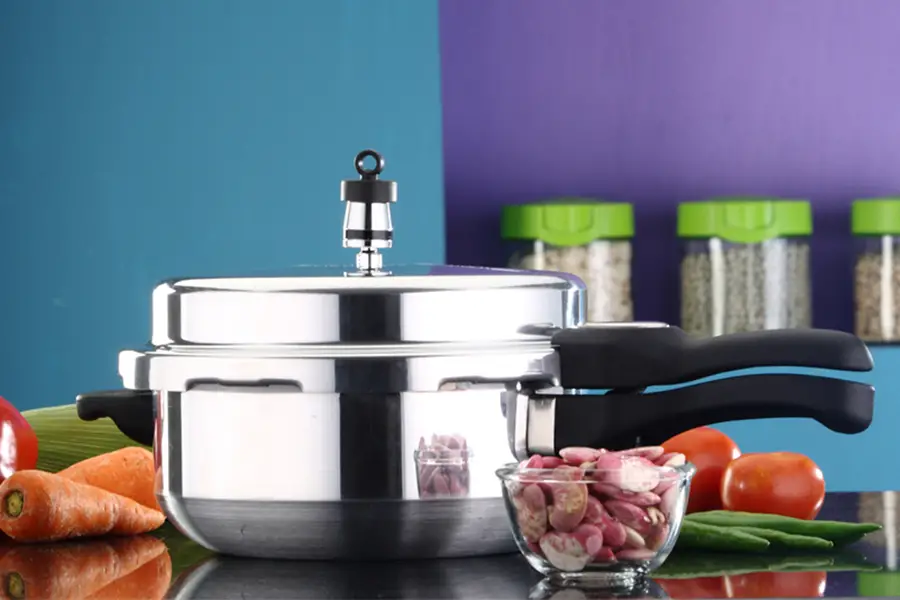 How to Purchase
Canning fruits and vegetables is a good way of preserving and storing food for the family. Canning helps the family save money and enables you to fill the kitchen cabinets with food that stays deliciously edible for longer periods of time. Preserving also creates high quality tasty delicacies that will not be possible without the help of a trusty pressure cooker.
These cookers can also be used for multiple functions – to cook soups, to serve as a rice cooker or slow cooker. So whether you love canning or cooking cuisines that will exposure to high temperature and pressures for several hours to make the meat tender, you will definitely be in need of a reliable cooker that can stand the test of time.
To save you the trouble of going through a long list of cookers in the market, we have compiled and compared editor and customer reviews and price comparisons and carefully considered features and specifications to arrive at the top three products.
1. All American 921
Price: $213.99 to $362
Rating: 4.5 out of 5
Features:
21 ½ quart capacity
Can hold up to 19 pint of jars (7-quart jars)
Metal to metal sealing system (NO gaskets)
Hand cast aluminum
3 pressure setting gauge
Auto-pressure release valve
The All American 921, proudly an American product made in Wisconsin, bests all other cookers in the market! With its simple, no fuzz industrial hand-cast aluminum design brings no doubt in mind that this cooker will stay and function for your family for generations to come. With its satin finish, it just looks better and better each year.
The All American 921 Pressure Cooker stands out from others because it does not have gaskets! It is built with snug metal to metal sealing system creating tight pressurized steam. No need to replace hard-to-look-for gaskets each year! This saves you a lot of bucks in maintenance.
It can hold 19 pint of jars and 7 quart sized jars. You can do a lot of canning of your favorite fruits and vegetables with every batch. It has a 3 pressure gauge settings allowing you to regulate the pressure depending on your cooking needs. It is simply the perfect partner when it comes to canning because the high temperature and pressure ensure that your food is virtually free of bacteria. It has an automatic pressure release valve that maintain just the right amount of pressure to create healthy canned goods for your family to enjoy.
2. Instant Pot IP LUX60
Price: $123.99 to $219
Rating: 4 out of 5 stars
Features:
6.3-quart cooking pot capacity
Cooks fast with less energy consumption
Ten programmable settings
3 temperature setting
24 hour cooking timer
The Instant Pot IP LUX60 Programmable cooker is the next best in our list because of its versatility. It might look like a simple rice cooker but do not underestimate this kitchen appliance because it do wonders for your cooking needs from producing fluffy rice to steamed chilly, to sauté meats and to warm food effectively.
It is very easy and convenient to use! With its 10 useful programmable settings, you can set the temperature and pressure required of your dish with just a simple click of a button. However, if you are looking for the perfect cooker for canning and preserving stuff, the Instant Pot IP LUX60 just might fall short of your expectations. It is a commendable cooker, but not that effective in canning.
The lid of the Instant Pot seals shut so no steam or leakage is let out. It also comes with a built-in 24 hour delay timer and a manual timer setting that lasts for 120 minutes. You can set your cooker to steam and slow cook your dish while you prepare other meals.
The Instant Pot IP LUX60 is made up of 3-ply stainless steel, making it a heavy duty kitchen partner. The exterior is of brushed nickel and finger resistant so it stays looking good for years to come. It operates quietly and keep the aroma locked up in the cooker, up until cooking is done and you open the lid. It does not heat up your kitchen with steam and it is small enough for fit in your counter space. Lastly, the box comes with a recipe book, soup spoon, rice paddle and steam rack.
3. Presto 01781 Pressure Cooker
Price: $79.99 to $109
Rating: 4 out of 5 stars
Features:
23-quart capacity
Can hold up to 20 pint jars (7-quart jars)
Can function as water canner
Heavy duty aluminum construction
Stay cool handles
12 year warranty
Presto 01781 Cooker makes it third in our list. It is yet another "industrial-looking" cooker made of heavy duty gauge aluminum. It is by far one of the most affordable quality cookers in the market. It has the same capacity as the All-American 921, holding up to 7-quart jars or 20 pint jars of canned vegetables, fruits, meat and seafood. It can be used on smooth and regular top stoves but it is not recommended for outdoor use, especially in open fire. Even with its 12 year warranty, the Presto Cooker is not heavy duty enough for open fires.
It comes with a canning rack to help you set up as well as remove jars. It can be used as a water canner when you preserve jams, pickles, jellies and salsa. The aluminum constructions allows for even and fast heating. The handles are ensured to stay cool for easy mobility. The lid stays shut when cooking and it has an inner sealing ring that prevents the escape of steam. When the pressure gets too high, it has an over-pressure plug where steam is let out to maintain the desired pressure. It comes with a pressure gauge with a wide different processing temperatures. The Presto 01781 boasts precise measurements, even at high temperatures making it fairly easy to set and control the correct pressure and temperature, allowing you to can foods with confidence.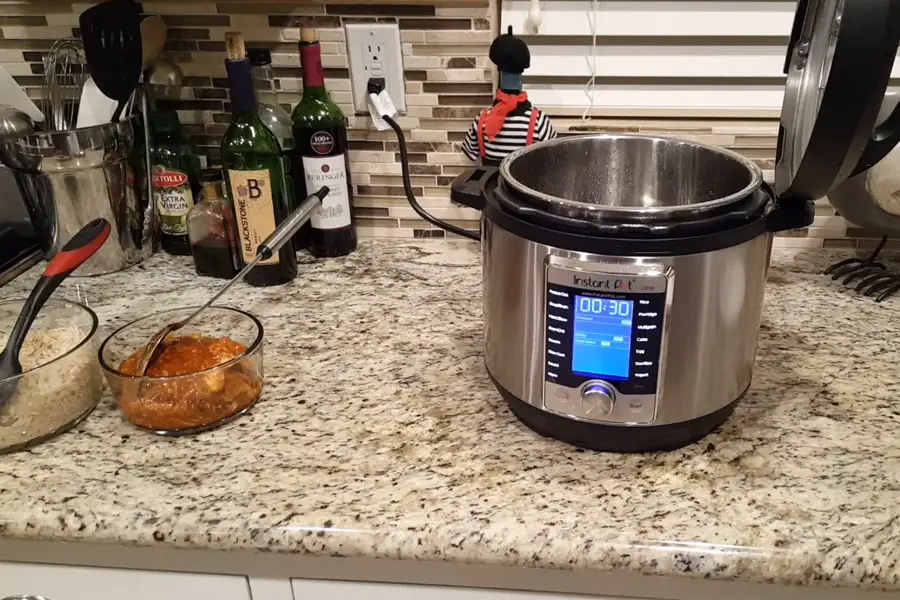 Accurate Pressure Indicator
The accepted standard is a pressure cooker able to reach fifteen pounds per square inch. While often taken for granted, you need to choose a model that can reach this level. You should also look for an accurate indicator that will show when this level has been reached. The less guesswork there is, the better.
A pressure cooker with a quick release regulator is the best. Modern appliances allow this mechanism to fast reduce the pressure inside the pot without losing any heat. With the pressure equalized, this alternative is going to allow the addition of other ingredients from the recipe while allowing the cooking to resume.
Safety Features
Modern appliances come with more safety features than those of the past did not have. When there is overpressure, a modern cooker is going to release some of the excess steam from the valve stem with an audible hiss. If pressure was to continue increasing, the sealing gasket is going to be pushed out via a safety aperture.
The size of the cooker is going to depend on the portion that you mostly prepare, your budget and available storage space. Take into account that this appliance can only be filled two thirds for most foods and only a half full for foods which form a froth during cooking.
Warranty and Accessories
While a good appliance is going to last for a long time, a good shopper is going to consider the quality of the company and its pledge to stand behind their products. Replacement parts such as the gasket are not going to be covered and you should choose a brand company where parts and accessories are going to be available.
You should avoid buying a non stick pressure cooker for a lot of reasons. Non stick surface is not going to last. Another issue is the health factor in regard to non stick surfaces. Most department stores that have a lot of cookware are going to have a few models that you can choose from. You can get a better selection if you were to shop online as well.
It is also essential if you can read user reviews on different types of pressure cookers to know what other people who have used them have to say. This is the best forum to get accurate information about the appliance you want to buy. If many people are complaining about it, you should avoid that brand.
With the information above, you are sure to get a good appliance that will serve you well and also last for a long time. Take your time and make the right decision.
Tips
When it comes to choosing the best pressure cookers, the best criteria to look for is high quality and heavy gauge steel. Regardless of how spectacular the features are, they will not be of help if the material is not of high quality. You should always know the materials that are used for the products that you buy and especially if they are being used for cooking.