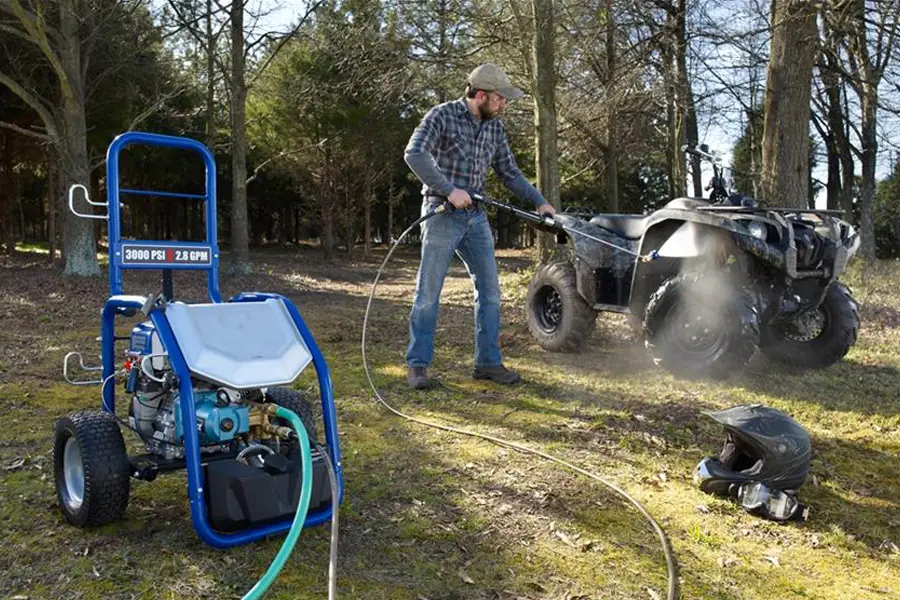 Pressure Washer Reviews
Many homeowners have to decide if they want to rent a power washer for their home maintenance needs or if it is more economical to purchase one. With power washers being used for everything from cleaning decks, siding, porches and driveways, more and more home owners are choosing to make the investment. Hiring a company to power wash your home and driveway can cost as much or more than purchasing a unit. The newer models are easy to use and do not take much time to complete the task. Given their versatility, it may to time to add a presser washer to your list of must have tools. When looking at power washers finding the right balance between cost and durability can be a struggle. We have selected the best pressure washers on the market that have consistently great performance along with pricing that won't break the bank.
Most Popular Pressure Washer
Generac
The Generac 6024 000 Pressure Washer is built with a 212cc Generac OHV engine. It is built for durability and has a welded frame for a long life. The compact design makes for easy storage when not in use. The Generac-6024-000-Pressure-Washer created a design where the engine and pump are perfectly balanced over the axle. This allows for easy maneuverability over any terrain. The axial cam pump allows for the maximum heat distribution, which extends the life of both the pump and the engine. It comes with 5 quick click nozzles which can accomplish any pressure washing job. There is a 0 degree blast, a 15 degree strip, a 25 degree clean, a 40 degree wash and a soap nozzle. If you need to clean the car, strip paint off furniture or complete the annual deck cleaning, this pressure washer will do the job easily and efficiently. The 30 foot hose creates an easy reach for any size job. The Generac-6024-000-Pressure-Washer comes with a 2 year limited warranty.
212cc Generac OHV engine
Axial Cam pump
5 Quick click nozzles
30′ Foot hose
2 Year limited warranty
– Anthony Dawson
Best Overall Pressure Washer
Simpson Cleaning
The Simpson PS3228 S PowerShot Engine Pressure Washer is an industrial strength power washer that will get the job done the first time, every time. The Honda GX OHV Engine combined with the AAA Triplex Plunger pump creates a compact power washer that will last through professional grade jobs. The Simpson-PS3228-S-PowerShot-Engine-Pressure washer has ceramic coated pistons and Power Boost Technology that provides higher nozzle pressures than other machines this size. It comes with a 25 foot poly braided hose that will not kink. There are 5 stainless steel quick connect nozzles that are easy to interchange for the different power washing jobs. The Simpson-PS3228-S-PowerShot-Engine-Pressure washer is compact and easy to transport and maneuver. It comes with a steel frame, steel engine plate, and a solid steel axle. The pneumatic tires make for effortless moving. The Simpson-PS3228-S-PowerShot-Engine-Pressure washer has a 1 year limited warranty. There is a 3 year warranty on the engine, a 2 year warranty on the pump and a 90 day warranty on the gun, hose, spray wand and nozzles.
Honda GX OHV engine
Power Boost technology for stronger spray
5 Quick connect nozzles
25″ foot hose
1 year limited warranty, 3 year engine warranty
– Anthony Dawson
Best Budget Pressure Washer
Annovi Reverberi
The AR-AR383 Electric Pressure Washer is a great residential washer. It is inexpensive and perfect if only needed for a few jobs a year. It will clean decks, wash cars, and clean vinyl siding with ease. The motor is 1900 PSI and the Annovi Reverberi Triplex 3 Axial piston pump is built to last. The AR-AR383-Electric-Pressure-Washer is controlled by a trigger gun. It has a safety shut off at the pump head for easy control. The 20 foot hose has a hand crank for better hose control. No need to deal with all 20 feet. Let out what you need and leave the rest wrapped around the crank unit. The 30 foot power cord adds to the ease of use, extending the unit to jobs not close to an electrical outlet. The housing is well constructed with copper, aluminum and heavy plastic. The AR-AR383-Electric-Pressure-Washer comes with an adjustable hose that ranges from high pressure to foam. It includes a soap dispenser that is simple to use. It also includes a two wheel trolley, which makes moving the unit from job to job or from storage to the deck, an easy task. The AR-AR383-Electric-Pressure-Washer comes with a one year bumper to bumper warranty that covers all parts.
1900 PSI 1.5 GPM
Annovi Reverberi Triplex 3 Axial piston pump
Safety valve with pressure shut off
20'Foot hose
1 Year bumper to bumper warranty
– Anthony Dawson
Pressure Washer Buying Guide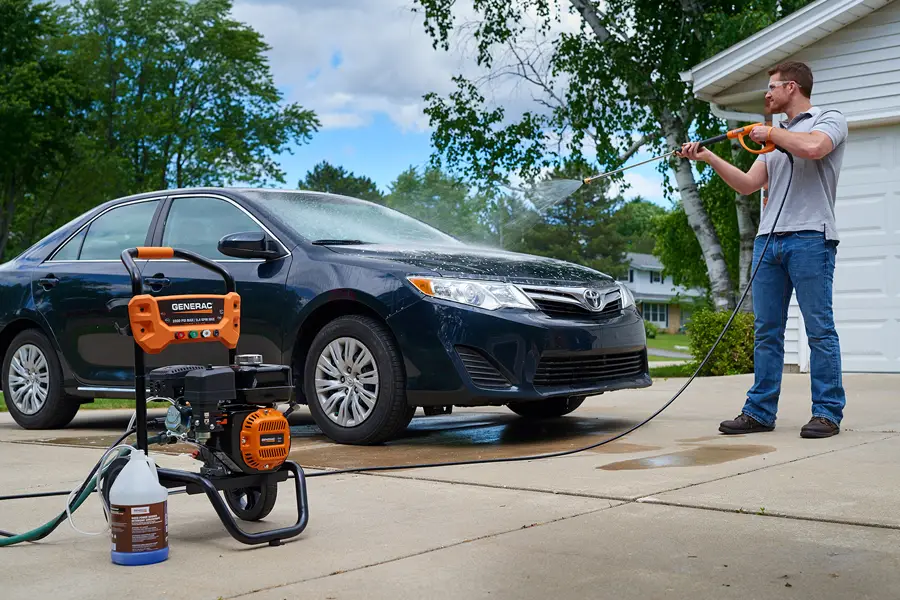 Choosing the Best Pressure Washer
Everyone should know how to take care of everything inside the house, from cooking to doing the laundry, from fixing every broken fixture to doing the grocery – and cleaning the house is no exemption. A lot of people find cleaning the house a challenge most of the time.
If cleaning the inside of our homes a big task, what more if you need to keep the outside of your house clean and organized. Molds, grimes, loose paint, and dust can suddenly appear from nowhere. A lot of people thinks that cleaning is a living hell but that should never be your state of mind. A pressure washer will be your best friend.
A pressure washer is a great tool to keep in the house since it can make a lot of jobs easier. It's a high-pressure mechanical sprayer which will enable you to remove grime, mold, mud, dust, dirt, and even loose paint from objects and surfaces such as cars, concrete surfaces, and buildings. It sprays, on a high pressure, a fine spray of water to take off the mold and grime from home and yard items like driveways, boats, cars, windows, loan mowers, even decks and fences.
Types of Pressure Washer
A pressure washer can be powered by either electricity or gas. Gasoline powered pressure washers are more expensive and more powerful but noisier. Electricity powered pressure washers, on the other hand, are quieter less expensive, and more compact than the gasoline powered ones, but are less powerful.
Washing a car or a boat is one of the common uses of a pressure washer. It does not take an overpowering pressure washer to clean either a car or a boat. If a car needs to be washed, all you need to do is place clean water in the pressure washer and clean the car all over. However, to avoid damages to paint jobs, do make sure that you use a lower-pressure nozzle in cleaning your vehicle.
A pressure washer can also clean any wooden surfaces which have faded stain coating or discoloration. By the use of a high-pressure nozzle, it can string down the mold, stain and dirt from the wood, restoring the appearance of a healthy, almost new wood. In any case that a rotten wood was ripped by a pressure washer, it is highly advisable to replace it instead of having it cleaned.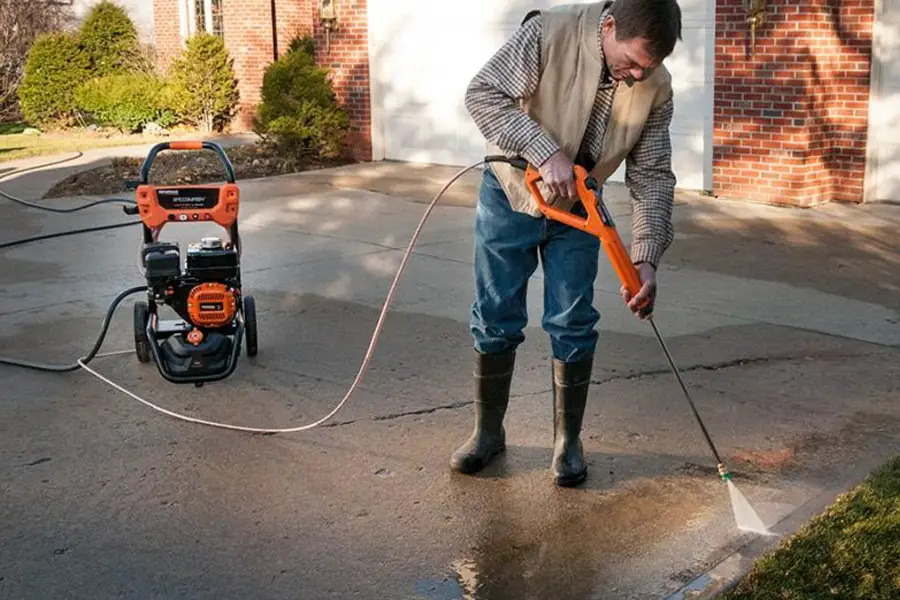 Paint stripping is also possible by the use of a power stripper. The strong water pressure from its nozzle can strip off the paint and whether it is concrete or wood, the paint will be stripped off, preparing the surface so that a new paint job can be applied into it.
Commercial pressure washers with extended nozzles and hoses are also being used to clean large buildings and its exterior surfaces with or without assistance to chemicals like detergents. In the case of large vehicles which are too big to fit into a car wash such as garbage trucks, construction vehicles, airplanes, tractor trailers, and school bus, it can be easily cleaned with the assistance of a pressure washer.
Pressure washers are classified into different types, depending on the manner on how water is delivered, type of fuel used, and how the pressure washer was powered. An electric-powered pressure washer is usually used for small tasks around the house. An outlet and extension cord is needed to keep it working. Diesel, petrol, and gas powered pressure washers are efficient and fast. They are always on the go and can be taken anywhere, making it a perfect choice for most consumers. Ultra high pressure and hydraulic high pressure pressures washers, also known as professional-grade pressure washers, are used for heavy duty tasks. They are more expensive than the other types of washers but can be used in typically anywhere, from cleaning animals to large vehicle maintenance.
A pressure washer is consisted of several parts. The motor or engine, creates the water pressure of the washer. It can be electric, pneumatic, internal combusted or hydraulic which drives the washer to give a high pressure water pump. The hose is where the light pressure and high pressure water came from. And lastly, the trigger gun-style switch where the user will be able to control the water flow to any direction he wants as well as that.
A pressure washer can come with multiple spray nozzles and tips. It lets the user use different types of spray speed depending on the job. Small tasks, such as car cleaning, requires a lighter spray while large tasks like large vehicle cleaning, requires a high powered spray to remove the mold, dirt, and grime. Some cases may also arise when the surface needed to be clean would have a grime or dirt which won't come off. On cases like this, and depending on the washer, there some models which are able to carry hot water. However, not all pressure washers can use hot water and these are the gasoline pressure washer types.
There are also times when an item is so soiled and dirty, water itself cannot remove the dirt and grimes attached to it. For these cases, it is always useful to use a cleaning agent with the water. The attached detergent tank on some pressure washers offers the user an option to use a cleaning agent in the form of detergent to remove the stubborn dirt from the item. However, not all detergents, particularly harsh detergents, can be used in the washers. It may ruin the tank itself so it's always a good idea to carefully read the manual, which came along with the washer, before using some cleaning agents.
Pressure washers are very powerful and useful tools. Exerting minimal effort in cleaning anything is always ideal. It not only saves money but also saves time. It can perform a variety of tasks and is always a labor saver for homeowners. However, choosing the right pressure washer for every cleaning task you have is very challenging. Always think about the 3W's before purchasing your washer: Why do you need a pressure washer; When will you use it; What items will you be cleaning with it. Whether it's your first time to use a pressure washer or your business needs the assistance of these washers, this guide is a very good starting point to follow before you begin your search for your ideal cleaner.