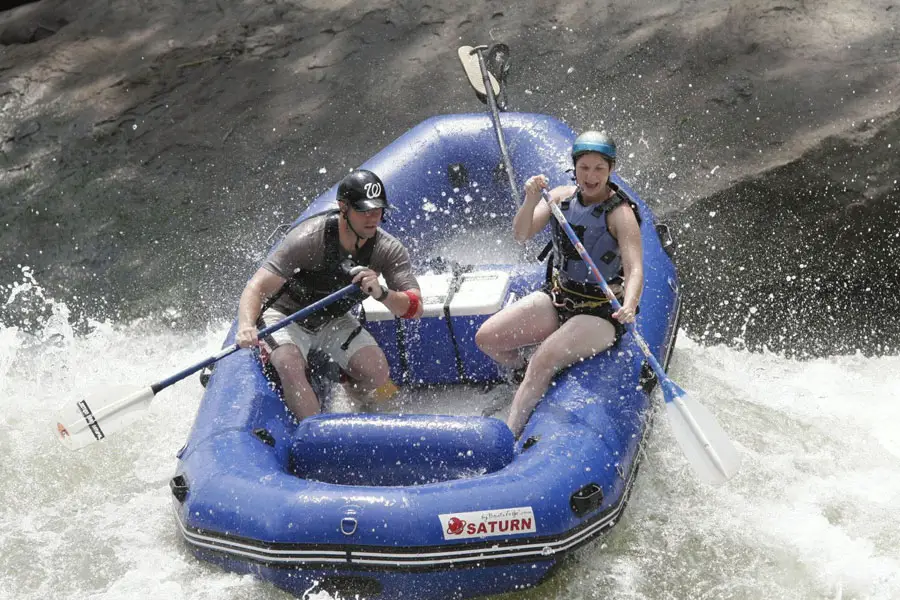 Raft Reviews
Inflatable rafts are some of the most versatile water crafts available. These rafts are very compact in design and will easily fit among your gear as you head out for a day on the lake. The raft inflates and deflates quickly, providing a quick prep time. This allows users to maximize their time on the water. Add to your enjoyment as you spend time on the lake or other local water, by adding a boat to your must have gear. We have selected the best rafts available on the market. They are affordable prices, heavy duty, and reliable water craft that will provide your family with hours of enjoyment any day you are on the water.
Most Popular Raft
Intex Seahawk
The Intex-Seahawk-2-Boat-Set is an inflatable raft that will fit either one or two passengers. There are three air chambers that inflate to create a stable boat for enjoying the water or the lake. One of the chambers is an inner auxiliary chamber that is inside the hull. The floor also inflates which creates a comfortable and more stable bottom for the raft. The heavy duty vinyl material is puncture resistant. The Intex-Seahawk-2-Boat-Set has a Boston Valve which provides fast inflation and deflation of the watercraft.The oar holder is welded onto the boat for greater security. There is also a grab bar on the bow. The grab line makes it easy to get the raft in and out of the water. It also has a fishing rod holder, in the event you want to fish from the raft. The Intex-Seahawk-2-Boat-Set includes motor mount fittings enabling you to add a motor. Total weight capacity for the raft is 440 pounds.
1 or 2 person boat
Boston Valve for fast inflation and deflation
Fishing Rod holder
Total weight capacity is 440 pounds
Heavy duty vinyl material, yet compact enough to fit in your truck
– Anthony Dawson
Best Overall Raft
Intex Challenger
The Intex-Challenger-2-Boat-Set is an inflatable raft that is perfect for enjoying an afternoon on the water. The raft has three air chambers that inflate. The inner auxiliary chamber on the inside of the craft also inflates. The floor inflates providing a more comfortable riding experience along with additional support for your craft. The Intex-Challenger-2-Boat-Set comes with a Boston valve. This provides a fast inflate and deflate rate, allowing you to set up the boat and be ready for use in a few minutes. The boat comes with two oars. The oar locks are welded to the raft for greater security. The high output pump provides fast inflation. The boat itself is built with PVC 20 gauge vinyl. This heavy duty material provides protection from impact, punctures or abrasions. It does not fade in the sunlight and operates well even in saltwater. There is a grab bar and a grab line that surrounds the boat. This provides easy entry and exit from the water. The boat as a maximum weight capacity of 253 pounds.
1 or 2 person boat hold up to 253 pounds
Boston valve for fast inflation and deflation
2 oars and an inflation pump comes with the raft
3 inflatable air chambers for stability
20 gauge vinyl material for a strong and resistance raft
- Anthony Dawson
Best Budget Raft
Intex Explorer
The Intex-Explorer-200-Boat-Set is an inflatable boat designed for 1 or 2 people. The raft is built for either large pools or calm lakes. The compact design allows you to carry the boat in the trunk of your car, inflate it quickly and be enjoying the water in a few minutes. The raft has a grab rope at the bow which provides for fast and convenient entry and exit into and out of the water. There are two inflatable chambers, including the inflatable floor. This provides stability for the passengers. The oar locks are welded into place for security. It is made of a heavy 13 gauge PVC vinyl. The Intex-Explorer-200-Boat-Set includes the inflatable boat, 2 oars, a repair kit and a pump. Total weight capacity for the raft is 210 pounds.
13 gauge PVC Vinyl material
1 or 2 person boat with a weight capacity of 210 pounds
Grab rope for easy exit and entry
2 Inflatable chambers including an inflatable floor for greater stability
Raft comes with 2 oars, pump and a repair kit
- Anthony Dawson
Raft Buying Guide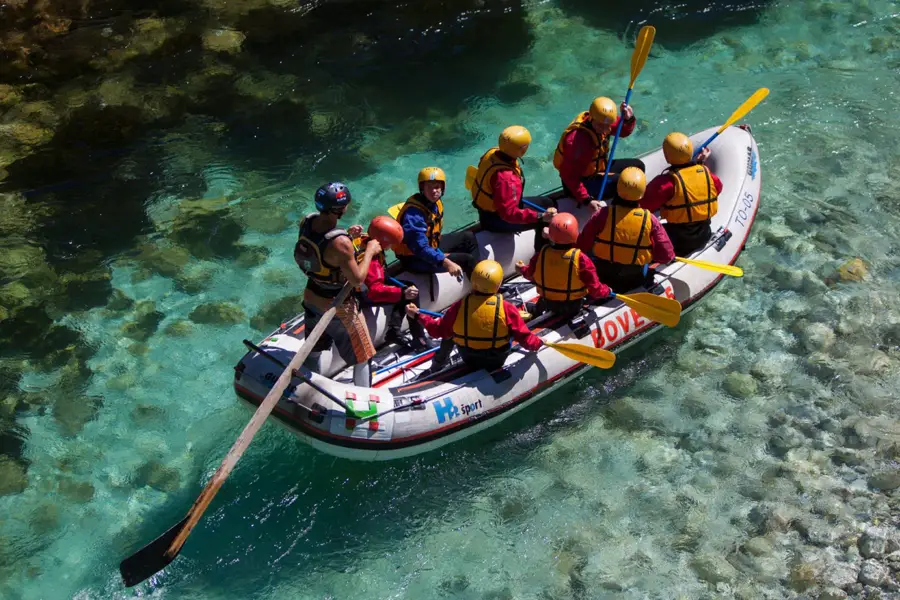 If you're looking for the best raft for fishing or other water fun, you need to know what aspects are best to consider. There are many types and models of rafts in the market. Different rafts work well in different conditions. For instance, if fishing is your interest, you should look for an inflatable fishing raft. There're some essential factors to consider when choosing a raft - as follows:
Essential Factors to Consider
1. Frequency of Use
Before you purchase a raft, you need to consider how often you'll be using it. If you're a regular fisher, camper or even just a day-cruiser, you need a more durable raft. Make your choice depending on the frequency you'll be on the water. If you'll be using the raft more often, invest more to get the best raft you can afford. If you're only planning to use the raft rarely, or even occasionally, there's no need to spend additional money purchasing a very expensive raft. However, ensure you check all safety features and get a raft that suits your needs.
2. Design
When it comes to raft designs, there're several options; the inflatable and non-inflatable designs. The non-inflatable raft designs are more recommended although they're a pricier and high quality. They're also durable and convenient. Their only downside is that they're less comfortable.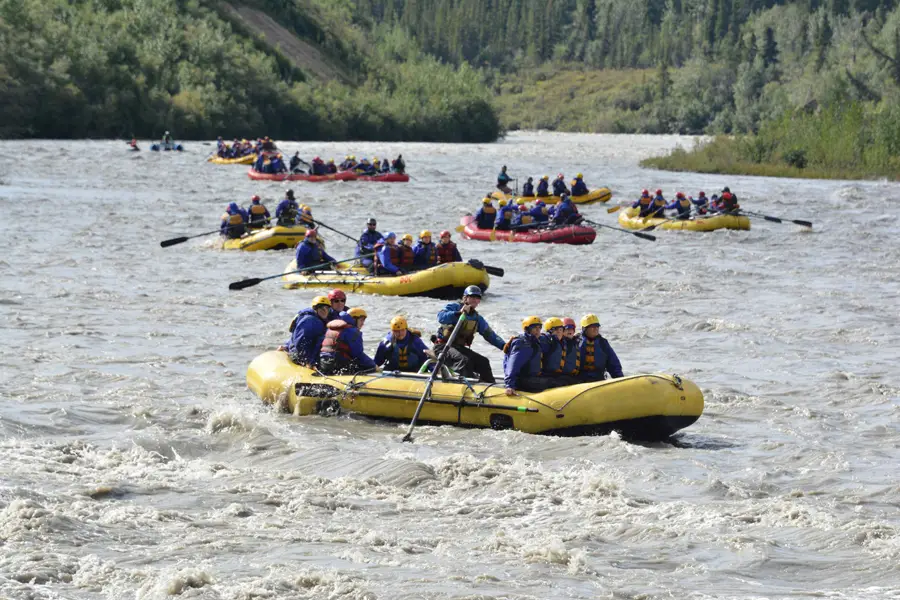 3. Construction Material
This is another essential thing to consider. Most inflatable rafts are made using PVC material. However, there're different kinds of PVC materials that make completely different boat features. In case you prefer a high-end quality raft consider Hypalon or aluminum for rigid parts. There're other models with aluminum floors or reinforcement. Remember that there's always the risk of puncture. Purchasing a raft with high-quality materials significantly reduces that risk.
4. Easy Setup
Some rafts are more complicated and will require a lot of time to assemble. However, it's essential to inquire about the setup process, and the time it takes to get it functional and floating. Choose rafts whose setup process doesn't take too much time. Another important feature is a tool-free assembly.
5. Comfort
This is an essential factor to consider although it depends on the time you spend in the raft. For instance, if you'll spend a lot of your time in the raft regardless of whether you're cruising or fishing, comfort is a key component. On the other hand, if you'll only be using the raft for a few minutes, you don't have to spend a lot of money purchasing a more expensive and comfortable raft.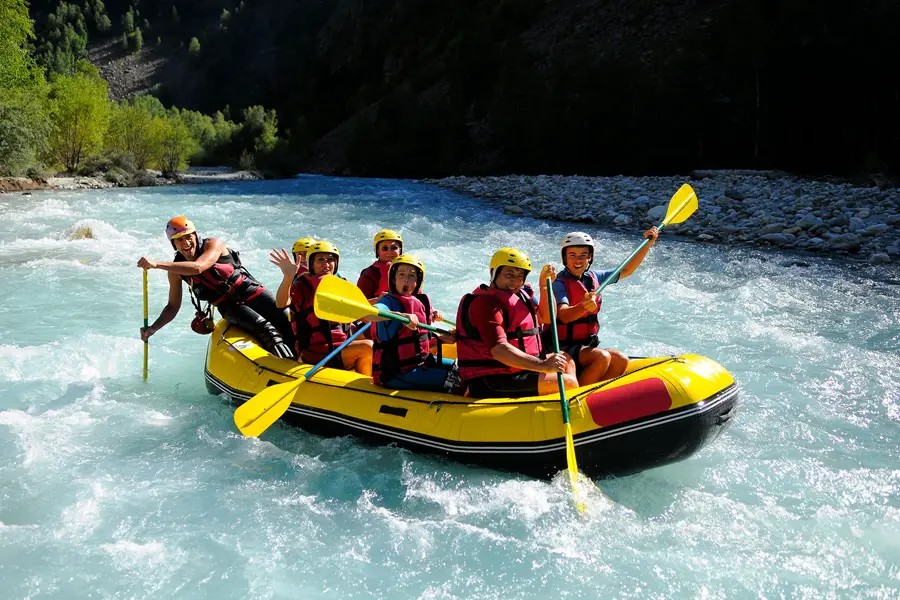 6. Ease of Maintenance
Before you purchase a raft, check if its maintenance is easy or not. This is because all inflatable rafts require maintenance from time to time. The ease of maintenance is also affected by the quality of material used in making the raft. However, the more quality the materials used in making the raft are, the less maintenance it'll need.
7. Capacity
It's a fact that an inflatable raft can take less weight compared to a regular raft. Different rafts have different capacities. You must understand that the capacity is the total weight of the equipment plus the load it'll carry as well. However, choose a raft depending on the weight you'll be carrying. Simply add 20% to your total weight as well as the weight of items you'll be carrying. This formula will give you the perfect capacity to carry.
8. Stability and Safety
The safety of passengers in a raft is determined by the stability. The way a raft is constructed plays a key role in its stability. However, technology has provided a modern state of the art solutions and inflatable rafts that are stable and safe. If you purchase an inflatable raft, make sure you inflate it correctly until it reaches the optimum PSI to enhance stability.
9. Price
The price of a raft is affected by several factors which include quality of materials, anti-puncture protection, ease of maintenance, brand reputation and also warranty. In terms of the material quality, rafts made of Hypalon are more expensive than the ones made of PVC.
In conclusion, these are some of the top factors to consider when choosing a raft. Choosing the best raft becomes very easy and hassle-free if you exactly know what to consider.