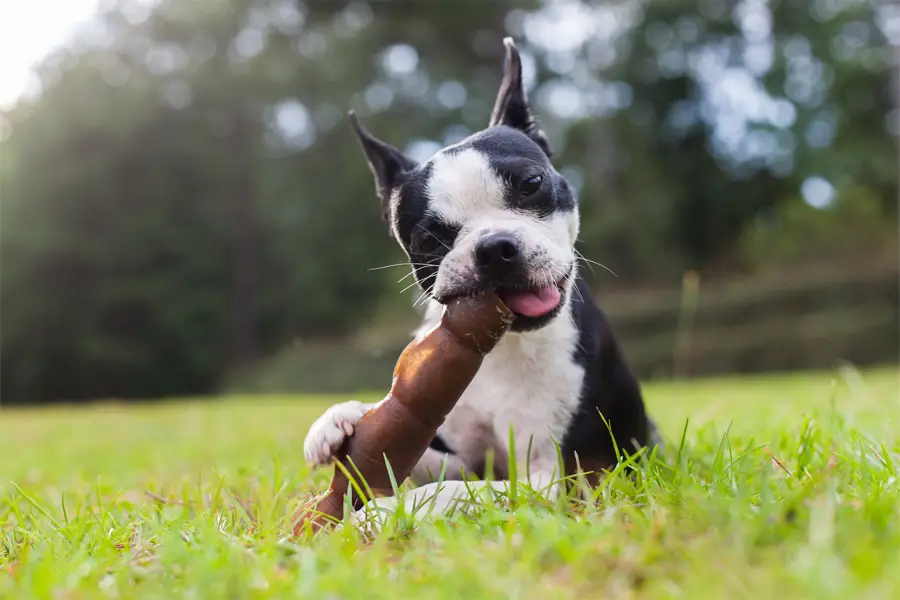 Rawhide Reviews
Rawhide chews and bones are every dog's friend. They are the perfect treat for your pet and keep your dog feeling happy and healthy while looking after their teeth and gums too. They are a popular treat for dogs to have because it promotes the natural instinct that a dog has to chew. Some dogs will spend hours chewing and, after all, chewing rawhide bones or chews are much better than your slippers or best shoes. Chewing can provide your dog with stimulation and relive anxieties that your dog may have, especially puppies that are getting used to their surroundings. It keeps your dog's jaw strong and gives their teeth a good clean. It's been proven that dogs that chew regularly on rawhides have less build-up of plaque and tartar on their teeth. Dog chews should however be kept to a minimum of being handled by family members or children to stop contamination from occurring.
Most Popular Rawhide
Nylabone
Rawhide is an all-natural product that dogs love to chew. This treat made by Nylabone is large enough and thick enough that a dog cannot just chew it off and end up swallowing the whole chew at once or large pieces. It's important to discard after 5 days use to ensure your dog doesn't choke on the chew. This treat has a delicious flavour of filet mignon that is made from all natural and high quality ingredients. Created to be two treats in one, it has a tender and juicy meat flavoured middle with a braided natural rawhide outer layer. The chew supports good digestion and contains prebiotics that promote good health in your dog. With no added sugars, salt or preservatives they really are the ultimate healthy chew to enjoy. The pressure given by a dogs jaw can be of considerable extent which can put stress on the teeth, that's why chewing rawhide is the best alternative for dogs as they are safe and do not cause any harm to the dog.
Natural ingredients
Acts as two treats in one
Delicious filet mignon flavoured treats
– Anthony Dawson
Best Overall Rawhide
IMS PET
Cadets 10-inch Retriever Pack of rawhide will provide your dog with a form of exercise for their jaw, which will keep their chewing in check too. Having this rawhide chew will stop their urge to chew other household objects. At the same time it will be helping your dog to look after its dental health by reducing the tartar and plaque levels that build up on your dog's teeth over time. It's an easy way to look after your dog's oral hygiene, as every dog wants to chew. The natural instinct to want to chew is a sure found trait of dogs and being able to suppress that natural habit from ruining your best shoes or your child's favourite toy will make for a happy family life for you, your family members and your dog. The chew has is made from 100% natural beef hide and comes from free range cattle.
Controls your dog's tartar levels
Provides healthy teeth and gums for your dog with regular use
Provides your dog with a satisfying chew
– Anthony Dawson
Best Budget Rawhide
The Rawhide Express
The Rawhide Express Beef hide Chew Chips in peanut butter flavour are great as a reward or treat for your dog. The chew itself lasts makes for a long lasting chew for your dogs to enjoy with great tasting flavours and a made of durable chewable material. The chew is fully digestible so if your dog does bite off a piece there is no fear of your dog swallowing the chew. They are made of all natural ingredients with no use of toxic or harmful chemicals. The flavours available do not allow for any staining so your dog's fur and your furniture or carpet will not get damaged. The chews come is all different shapes and sizes so you can monitor what you give to your dog when rewarding them or giving them a treat. Keeping your dog's teeth and gums healthy by removing tartar and plaque build up and as any dog has the tendency to want to chew; it is part of their natural instinct, making these chews the perfect, bite size treat for your dog and its healthy diet and lifestyle.
No toxic chemicals are used
Does not stain
Great use as a treat or reward for your dog
Easy to digest
– Anthony Dawson
Rawhide Buying Guide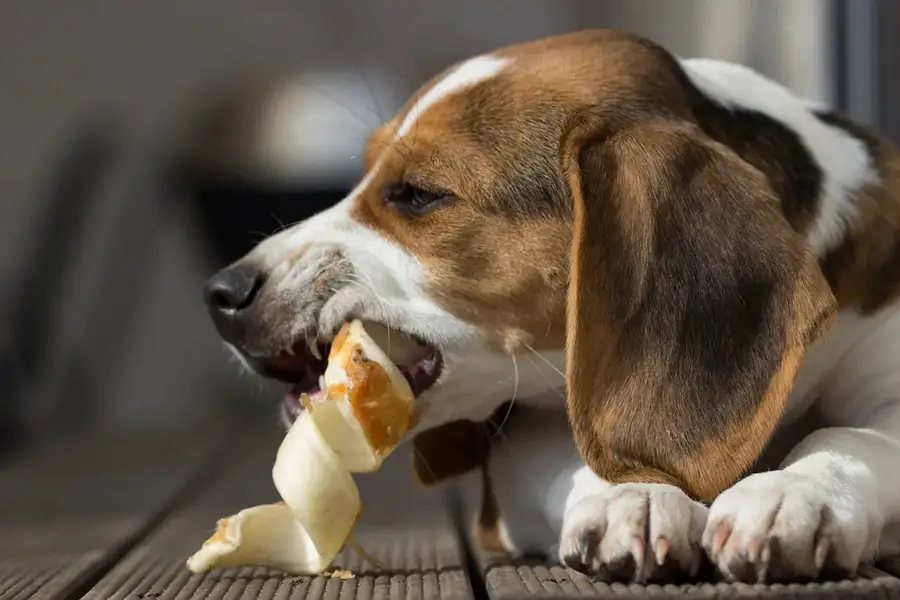 Traditional rawhide chews are a wonderful treat for any dog. Chewing is a dog's natural way to relieve stress when they can't get outside and play. These cute little treats are available in many different sizes for all dog breeds and can be purchased virtually anywhere – from a local grocery store to an online pet store. Below is a breakdown of what to expect when shopping around for one of these tasty treats.
Variety
Traditionally shaped like dog bones, rawhide chews are tan in color and can be given to all healthy dogs from very small dogs to very large breeds. Sometimes you might even find colored rawhides to correspond with the holidays, and some you'll find are basted with different meat flavorings. It depends on which stores carry which type of rawhide stock.
Usually, pet stores have the most extensive variety. Grocery stores generally only carry a few different options. The best place to search for exactly what you want is going to be online. The internet is a great place to find items simply because it connects the shopper to so many vendors across the globe. It's a quick and easy way to find the ideal item at the best price possible (and maybe save on shipping too).
Size
Rawhide chews come in all different sizes. It's essential to provide your puppy with the correct size chew. If you have a large dog, you do not want to give them a small chew because it can choke. Purchase one that is for a large breed dog.
Similarly, this is true if you have a small dog. You don't want to give them a chew that is too big to fit in their mouth! And, since most dogs are obsessed with rawhide chews, they would try it anyway. Some may be able to pick up a large chew proudly, and other breeds may become bored and depressed if they cannot fit it into their mouths correctly.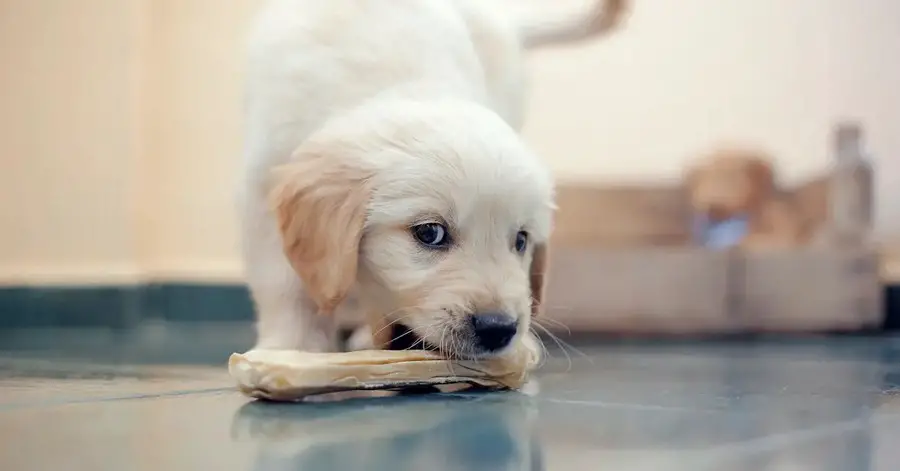 Flavors
Not all rawhide chews are meat flavored. There are the standard chicken and beef flavored as well as unflavored. But, more recently, new flavors have been emerging. These might range from sugar cookie, pumpkin, and more, mostly correlating to the holidays. Newer flavors are continually being created.
Colors
Most rawhide chews are a light tan color. The shapes vary but seldom is rawhide dyed unless for holiday themes. However, pet stores and online retailers may carry rawhide chews in various color schemes. It is up to personal choice on which ones your pet would like the most. Be careful what you choose as some dyes are not suitable for dogs to ingest.
Shapes
Available in virtually any shape imaginable, rawhide chews come in standard bone shape (long bone with knotted edges), or fancy shapes made with twists or in a wreath for the holidays. Some are shaped like candy canes where others still are a mix of partially dyed braided into traditional tan strips. Select the one you think your pet would be the most interested in.
Cost
The smaller the rawhide chew, the less expensive it is. Also, the fancier it is, and the rarer the flavor, the chew will cost more than the standard price. Dyed chews are usually not much different in price compared to the standard original rawhide chews. It just depends on the color or colors used.
Conclusion
If you are looking for an ideal treat for your dog rawhide chews are an excellent way to alleviate your dog's stress or serve them as a reward for a special occasion. They are also useful if your dog has high energy and needs something to keep him or her busy for a while.
Dog chews are affordable for most anyone and readily available everywhere. It simply boils down to personal taste and what you think your dog will appreciate the most. Most dogs, however, are so happy to get a rawhide chew, they won't mind what shape or flavor it is. As long as you thought of them, they will love it because it comes from the person they love most – you!