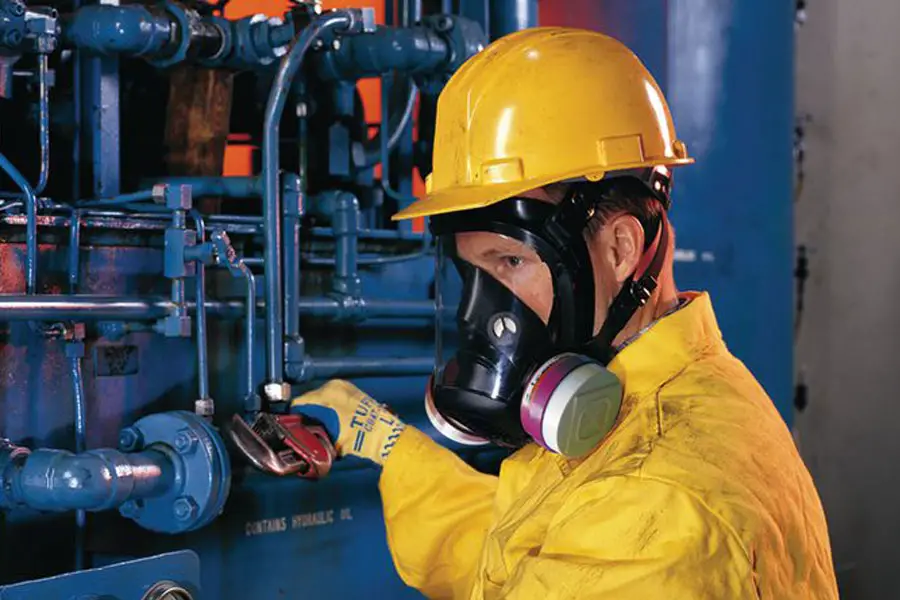 Respirator Mask Reviews
When it comes to choosing the right respirator, you want to look for certification, breathability, comfort, and non-fogging technology. Wearing a respirator is utterly essential when working in environments where there is airborne dust, contaminants, chemicals, and the like. Respirators are even handy when working in places where there are foul odors. You can find full-face and half-face respirators on the market, and which one is right for you depends upon what kind of work you're doing. If you're just painting your house, you might not want to work with a full-face mask all day. Once you pick the right style, then comfort is key. There are some innovative designs on the market that are built to prevent discomfort around the nose area, which is where respirators often are a burden. Look for something that meets government NIOSH standards. Most respirators are made of rubber or plastic, so choose a material that seems to not irritate your skin.
Most Popular Respirator Mask
3M Paint Project
3M is a leader in designing and producing respirators for regulated applications in the work place as well as non-regulated DIY work. A respirator is key to protecting workers from concentrated and harmful contaminants. Not only in the workplace, but even residentially working on projects around the house you might be having too much contact with airborne hazards, and that's when this respirator is a necessity. One great example is painting. If you're planning on repainting your home, then having a quality respirator like this one from 3M is absolutely essential to your safety. Also, if you happen to be working with a lot of dust and other loose particles, a respirator will help to protect your nose, lungs, and mouth. The respirator is also great for sparing yourself the encounter with foul odors. Overall, the device is incredibly low maintenance, and features bayonet style cartridges for the ultimate in comfort, even when wearing the mask for long stretches of time.
Easily adjustable straps
Replaceable cartridges and pre-filters
Comes with 3M half face piece, pair of vapor cartridges, 2 pairs of particulate filters, and one pair of filter retainers
Low Maintenance
– Anthony Dawson
Best Overall Respirator Mask
Safety Works
This multi-purpose respirator is a full-face design that is still lightweight and comfortable to wear. The patented nose bridge construction makes the respirator fit better than most others. It's not uncommon for a respirator to be highly uncomfortable in the region of the nose, but MSA Safety Works has come up with an innovative design that finally makes it comfortable and secure to wear for long periods of time. An optically correct lens is another innovation that adds to the comfort of this model, and allows you nearly unobstructed vision at all times. Full face respirators work better than half face, and this particular model is the best for those who have mustaches and goatees. It's fully approved by NIOSH. This provides the ultimate amount of protection when working in areas that have high concentrations of contaminants. Also, the lens is guaranteed to never fog because the integral design of the nose cup directs air flow out of the mask's exhalation valve instead of against the lens. It's entirely made in the USA.
Industrial grade construction
Patented respirator makes it easy to breath at all times
Comfortable and secure
Nose cup prevents fogging
High-quality rubber and plastic
– Anthony Dawson
Best Budget Respirator Mask
3M Safety
3M is an incredibly trusted brand name that makes all sorts of tools and equipment for working at home or professionally. They use the finest, most durable materials, and almost all of their products will last you for years. This respirator with valve is ideal for protection against most non-oil based products, such as water based paints and chemicals. The M-shaped nose clip makes this device comfortable to wear at all times, and the No-tangle straps contribute to ease of use. One of the most important factors in choosing a respirator is breathability, and this particular design makes it incredibly easy to breath while getting your work done. There's nothing more uncomfortable than an ill-fitted respirator that fills with fog and makes you feel like you're suffocating. You won't have to deal with any of that trouble when using this model from 3M. All in all, a top of the line respirator from the name that consumers trust most.
Cool Flow Valve eliminates moisture, heat, and fogging
Great for protection against non-oil based products
No-tangle straps
Makes it easy to breathe
– Anthony Dawson
Respirator Mask Buying Guide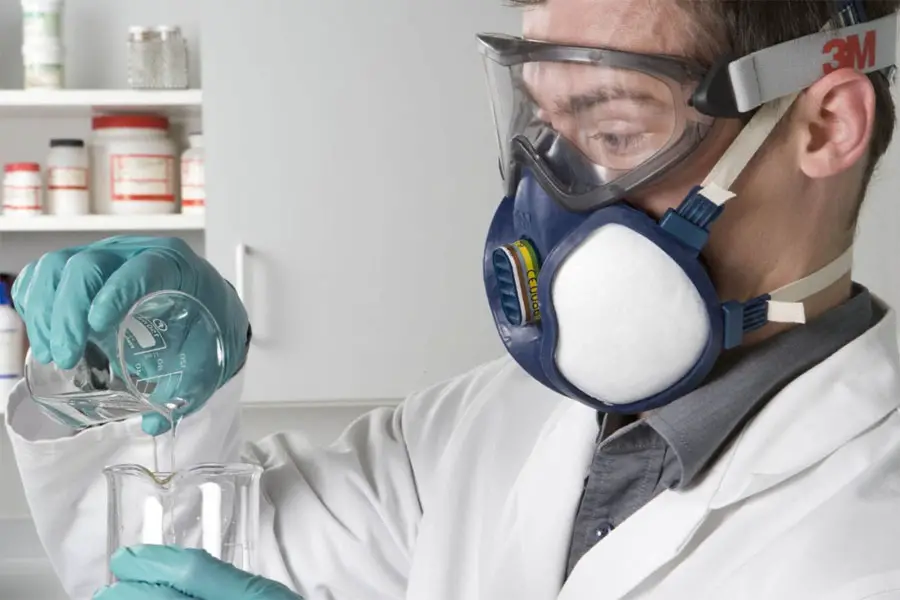 Respirator masks are among the most important protective items used in in hazardous environments. Choosing the proper respirator mask requires an assessment of your workplace, activities, and environment. You need to determine the type of hazard present and its airborne concentrations before selecting a respirator.
There are several types of respirators available depending on the hazard situation. The best way to determine which type of respirator you need is to have a workplace assessment completed by an industrial hygienist or safety personnel. The respirator you choose needs to provide adequate protection against the specific hazard it was designed for. It also needs to be approved by the National Institute for Occupational Safety and health (NIOSH).
Respirator Mask Types
Air Purifying Respirators
These come in the form of either a filtering facepiece, a half-mask, or a full-face mask. Air purifying respirators use chemical cartridges to filter dust, fumes, vapors, mists, or gases. They are available in reusable, disposable, and reusable/disposable varieties.
Filtering Ace Piece Respirator: These are designed to be one-time use devices. They are meant to filter particulate matter only.
Disposable Air Purifying Respirator: These can be used only one time, or until the cartridge expires. The cartridges are permanently affixed to the device and cannot be replaced.
Reusable Air Purifying Respirator: These use replaceable cartridges and parts. They are available as half mask or full-face respirators. In order to retain NIOSH approval, both the replaceable cartridges and parts must be made by the same manufacturer.
Powered Air Purifying Respirators: These respirators use a blower to force contaminated air through a filter. Purified air is then passed into a hood or mask.
Air purifying respirator masks aren't designed for atmospheres that are deficient in oxygen. If oxygen levels are below 19.5 percent, you'll need either a supplied-air respirator or another source of supplied air. Oxygen levels below 16 percent are unsafe and can lead to death.
Supplied Air Respirators
Supplied-air respirators provide greater protection against toxic and unknown contaminants. These respirator masks include the air-line respirator, the self-contained breathing apparatus (SCBA), and the emergency escape breathing apparatus (EEBA).
Air-Line Respirators: This type of respirator has a hose which is connected to a central air supply source. The source is either an air pump providing at least Grade Dair, or a compressed air cylinder.
Self-Contained Breathing Apparatus (SCBA): These have a limited air supply which is carried by the user. They allow for freer movement and are generally less cumbersome than air-line respirators.
Emergency Escape Breathing Apparatus (EEBA): These can provide air for five, ten, or fifteen minutes, depending on the model. They are ideal for hazard situations in which one must escape an environment quickly.
Respirator Material Types
Respirators are made using a variety of materials. The most popular types have facepieces made of silicone, rubber, neoprene, or similar materials. Silicone is ideal for flexibility, comfort, and ease of cleaning. Full-face respirator masks can be purchased with ratchet suspensions or six-strap harnesses. The harness can be used with a hard hat, but ratchet suspensions are typically easier to adjust. This makes it easier to put on and remove the respirator.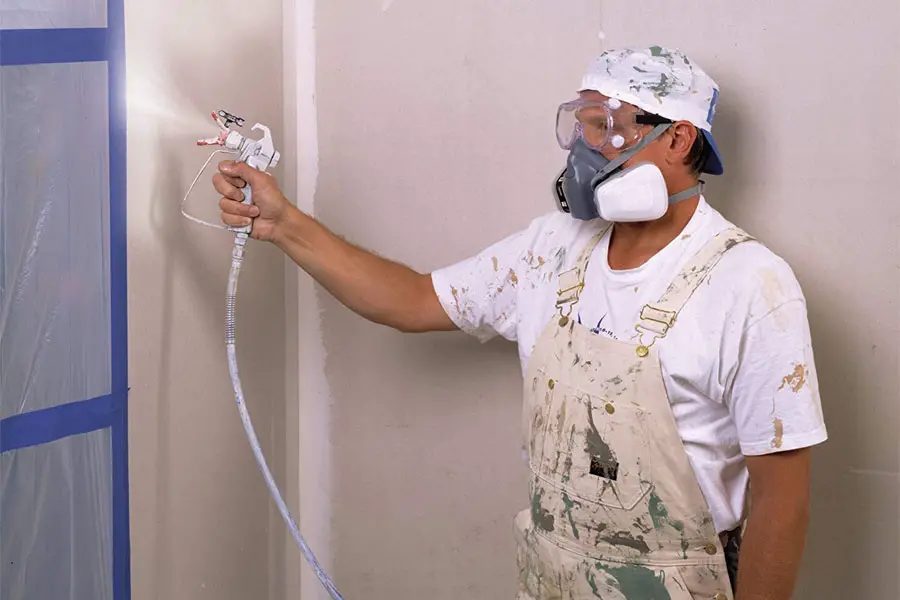 Respirator Mask Features
Respirators come with various features to suit specific hazard situations. Some respirator masks have nose cups to reduce lens fogging. Others have lens covers to protect the lens from chemical splash, scratches, and paint.
Spectacle kits can be purchased if you wear corrective lenses. With a spectacle kit, the frame mounts into a full-face mask with prescription lenses made by the wearer's optometrist. This way, the wearer can maintain a proper respirator fit and continue to wear prescription lenses.
Respirator Cartridges
Respirator cartridges are assigned a specific color to designate the type of contaminant they are able to filter. In order to choose the proper cartridge for your air purifying respirator, you'll need to consult a safety professional or the Material Safety Data Sheet for the substance you need to filter. Below are the different cartridge colors and the contaminants they filter.
Olive: Multi-contaminant
White: Acid gas
Black: Organic vapors
Yellow: Acid gas and organic vapors
Green: Ammonia gas
Teal: Any particulates (free of oil)
Purple: Any particulates
Orange: Any particulates
Respirator cartridges are usually made with activated carbon. The absorption capacity of the cartridges is limited. Cartridges can have either a limited or indefinite shelf life.
Things to Keep in Mind When Buying a Respirator Mask
When shopping for a respirator mask, keep in mind that not all masks are created equal. Some masks are nothing more than ordinary surgical masks. If possible, look for a mask with cartridge connections on both sides as opposed to just on one side or in front. This will offer you more flexibility and give you the option of attaching a replacement cartridge before the first has expired. Many cartridges have a shelf life, and won't last as long as you might expect. It's important to always have a backup supply of cartridges.
Remember that when it comes to toxic and chemical agents, too late is almost always too late. Exposure to biological and hazardous agents for just a few moments can be fatal. Do your research, and make sure you have the right type of respirator mask for your individual situation.