Rice Cooker Reviews
Rice is one of the most popular side dishes throughout the world. It goes with practically everything. Today there are many different varieties of rice and each adds different flavors and textures to your meals. By owning a rice cooker, making rice becomes as easy as pushing a button. The rice cooks perfectly without burning, and stays warm until it is ready to be served. Get the wrong rice cooker and it becomes more trouble than its worth. Between burnt bottoms and boil overs on the stove, inadequate rice cookers take more time and trouble than cooking it in a pot. We have evaluated the best rice cookers on the market today and have found a few that live up to the ease of use that rice cookers are meant to be.
Most Popular Rice Cooker
Zojirushi – Neuro Fuzzy Rice Cooker
Zojirushi-NS-ZCC10-Uncooked-Premium rice cooker makes up to 10 cups of cooked rice. This computerized rice cooker has a micro-computer to adjust the time and temperature depending on the type of rice you wish to cook. Even though is seems to be a "smart" machine, it is very simple to operate. It has multi menu selections for things like white, brown, sushi or sweet rice. Use the cups that come with the cooker for perfect measurements and then fill water to the given line inside the pot, depending on the type of rice you are cooking. It comes with a non-stick pan which provides uniform cooking. The rice pot is removable for easy clean up. The cool touch handles make it easy to move the rice from the cooker to a serving dish. The Zojirushi-NS-ZCC10-Uncooked-Premium rice cooker comes with a LCD clock and timer and a retractable cord. It also has an auto warmer for keeping rice warm or re-heating the rice. The Zojirushi-NS-ZCC10-Uncooked-Premium rice cooker makes perfect rice every time. It comes with 2 measuring cups, a spoon and spoon holder and a 1 year warranty.
5 cups uncooked rice and 10 cups of cooked rice
Multi menu selections for different types of rice
Auto Warmer and non-stick pan
Retractable cord
1 year warranty
– Anthony Dawson
Best Overall Rice Cooker
Zojirushi 3-Cup Rice Cooker
The Zojirushi-NS-LAC05XT-Cooker-Warmer-Stainless rice cooker is a 3 cup cooker and warmer. It cooks up to 6 cups of cooked rice which is great for singles, couples and small families. The Zojirushi-NS-LAC05XT-Cooker can cook many different types of rice perfectly. Whether you are cooking white, brown, sushi and Jasmine rice, it will come out perfect every time. The inner cooking pan is made for even heating and prevents burning. It is removable for easy clean up. The detachable inner lid can be removed for easy cleaning as well. The Zojirushi-NS-LAC05XT-Cooker has an auto warmer and a delay timer so that rice will be ready when you need it. It will keep the rice warm until it is ready to serve. The Zojirushi-NS-LAC05XT-Cooker also has an easy to read LCD control panel and a retractable cord for easy storage. Included with the cooker is a measuring cup, non-stick rice spatula and a spatula holder. It also comes with a one year warranty.
3 cups uncooked rice and 6 cups of cooked rice
Multi menu selections for different types of rice
Auto warmer and non-stick pan
Retractable cord
1 Year warranty
– Anthony Dawson
Best Budget Rice Cooker
Aroma Housewares
The Aroma-ARC-150SB-Uncooked-Digital-Steamer cooks up to 10 cups of uncooked rice and up to 20 cups of cooked rice. It can also handle small cooking assignments with as small as four cups of cooked rice. The Aroma-ARC-150SB-Uncooked-Digital-Steamer has an automatic warmer than keeps the cooked rice warm and ready to serve for hours, if needed. It comes with a 15 hour delay timer for easy meal planning. The Aroma-ARC-150SB-Uncooked-Digital-Steamer can handle meat and vegetables in addition to rice, which makes it the perfect appliance for one pot meals. The inner pot has a non-stick surface for perfectly cooked rice. It is removable and dishwasher safe, for easy cleanup. The Aroma-ARC-150SB-Uncooked-Digital-Steamer has a programmable slow cook setting for tender meats and meals that will be ready to serve, when you arrive home after work. The Aroma-ARC-150SB-Uncooked-Digital-Steamer has settings for both white and brown rice, which makes cooking different rice varieties as easy as pushing a button.
10 cups uncooked rice and 20 cups of cooked rice
15 hour delay timer setting
Programmable for white or brown rice
Inner pot is dishwasher safe
Can cook meats and vegetables for one pot meals
– Anthony Dawson
Rice Cooker Buying Guide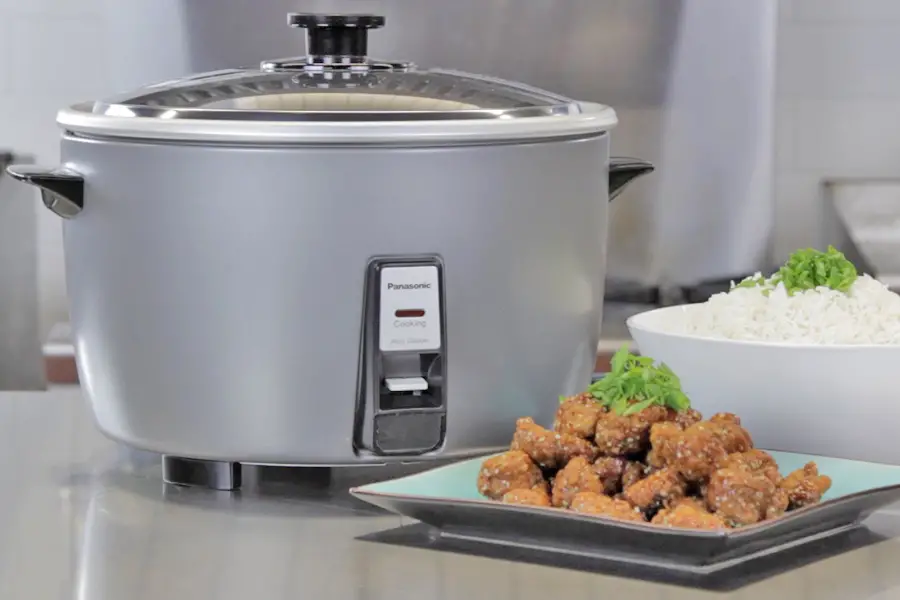 Usage Of Rice Cooker
Rice is basically the most versatile staple food known to man.  It can be served plain as a side dish or it can be so much more.  Whether you feel like going to an Asian, European, African or American cuisine, the good old rice will never fail to make it to the menu.  The ever versatile rice is not just easy to prepare but it goes well with just about any dish.  It adds flavor and texture to even the simplest meal.  This is due to the variety of rice that is available in the market.
Rice can be long grain or short and rounded, they can be white, brown or black, fragrant or not, sticky or fluffy. Thus, rice can be prepared in infinite number of ways. Steamed rice, fried rice, Mexican rice, stuffed rice and Italian Risotto are just a few ways to enjoy it. Whether you are having fish, pork, chicken, beef or vegetables, the good old rice will definitely be the perfect match. However, choosing the right kind of rice can either make or break your dish.  Choosing the right kind of rice cooker is equally crucial.  Rice cookers are essential in cooking the perfect rice.  Our fast paced world makes quick and smart cooking a necessity nowadays. This is why rice cookers are now a necessity.  Not only do rice cookers make rice cooking a breeze with just a push of a button, but it keeps those burnt pot bottoms away.
Choosing the Right Kind of Rice Cooker
Display And Time
Most of the newer brands come with easy to read LCD control panel to allow easy adjustment of clock and cooking time. Tempered glass lids make it possible to monitor rice or food as it cooks.  Some units have locking lid that keeps boiling overflows. Modern rice cookers cook rice at a touch of a button or a single switch control. Rice are not only cooked perfectly but are kept warm and moist. The inner pan of these rice cookers are designed for even heating which evenly cooks rice while preventing burns.
The most advanced rice cookers are capable of pressure cooking and use induction heating. Some of the inner non-stick cooking pans are even infused with platinum that changes the quality of the cooking water thereby creating sweet and delicious rice.
Heating Capacity
Some models have built-in micro-computers that can sense the moisture level of the food and adjust temperature and the cooking time accordingly. Once the rice is perfectly cooked, it automatically switches to keep warm giving you rice that is perfectly ready to serve for up to 12 hours. This auto warm feature is also excellent for re-heating the rice.
Programming and Settings
There are rice cookers that combine the features of a steamer, a slow cooker and even a pressure cooker. Some high-end models even have programming features that allow control of the time when cooking will start and the speed of cooking time. Advance features like memory settings are available on some brands too. This allows the appliance to recall the previous settings and apply it to guarantee perfectly cooked rice each and every time. Multi-selection settings are also available to customize cooking of the different variety of rice. This include, regular rice, softer, harder, sweet, brown, semi-brown, sushi and even rinse-free cooking.
Rice cookers that can cook meat and vegetables while cooking the rice are excellent for creating one pot meals.  These rice cookers double as slow cookers and can also be programmed to cook in advance so your complete meal will be waiting for you tender, warm and delicious ready to be served when you come home after a long day's work.  This is perfect for working moms as the slow-cook function can be programmed for up to 10 hours.
Timer
Some of the more intelligent brands even come with a delayed cooking timer.  This is ideal for people who want to plan their meal ahead of time and come home to it perfectly ready to serve.  Surprisingly, this type of rice cookers even allows you to easily plan your meals up to 24 hours in advance.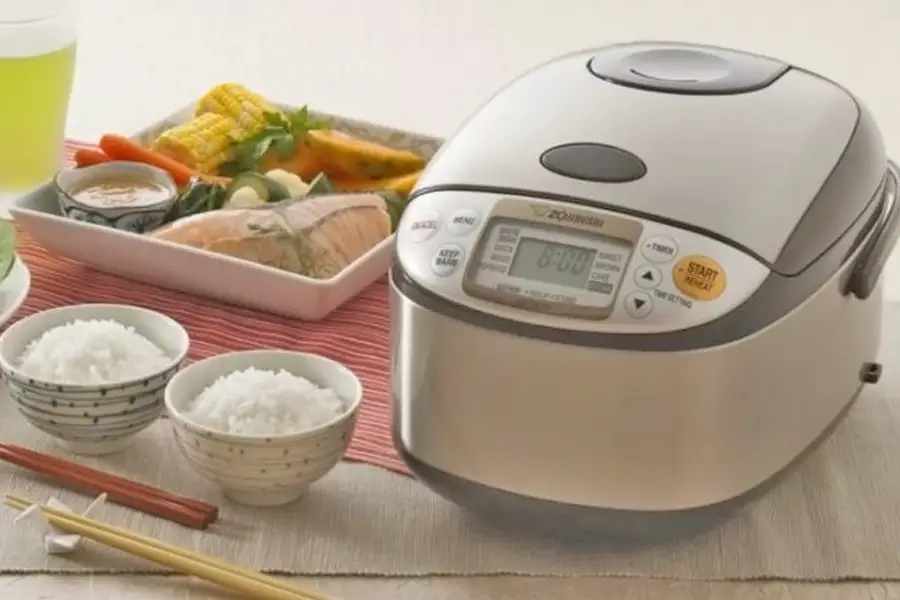 Cleaning
Most rice cookers come with steaming baskets that are excellent for steaming dumplings and vegetables.
Ease of clean-up is also a consideration in buying rice cookers.  The fact that most of these pans are non stick makes them so easy to clean. Some rice cookers have detachable heating pans and inner lids which make cleaning a breeze.  There are models that even have condensation collector. It is also good to choose rice cookers that have stay cool inner handles to allow easy removal and cleaning as you don't have to wait for it to cool down. Some rice cookers have filters that prevent particles of food to become stuck in the system.  Rice cookers that have clear coating are excellent for repelling oil, dust and fingerprints.  A cool touch handle is also an excellent feature as it not only allows the easy transfer of rice from the cooker to the serving dish but also makes moving and cleaning the cooker a lot easier.
Rice cookers normally come with a free measuring cup, a rice spatula or paddle, a spatula holder, some of which are even BPA free.
Ergonomically designed, rice cookers also make beautiful additions to your kitchen counter.  Most of them are compact to allow easy storage.  Some even comes with retractable cords to keep your kitchen counter organized.
Warranty
Warranty coverage is also one thing that you should consider in buying a rice cooker especially for the pricey models.  However, feedbacks about these rice cookers have been excellent when it comes to durability that they rarely require the use of such warranty.  Still, it pays to have peace of mind.
So if you want an easy way to consistently prepare the perfect rice, if you are always on the go and would like to be able to plan your meals in advance, if you want the ability to prepare your meal before you leave and come home to find it waiting for you ready to eat, then get a mighty rice cooker, it simply is a must.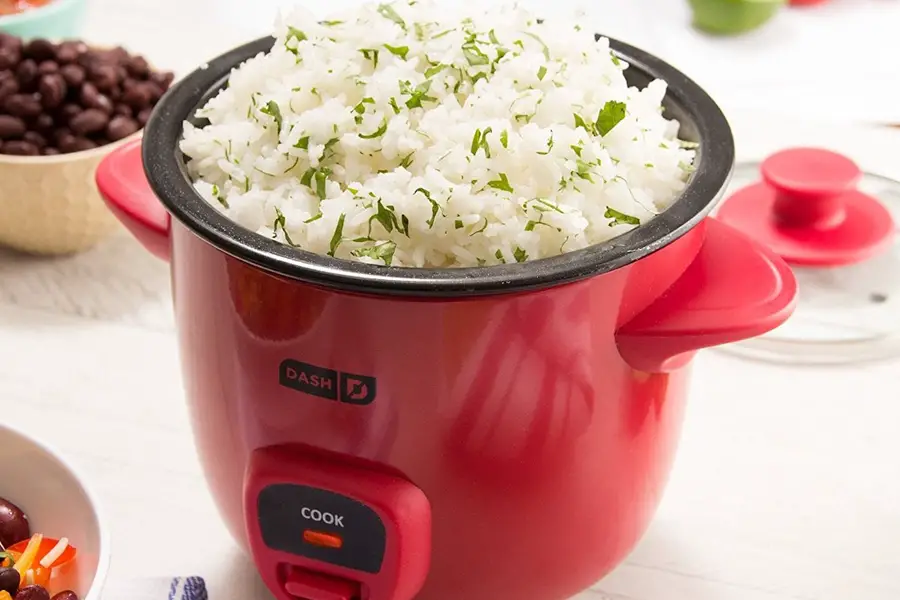 Perfect Rice of Every time
You don't have to go to the restaurant or the store in order to get some delicious and fluffy rice, you have the option to cook some great rice right from your very own kitchen. If you have decided to purchase one of the quality rice cookers available on the market today, you can make sushi, stir fry, and a variety of other meals which include rice. Many rice cookers will easily get the job done for you and provide you with some delicious and fluffy tasting rice that you'll enjoy on a regular basis for many years to come. Sometimes it can be difficult to get the measurements right for cooking rice, if you have too much water then it won't cook properly and you won't enjoy the meal that you made. If you want your rice cooked perfectly every single time that you attempt to make it, then you need to invest in one of the best rice cookers so that this convenient machine can cook the rice for you.
Rice Cooker Models
There are numerous rice cooker models to choose from: Aroma, Black & Decker, Rosewill, Heaven Fresh, Oster, and Cuisinart, are just some of the more popular options to go with. With these rice cookers you often get the ability to program how much rice you would like to cook,
some models even include measuring cups, a nonstick rice spoon for you to clean out the rice cooker with, as well as offering a rice spoon holder, and sometimes recipes are even included in the deal. If you want to find a rice maker that offers you a lot, then look online for the reviews of rice cookers to see what other people have said about their own rice cookers and how they worked for them.
Using A Rice Cooker Daily
Depending on the kinds of foods that you want to make, how often you cook rice will play a big part in your decision to spend money on a quality rice cooker. You don't want a rice cooker that is going to fail on you, one that won't be able to cook enough rice, and possible one that might not even work properly at all. This is why it's important to go online first and review what other people have said about the rice cookers before making any definite choices on which one you would like to go with.
Whether you want to make sushi, rice balls, need rice for a side dish or just want to eat it all by itself with some delicious soya sauce, millions of people use rice cookers every single day to help them cook the perfect rice. Sometimes it can be tedious when we try to find the right rice recipe, one that will make great rice for us every time. Sometimes we end up with rice that is too soggy or too hard, if you want rice that is made perfectly every time then you need to go with a rice cooker that can cook it for you.