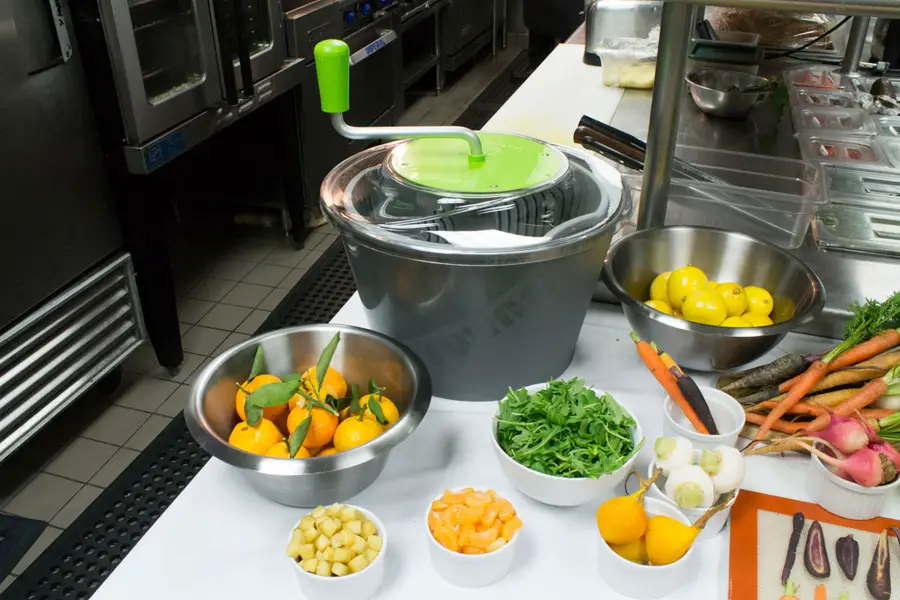 Salad Spinner Reviews
Salad Spinners became popular in the 1970's when they were first produced for the mass market in the US. The salad spinner generally consists of an out bowl and an inner colander or strainer. There is then a top that has a spinning device, which rinses lettuce and salad greens. It is considered to be time saving and cost effective compared to washing and drying each piece with a paper towel. If you enjoy salads then a salad spinner will be a convenient and fast way to rinse salad greens so they are fresh and ready for you to enjoy your salad. We have combed through the many salad spinners on the market today and selected the best ones for home use.
Most Popular Salad Spinner
Prepworks
The Progressive-International-CSS-1-Collapsible-4-Quart salad spinner works with a pull cord. The retractable pull cord can be pulled a few times and spin the mechanism that cleans the salad greens. The 4 quart capacity makes enough salad for a family of 4. The Progressive-International-CSS-1-Collapsible-4-Quart also comes with a push button stop and a nonskid ring on the base for easy use. The outer bowl can be used to serve salad in, where the inner bowl can be used as a colander for other rinsing needs. What makes the Progressive-International-CSS-1-Collapsible-4-Quart unique is that it is collapsible. One of the biggest consumer complaints is that salad spinners are hard to store and take up too much room. The Progressive-International-CSS-1-Collapsible-4-Quart solves this problem by creating sides to the bowls that will collapse to half its original size. This means the salad spinner can be stored in a space that is only 3 inches high. The flat lid allows for other items to be placed on top of the salad spinner without difficulty.
Pull cord mechanism to spin salad
4 quart capacity
Collapsible bowl for easy storage
Nonskid ring on base of bowl
Dishwasher safe
– Anthony Dawson
Best Overall Salad Spinner
OXO
The OXO-1071497-Steel-Salad-Spinner works like a children's top. The stainless steel bowl has a non-slip ring on the bottom of the bowl to prevent slipping. There is a colander inside the bowl which holds the greens or vegetable to be rinsed. Secure the lid and push down on the stem to create the spinning motion for the spinner. The OXO-1071497-Steel-Salad-Spinner can be operated with one hand. There is no mess or water leakage from use. The clear lid allows you to see the greens and determine when the food has been rinsed. The lid is top rack dishwasher safe. Whether you are making leeks, Brussels sprouts or salad the OXO-1071497-Steel-Salad-Spinner is perfect for preparing the vegetables for table use. The non-slip ring works on most surfaces making it so the bowl is secure even when the spinner is going very fast. The OXO-1071497-Steel-Salad-Spinner is the perfect appliance for salad and vegetable lovers. The stainless steel design is user friendly and the customer service of the company is the best in the industry.
Pump operation
Non-slip ring to keep bowl steady
Stainless Steel Bowl
Clear lid that is dishwasher safe
One hand operation
– Anthony Dawson
Best Budget Salad Spinner
Cuisinart
The Cuisinart-Home-Products-Large-Spinner has a handle to turn in order to operate. The glass bowl can double as a salad bowl and the colander can double as a strainer for other foods. The Cuisinart-Home-Products-Large-Spinner has a lockable lid which secures the food items in the bowl for a no mess operation. Simply place the greens in the bowl, lock the lid and turn the handle. In a few seconds the food has been rinsed and you are ready to assemble the salad. The large handle is easy to grip and easy to turn. The bowl is large enough to build 4 dinner salads with ease. The Cuisinart-Home-Products-Large-Spinner also has a pouring hole in the lid. This allows you to add dressing to the salad, after is has been washed. It puts the perfect amount of dressing on the salad, while mixing it so that all of the salad greens get the right amount of dressing.
Handle turn for operation
Large glass bowl that can double as a serving dish
Lockable lid to secure greens
Pouring hole in the lid for adding dressing
Easy to clean
– Anthony Dawson
Salad Spinner Buying Guide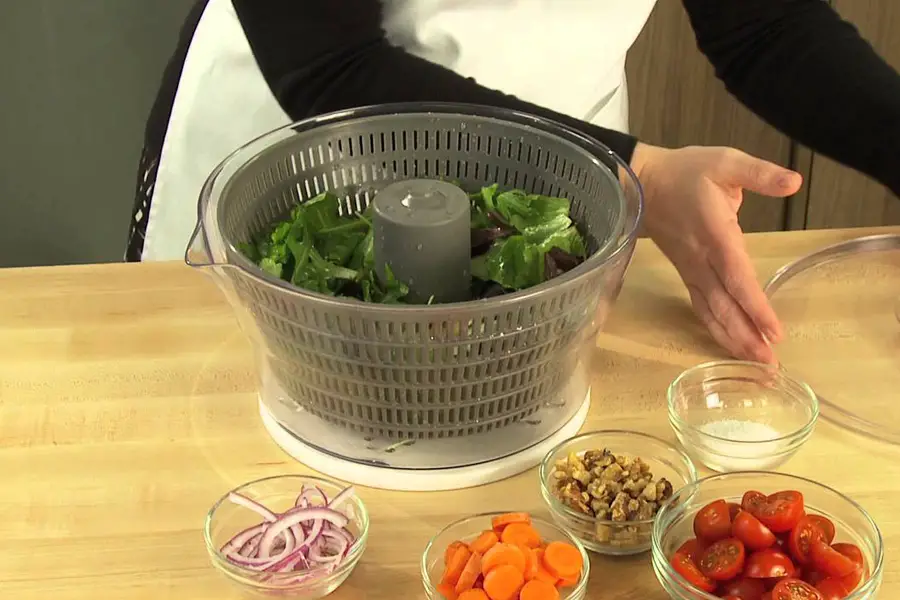 Tips on Choosing the Best Salad Spinner
Salad spinners can help you save a lot of money by encouraging you to purchase loose greens rather than pre-bagged and pre-cut greens. According to experts, the bagging process can cause your green leafy vegetables to lose certain nutrients and flavors. Loose greens can even stay fresher for longer than bagged salad if you know how to take care of them properly. This is what you'll need the salad spinner for.
If you make salads on a regular basis, you probably already know how inconvenient it can be to wash your green vegetables and pat them dry with paper towels. With salad spinners, you will be able to dry the lettuce and other salad ingredients more easily and with less waste. You can also use them to clean your home-grown vegetables or remove the hulls from sprouts. If you are looking for a good salad spinner to buy, the following factors are some of the things that you should look into.
Spinner Size and Material
Before you buy a new salad spinner, you should first consider how much salad you usually prepare. How many cups of salad greens do you typically consume? You should take this into account so that you will purchase the appropriate spinner size for your needs. Salad spinners usually come with a salad bowl, a plastic basket (colander), as well as a plastic lid. Lids can sometimes be opaque or see-through, and this can be pretty convenient if you're the type who always wants to check on things.
Types of Salad Spinners
Salad spinners have various kinds of lids which allow users to control its spinning mechanism. The main objective of a salad spinner is to help you extract as much water from your vegetables as you possibly can. If your spinner seems unstable and you notice that there is never enough force to extract all the water from your veggies, you will most probably need to clean a wilted mess in just a few days. To ensure that you will be buying the best type of spinner for your preferences, here are some of the most common spinners that you will find in stores:
1. Hand Crank
The most straightforward and simplest salad spinner design that you will encounter is the hand crank spinner. Cheaper models usually come in hand cranks but the reverse is not exactly true. In a hand crank spinner, the handle is mechanically connected to the colander through gears. When you turn the handle, the colander will turn as well. Usually the handle is placed at the top of the lid or to the side.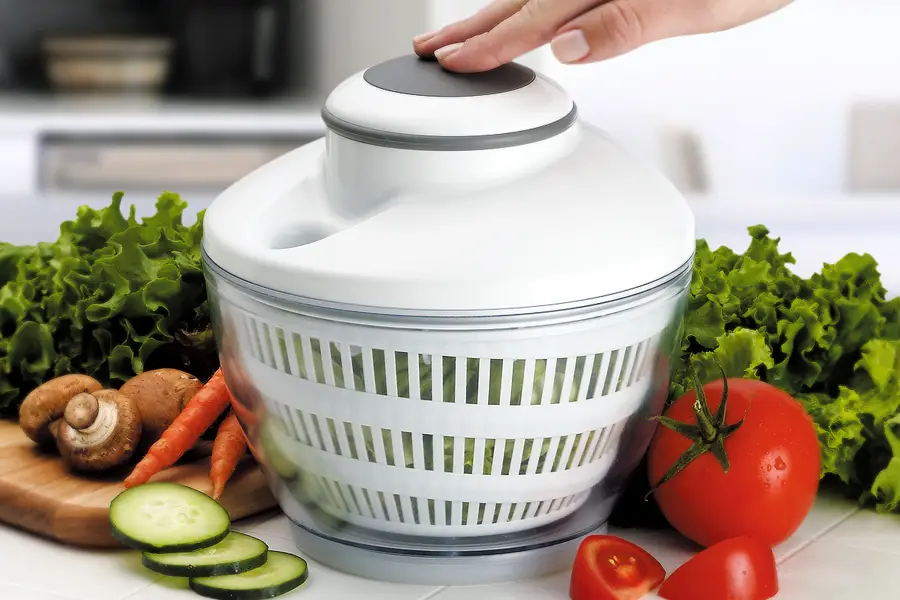 2. Pump Action
Pump action salad spinners begin spinning around when you push down the plunger on the lid. This type of salad spinner is recommended for people with weak hands or those suffering from arthritis. The gears connected to the plunger convert the downward motion into spins. The downward push is guided into the bowl to keep it from moving sideways. With this kind of spinner, you can spin the salad with just one hand. In some models, you may lock the plunger in the down position for convenient storage.
Other variations come with a lever instead of a plunger, but both types make use of the same principle. They both run on a mechanism that needs to build up momentum and centrifugal force to suck the water out of the salad greens or other vegetables.
3. Cord-Pull
A cord-pull salad spinner is used in the same way you would start a gas-operated lawn mower. You will need to yank a cord and this will allow the colander to spin like a top. The cord is pulled back in through a spring. This type of spinner generally spins faster and as a result, they can extract water much better. However, they are not as durable as the hand crank or pump action spinners. People who have owned cord-pull salad spinners have similar experiences of having had their pull cords broken after consistent usage.
Salad Spinner Features
Your salad spinner should be relatively easy to uncover to make the cleaning process convenient. Since spinners are inevitably exposed to water and moisture, mold can build up and get stuck within the spinning mechanism if it is not immediately opened and cleaned up.
The usual size of the bowls that come with the spinner is anywhere between 3 to 6 quarts. Holes can sometimes be found at the bottom of the bowls to make it easy to drain the water out. Other bowls do not have holes, and thus you can also use them for serving your salad. Most bowls are also made of plastic see-through materials. Make sure the plastic is hard enough to lessen its frictional contact with the colander. Budget salad spinners commonly have soft bowls and as a result, the colander cannot spin as well as it should. You may opt for those with stainless steel bowls but they are usually much more expensive. Those with rubber feet are also advisable to keep the bowl from slipping.
If you want convenient storage, you may want to go for spinners that have flat tops as this allows you to stack it with other kitchen items. Having a brake or stop button is also handy if you wish to stop the spinning of the colander immediately.
In theory, the mechanical designs of the various spinner types are known to work quite well, however the differences in quality are usually made obvious by how the mechanism itself was made and put together. Some models were made to spin at only limited speeds while others weren't developed well enough to withstand a lot of uses. What's important is that you make sure that the build and reputation of the spinner you're planning to buy is of top quality.
Maximizing the Use of Your Salad Spinner
To make the most out of your salad spinner, you may use it for other stuff besides salad. You may also spin berries using your salad spinner and some models even come with removable dividers or berry bowls just for it. You should also not have your spinner filled to its full capacity if you want to dry your greens more effectively. It is also recommended to spin your greens more gently to ensure that they will last longer.