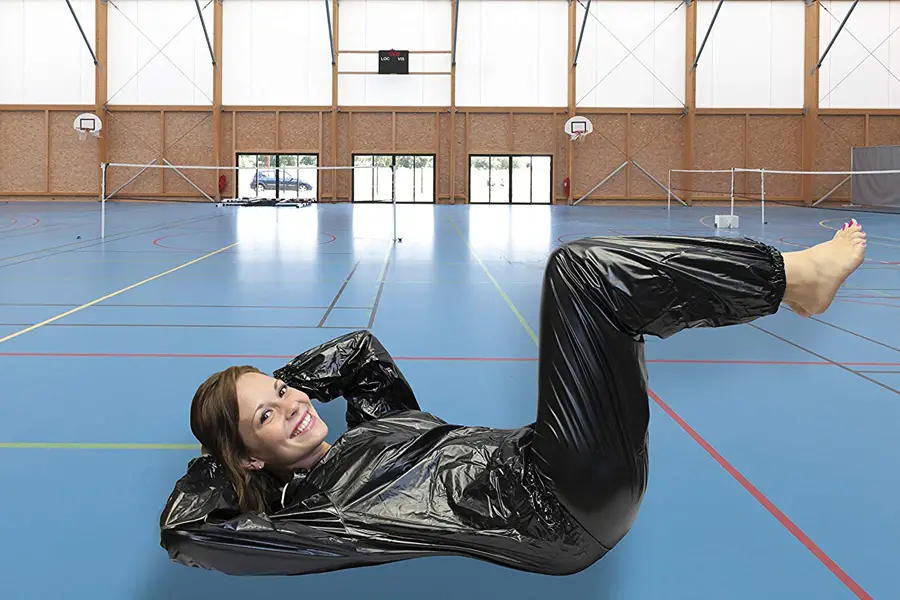 Sauna Suit Reviews
Sauna suits are a relatively new form of fashion, though they aren't exactly designed to look fashionable. They usually come in a two-piece setup similar to a typical sweat suit or tracksuit, with elastic waistbands, ankles, and wrists. The suits vary in their construction material, but most are designed to prevent sweat or heat from escaping the body. Sauna suits are also built to be durable to standup to the demands of various forms of workouts. As such, they are not solely designed for use simply sitting in a sauna. Sauna suits can benefit a variety of individuals and can help just about anyone shed the body of toxins and help relax and calm their muscles.
Most Popular Sauna Suit
TITLE Pro Hooded
The TITLE Pro Hooded Sauna Suit is a virtually indestructible two-piece top and bottom suit that doesn't leave you looking like you're walking on the moon. The suit is constructed of dual-layered rip stop nylon in a shiny black that looks like your typical tracksuit. Inside the TITLE Pro Hooded Sauna Suit is a tear resistant PVC rubber nylon liner that keeps perspiration and the workings of the sauna inside the suit. The top of suit has a drawstring hood and 2-inch elastic hook and loop secure wrist tabs. The suit pants have 1.75-inch full elastic waistband with a drawstring to conform to those between sizes. Additionally, the pants offer two side pockets and zippered ankles with full elastic cuffs designed to prevent the pant's internal heat from escaping out the leg. The TITLE Pro Hooded Sauna suit is available in sizes M-XXL and works wonders for full-circuit training, cold weather workouts, and all-purpose sauna use.
Two-piece suit of dual-layered rip stop nylon in black color
PVC rubber nylon liner is resistant to tears
Drawstrings throughout suit
Zippered pockets for holding workout necessities
Zippered/Elastic ankle cuffs for easy on/off and breathability on demand
– Anthony Dawson
Best Overall Sauna Suit
RAD Heavy Duty
This heavy duty Sweat Sauna Suit from RAD is the ultimate hot-workout apparel. The suit is made of nylon and PVC coated fabric that's durable and heavier than normal to help bring about the most perspiration during a hard workout. The suit has fully elasticized cuffs throughout so that no heat escapes the inside of the suit while in the sauna or halfway through an intense workout. This is also aided by the suit's rubberized inner lining, which helps the body get hot and start sweating as quickly as possible. The entire suit is resistant to tearing and ripping, so no matter how hard you charge it won't fail. While sauna-goers and competitive athletes will find plenty of use in the RAD Heavy Duty Sweat Sauna Suit, so too will anyone that wants to sweat out toxins during everyday activities or for those that want to keep their muscles warm and relaxed before, during, or after a workout.
Stylish, two-piece sweat/sauna suit
PVC coated nylon fabric facilitates maximum perspiration
Suited for sauna wear, workouts, everyday chores, and more
Rubberized lining traps heat inside the suit
– Anthony Dawson
Best Budget Sauna Suit
Evaliana
The Evaliana PVC Sauna Suit may look like it came out of a 1980's music video, but it was designed for the demands of the most modern of saunas. Though Evaliana has become synonymous with boxing, the company actually has origins making swimwear that, like its boxing equipment successors, is built to last. This two-piece PVC sauna suit in shiny silver is designed to trap in all of the body's heat and sweat so keep the perspiration flowing, which is the mission after all. The suit is also specifically engineered to help the muscles relax to allow for increased flexibility for workout usage. The PVC material is tough and durable and resists moisture on the outside but keeps it inside where it needs to be. The suit's waistband and wrist and ankle cuffs are all elastic for finding the perfect fit and trapping the heat from escaping the suit's exit areas.
Futuristic, shiny silver sauna suit
Made by Evaliana, a brand with products built to last a lifetime
Tough and durable PVC construction
Elastic waistband, ankle and wrist cuffs
Designed to facilitate muscle relaxation
– Anthony Dawson
Sauna Suit Buying Guide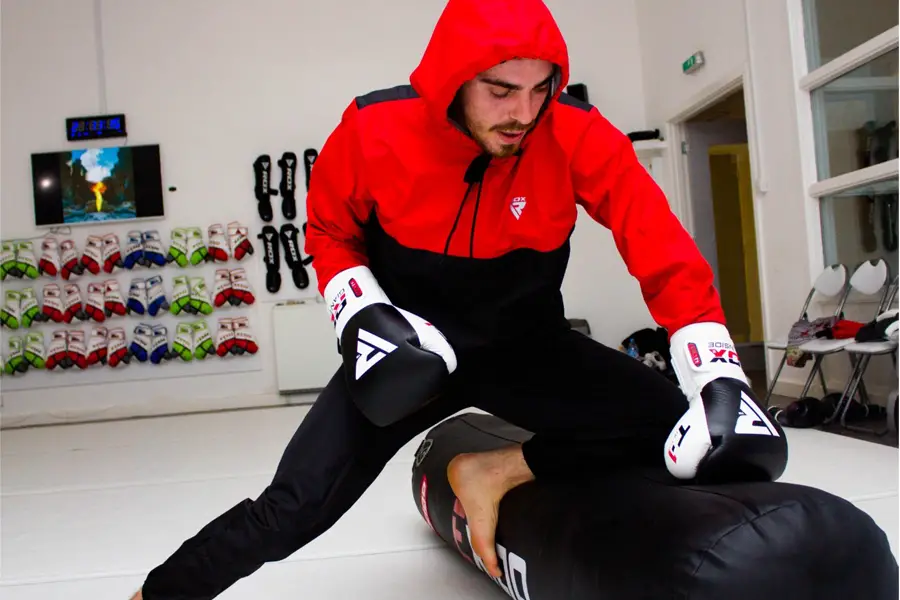 Sauna sweat suits are very important for obese patients. Because of its health benefits, it is always in high demand. This tends to make it difficult for users to make a purchase. This buyer's guide will help those people who want to purchase the product to make a choice. Other useful resources will help you make a decision whenever you want to make a purchase.
How to Purchase Sauna Sweat Suits
Many first time buyers do not find it easy to purchase Sauna sweat suits. The first question you should ask yourself is which sauna should you purchase and why. If you are able to provide yourself answers to these questions, you will not find it difficult to buy the most suitable suit for your use. With this in mind, you can now shop for your sauna sweat suits. Here are some other important factors you have to consider to make a right decision.
Size
The first thing that should come to your mind is the right sauna sweat suits that size you. There are different brands, designs, and sizes in the market. You have to select the size that would suit you very well. How then do you select the correct size? If you want to buy the product from the internet, you have to go through the product specifications to determine the right size. The specifications would include several things, such as the accurate size, and other important information you need to know about the product. Compare the available sizes until you get the one that would suit you. You should know that the measurements are done in inches.
Other Specifications
You also have to consider the other specifications about the product to know whether it is the right product for you. You have to check such things as the quality of materials used in producing the brand. You should also determine the electrical specifications. You can consult a certified electrician to find out whether the electrical specification is the most appropriate. Electrical specifications differ from country to country. What are obtained in the United States may not be the electrical specifications in some European countries. It is important that you bear this in mind while making a purchase.
The price of the sauna sweat suit is another important factor you should always consider before you make a purchase. The price is determined by different factors such as the quality of materials used in the manufacture of clothes. If you look for a sweat suit made of cedar materials, you should expect it to be more expensive than those made with non-cedar materials. This material is more durable and it normally lasts longer than other brands in the market.
Sauna Swear Suite Warranties
This is because of the competition in the market, available products on the market always compete with one another. To attract the patronage of customers, manufacturers always extend warranties for their sweat suits. You have to determine the type of warranties, and for how long such warranties last. Do not patronize products without warranties and go for products with longer warranties. Products with longer warranties are likely going to be better products. Search for the best deals before you decide to make a purchase. There are certain things you must ensure that the warranties cover such as heaters. Most manufacturers give a lifetime warranty for this. Control is another area, which the warranty is supposed to cover. Manufacturers of high quality sweat suit extend this type of warranty for five years and more.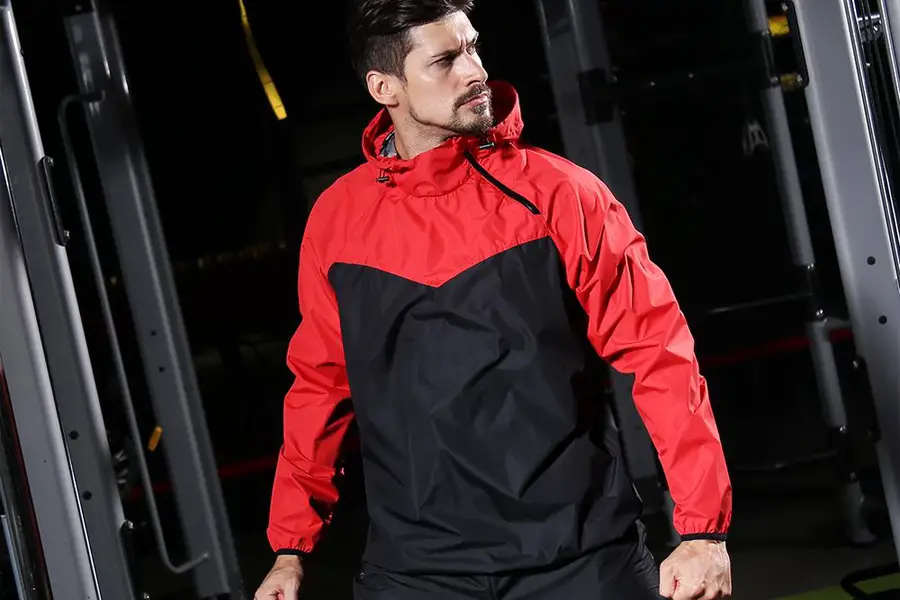 Design
The construction of the sauna sweat suit is very important if you must purchase a high quality product. The wood must be properly designed such that it is kiln dried. You should consider different types of adhesives that are used to produce it. If you buy a quality with inferior design, it would not last long. It would not withstand constant washing which it would be subjected to depending on the frequency of use and the number of people using it.
Consider the print details: another important factor you must consider before you purchase any brand of sweat suits is the print details. If you buy a product with poor print quality, it will fail easily. You should always keep at the back of your mind; the likely effect sweat will have on the materials.
Where to Purchase a Sauna Sweat Suit
There are different sources you can purchase your sauna sweat suits. You can purchase on the internet or you purchase them locally. When you purchase it locally, you are likely to see products that meet all the local requirements and specification such as electricity and weather usage. It is likely to be more expensive when you buy them from your local stores.
This is because it would be subjected to such taxation as sales tax. You can also buy it from the internet. There are different online merchants who will sell high quality sweat suits to you. However, before you purchase it from the internet, you have to be sure that it meets the specification and fits you very well. The best sources you can buy from the internet include the eBay and Amazon. There are other different portals you can always buy your sauna sweat suits. Before you pay for it on the internet, consider all the factors enumerated above, otherwise you will not get a true value for your money.
What Are The Benefits Of Sauna Sweat Suits?
It is lightweight
It is comfortable to wear during workout or exercises
It burns calories and promotes weight loss
It makes your muscles relax and warm
It is affordable and readily available
It is attractive and fashionable
Cons of Sauna Sweat Suits
It does not last long because of the materials used in producing it
It must be cleaned each time you use it
Conclusion
The Sauna sweat suit is one of the ways of shedding excess weight. You will no longer find it hard to lay your hands on high quality suits that meet your needs. If you follow these tips, you will find a sweat suit that would serve your purpose.