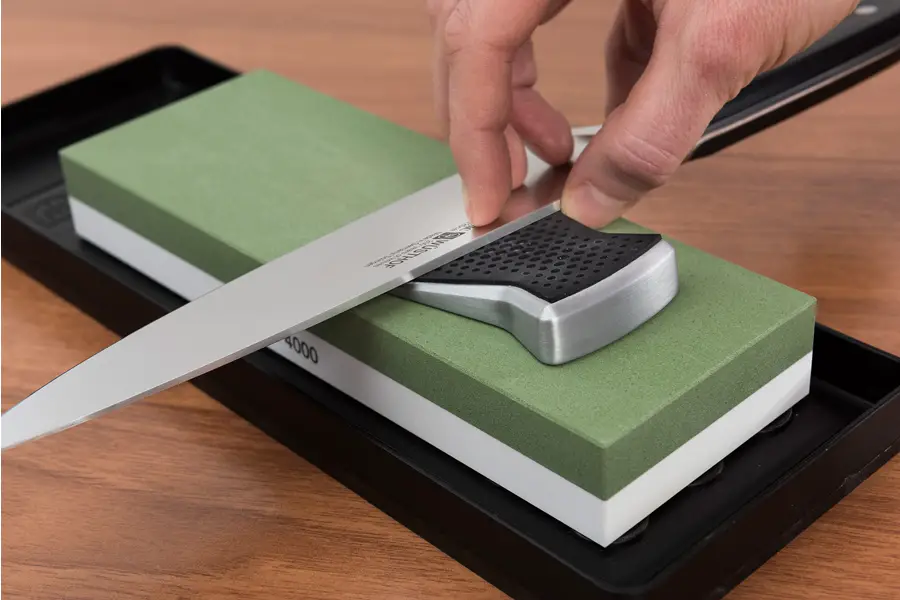 Sharpening Stone Reviews
Sharpening stones are an essential product to have in your home. They take dull knives and tools and create sharp knives that will operate the way they did when you first purchased them. Stones will allow you to bring dull objects back to life and will save money over buying new items that you no longer use because they have become too dull. We have selected the best stones on the market that will keep your knives and tools sharp for a long time. These top quality stones will last for years providing you will all your tool sharpening needs
Most Popular Sharpening Stone
DMT (Diamond Machining Technology)
The DMT-W6EFC-6-Inch-Diamond-Whetstone comes in a wooden case. The set includes three sharpening stones. The coarse stone will create a sharp edge from a dull one and transform the tool to its most efficient operation. The fine stone will create a very sharp edge for the tool. The extra fine stone will polish the tool and refine the edge so that it will remain sharp for a longer time. This set will enable to you sharpen any knife or tool creating a sharper and safer tool to use. There is no oil needed to sharpen tools with the DMT-W6EFC-6-Inch-Diamond-Whetstone. It can be used either wet or dry. The wooden box provides an elegant storage case or a great gift box.
3 Stones provided in a wooden storage box
Three different stone including course, fine and extra fine
Can be used either wet or dry (no oil needed)
Each stone is 6 inches long
Made in the USA
– Anthony Dawson
Best Overall Sharpening Stone
Smith's
The Smiths-50008-8-Inch-Diamond-Tri-Hone is a sharpening stone that will keep all of your tools sharp. The 8 inch stone is easy to rotate depending on your sharpening needs. The base is made of rubber to create a non-slip surface. It includes a micro tool which is great when you need to sharpen small tools. The stone is 8″ X 2.5″ rectangular shape. The stone has 3 sides which include a course diamond sharpener, a fine diamond sharpener, and a natural stone. The coarse diamond has a grit of 325 where the fine has a grit of 750. The natural stone has a grit of 800-1000. There is a handle making it easy to change the surface for sharpening knives and tools. The two diamond sides will sharpen the object and the stone will create a smooth finish. The Smiths-50008-8-Inch-Diamond-Tri-Hone is designed to keep the sharpening surface clean providing faster operations and a longer lasting product.
Tri stone sharpening tool for knives and tools
Three sides with different grades
Holes collect metal for cleaner and faster sharpening
Stone has a handle for easy adjustment to the correct side
Stone is 8″ X 2.5″ rectangle
– Anthony Dawson
Best Budget Sharpening Stone
Sharp Pebble
The Sharp Pebble is a rectangular stone that offers both 1000 grit and 6000 grit surfaces. The unit only needs water in order to lubricate the edge that is being sharpened. Japanese water stones create extra sharp surfaces with which to cut. The stones are produced with an abrasive slurry on the top of the stone that polishes and cuts the tool being sharpened. This sharpens tools faster with sharper edges than standard cutting devices. The Sharp Pebble also polishes while it sharpens saving you an extra step. The stone is 7.25 x 2.25 x 1.00 inches rectangular stone. Just add water and the stone is ready to use.
Sharpens faster than standard cutting stones
Sharpens and polishes in one operation
Offers 1000 and 6000 grit polishing
Only needs water to create a sharper tools in faster time
The size of the stone is 7.25 x 2.25 x 1.00 inches
– Anthony Dawson
Sharpening Stone Buying Guide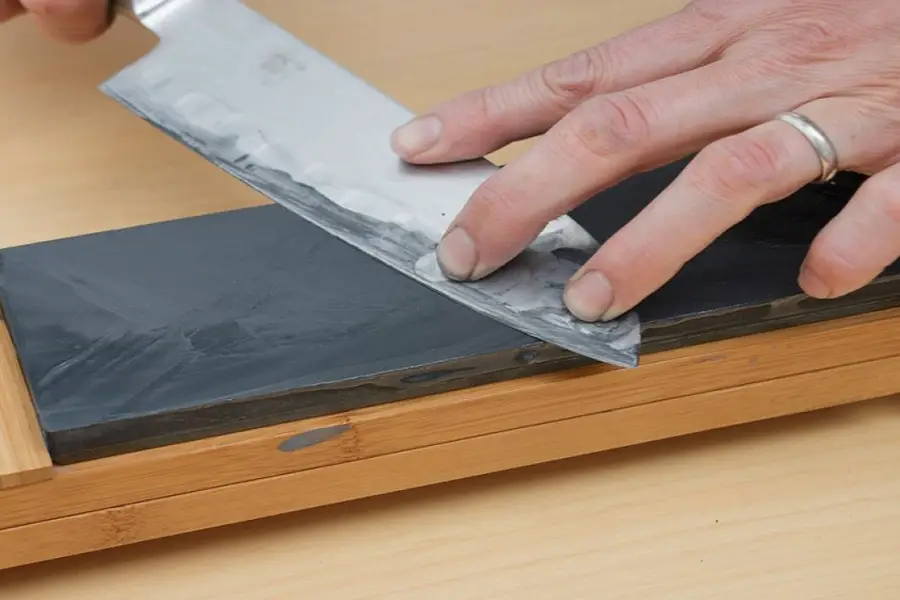 Knives lose their sharpness when you use them over time. Using blunt knives is frustrating and can even hurt you. Sharpening your knives makes them much more efficient. The best way to keep the blades sharp is by using sharpening stones. However, choosing a sharpening stone is not an easy task. This guide will help you make an informed decision when purchasing sharpening stones.
4 Types Of Sharpening Stones
There are four main types of sharpening stones. The following are the common types of stones that you will find in the market.
1. Water Stones
These are the most popular stones today. You have to soak them in water before you use them, hence their name. Water stones are some of the best stones that you can buy. However, you may need to replace them because they can become brittle due to frequent soaking and drying.
2. Ceramic Stones
Ceramic stones can last for a long time without having to replace them. You don't have to apply oil or soak them in water before using ceramic stones. All you have to do is scrub out the particles from the stone's surface after usage. Ceramic stones require proper maintenance to last long. The qualities vary a lot, and you should be ready to research before you settle for one.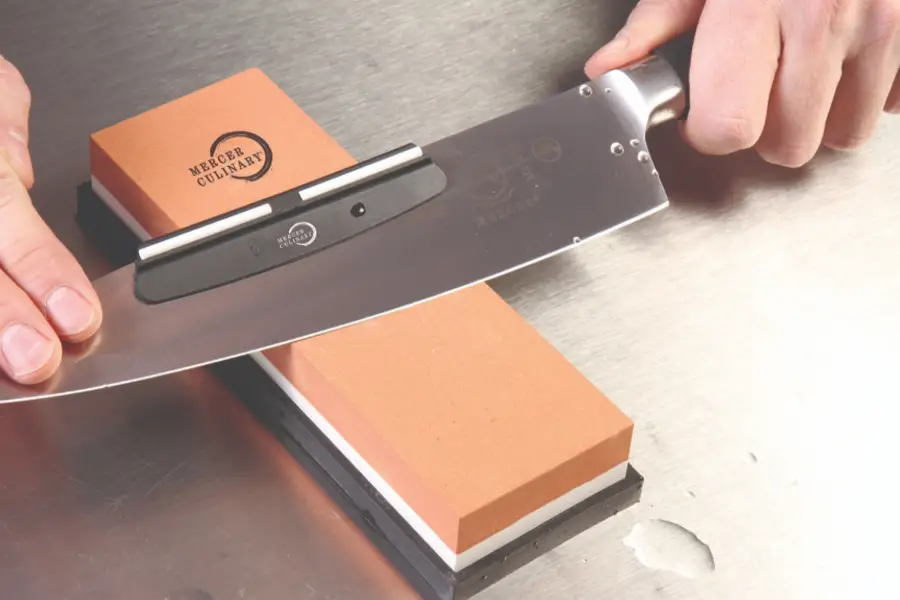 3. Oil Stones
You have to put oil on the surface of oil stones before using them to sharpen your knives. The metal particles will be cleared away as you sharpen the knives. Oil makes the process smooth but messy and slow. Note that you can only use honing oil and not any other oil.
4. Diamond Stones
These stones are the best that you can find but come with a hefty price tag. They are made of plastic or metal base and small diamonds on top. You can either buy a diamond stone that has a continuous diamond surface or one that has holes. Diamond stones can be used without soaking in water or applying oil. Although they are durable, you should be ready to dig deep into your pockets when purchasing one.
Things To Consider When Buying Sharpening Stones
There are many types of stones in the market, and you can face some difficulties when purchasing one. The following factors will help you narrow down your options.
1. Size
You should ensure that the stone has the right size for your cutting tools. A small whetstone can frustrate you when sharpening large knives. It's unsafe since the knife may chop your fingers. A 6-inch whetstone is ideal for sharpening kitchen knives. Go for a larger whetstone if you are planning to sharpen bigger tools.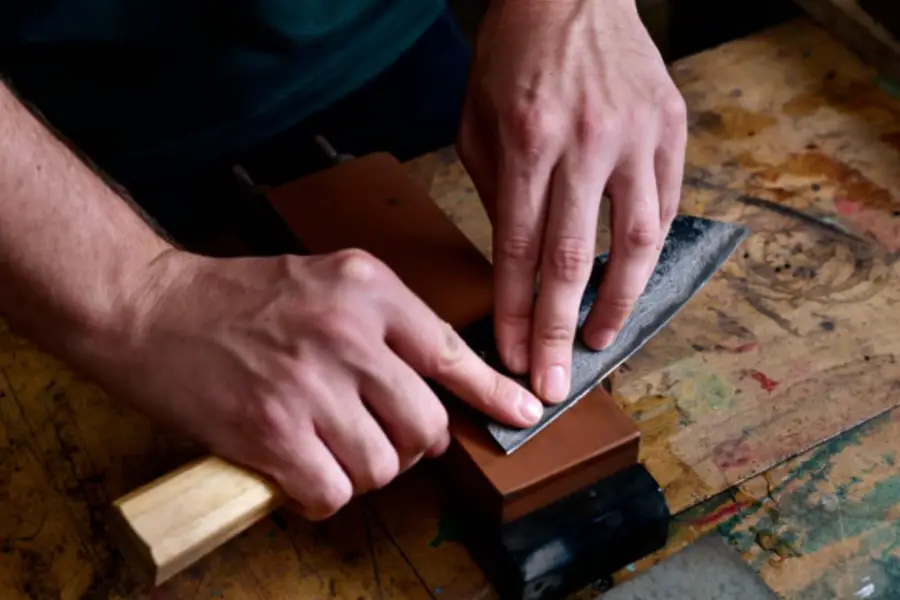 2. Grit
Grit refers to the coarseness of the stone. You won't have problems determining the grit of a whetstone since manufacturers indicate it using a number. A stone with a lower grit number is coarser than that with a high number. Sharpening stones can be divided into three categories: fine, medium and coarse stones.
Fine stones have a grit number ranging from 4000-8000 and enable you to achieve sharply defined edges. Medium stones have grit numbers ranging from 1000-4000. You should start sharpening your tools using medium whetstones before finishing with fine stones.
Coarse whetstones have grit numbers that are less than 1000. You should only use them if the knives are too blunt or damaged.
3. Durability
You want to invest in a whetstone that can last for an extended period without having to replace it. You should be careful when choosing the stone, especially if you want to purchase high-end whetstones such as ceramic or diamond stones. Generally, diamond stones last longer as compared to water stones.
4. Cost
Your budget will determine the type of stone that you will buy. A diamond stone is costly, and you should go for it if you have deeper pockets. The good thing is that diamond stones last long. Water stones, on the other hand, are cheaper but less durable. Ensure that you buy the best product for your budget.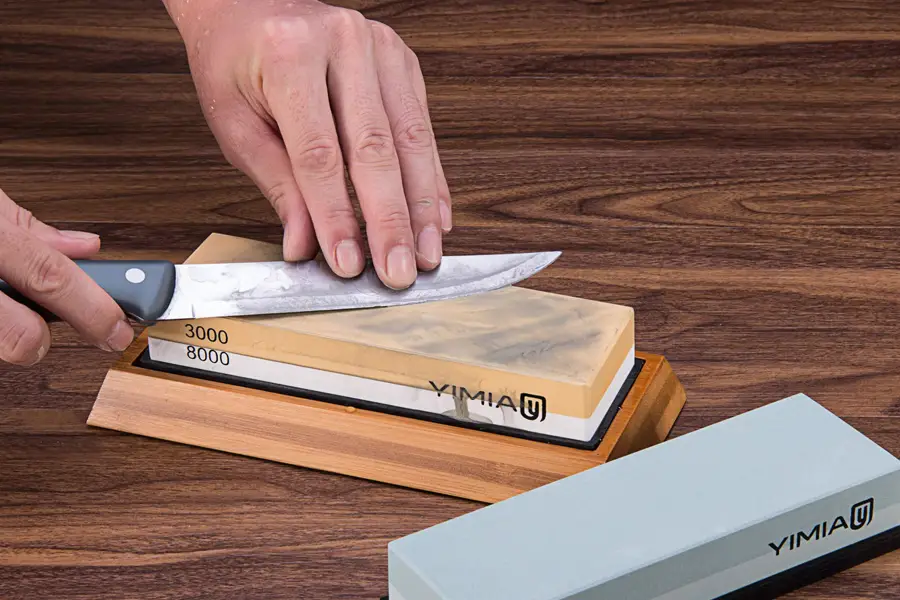 Conclusion
Buying whetstones won't be hard if you follow this guide. Make sure that you identify the type of stone that you want before you go shopping. It will help narrow down your list.