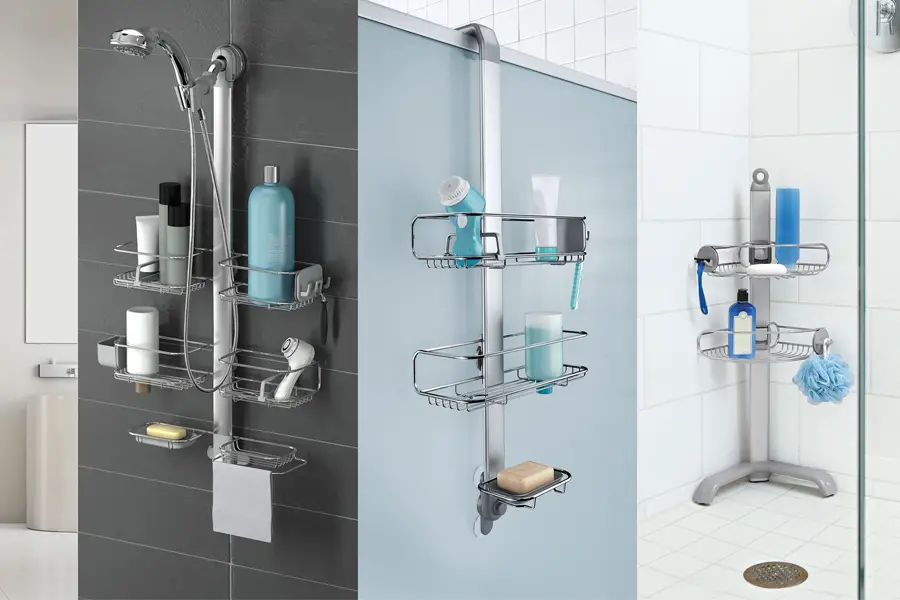 Shower Shelf Reviews
Shower shelves make showering much easier. No more bottles falling over and spilling shampoo and conditioner on the shower floor. Also having a convenient place to put razors, toothbrushes and sponges make showering faster and more convenient. Finding a shower caddy that will withstand the harsh elements and moisture of the shower is a harder task. We have evaluated shower caddies and have selected the best ones that will provide the storage space with quality materials that will not rust, even with the moisture from the shower.
Most Popular Shower Shelf
Zenna Home – Mirror Tub & Shower Tension Pole Caddy
The Zenith-Premium-Bathtub-Shower-Caddy is a pole caddy for your shower. The 4 shelves are adjustable and can be set to fit larger bottles. There are two towel bars that will snap on for your convenience. The soap bar and razor holders are also removable. The pole is made of coated enamel material that will resist rust, even when exposed to water on a daily basis. The pole fits all standard showers and ceiling heights up to 8 feet tall. Installation is easy and no tools are needed. Each shelf of the Zenith-Premium-Bathtub-Shower-Caddy is 2.25 by 13.25 X 9.25 inches. The caddy also has a mirror which will adjust as needed. The mirror will make it easy to shave and complete other personal care tasks while in the shower.
Shower caddy with 8 foot pole
4 adjustable shelves with removable towel holders
Adjustable mirror
Coated enamel material is rust resistant
Soap dish and razor holders included
– Anthony Dawson
Best Overall Shower Shelf
simplehuman Corner Shower Caddy
The Simplehuman-Adjustable-Corner-Shower shelf is made of stainless steel material. This material will resist rust and will not discolor even with the moist environment. The two shelves can adjust to the required heights to fit bottles and accessories needed while showering. The shelves are secured by tabs. To adjust the height of the shelves just open the tabs and slide the shelves to the height that will fit your tall bottles and accessories. The corner design will fit in the corner of the shower on the shower floor. Its compact design does not require much space being only 8.5X13.2X30.5 inches in height. It only weighs 3 pounds and is easily moved as needed. It also has feet that will adjust to accommodate shower floors that are unevencreating a stable surface that will not fall over. The Simplehuman-Adjustable-Corner-Shower shelf includes a soap dish, a hook for either a razor or a toothbrush and a hook for a loofah, washcloth, or sponge.
Stainless steel resists rust
30.5 inches tall with two adjustable shelves
Corner design to conserve space
Adjustable feet for sturdy standing on uneven floors
Soap dish, razor holder and sponge hook
– Anthony Dawson
Best Budget Shower Shelf
Better Houseware Deluxe Chrome Shower Caddy
The Better-Houseware-Deluxe-Chrome-Shower caddy hangs over your showerhead conserving precious shower space. The chrome material has a protective coating that resists rust and will remain looking great for several years. The shower caddy has two shelves with lots of space on the bottom shelf for large bottles of shampoo and conditioner. It also comes with an extra wide razor hook for newer wide razor handles. The two razor holder can hold either razors or toothbrushes. The 2 hooks can hold a sponge or washcloth and a soap dish is provided under the bottom shelf. The Better-Houseware-Deluxe-Chrome-Shower caddy has dimensions of 3.5 inches wide, 27 inches tall and 11.8 inches deep. To keep the shower caddy up there are suction cups. It also includes a clip for around the showerhead to keep the caddy in place.
Chrome Material with protective coating
2 holders, 2 hooks and a soap holder
Two shelves
Suction cups and a clip to keep the caddy in place
Fits over the showerhead to conserve space
– Anthony Dawson