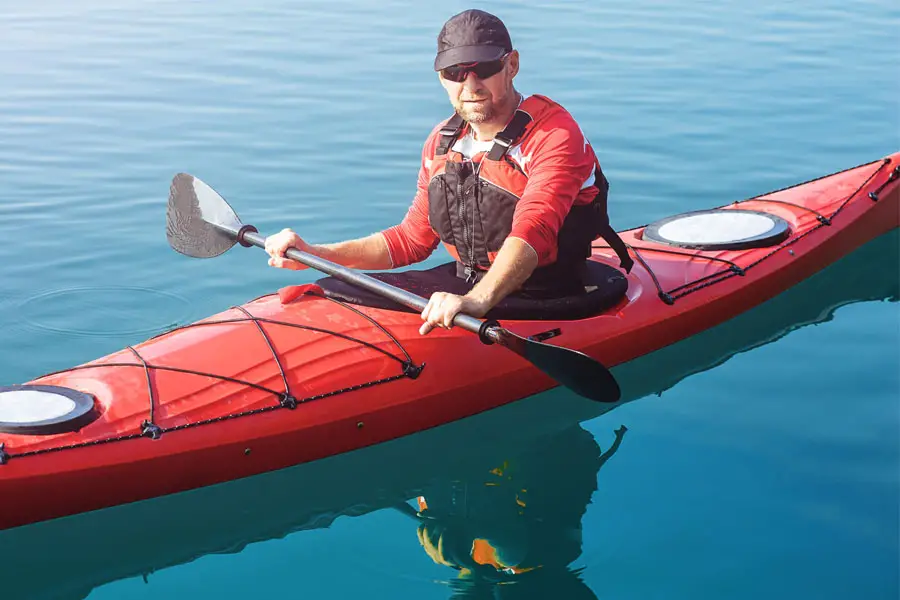 Sit in Kayak Reviews
Kayaks have come a long way in the last couple years when it comes to reducing the weight of the kayak and adding features that boaters are looking for. These light weight water craft are portable, easy to carry and very stable. They allow you to cruise over the surface of the water with little concern over tipping. Thekayaks offer comfortable seats that will provide hours of enjoyment. Whether you are looking to fish or just enjoy the water, you will want a kayak to enhance your lake or river experience. We have selected the best sit in kayaks for their features and their stability. You want to spend time enjoying the water, not wrestling with a heavy, awkward craft that tips easily.
Most Popular Sit in Kayak
Lifetime
The Lifetime-Fisher-Paddles-Backrests-10-Feet has a comfortable design that can be used by up to 3 riders. The padded high back seats are built for comfort. The kayak is made of polyethylene material. It has a dry storage compartment for storing gear that needs to stay dry. There are trays and shock cords for gear that needs to be more accessible and is not sensitive to getting wet. The Lifetime-Fisher-Paddles-Backrests has a balanced design that allows the rider to stand and even fish from the kayak, if desired. The kayak is built with a tunnel hull that provides additional stability. A rider can stand, sit in the seats or sit side saddle without tipping the boat. The kayak has 4 rod holders making it a great fishing kayak. It is a lightweight design weighing only 60 pounds. There are front and rear handles making it easy to carry by either one or two people. It has a weight capacity of up to 500 pounds.
Up to 3 riders
4 fishing rod holders
Tunnel hull design for ultimate stability
10 feet long with a capacity of up to 500 pounds
Paddle is included with purchase
– Anthony Dawson
Best Overall Sit in Kayak
Perception Kayaks
The Perception Kayak-12-Feet comes in green, blue or red. It offers maximum stability. The kayak comes with a portable carrier that can be towed behind the kayak, used for additional storage or as a backpack. It comes with 2 flush mount rod holders for fishing. There are also shock cords for storing gear that is easy to get to. The Perception Kayak is 12 feet long and built for easy tracking and maneuverability. There are foot braces that will adjust to the height of the rider and provide additional support. The kayak only weighs 47 pounds and has a weight capacity of 395 pounds. It is built for one rider plus gear. The kayak also has thigh pads for greater comfort and retractable carrying handles.
Built for 1 rider 2 Fishing rod holders
High back seat for support and adjustable foot braces
Portable carrier for additional storage
12 feet long and holds up to 395 pounds
Thigh pads and retractable carrying handles
– Anthony Dawson
Best Budget Sit in Kayak
Sun Dolphin
The Sun-Dolphin-Excursion-Fishing-10-Feet is a sit in kayak made of polyethylene material that is built for easy tracking and turning. This kayak can be used for fishing and includes 3 rod holders. One is a swivel and two flush mount. The seat has a high back for support and comfort. There are adjustable foot pedals to allow the kayak to fit a wide range of heights. The Sun-Dolphin-Excursion-Fishing kayak has a storage compartment along with shock cords for storing gear. It is 10 feet long and weighs only 40 pounds. It is easy to carry with handles in the front and back and an open cockpit. One or two people can carry the kayak. It is built to carry one person and can hold up to 250 pounds. The Sun Dolphin Excursion comes with a two year warranty.
Built for 1 riders
3 fishing rod holders, one swivel and two flush mount
High back seat for support
10 feet long and holds up to 250 pounds
2 Year warranty
– Anthony Dawson
Sit in Kayak Buying Guide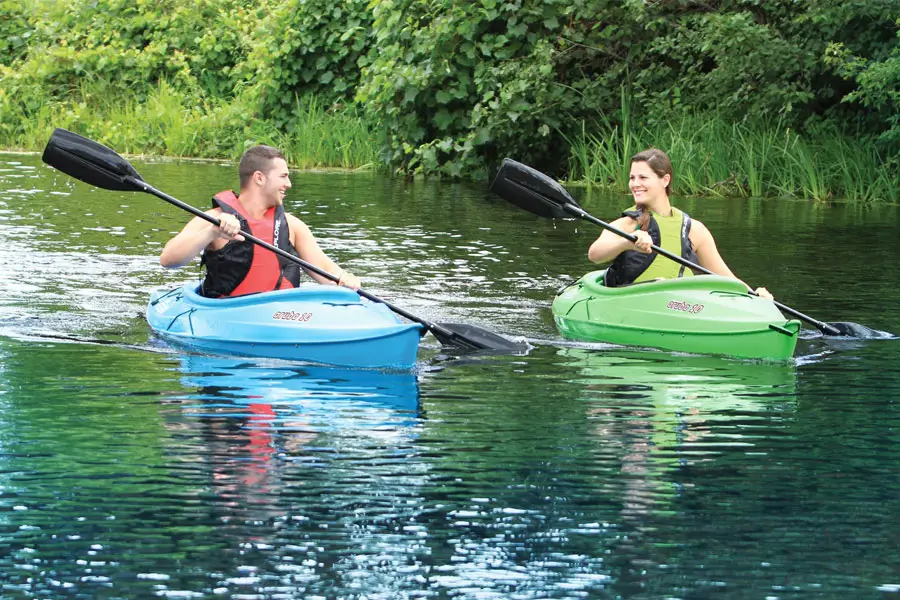 Buying a Kayak can be nerve-wrecking especially if you're a newbie or are thinking of buying one for someone else. You want to make sure you get the right one (for it is a considerable investment) and at the same time, that it be a safe one (so that you don't cause you, or the person you will give it, any distress.) To help you make this decision, here are some helpful tips to consider so you do not go Kayak crazy.
Setting The Stage: Choosing According To Purpose
First thing is to think about where you will use the Kayak and how often. Will the Kayak be used in a calm, flat pond or lake? A guzzling river? Or in the unpredictable ocean sea?
How long will the Kayaker spend time on a trip? Is the person a newbie or a professional? Will there be overnight or planned inter-island hopping? Will the Kayak be used to race or for casual activities like fishing and snorkelling?
Knowing the time spent on the Kayak would be helpful to make sure there is enough storage space or if the Kayak to be chosen needs to be agile or designed for speed instead of comfort or leisure.
Choosing According To The User
Knowing the skill level of the Kayaker will help you choose to either go for a more stable, heavier design which is slower to paddle versus a sleek, lightweight Kayak that is easily transportable and designed for speed and manoeuvrability.
It is also pertinent to consider if the Kayak will be used by just one person, two or even three at a time. Naturally, a bigger Kayak involves more work, more people to load and or transport the Kayak and designed for teamwork in the movement of the Kayak.
Kayak Weight
So yes, knowing how you will get the Kayak in and out of the water is also a smart consideration. Will the Kayak be tied up in a dock? Transported via plane or used to practice every day? This is where the skill level of the Kayaker is very important think about as the Kayak may end up as a wall ornament rather than a sporting or recreational utility.
The Sit In Kayak or Sit inside Kayak has a more efficient hull; they also allow for more gear storage; enable the Kayaker to be more dry, because of the skirt or spray deck. The skirt keeps water from entering the Kayak. The Sit In Kayak also has a fitted cockpit (where you sit) with a foot brace enabling the paddler to smartly use his or her body to control the boat. There's a wise saying that the Kayak should become an extension of the paddler's body.
The bulkheads (or the walls within the Kayak) should also limit water penetration, and with a correctlyfixed hatch cover, provide a higher margin of safety via flotation, as well as dry storage compartments.
Size of the User
Another vital thing to consider is the height and weight of the paddler. The height and weight of the paddler determines the length of the Kayak plus some leeway to accommodate for gear and storage. The height of the paddler also determines the size of the cockpit opening – because for those who are taller, a more open cockpit helps you get in and out of the Kayak in a breeze.
Finally, an often neglected feature to mull over is color. Not because of the fashion statement the Kayak would make, but for safety reasons. In case of an emergency, you would want a Kayak that can be seen from afar, from the air, and especially a color that stands out. So blue or black is definitely something you would want to ignore, especially if you are new to paddling.
Now with all of these in mind, here are your usual types of Sit In Kayaks: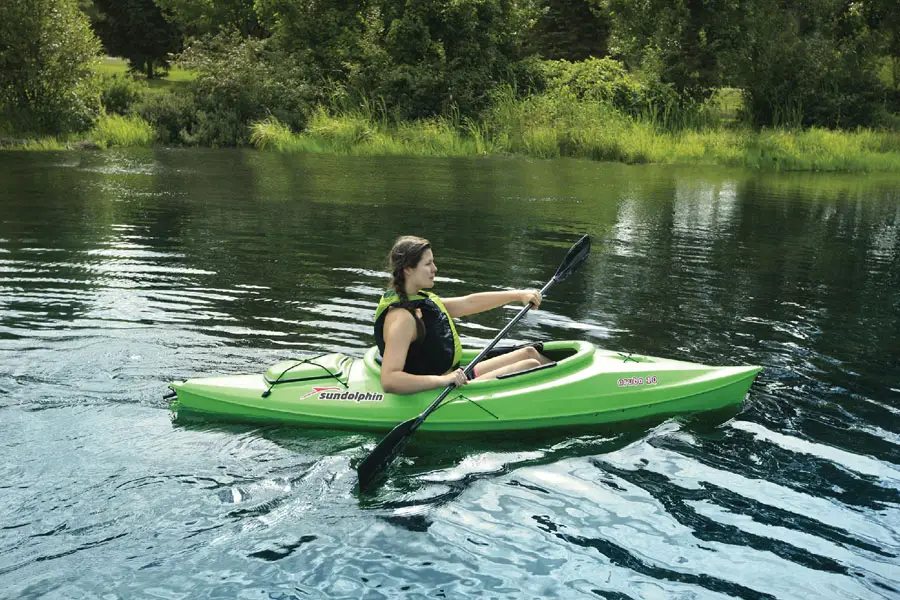 Recreational Kayaks
These recreational Kayaks are best for tranquil waters. They offer stability that's supportive for newbies, photographers, fishermen or casual paddlers on calm rivers, ponds or lakes. They are definitely not for open the open sea or to be used in strong winds or currents.
Recreational Kayaks usually have a smaller bulkhead for short day trips, as well aslarger cockpit openings to make entry and exiting easier. These Kayaks have a wider width (or beam) for stability. Most have no skegs(rudders) which are used to steer the direction of the Kayak and are made of polyethylene.  The size of these Kayaks range from 10 to 12 feet in length making them slower but lighter to lift and transport. Recreational Kayaks cost around $300 – $800 (USD).
Day Tour Kayaks or Light Touring Kayaks
The Light Touring Kayak is a good beginner's choice because of its versatility. They're a bit longer with more storage space for gear and are great for day-trips or overnight camping. The Light Touring Kayak is used for both flatwater and coastal waters but typically in calmer conditions. They
are usually 12 to 16 feet long. The typical hulls are shaped to increase lift in waves and rough water. Their bulkheads have sealed hatch covers for dry storage and enhanced safety. Most have a skeg or rudder that allows you to turn with superior ease. The cockpits are also built for paddling efficiency and may feel constricted and close-fitting to some. These Kayaks are made of polyethylene, thermoformed ABS or composites.
Sea or Ocean Kayak
Sea Kayaks are designed for open ocean paddling. They are low in the water to reduce effects of cross winds, measure fifteen feet or more, most have smaller cockpit openings. Sea Kayaks typically have multiple hatches and deck tie downs to accommodate more gear necessary for multi-day trips. They have skegs or rudders to help compensate for the effects of a wave or cross wind pattern. They usually have features fancier features such as compass housings and deck mounted pumps.
In older times, they were used as work boats for fishing and carrying a lot of weight in challenging weather conditions.
This type of Kayak is longer, sturdier, and easier to handle in stronger sea conditions. The sea Kayak rides straighter and is less likely to capsize or tip over in bad weather.
These Kayaks are manufactured with various materials – typically Plastic, Fiberglass and Carbon-Kevlar. Some are reinforced with a foam core to solidify the hull. These materials make a heavierKayak but will stand up better in rougher seas.
So there you have it. The last and final key is of course – to have fun! After all, splashing in the water is an activity that's enjoyable for all ages.