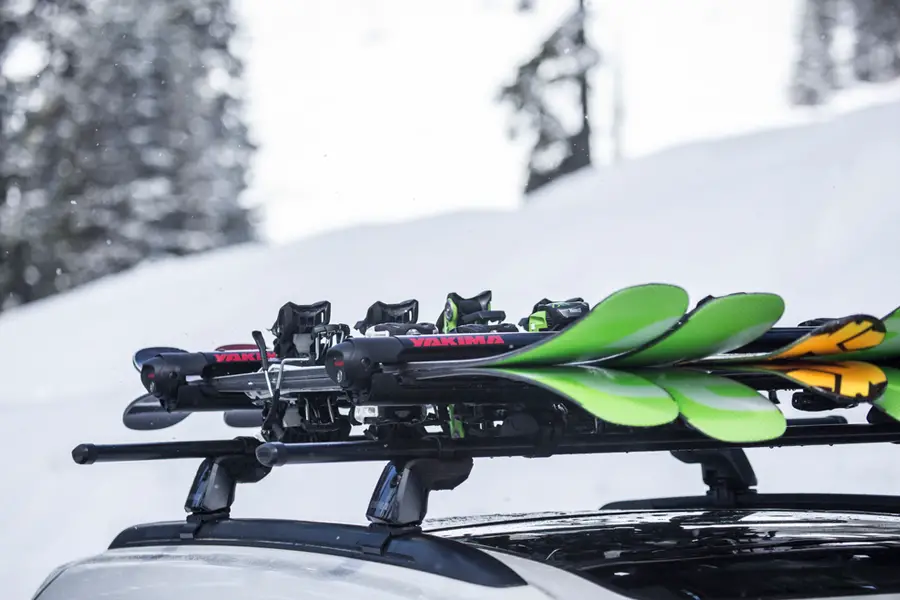 Ski Car Rack Reviews
Packing for a ski trip can be quite a challenge. For many, it may seem like playing a game of Tetris, trying to fit everything into the vehicle. If you look forward to regular ski trips with friends or family, then you might want to consider investing in a ski car rack, which is specifically designed to provide ample storage and be a secure carrier for your gear. Ski car racks are typically designed to fit almost all types of vehicles out there, although there are certain models that may require adaptive fit kits. These types of car racks hold skis in place with its special locking rubber coated arms. While there are ski and snowboard boxes available which present an alternative option, racks are widely preferred by many because of its low profile that leaves better overhead clearance. There is also the fact that ski car racks do not reduce your gas mileage as opposed to a soft top or box carrier.
Most Popular Ski Car Rack
Thule
The Thule SnowPack ski and snowboard carrier is specifically designed to be mounted on vehicle that comes with factory installed side rails. This has a loading capacity of 6 or 4 snowboards, which can be securely loaded by 5 platforms that you can access from either side of the vehicle.
The rack also comes with soft rubber arms that offers firm grip without scratching your gears. It also features a convenient push button mechanism which makes it supremely easy to operate, even when wearing thick gloves.
The rack is also equipped with 4 single-key lock to hold the gears in place to the carrier as well as the carrier to the vehicle. This rack can also be used to transport wakeboards, water skis and fishing rods.
Easy to install design, no professional tools required
Secure, reliable carrier capable of holding heavy gears in place
No need to purchase extra rails
Solid construction
Great, sleek modern design fits well with any vehicle
– Anthony Dawson
Best Overall Ski Car Rack
AA
If you silently dread packing for a weekend ski trip, now you have more reasons to look forward to some fun and frolic on the slopes with this ski car rack. Designed to make packing supremely easier, this rack is designed to securely hold 6 pairs of skis or 4 snowboards.
It is designed with a universal mounting system, which means, you can install it to any vehicle model, all without the need for any tool. It can be locked and mounted on factory, round, or square bars in just a matter of seconds.
In addition, the rack comes with wide cradle jaws that guarantee a solid bond to any vehicle to ensure a safe, fuss-free and secure transportation. The product also comes with key and lock.
Perfectly engineered to be mounted in less than 15 minutes, tool-free
Impressive locking system ensure tight, secure fit
Offers great value for money – great product for a reasonable price
Made with solid construction for maximum durability
– Anthony Dawson
Best Budget Ski Car Rack
Yakima
The Yakima brand is known worldwide as one of the leading providers of the finest car racks. The FatCat 6 ski and snowboard carrier is specifically designed to accommodate up to 6 pairs of skis or up to 4 snowboards. You can also opt to combine and carry both at the same time.
Boasting a beautiful gleaming black premium finish, this carrier is constructed with a low profile design, which gives off that sleek, modern look. This design also allows better aerodynamics, complete with the patented DoubleJoint hinge system designed to secure skis and snowboards effectively.
The ski car rack also comes with an oversized push button for opening and closing the carrier, which is a supremely convenient and thoughtful design especially if you are wearing bulky mittens or gloves.
Perfect fit, offers safe and secure storage space and carrier
Quick install design
Able to withstand extreme weather conditions
Comes with ample space and allow convenient loading and unloading of skis
Sleek, modern design fits well with any type of vehicle
- Anthony Dawson