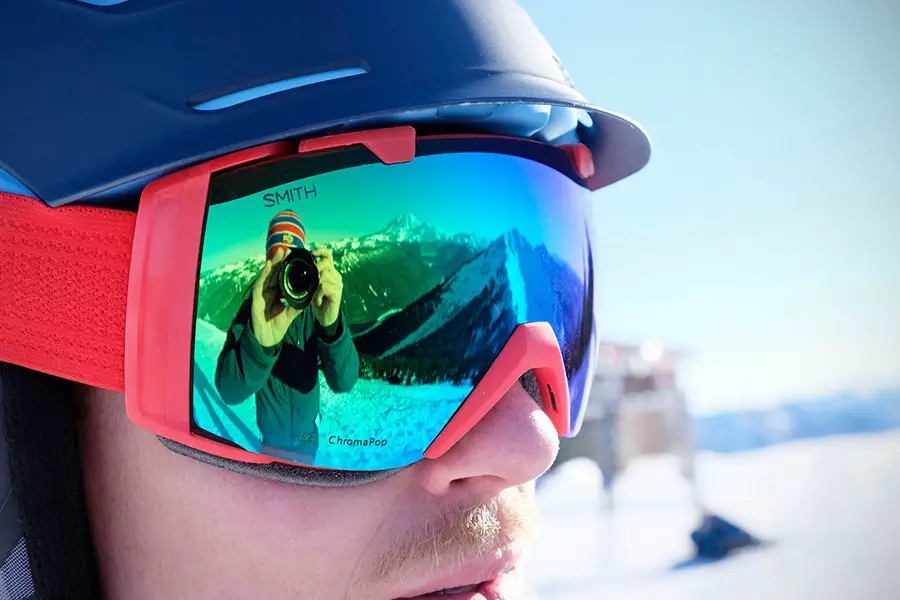 Ski Goggle Reviews
There are a lot of options out there when it comes to ski goggles; everything from a simple design that provides basic eye and fog protection, to the ultra teched-out brands that are GPS-enabled and allow for interchangeable lenses. There is even a very new model that just came out that provides an innovative rimless design for maximum visibility. The reason why you need a pair of ski goggles, as opposed to glasses, is that you need an extra level of protection when in high altitudes. Because the air is thinner, less UV light is blocked, and these harsh rays can damage your eyes. Add to that the sun's reflection on the snow and you need goggles to counterbalance these effects. Wind on the mountain can make your eyes tear and blur your vision, and that's why goggles enclose your eye area the way that they do. Lastly, you need defense against ice particles, twigs, branches, and all other ski slope hazards. And, at the end of the day, ski goggles just look pretty cool, with their tinted lenses in a rainbow of colors. Be sure to choose a pair that make you feel awesome.
Most Popular Ski Goggle
Smith Optics Scope Goggle
Smith is the provider of affordable ski gear and apparel that is built to last. These stylish goggles are great for medium to large heads, and promise to hardly ever fog-up, all day long. They offer tremendous visibility, as well as protection from UV rays. The most important tool you have on the slopes is your vision! When it's incredibly bright outside it's hard to see the details in the snow. It seems like these goggles from Smith bring everything into stunning HD, no matter how much the glare of the sun is in full force. It's possible to use these goggles on their own or in conjunction with a helmet. They come with a fantastic lifetime warranty, so you know that if you have any problems you're still going to get your money's worth. The hypoallergenic face foam is comfy on your skin, and there's no build-up of moisture or other residue.
Compression-molded face foam is hypoallergenic
Medium fit
Anti-fog inner lens
Lifetime warranty
Comes with protective goggle bag
– Anthony Dawson
Best Overall Ski Goggle
Oakley Simon Dumont Splice Snow Goggles
Oakley is perhaps the most iconic manufacturer of ski goggles. However, despite their popularity years ago, it seemed that their innovations went into hibernation for a while. To overcome this slump, Oakley just went ahead and threw out the old idea of goggles and reinvented them. Their answer to the most groundbreaking goggle technology is the Splice Snow Goggle. Not only does is offer unparalleled protection from UV rays, it also provides the skeletal support system with an architectural design that spans over the nose area. It basically tunes the distribution of force on the most critical zones of the face to put less pressure on the nose. Not only does it take the weight off, but it also maximizes airflow and breath ability. O Matter frame material will stay flexible, even under the harshest cold conditions. Add to all of this the moisture-defense, triple layer fleece that lines the goggles, and you have the most comfortable pair on the market.
Optional Iridium lens coating
Perfect for medium to large faces
A variety of colors and lens tints
Maximum peripheral vision with zero obstruction from the outriggers
– Anthony Dawson
Best Budget Ski Goggle
Bolle Carve Snow Goggles
The Bolle Carve goggles are a tremendous choice if you don't want to spend a lot of money, but still want goggles of superior quality. They have all the high end features that more expensive goggles possess, like flow-tech venting, double layer face foam, and double layer fog resistant lenses. Perfect not just for skiing, but sledding and tubing as well. You get the protection from moisture that you need while skiing during a big storm, as well as the visibility that you need on a bright, fair weather day. The Bolle Carves are wonderfully comfortable, and they even work over a helmet as well. The vermillion lens provides tremendous contrast. The lens is also specially designed to be entirely resistant to scratching. With the quality of protection and comfort these goggles provide, they're a first-class addition to your ski bag. They are also made of durable plastic which will stand the test of time.
High quality plastic
PC lens with Flow-Tech for resistance against fogging
Works over a helmet
Vermillion lens provides tremendous visibility
Resistant to scratching
– Anthony Dawson