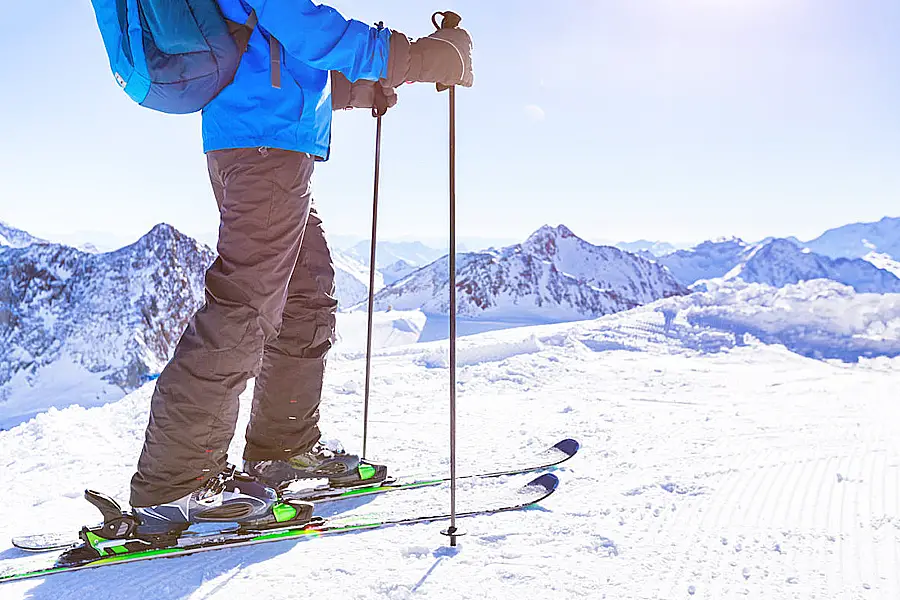 Ski Pole Reviews
Ski poles seem simple enough, but they must perform many functions effectively. They have to be light enough to not tire out your arms, strong enough to successfully plant turns, and flexible in the instance of a hard fall. When you're new to skiing, really any pole will do the job, but if you're seasoned at it, then you can definitely tell the difference between different poles. Finding the right strength-to-weight ratio is key, and there are various materials that all have a different feel and level of performance. Finding the right size is easy, and all you need to do is stand in your boots, hold the pole upside down with your hands just under the basket, and the right length of pole will leave your elbows at a 90 degree angle. Poles come in 2″ increments, so keep testing until you find something that is just right. Owning your own poles offers convenience, and makes it easier to spot which ones are yours after lunch at the lodge.
Most Popular Ski Pole
Scott US Junior
There's nothing more precious than watching a child learn to ski. They begin, of course, without poles, but simply in the V-shaped position. Once they graduate to using poles, this Junior model from Scott US is a fantastic choice for its affordability and durability. Kids don't put nearly as much pressure on their poles as adults do, but they still need them to be quite strong to keep them secure as they learn to plant the pole and make sharper turns. The poles are wonderfully lightweight, so your child will find it easy to carry from the car, to the slopes, and to the lodge (for hot chocolate and chili). These Junior 540s are really so inexpensive that they cost nearly the same price as renting a pair for a day. They're built to last, but because kids grow so quick, you will need to replace the pole as soon as they get bigger. So this is a great way to give them a pair of poles of their own that don't seem like a waste of money.
14mm diameter on the shaft
Strong S2 aluminum alloy
TUV basket
Safe cone tip
Easy Joystick grip with nylon strap
– Anthony Dawson
Best Overall Ski Pole
Scott US
Scott is known for making really affordable aluminum ski poles, and this US decree model is great if you're looking to save some money but still buy poles that are going to last. They come in a nice red color, and are perfect for newbies who are buying their first poles. The shaft diameter is a good, solid 18mm, and the aluminum alloy shaft will never break. These are a safe bet for all types of recreational skiing, and for slopes that are more on the well-groomed side. They offer the strength and stability you need, but also the flexibility to withstand harder slopes as well. The handle allows for a nice firm grip, and the 3.6 disk basket is built to help you maneuver with ease. This is a very popular brand among skiers who want the convenience of owning their own ski equipment without paying an exorbitant price.
3.6 disk basket
Cone tip
18mm diameter to the shaft
Made of tough S2 aluminum alloy
P-Lite grip with FX 24 strap
– Anthony Dawson
Best Budget Ski Pole
Swix
These great poles from Swix are made of tough aluminum and are perfect for well-groomed slopes. The single density handle and medium basket makes these poles pretty basic, but wonderful for those who want an affordable set that will last a long time. Built for the recreational skier, these poles still provide wonderful technical properties that will help you to enjoy your day on the slopes. The Techline design offers you great stiffness, strength, pendulum balance, aerodynamics, all with the iconic Swix-shaped shaft. IPM technology is just another feature that makes these poles a great buy. The Techlines simply won't break, even under harsher conditions. There's no need to spend a fortune on poles, and thanks to Swix, you can get superior quality at a lower price. This is the latest 2014 design, so if you're in the market for new poles, these can get you the latest innovations while really saving you a buck or two.
New 2014 model
Handle 18mm
Swix shaped shafts
IPM technology
Great for recreational skiing and alpine downhill
– Anthony Dawson