Skimboard Reviews
Do you already enjoy bodyboards or would you like to try something a little different? If this sounds like you, try a skimboard. Skimboards allow you hours of fun chasing waves and skimming across them. No matter your skill level or age you can enjoy a skimboard. Skimboards are perfect for enjoying the ocean. Experience the beach differently by having one of the following high quality skimboards. We have selected the best skimboards available to provide you with a quality product as a competitive price.
Most Popular Skimboard
Wave Zone Skimboards
The Wave Zone Skimboard is very stylish allowing the rider to glide across the water while impressing the many that surround the beach. This skimboard is 40.5 inches in length and 19.6 inches in width allowing almost any rider to enjoy this medium skimboard. The skimboard is made in the USA allowing you to support US companies. The layup is high pressure laminate making the board durable and strong enough to withstand the rough waves you may come across. This Wave Zone skimboard can be used by anyone regardless of skill level. The Wave Zone Skimboard is abrasive resistant HPL making the board one of the most durable skimboards on the market. With this skimboard you are certain to make your time at the beach more enjoyable allowing you to glide across the water in a top quality skimboard.
40.50 inches in length and 19.62 inches in width
Made in the USA
High pressure laminate/poplar
Abrasive resistant HPL
Perfect for any skill level
– Anthony Dawson
Best Overall Skimboard
Zap
The Zap Wedge Medium Skimboard is available in many assorted colors is great for anyone that wants to experience the ocean differently. This skimboard is 49 x 19 ¾ x ½ inches in size. This skimboard can hold up to 170 pounds and can be used by riders that weigh at least 75 pounds. The skimboard is offered in many different colors allowing you to purchase a skimboard that will represent your favorite color or match your bathing suit. This brand of skimboard will offer the rider a thicker core making the skimboard float better. This allows you to skim across the waves further. The Zap Wedge Medium Skimboard-Assorted Colors will allow younger riders to get used to the skimboard being able to improve their skills easier and faster. This skimboard is excellent for younger riders and will help them become more comfortable with the water giving the rider a solid feel.
Many different color options
49 x 19 ¾ x ½ inch in size
Holds riders up to 170 pounds
Thicker core
Will help you improve your skills easier and faster
– Anthony Dawson
Best Budget Skimboard
Waveline
The Waveline Skimboard has a very distinct and appealing graphic allowing you to skim the waves and shore in style. This skimboard is multicolored and is 41 inches in length and 18 inches in width giving you just enough room to enjoy your skimboarding experience. The board is made with poplar and maple making the board very durable and strong enough to hold any rider. The Waveline skimboard, if cared for, should last for many years. This board is a medium size board and is made in the USA. By purchasing USA products you will be able to support US companies. This skimboard is perfect for beginners that would like to get the feel of having a skimboard. This board can also easily be enjoyed by more advanced skimboarders. You should bring this skimboard on your next trip to the beach because it will help you enjoy more quality time with your family as they take photographs of adventures made.
41 inches in length and 18 inches in width
Made with poplar and maple
Made in the USA
Perfect for any skill level
Is certain to make your beach trip more enjoyable
– Anthony Dawson
Skimboard Buying Guide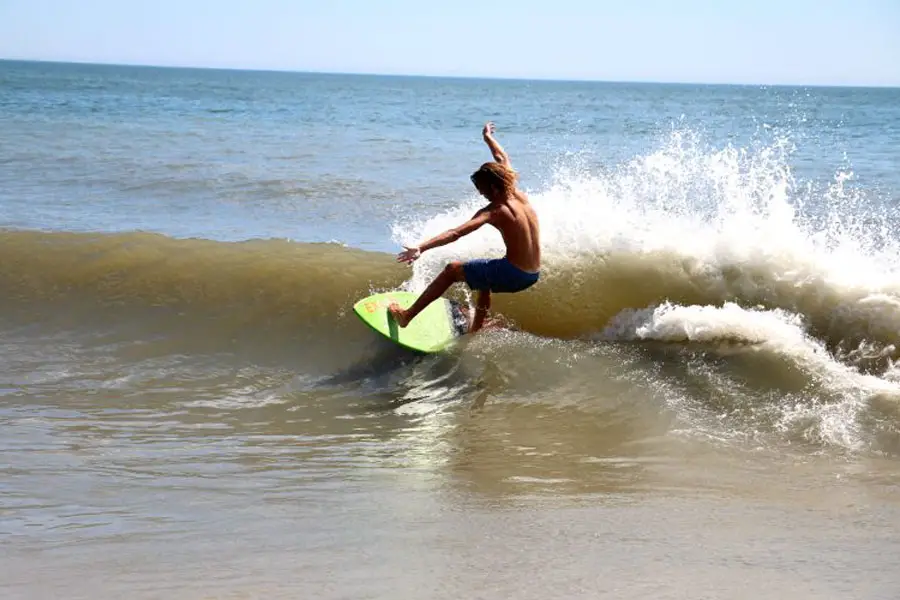 Skimboarding was developed by lifeguards who wanted a faster way of going across beaches. They do this by riding the wash of waves near the shore. Since then it has developed into an entirely exciting boardsport that can be likened to surfing.
In fact, with one look at a skimboard, one would think that it looks like a surfboard. But upon closer inspection you would realize that it has no fin on its underside. It is just a flat surface that makes maneuvering it trickier, especially for beginners.
If you find yourself becoming more and more interested on this sport and would want to own your own skimboard that you can practice on, then this buying guide will help you pick the right one out. There are several considerations to take note of when shopping for skimboards and it will do you a lot of good to know them first so that you can find the best skimboard for you.
Material
The most common materials used for skimboards are wood and foam. Foams or core boards are lighter, which enables manufacturers to give them a thicker design that adds to its stability. Foam boards are also flexible, allowing you to use them on uneven surfaces and in catching waves.
Wood on the other hand is thinner and it tends to sink, making it ideal for use on skimming on flatland and inland. Nowadays, you will also find boards made of fiberglass and carbon fiber. They are also light, but expect to pay a higher price for them.
Rocker
In skimboarding, the rocker pertains to the lift on the nose side of the board. There are basically three types – the traditional rocker, the constant rocker, and the hybrid rocker. The traditional one has a flat design except for that lift on the nose part.
It is ideal for catching waves that are far out. The constant rocker pertains to boards with constant curves along its length. It will help you control bigger waves easier. The hybrid one has a curve from its nose down to ¾ of its length. Most skimmers like this one because it is fast and can handle medium waves without problem.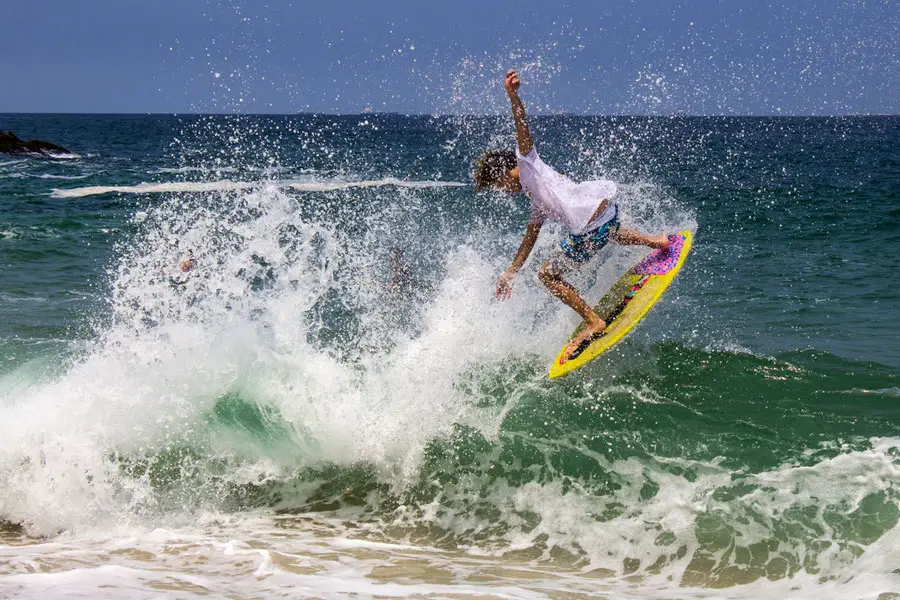 Shape
The amount of area covered by the board is directly proportional to the amount of force it can produce and the speed that it can attain. In other words, wide and long boards are faster than those that are narrow and short.
Size
Some skimmers choose the size of their skimboards based on the length and ideally they prefer those that reach their mid-chest when made to stand on its end. This may work for some, but a better way in picking the right size of skimboard for you is by basing it on your bodyweight. The thing is that these boards can only carry a specified maximum weight. Anything greater than that and they will sink faster.
To make it easy, if you weigh less than 80 lbs., go for extra small boards. If you weigh between 80 to 130 lbs., choose the small size. For people who weigh 130 t0 150 lbs., the medium-sized boards are your best choices. If you weigh more than that, you can opt for large or extra-large skimboards.
Wrap Material
As mentioned, the most common core materials of boards are wood and foam, but those core materials are still covered by another layer called the wrap. This wrap is the area that you can touch, the one on the surface of the board. Several types of materials are used for this, such as the E-glass, texilium, S-glass, and carbon. They vary basically on their durability, with the e-glass being the least durable and carbon being the sturdiest. If you want your board to look good longer despite of constant bumps, then you will have to avoid those with E-glass wraps.
Your Expertise
If you are just a beginner, it will be best to go for longer and wider boards because they offer better stability and they are more buoyant on water. The thin and narrow ones are less buoyant, which makes them ideal for skimboarders who are already adept with the sport and are able to do various tricks on the waves.
Purpose
If you are buying a skimboard to help you learn the sport, then it will be practical to buy the wood boards simply because they are cheaper. Once your skill level advances and if you decide to spend more time in the water, you can always buy a better skimboard that is more durable and one that can challenge your skills. However, if your purpose is to join skimboarding competitions, then try to invest on the best skimboard. Choose one that can make you go faster and one that has negligible loss in speed even if you make many turns. Lighter boards are the best for that.
Price
This really depends on your budget. No matter how much you would like to own a fiberglass skimboard yet have not enough cash for that, then it will restrict your choice. Do not despair, though. You can always hunt for second-hand skimboards sold by riders who are upgrading to a new and better design.
Just inspect the board thoroughly to ensure that it is free from damages. Many riders treat their boards well and that means constant waxing and proper handling. If you are lucky, you may find a well-maintained board of good material and design for a cheap price.
Where to Buy SkimBoards
You can always search online for stores that sell boards, but it will do you good if you choose one that is near your place. This will allow you to check the board personally before buying to avoid the hassle of returning it in case you find a defect upon delivery. Furthermore, choose a store that carries various brands. In other words, stay away from exclusive dealers. Having more choices will help you compare not just between material, shape, and design, but also in prices, especially since some brands can be cheaper than others.
Take your time when shopping for your first skimboard or when looking for an upgrade from your current one. While at it, do not forget to buy the necessary maintenance kits too, like the wax and the skimboard bag. You need to take care of your board if you want it to last longer.