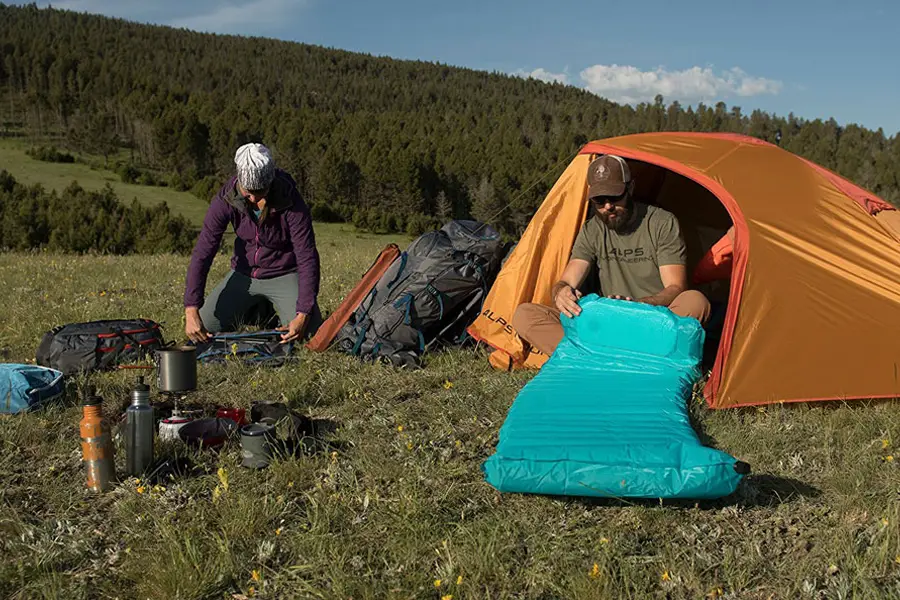 Sleeping Pad Reviews
Sleeping pads are designed to provide two important functions: insulation and cushioning, both of which are equally important. In general, sleeping pads insulate just like how layers of clothing and sleeping bags do  that is trapping the dead or non-circulating air in between the cold air and the body. The human body will naturally warm this layer, transforming it into an insulating barrier. The insulating performance of a sleeping pad will mainly depend on how much air it is capable of holding in and how free it is able to circulate. Before you purchase a sleeping pad, you need to take into account a number of factors. First and foremost, you need to determine how much cushioning you need to feel comfortable, the preferred length and width, the pad's packability and weight as well as how rapidly it inflates. Of course, the construction of the sleeping pad should be carefully perused. You will want to invest in heavy duty fabric that can withstand regular wear and tear that comes with regular outdoor use.
Most Popular Sleeping Pad
Teton Sports
Look forward to enjoying the comforts of warm, soft bed just as if you're home with this cot pad by Teton. Designed with open cell foam and a built-in pillow pocket, this one gives you superior cushioning even when you're roughing it.
It is also designed with tie downs on every corner so you can securely fasten the pad to keep it from sliding or slipping. Packing and unpacking is a breeze with its dual roll straps and carry handle, both designed to ensure transportation and storage can be done with greater ease.
For people who are looking to invest in comfort and excellent insulation, this cot pad is the perfect companion for overnight outdoor trips and adventures. This one presents a great investment piece for active people.
Offers great level of comfort
Rolled up pad takes very little space making it easy to carry around and store
Sturdy construction and well thought of design
Dense and high quality foam
Comes with built-in cinch straps making it easier to roll tightly
– Anthony Dawson
Best Overall Sleeping Pad
Therm-a-Rest
If you are keen on investing in superior quality sleeping pad specifically designed to ensure a good night sleep every single time, then look no further. The Therm-a-Rest ProLite takes outdoor comfort to the next level.
Featuring a modern tapered design, this one delivers optimum comfort all without the added weight and bulk. Built with a ProLite mattress, this one boasts as one of the lightest self-inflating three-season mattresses in the market today.
The mattress is designed with a die cut contour, which presents a great minimalist appeal everyone will surely love. This sleeping pad is ideal for high speed and high mileage journeys where warmth and weight are the primary considerations. It also comes with a stuff sack for easy storage and a limited lifetime warranty.
Lightweight and compact design
Self-inflating capability saves time and effort
Offers superior comfort within the unnecessary bulk
– Anthony Dawson
Best Budget Sleeping Pad
ALPS Mountaineering
When you are looking for some extra comfort when sleeping away from home, this sleeping pad presents an ideal choice. This model is part of ALPS Mountaineering lightweight series and is designed to be self-inflating and deflating, made possible with the open cell foam of jet stream polyurethane. This is a great feature as it makes it supremely easier to roll up and store the sleeping pad in a matter of minutes.
Made with heavy duty and abrasion-resistant fabric and a sturdy polyester taffeta bottom, this one is built to last for years. Other notable features include the compression straps as well as a repair kit that comes with every sleeping pad kit.
This one is obviously designed with careful consideration. And rightly so, this is designed to provide all the necessary features you need to enjoy camping and roughing it any time of the year.
Supremely thicker, lighter and better built sleeping pad
Comes with a large valve for convenient inflation and deflation
Offers great comfort even when lying on the side
Lightweight pad makes convenient outdoor companion
- Anthony Dawson
Sleeping Pad Buying Guide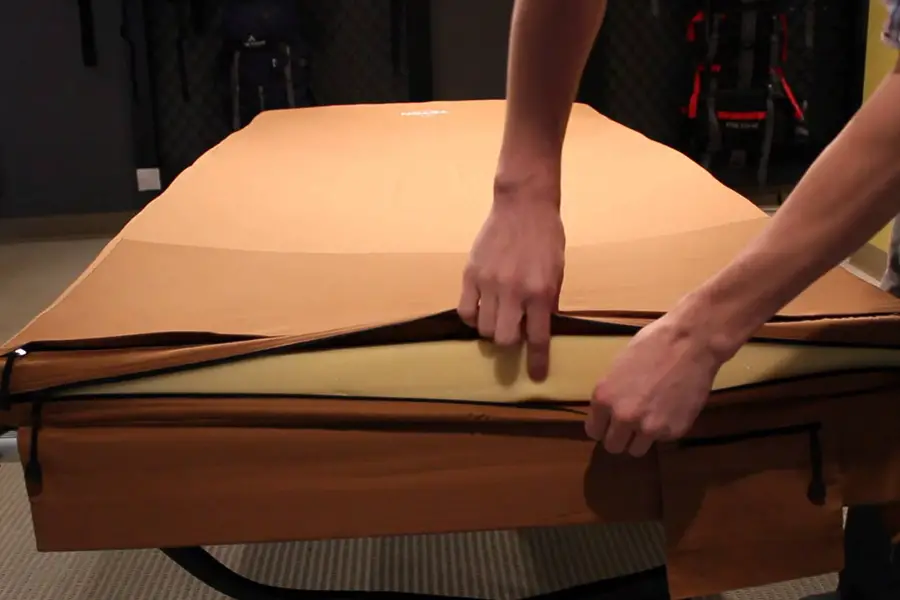 Camping under the stars has its pros and its cons, but many savvy outdoorsmen have discovered the benefits of using sleeping pads to help soften the surface that they are sleeping on. These simple products can help to turn the hard and cold ground into a more hospitable environment for getting a warmer, more comfortable and restful nights' sleep. There are quite a few different types of sleeping pads available including different brands, sizes, thicknesses, and materials. This can make it a little tougher to figure out which sleeping pads would be the best. This guide is provided to give you some useful information about sleeping pads, that will help you to know the differences and which would make a better choice for you and your family.
Types of Sleeping Pads
The size of the pad, its weight and overall portability can make a difference when packing and transporting all of the gear that you will need for your trip. Although most pads take up little space when folded up, some of the larger sizes can be a bit bulky.
Self-Inflating Sleeping Pads
Self inflating sleeping pads come equipped with a valve that allows air to enter when it is in the open position, and it is then tightened to retain the air. These are constructed with open cell foam which causes the automatic filling function to begin. This is by far one of the easiest types of inflatable sleeping pads and does away with the need to carry a pump or to become breathless when manually inflating the pad.
These are easy to inflate and to deflate as well. Just open the valve and apply pressure by rolling it up tightly. It takes up little space and is one of the most compact types available, making it a great space saver for packing to go on trips.
Some of these types come with features that include repair kits, replacement valves and attached compression straps. They come in different open foam cell counts. The higher the cell count, the quicker the pad fills with air. They are also available in a variety of sizes and thicknesses when inflated.
Closed Cell Foam Sleeping Pads
Closed cell foam sleeping pads are for people who do not wish to take the time to deflate their sleeping pads. They don't require air to supply padding and comfort and provide the additional benefits of providing a greater degree of comfort and warmth than the open cell pads. They take a little more space for packing and transporting, but are still highly compact for easy storage. They come in a variety of thicknesses and patterns. Most models fold up like an accordion when not in use.
Sleeping Pad Sizes
The size range for most sleeping pads is between 20 inches wide x 48 inches long to 54 inches wide x 78 inches in length. Thicknesses can range from ½ inch to 3-1/2 inches.
What to Look For In Sleeping Pads
Of course, the types of sleeping pad are a matter of preference. There are two choices which are inflatable and closed cell pads. Self-inflatable pads take time to inflate and deflate, although easy enough, some people prefer to not take this route. They are not the most comfortable, nor the warmest options. Closed cell sleeping pads provide the maximum comfort and warmth, depending upon the thickness that is purchased.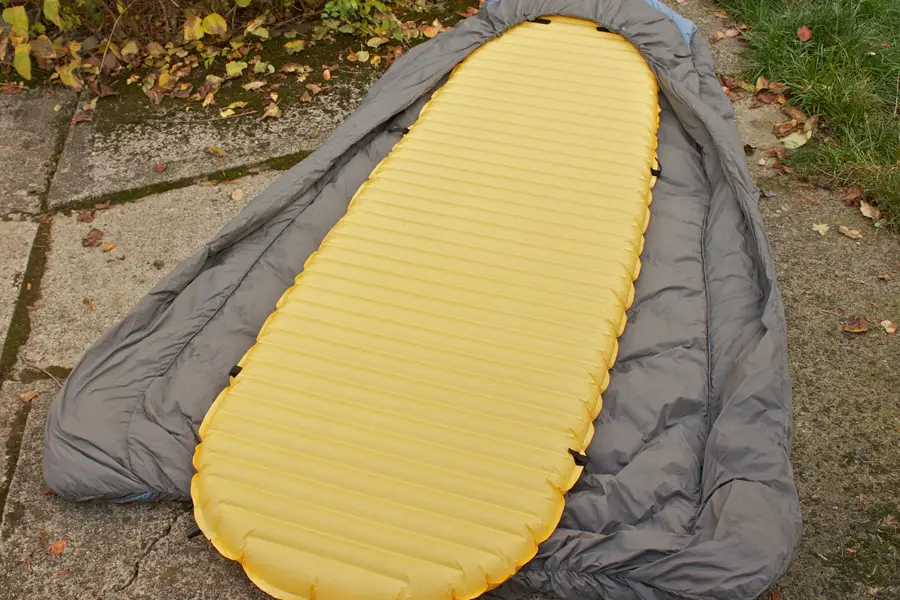 Look for pads that are the best size to meet your sleeping needs. For example, if you will be the sole user, than the smaller version would be adequate. If there are others that will be sharing the pad, then the larger sleeping pads may be the better choice as two sleeping bags can easily be set on top of them.
Some pads have anti-slip features which can be a blessing if you have a particularly slick material on the sleeping bag that will be used on top. Choosing this option may increase the comfort and the amount of restful sleep that you are able to get. Any camper who has tried to use one of the slicker type sleeping pads can attest to the wisdom of ensuring that the pad has anti-slip features.
Match the Grade of the Sleeping Pad with the Conditions You Will Encounter
Sleeping pads come in a variety of thicknesses, materials and grading criteria in accordance with the overnight temperatures. Some are intended for use in warmer weather and others, for use in colder situations. By observing these recommendations you will be better equipped to deal with whatever weather conditions are encountered. For example, if you have a pad that is rated for extreme cold and the overnight temperatures are warm or muggy, you may have a miserable night that involves sweat running down the middle of your back because the pad provides too much insulation. Select the most appropriate grade and rating for the temperatures that are likely to be encountered.
Conclusion
Sleeping pads are an excellent way to enjoy sleeping under the stars with the added benefit of staying off of the cold hard ground. You will be able to fall asleep watching the constellations from a soft and warm bed that allows you to sleep without the tossing and turning involved in trying to find a comfortable spot. Figuring out the lowest temperatures you are likely to encounter can help you to choose the right rating for your sleeping pad. While you want to stay warm enough, you don't want to get too warm when you are trying to sleep.
Getting the pad that is made from the right materials and is the best size thickness all contribute to your enjoyment and satisfaction with the product that you purchase.
Don't forget to shop around a little and compare prices when looking for a good deal. So long as the quality of the materials and the workmanship is up to par, a middle range pricing should net you an excellent choice for the sleeping pad that you settle upon. By following these tips and recommendations, you should be able to find the right sleeping pad with full confidence and little effort.