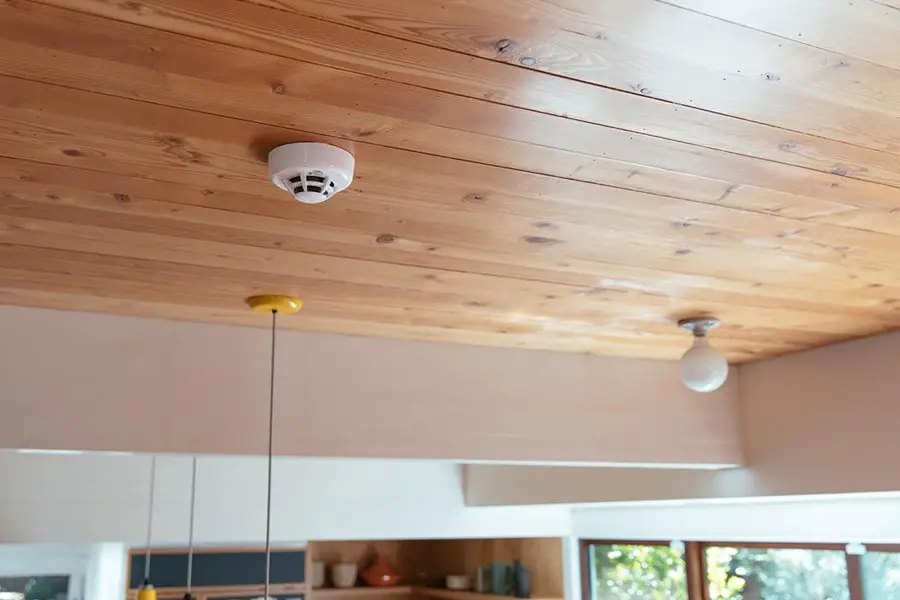 Smoke Detector Reviews
Be prepared by having a new, high quality smoke alarm. Smoke alarms can protect you from many potential hazards in your home. Smoke detectors will detect smoke, which are typically a conductor of fire which could harm you and your family. Smoke detectors were first invented in 1890 by Francis Robbins Upton and have had many important technological advances since that time. The following reviews analyze the best smoke detectors on the market that will keep your family safe.
Most Popular Smoke Detector
Kidde
The Kidde 21007624 AC Wire-in Combo CO/Photo Smoke Alarm (2 Pack) gives you two smoke detectors that you can put in two separate locations around your home. Wherever you place these smoke detectors you can be confident about protecting yourself and the people you care about. It is recommended that one be placed on each floor, or one by the kitchen and one near the bedrooms. This device has an AC wire with battery backup. The smoke detector has a front loading battery area with a unique battery door design allowing you to replace batteries with ease. The Kidde 21007624 AC Wire-in Combo CO/Photo Smoke Alarm is tamper resistant and has a signaling UL listed feature. When you purchase this smoke detector you will receive a 9-volt battery. This smoke alarm will offer you protection from both fire and carbon monoxide in one unit. It with emit a beeping tone followed by a voice warning.
Two smoke detectors
AC wire with battery backup
Front loading battery area
Unique battery door design
Protects you from fire and carbon monoxide
– Anthony Dawson
Best Overall Smoke Detector
Nest
The Nest Protect Smoke and Carbon Monoxide, Battery, White S1001BW will easily blend in with your home décor rather than being the usual eye sore that smoke detectors can be. The Nest Wave is a very convenient feature that will prevent you from having to swing brooms or towels to dispose of smoke that may occur when steam comes from cooking in the kitchen. Instead, the Nest Wave feature allows you to silence alerts with a wave of your hand. The Nest Protect Smoke and Carbon Monoxide S1001BW has a Heads Up feature that will give you a friendly alert so you can handle any burning toast before a piercing alarm goes off. This smoke detector also offers know from anywhere feature that will send a message to your phone if the alarm goes off while you are out of the house or if the batteries are running low. When you purchase this smoke detector you will have a 2 year limited hardware warranty.
Blends in easily with home decor
Nest Wave feature
Heads Up feature to handle small smoke issues
Know from anywhere feature
2 year limited hardware warranty
– Anthony Dawson
Best Budget Smoke Detector
First Alert
The First Alert SA320CN Double Sensor Battery-Powered Smoke and Fire Alarm will keep your family safe. This smoke detector utilizes both ionization and photo electrical smoke sensors for optical performance. The smoke detector has an intelligent sensing technology that reduces non-emergency or nuisance alarms. The First Alert SA320CN Double Sensor Battery-Powered Smoke and Fire Alarm operates on two AA batteries that are included with purchase. It has an optimized sensor performance for the most nuisance resistant dual sensor alarm on the market. When you buy the First Alert SA320CN Double Sensor Battery-Powered Smoke and Fire Alarm you will have a 10-year limited warranty. The dual sensor alarm will notify you when carbon monoxide is detected, which is very dangerous as it is an poisonous yet odorless gas that can kill victims in a very short period of exposure time.
Ionization and photo electrical smoke sensors
Intelligent sensing technology that reduces non-emergency or nuisance alarms
Operates on two AA batteries
Optimized sensor performance
10 year limited warranty
– Anthony Dawson
Smoke Detector Buying Guide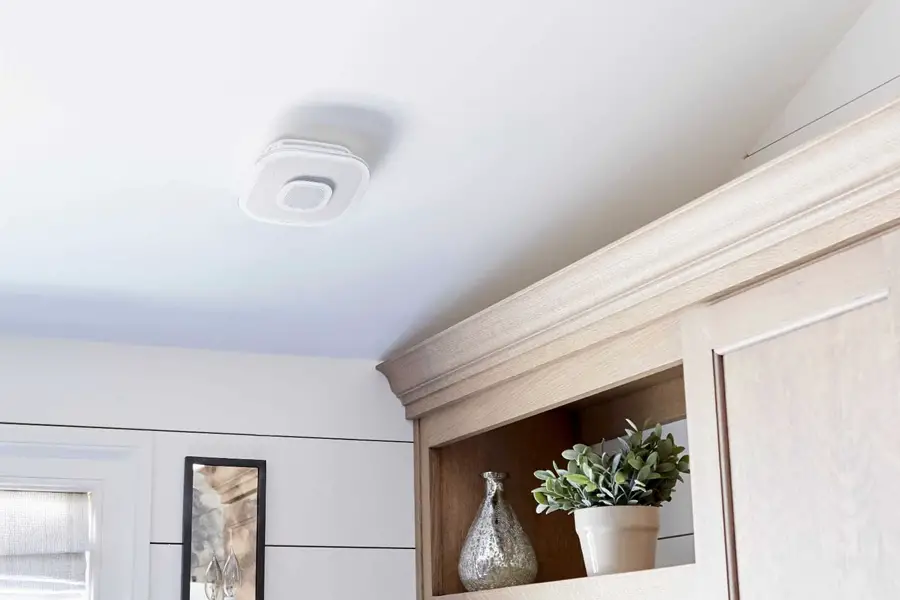 Smoke detectors are pretty much like a body guard at home and offices. Their main purpose is to detect smoke within its range, whether or not a human is present, and setting of an alarm, thus preventing it to spread into big flames. Thousands of people each year are killed in residential fires. Therefore here's a word of advice: do not skimp when buying smoke detectors.
It is advisable to install a smoke detector on each bedroom, in the dining area, in the living room, in the attic and basement. Smoke detectors are available in the local hardware store, home supply centers and online. Even Ebay carries smoke detectors. They are typically cheap, starting at about US$6 for basic models and ranging up to US$180 for models that can connect thru WiFi and send you notifications on your smartphone or tablet about smoke and carbon monoxide detections. Expensive models like such can be silenced with a wave of a hand, so there's no need to reach it with a broom to turn off the alarm. Battery levels are also indicated in advanced models so it won't unknowingly shut down or fail to alarm in the middle of the night due to low batteries. Most smoke detectors are designed to also detect carbon monoxide: a deadly, odorless gas that silently makes people sleepy and robs anyone in the room of oxygen. If your house has a furnace, water heater or oven range, opt for a smoke and carbon monoxide detector in one device. Do not worry about this much as most smoke detectors come with carbon monoxide detectors.
When buying a smoke detector, check the manufacturing date. There should be one and the online seller must indicate it in the ad or you can request for a picture of it. Smoke detectors get less sensitive overtime. Also, some towns and county's issue regulations on the placement of alarms.
Now it would be great if all smoke detectors are equally sensitive but unfortunately they are not.
Types Of Smoke Detector
Photoelectric smoke detectors or optical smoke detectors
They are widely available, but recently smoke detectors using ionization technology and laser technology are making an introduction in the market.
Photoelectric smoke detectors can detect slow, smoldering smoke the fastest, like the thick smoke when a couch or mattress is one fire. In comparison to smoke detectors using ionization technology, photoelectric smoke detectors set off an alarm earlier on slow burning materials. It can detect smoke faster in a large area or in a room with a high ceiling or rooms subject to temperature extremes. On the other hand the ionization type smoke detector is more sensitive to flames than to smoke. It sets off an alarm faster than a photoelectric or optical beam smoke detector once it detects fire. Therefore it is best used to detect smoke from fast flaming materials like paper and wood. It is also cheaper to manufacture. Compared to photoelectric smoke detectors, it consumes less power so a small battery can power it for month and is independent of external wiring. Since ionization type smoke detectors can detect particles smaller than smoke particles, they are prone to false alarms. Ionic smoke detectors use a radioactive isotope americium-241, and rules on proper disposal vary in each region. Some European countries have banned ionic smoke detectors.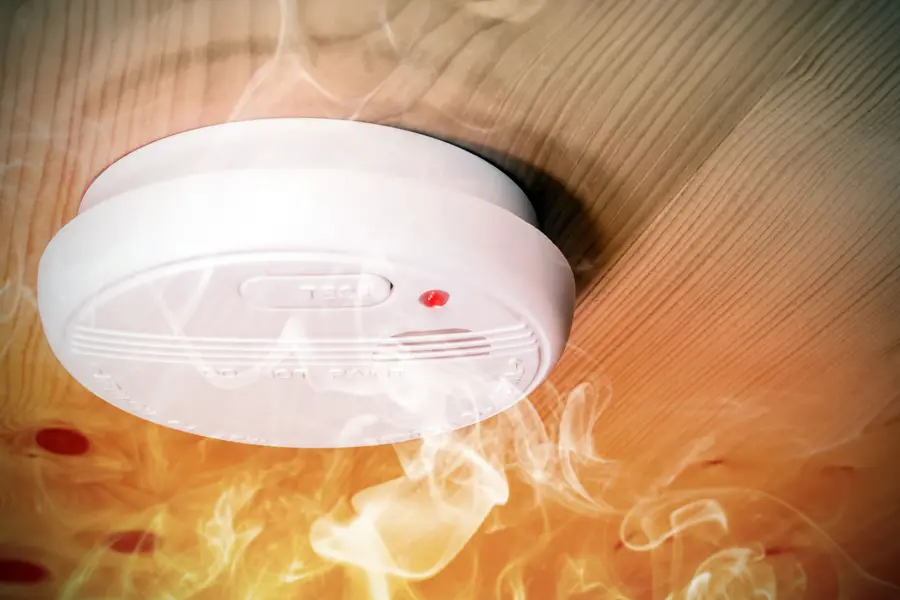 Aspirating smoke detectors (ASD)
These are lesser known compared to ionic and photoelectric smoke detectors. It is best for rapid smoke detection is crucial like in a room filled with combustible chemicals and gases, and even tobacco. Pipe networks can be constructed leading to ASDs that can easily be hidden. This works well in hotels & posh offices where smoke detectors may look aesthetically displeasing.
The National Fire Protection Agency recommend that people install combination alarms, that is, a combination of photoelectric and ionization technology. However few alarms combine both kinds of detection. Combination alarms rarely carry a built-in carbon dioxide detector. Combination alarms run on AA batteries and cost around US$23 each.
Most photoelectric smoke detectors run on AC power circuits meaning the users have to install the wirings around the house. Such smoke detectors also have a backup battery aside from the 120-volt power it needs to function. Smoke detectors should be placed where smoke isn't supposed to be. Avoid installing them in kitchens or rooms that have steams like saunas and bathrooms to prevent false alarms. Do not install smoke and carbon dioxide detector in breezy and ventilated areas like in front of electric fans, air conditioners, windows and doors. They may pick up smoke that originated in other places or the fresh air might obscure the reading, preventing the device from setting off when it should. Install them on a high wall or in the ceiling because smoke and fire rises.
What if you have a big house and there's a fire starting somewhere in the basement and you're asleep in your bedroom on the third floor? Fortunately photoelectric smoke detectors can be interconnected, meaning if a smoke detector sets off in the basement, all smoke detectors in the residence would alarm. This is effective in alerting the entire family. Installation and wiring, however, requires supervision.
As maintenance, make sure to vacuum your smoke detectors monthly and test them weekly by burning a small material so it could detect smoke. As convenient as it sounds, smoke and carbon dioxide detectors do not last forever. It is best to replace smoke detectors every 10 years.
Like most devices, the store or company should allow a return policy and issue warranty when buying smoke detectors. Limited warranties range from 2-10 years and return policies are permissible up to 90 days. Smoke detectors must indicate that it has met Underwriters Laboratories (UL) Standard 217 and carbon dioxide detectors must meet UL Standard 2034. UL conducts certification training on every electrical appliance.
Smoke detectors can only alert you if there's fire. The rest depends on the homeowner's preparation and other fire prevention safety measures.  Equip yourself with fire extinguishers and sprinklers, too, if necessary.