Best Smoke Detectors
Smoke detectors are one of the essentials in any home or apartment. This inexpensive lifesaving product can detect smoke and warn a family of a fire or impending fire. It is very important to have a battery operated smoke detector in the event of loss of power, in addition to a fire. It is recommended that a battery operated smoke detector be on each floor of your home.
Finding the right product to protect your family can be difficult with so many reports finding the weaknesses in this life saving device. Smoke alarms that never go off, ones that go off too frequently due to false alarms, can create a challenge in finding a good quality alarm. We have selected alarms that have been tested and proven to provide the protection your family needs.
First-Alert-SA320CN-Double-Battery-Powered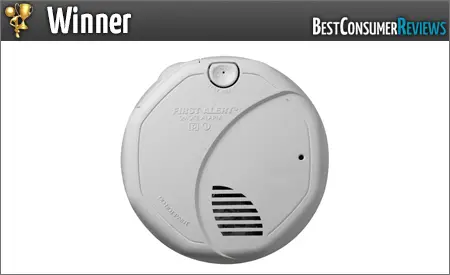 Product Highlights
Both Ionized and Photo Electric smoke sensors
Detects smoke from both smoldering and flaming fires
Loud alarm to rapid response
Sensors that detect non-fires to reduce false alarms
10 Year limited warranty
First-Alert-SA320CN-Double-Battery-Powered
The First-Alert-SA320CN-Double-Battery-Powered smoke detector provides dual protection against fires. The ionized and photo electric smoke detectors provide an early warning for any potential fires. This technology also reduces false alarms by sensing real danger. Not all fires are alike. Some fires, like kitchen fires create fast flames and are detected best by the ionization technology. Other fires like cigarettes can smolder in a couch for several hours before erupting into flames. In these cases, residents can die from smoke inhalation before flames ever break out. The photoelectric sensor does the best job in detecting smoldering fires. The First-Alert-SA320CN-Double-Battery-Powered smoke detector has a loud alarm so it can be heard throughout the house and responded to quickly. Rest at ease, and have the peace of mind that your home is protected with the First-Alert-SA320CN-Double-Battery-Poweredsmoke detector. It comes with a 10 year warranty. The First Alert operates with AA batteries and should be checked twice a year for battery life.
Kidde-KN-COSM-B-Battery-Operated-Combination-Monoxide detector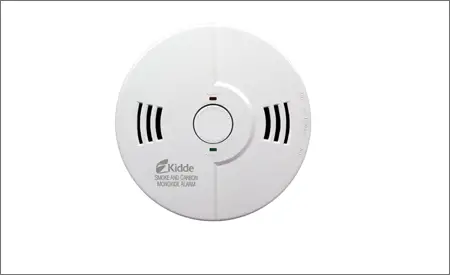 Product Highlights
Smoke and Carbon Monoxide detector
Ionization sensing fire technology
Voice warnings for fire, carbon monoxide, low battery and hush
Flashing LED light and beeping warnings
5 Year limited warranty
Kidde-KN-COSM-B-Battery-Operated-Combination-Monoxide detector
The Kidde-KN-COSM-B-Battery-Operated-Combination-Monoxide detectoris a combination smoke and carbon monoxide detector. Carbon monoxide is an odorless and tasteless gas that can kill residents even when low amounts are inhaled. Instead of having both a carbon monoxide detector and a smoke detector, this unit combines the two into one unit. For the smoke detection the unit includes ionization sensing technology, which detects visible fire particles and warns of impending danger. The carbon monoxide alarm goes off if the carbon monoxide levels in your home increase to a dangerous level. The Kidde-KN-COSM-B-Battery-Operated-Combination-Monoxide has four verbal warnings including fire, carbon monoxide, low battery and smart hush announcement. There is a voice alarm, a flashing light, along with a loud beeping sound that warns of danger. The Kidde-KN-COSM-B-Battery-Operated-Combination-Monoxide alarm needs 3 AA batteries to operate and comes with a 5 year warranty.
Kidde-KN-COSM-IB-Hardwire-Combination-Interconnectable smoke alarm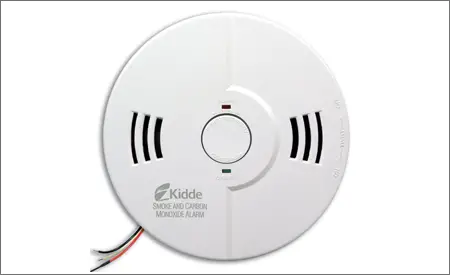 Product Highlights
Smoke and Carbon Monoxide detector
Hardwired with back-up battery
Voice warnings for fire, carbon monoxide poisoning and low battery
Ionization technology in the smoke alarm
5 Year limited warranty
Kidde-KN-COSM-IB-Hardwire-Combination-Interconnectable smoke alarm
The Kidde-KN-COSM-IB-Hardwire-Combination-Interconnectable smoke alarm is hardwired into the electrical system to ensure the unit will not fail. It also comes with a battery back-up in the event of power outages. This combination unit provides protection against both fires and carbon monoxide poisoning. Carbon Monoxide is an odorless and tasteless gas that kills quickly with little warning. Having a unit in the home is as important as having a smoke detector. By having a combination unit it replaces the need to have two units. The Kidde-KN-COSM-IB-Hardwire-Combination smoke alarm has voice activation in addition to the beeping alarm that lets residents know of danger. The voice activation warns of high levels of carbon monoxide, fire and low battery. The smoke alarm uses ionization technology to detect fires. The Kidde-KN-COSM-IB-Hardwire-Combination comes with a 5 year warranty and has an expected life of around 7 years.
Tips for Finding the Right Smoke Detector for Your Home
You do not have to experience any kind of fire or anything that causes excessive smoke in the house to understand how important smoke detectors are.  People do not often take note of these small circular devices attached to the ceiling or square ones on the wall.  These are devices that you probably have not touched at all, except when you needed to change the batteries. Or when you needed to check whether it was working or not.
Whether you know what they are there for or not, smoke detectors are actually life-savers. They are usually connected to a fire alarm that sets off an audible warning when triggered, or to the automatic sprinkler system if you happen to have one installed in your house. In countless instances, smoke detectors have given ample time for home or office occupants to escape before the fires could do greater damage. They have certainly saved lives.
Having a smoke detector warns a house occupant early on that something is burning and needs to be put out. Now, the saving part depends on whether or not you have the tools and equipment to put the fire out or whether your fire department is quick to respond to such an alarm.  You also have to be alert enough to either try to put out the fire yourself or call the fire department immediately.
Smoke detectors are made with different kinds of sensors that detect excessive smoke when it is present and gives out the alarm, or triggers the automatic fire-control system. It is best that homeowners are able to see the difference among these different types and see how they work, before deciding on which ones to buy and install in the house. The type of sensor installed in a smoke detector may also dictate the price range, since there are sensors that have more expensive components than those of the other types.
Among the types of sensors presently used by several manufacturers of smoke detectors are the ionization type, the optic sensor – also called photo-electric sensor, the air-sampling sensor, and combination-type sensors.
A smoke detector with an ionization-type sensor uses what is called radio-isotopes that produce ionization in the air. The process is quite technical, but what this type of detector contains is ionized air molecules in a chamber inside the device. The ionized air carries electrical current and maintains that current, until something disrupts the air molecules. When the air molecules are disrupted, usually by smoke, the current drops, and an electrical circuit sound the alarm.
Ionization smoke detectors are said to be cheaper to manufacture, but the downside is that they are prone to false alarms. They sound the alarm at the slightest degree of disruption in the ionized air, even from ordinary smoke in the kitchen.
Photoelectric or optical sensors are triggered by smoke disturbing an existing beam of light inside the detector. When smoke is not present, the beam from a light source inside the device travels in a straight line to a detector, but when smoke particles enter, some of the light is scattered and triggers the electrical circuit that sounds the alarm.
Air-sampling detectors have sensors that are capable of detecting microscopic smoke particles in the air. They actually draw air into the detectorand passes it into minute pipes that lead to a laser optical device that has the capability to detect minute particles of combustion. When the laser detects the unusual content, it triggers the alarm.
Combination-type detectors use both ionization and optical sensors, as mandated by some states. Ionization detectors tend to react slower, and may not warn people inside the house or commercial buildings adequately enough to be able to make it to the exit. So fire departments and legislative bodies recommended installing photo-electric smoke detectors, or combination-type detectors.
The other feature that one may consider in a smoke detector is its gas-detection capability. Incorporated in many of the newer models are carbon-monoxide and carbon dioxide sensors that trigger an alarm when there is a high level of these gases present in the air. As stand-alone detectors, they may be useful as alarms against dangerous gases, but may not be able to detect smoke out of ordinary fires early enough. You'll see that these wouldn't be good fire-prevention devices if that's what you were looking for.
It is recommended that the individual homeowner find out what possible hazards could emanate from various areas of the house before deciding on what kind of smoke detector to install. And when you think about the price, most times it becomes a trivial factor especially if you have to consider that you're actually buying protection and peace of mind.
Having mentioned price, you might as well consider testing one of these so-called smart smoke detectors.  Some of these can be turned off by waving your arm at it in case it is accidentally set off.  These smart detectors also give out a preliminary warning tone that tells you there's smoke somewhere in the house, and gives you a chance to act. Other than that, smart detectors are also connected in a wireless network, and are able to talk to each other. So if a fire occurs in the basement and you're in the bedroom, these smart little things will still sound the alarm wherever you are in the house.
Stopping the alarm by waving however won't work wirelessly. You'll have to wave at the smoke detector that actually detected the presence of smoke before you could stop it. Which is, again, smart because you have to go down there and check the problem out visually.
You'll surely have no trouble looking for the right safety device with this bunch of information about how they work and what kind of features they present. Again, the price range may be wide – ordinary detectors can cost as little as $15 per piece, while the smart smoke detector retails for an average of $130 depending on the model – but remember, you're buying protection and safety for you and your family.