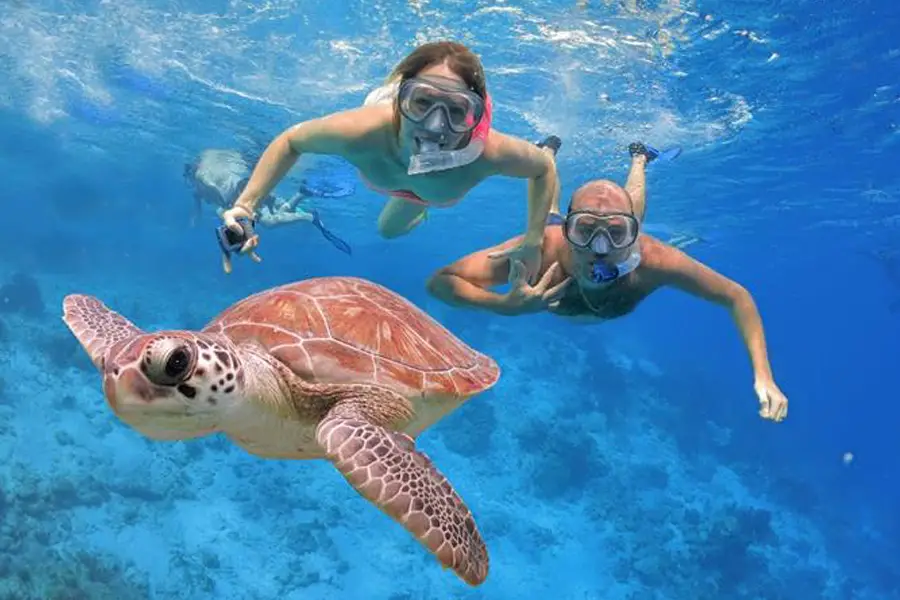 Snorkeling Gear Reviews
Snorkeling is a great water sport. Whether you are looking at exotic coral reefs or just watching friends play under water, the ability to comfortably see what is going on beneath the surface is fascinating for both children and adults. We have selected the best snorkel kits that provide everything you need for a great day of snorkeling. While there are many cheap models on the market, most are uncomfortable and ill fitting. Having a mask that leaks or a snorkel that is always filling with water can make a frustrating day, instead of an enjoyable one. We have selected the best snorkel kits with reliable material at the best prices available.
Most Popular Snorkeling Gear
Promate Snorkeling Scuba Dive
The PROMATE-Snorkeling-Scuba-Frameless-Snorkel kit includes a set of fins, a mask, snorkel, and a carrying bag. The Promate fins are available in small/medium or medium/large and range in foot sizes from 5-8 or 9 to 13. They have an open heel with a back adjustment and a quick release for a comfortable fit. The design provides a vented fin which reduces drag and makes for easier movement. The open heel design is easy to put on and take off, even when they are wet. They work well with socks or barefoot snorkeling. The Promate frameless mask provides a tight seal and low volume. The glass is tempered to prove the maximum level of safety even for deep descents. The mask also includes an anti-fog solution for keeping the mask clear. The whistle snorkel remains 100% dry and has a valve at the top to prevent water entry. The flexible silicone material is pre-curved with a corrugated lower section. The snorkel design assists with reducing mouth fatigue. It also includes a purge valve for easy draining. The PROMATE-Snorkeling-Scuba-Frameless-Snorkel comes with a carry bag that doubles as a backpack. The bag includes padding that protects the gear.
Fins, mask, snorkel and gear bag
Ventilated fins with adjustable strap and open back
Mask has tempered glass for highest safety protection
Snorkel is 100% dry whistle design
Carrying bag comes with one or two straps for easy transport
– Anthony Dawson
Best Overall Snorkeling Gear
Promate Snorkeling Fins Panoramic
The PROMATE-Snorkeling-Panoramic-Snorkel comes in a variety of colors. These colors include black, clear/black, pink, silver, blue or yellow. The kit includes the mask, fins, a snorkel and a mesh carry bag. The fins are lightweight with an open heel style. There are adjustable straps and an easy release button. The soft rubber provides comfort and protection with or without socks. The mask is a purge mask and has three windows. The two side windows provide better visibility. The edgeless frames provide protection and an extended field of vision. The glass is tempered glass which provides the highest level of safety and the mask has liquid silicone injected in the skirt and strap. The snorkel is a 100% dry design. The upper valve keeps water from entering. There is also a purge valve for easy clearing and the pre-curved mouthpiece reduces jaw fatigue.
Fins, mask, snorkel and mesh bag
Open heel lightweight design
Mask has tempered glass for highest safety protection
Snorkel is 100% dry whistle design
Pre-curved mouthpiece reduces jaw fatigue
– Anthony Dawson
Best Budget Snorkeling Gear
U.S. Divers Adult Cozumel Mask
The U.S. Divers package includes fins, mask, a snorkel and a carry bag. This snorkeling set is too lightweight for scuba gear, but makes great snorkeling. The fins are soft and comfortable with an adjustable foot strap. The blade is made of a dual composite blade which provides good power in the water. The mask is a two window mask with a defined nose. The face skirt is made of hypoallergenic silicone. They fit difference face sizes comfortably and have adjustable buckles for a tight seal. The snorkel is made of U.S. Divers Pivot Dry Technology. This keeps the snorkel dry and helps prevent water from entering the snorkel when it is submerged. The purge valve makes for easy clearing of water or obstructions. The gear bag will comfortably fit all of the equipment providing a compact and easy method of transporting the snorkeling gear. It also comes with a 2 year warranty.
Fins, mask, snorkel and gear bag included
Fins are an open heel design with a soft foot pocket for a comfortable fit
Mask is a two window mask with hypoallergenic face skirt
Snorkel has Pivot Dry Technology and purge valve
2 Year warranty
– Anthony Dawson
Snorkeling Gear Buying Guide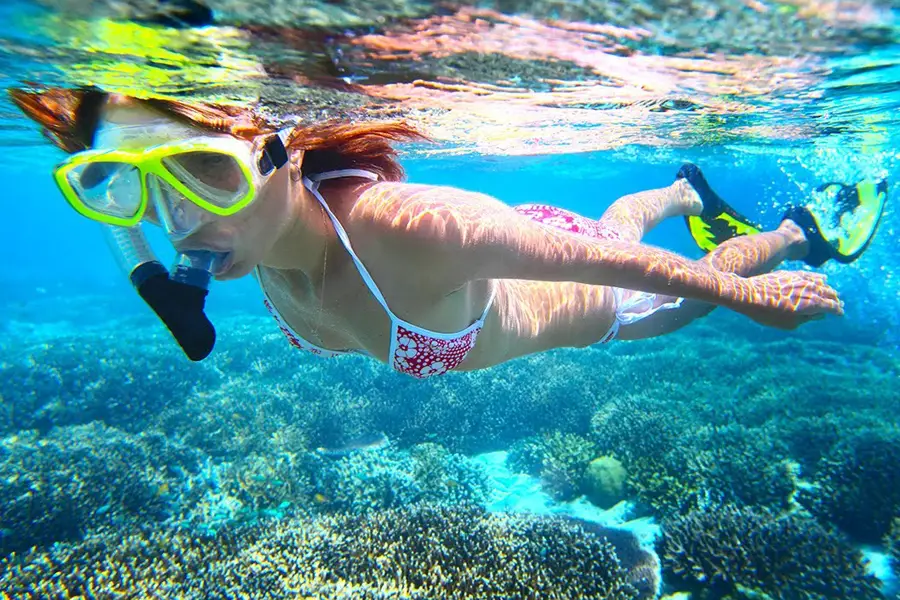 Snorkeling is such a fun water activity. It allows you to get closer to the reefs and fishes that thrive below the water's surface, and it is not taxing at all. In fact, it can be considered ultra-relaxing, especially if you love being one with nature. Just imagine yourself being surrounded by the vibrant colors of the coral reefs while fish of various sizes swim around you.
It is an experience that you would definitely want to do for hours, but if you do not have the right gear, it may not be as exciting as you perceive it to be. Although various resorts rent gears for their guests, it will be better if you invest on your own snorkeling gear to ensure that they will work best for you underwater and, of course, for hygienic purposes. When shopping for your gear, there are three main items to include in your list: the mask, the snorkel, and the fins.
Things to Consider
Mask
The mask protects your nose and eyes from the sea water. It enables you to stay underneath longer while enjoying the sights clearly. This is why the first criterion when buying your mask is the fit. Try it on when you go shopping. Make sure that the skirt, or the rubber part that touches your face, fits tightly on your skin. Otherwise, it will not be able to seal your eyes and nose area, resulting to leaks and fogging.
If that happens, you will be out of the water soon because of the discomfort caused by the water on your eyes and because it will make you breathe in water through your nose. That is the main problem if you just rent your snorkeling gear. It will be hard to find one that fits right on you, so you will end up going up for air and to remove the water that has accumulated inside your mask.
When trying on a mask, here is what you must do. Hold your breath as you wear it. Once in place, start breathing through your mouth. Basically, you will be simulating how it is to breathe underwater.
This is important because if you start inhaling hard through your nose, the mask will tend to stick closely to your face and give you the impression that it is the right fit even if it is not. Now that you know how to breathe right while trying on a mask, start inspecting its fit. It must seal that portion of your face perfectly but must also be comfortable to wear.
Aside from the fit, also check the width and material of the skirt, range of visibility, and the distance of the lens from your face. Ideally, go for a wider skirt that is made of silicone, a mask that lets you see a better and wider view, and a lens that sits nearer your face to decrease the volume.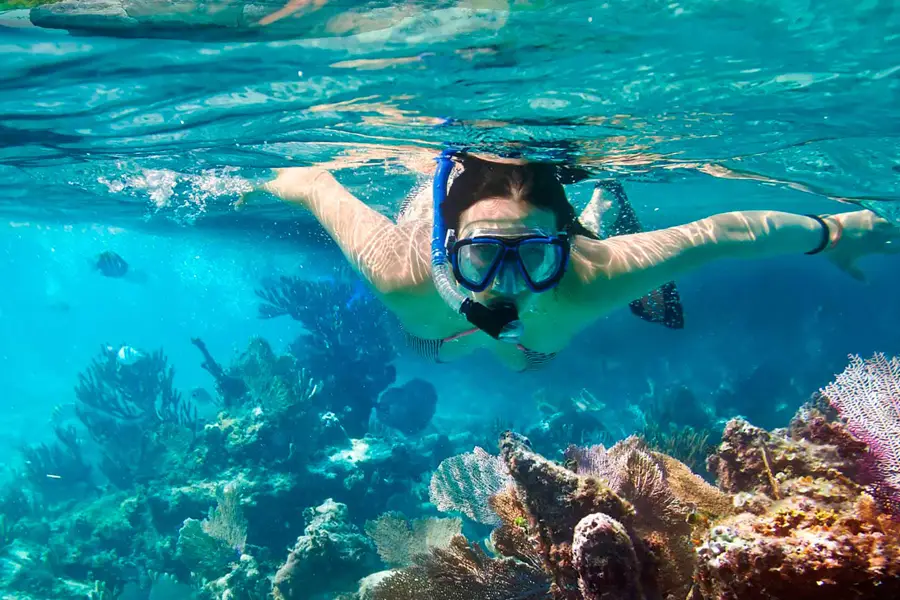 Snorkel
The second item in your snorkeling gear is the snorkel. It is the breathing tube that allows you to stay underwater longer by letting you breathe in fresh air from the surface. It has a latch that you can fit on the side of your mask so that it can stay in place.
Just like when choosing a mask, one thing that you must check is the fit of the mouthpiece. Too large and it will be uncomfortable to wear, too small and it may cause you to swallow water in. Go for a mouthpiece that is made of silicone because it is flexible and it lasts longer.
The tube of the snorkel comes in various designs. The simplest one is the J-shape. This is very basic, meaning it has an open top and a mouthpiece on the other end. Next is the one with a purge feature. Just like the J-shape, it has an open top but under the mouthpiece is a purge for water that might have entered the tube. This happens when splashes of water get in the top of the hole.
Instead of going up to remove that water, the purge function can do this even while you are under. The third type of snorkel is one that has a guard on top and a purge. This means that the top end of the tube has a cover but there are horizontal holes on the side where air can pass.
The guard and the design of the holes make it less likely for splashes of water to enter the tube. Finally, there is the dry top snorkel. This one has a valve on the top end that closes each time you dive. Therefore, it allows you to go for quick dips to get closer to reefs and fishes without worrying about the tube getting filled up with water.
Fins
By looking at the fins, you can quickly compare them with the feet of frogs because of the shape and design. It was made that way to help you swim longer distances and efficiently with every stroke of your legs. They also keep your legs afloat so that you can maintain a horizontal form just below the water's surface. There are two types of snorkeling fins – the closed foot and open foot.
The closed foot fins are lighter, which makes them easier to maneuver underwater. They are also cheaper, making them a popular choice among consumers. The open foot or open heel fins are so-called because the heel area is open since it is designed to be worn with boots.
Some divers prefer to wear boots, especially when snorkeling in cold waters. Boots also give that added protection against blistering compared to wearing fins directly on your skin. Open foot fins, however, are heavier which can be a drag under water.
In both types, you can choose between paddle and split fins. The only difference is that the latter has a slit in the middle, which according to studies helps propel you farther, making you conserve energy. Paddle fins, on the other hand, help you swim faster and they are easier to maneuver.
Whether you choose open or closed fins, just make sure that they fit you right. Too tight and they will be uncomfortable to wear and can even result to blisters, too loose and they can become looser under water.
When buying your snorkeling gear, it is best if you buy them separately to ensure proper fit. A set may be cheaper but if they do not fit you right, it will be just a waste of money.