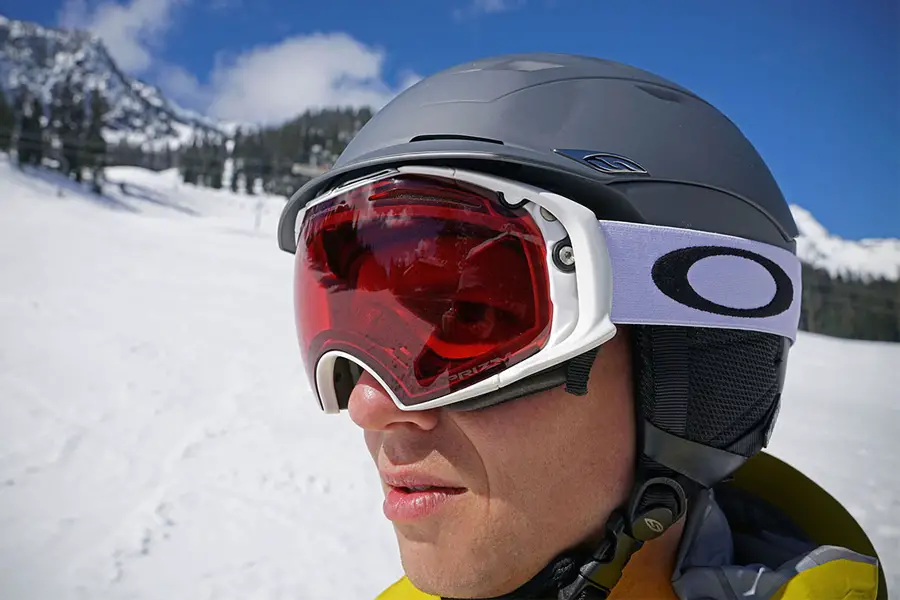 Snow Helmet Reviews
It's a great thing that snow helmets are gaining in popularity, because for too many years, people were skiing without adequate protection. Not only does a helmet provide vital protection for those who are new to the slopes, as well as well-seasoned skiers, it also keeps your head warm during cold weather conditions. There are a number of studies that have proved that helmets save lives and prevent serious injuries. You can't just throw on a bike or skateboard helmet to hit the slopes, so you need to find a great model that is specifically designed to withstand the characteristic dangers of skiing. This includes obstacles like trees, branches, rocks, and hard ice. The most advanced versions provide ear coverage, temperature-sensitive materials, and moisture-wicking liners. The outer layer of the helmet is called the shell, and is usually made of a tough ABS high-impact plastic. Inside, you'll find EPS foam which also absorbs impact and is the main feature that reduces brain injury.
Most Popular Snow Helmet
Giro
This helmet from Giro Seam comes with the unique Stack Venting System that is only enhanced by the Thermostat Vent System. These two combined effectively disperse excessive heat, thus keeping your head comfortable and at the right temperature all day long. The fit of this helmet is superior, and the lightweight design makes it easy to wear and secure. The In-Fit system is the reason why the Seam fits so nicely on so many different heads. The adjustment feature is easy and just takes minutes. Should you need more help with adjusting the helmet, there are handy videos on Giro's website that show you in steps how to work the mechanism. It's designed to fit snuggly to the unique shape of your head without being any kind of a burden on your skull. An added benefit is the removable liner that allows for routine washing and cleaning. That is great news for those who don't want to wear a stinky, sweaty helmet for hours on end.
Comes in 4 Sizes
X-Static anti-bacterial padding
In-mold construction
Thermostat control and 12 super cool vents
Compatible with all TuneUps systems
– Anthony Dawson
Best Overall Snow Helmet
Smith Optics
With innovations like the patented Regulator lens ventilation on these popular goggles, Smith Sport Optics is setting all kinds of industry standards with their high-performance goggles, sunglasses and helmets. Their products are all geared towards serious sports enthusiasts who have a sense of style and originality. The Vantage helmet is just another addition to their incredible line of products, and its Aerocore construction features Koroyd, and gives full coverage with tremendous airflow. The BOA FS360 fit system makes this helmet tremendously customizable for any head size. AirEvac technology from Smith allows you to integrate goggles into the helmet. Like all Smith products, this is the perfect marriage between performance and style. The X-Static performance lining is the best that you can find, and the 21 vents ensure that your head will never overheat while wearing the Smith. The ultra light goggle lock keeps everything secure and in place for a full day on the slopes.
Removable goggle lock
SL Hybrid shell design
Innovative Aerocore technology
AirEvac 2 ventilation
Stylish dark color
– Anthony Dawson
Best Budget Snow Helmet
Lucky Bums
If you have a kid who is a powder hound, you absolutely need a helmet for them. There's nothing more exciting than watching your little champ race down the slopes, but keeping them protected at all times is not an option. This affordable junior helmet from Lucky Bums is a fantastic option for your little daredevil. The warm fleece lining, padded chin strap and ear flaps, and goggle loop make this the most comfortable and secure kids helmet that you can find. Everything that lines the inside is completely hypoallergenic and antibacterial, so no need to worry about sensitive skin issues. This also means that there is no threat of stinky helmet. The ABS plastic shell is the toughest protection that you can find, and is resistant to scuffing. With the multi-port venting, your kid will have ample airflow all day long, and the handy mesh screens keep snow from blocking the flow of air. With a lifetime warranty attached to this helmet, there's no doubt that this is money well spent.
Completely CE-certified helmet for kids
Padded chin strap, warm fleece liner, and goggle loop
Interior is hypoallergenic and antibacterial
Supportive EPS material lines the inner shell
– Anthony Dawson