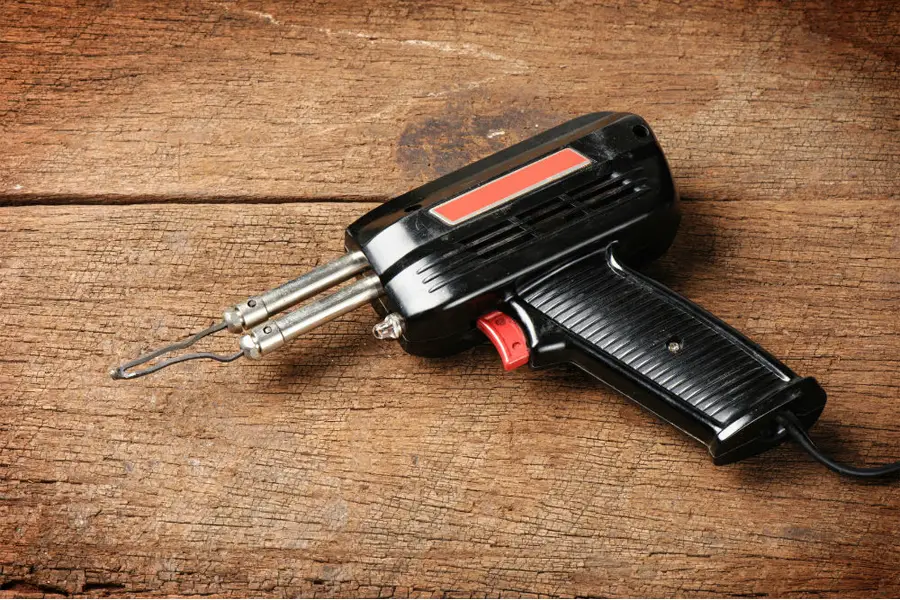 Soldering Gun Reviews
If you are a techie or of you love creating various new types of electronic devices or if you are just a person who is passionate about repair of various types of electronics, then you definitely will make use of a soldering gun. The gun is used to melt solder used in joining various components in electronics. Soldering guns are important if you are a professional repair technician or you just love creating your own projects. The soldering gun operation is quite simple. You just plug the gun in and once it's hot enough you lower it carefully on the component or wires that you would like to join and solder. Once the solder melts you lift up the gun for the solder to cool and leave behind a strong and secure bond. Soldering guns are quite easy to use and you don't need any formal training to handle them. If you are the kind of individual described above you will definitely need one.
Most Popular Soldering Gun
Weller
This is a great professional soldering kit as the title suggests. It comes from the well-known manufacturer Weller. It is a dual output gun at 260W and 200W respectively. The input power for this gun is the standard 120V. It heats up fast and is usually ready for use in about 6 seconds. When shipped the package weighs around 4.3lbs. The package comes with a great carrying case for ease of transportation as well as storage. Its grip design is like that of a pistol and the tool has 2 lights to facilitate illumination of your workspace. The trigger has 2 positions one low output and one high output. It has a copper tip that is tin plated and is a wonderful tool for professional users and regular users alike.
It heats up quickly so that you may finish your jobs faster
Great price for the functionality that it offers
The professional package is great for convenient transport and storage
Dual illumination lights work well for dimly lit working locations
It has great balance when working with it
– Anthony Dawson
Best Overall Soldering Gun
Apex Tool Group
This gun is a great product from Weller. The Weller D650 is a great gun which produces either 200 watts or 300 watts of power. Of all Weller soldering guns, it is the one with the highest output of power. When shipped the package weighs 3.4lbs. The gun itself weighs just 1 pound. The input voltage is always 120V although it has dual output of 200W and 300W. It has a housing that is heat resistant made from thermoplastic to ensure your safety when using it. It is also designed to ensure that you work on the job smoothly. The tool uses a 2 wire, grounded, heavy duty cord. It also features a fingertip selector for heat. If you buy it you will enjoy it so much that you will wonder how you ever survived without it.
It has plenty of heat when hot which is what you are probably looking for
It is lightweight and ergonomically correct to facilitate use over long hours
It has great insulation to protect you from nasty accidents
Great quality cord which is built to last long
Great heat selector switch
– Anthony Dawson
Best Budget Soldering Gun
Wall Lenk
This gun is a great tool for all kinds of soldering jobs. The tool is simple to use. The trigger provides a response that is instant. The double wattage feature is also a great addition. and the tip is heated by the higher (400W) wattage quickly in a matter of seconds while the lower (150W) wattage maintains the temperature of the tip for which it is rated. The tool has a 1 inch work light which lights up the entire work space. When shipped the package weighs in at 2.4lbs. The entire package also contains a heavy duty carrying case that is great for portability and storage. You can use the gun for a variety of functions be it automotive, sheet metal, motors, and appliances among others.
The dual wattage feature is just priceless
The ease of use of the tool is another great feature
The gun heats up pretty quickly meaning jobs are completed just as fast
It is great for big soldering jobs since it's a heavy duty gun after all
The light is a nice little addition which will help when working in poorly lit areas
– Anthony Dawson
Soldering Gun Buying Guide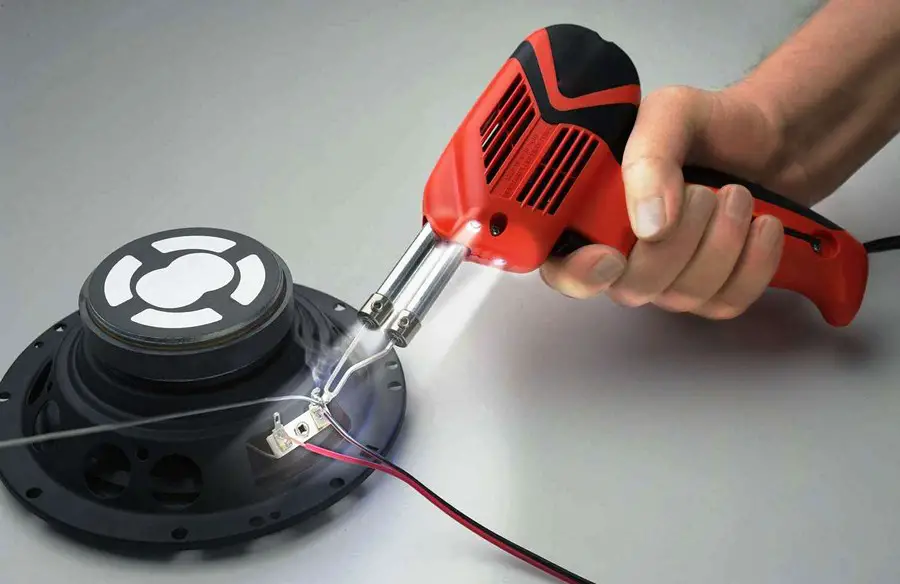 A soldering gun is a tool that can be used to fuse together things like heavy electrical connections, create stained glass, and connecting edges in sheet metal projects. It should be noted that a soldering gun is not the same thing as a soldering iron or a soldering pen. Soldering guns use more heat than soldering irons can offer so they can't be used in certain situations.
It should also be noted that the majority of soldering guns do not run on the same wattage. Further still, some soldering guns have the option to change the temperature settings making the product more versatile. Choosing one that works best for you is a personal choice. Below is a collection of tips you may wish to consider before deciding on a soldering gun of your own.
Types of Soldering
There are three types of soldering: soft, hard, and brazing:
Soft soldering is designed for things like electronics boards and plumbing.
Hard soldering, (aka Silver Soldering), involves higher temperatures and is used to solder metals such as copper, silver, and brass.
Brazing is a lot like hard soldering because you heat the material to bond it together, not melt it. Once the base metals are heated, a brazing filler material is added between the surfaces and melts (thereby joining the pieces together).
While soldering irons are used for electronics boards, soldering guns have a tip that is larger in size and is designed to bond items together rather than melt them. Understanding what soldering tools are best designed for will help you better plan what projects you can use with a versatile soldering gun.
Soldering for Trade Work
If you are new to soldering, there many uses for a soldering gun. You are not limited to just one specific area of interest. Some of the categories include:
Roofing – Roofers use soldering guns to fuse galvanized metal for flashing
Metal Gutters – Use soldering guns to fuse metal gutters
Stained Glass – 100-watt soldering guns are used to make stained glass windows
Mosaics – 100-watt soldering guns are also used to make mosaic sculptures
Auto Repair – Soldering guns can also be used to tighten joints and smooth rough surfaces
Jewelry – Working with silver
Plumbing – Fusing copper tubing
Vacuum Tubes – Insulating housing parts
Electronics are not part of this list as soldering irons are needed to fuse parts together. Soldering guns are too powerful to be effective for circuitry. The above list is simply an example of the things that can be accomplished using a soldering gun or soldering pen.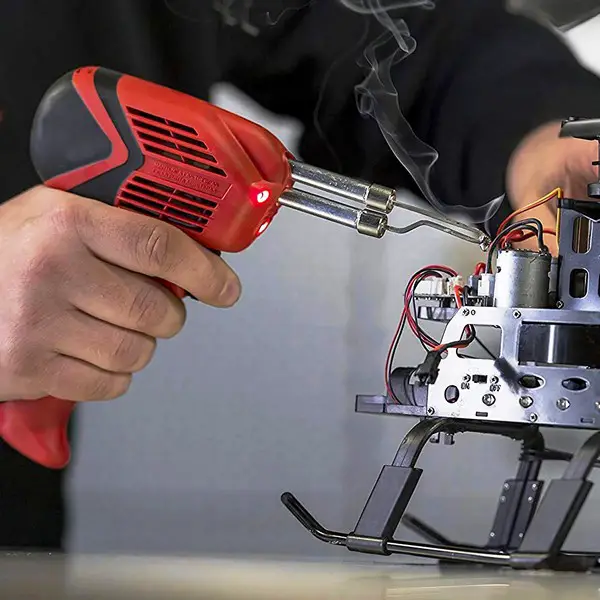 Cordless Versus Corded
Consider the main setting that you will use on your soldering gun. If you have a dedicated workspace, you may want to purchase a corded soldering gun. If you need to travel frequently with one, then a cord will only slow you down. Having a cordless soldering gun will keep things moving swiftly and smoothly whether it is for use within the home or for use outside of it.
Wattage
Soldering guns generally run somewhere between 15 to 65 watts. Generally speaking, the higher the wattage, the better suited it is for professional use. Certain repair projects around the home require a certain wattage to make an effective repair. So, the lower wattage may limit the soldering gun's use. However, if simply adding to the home repair tool kit, a lower wattage gun would still be acceptable for many different projects.
Temperature Settings
Some more expensive soldering gun models are available with the ability to adjust the temperature settings. Adding a thermocouple helps adjust the temperature of the soldering gun's tip. Certain models also can be switched on or off automatically using a thermostat. Professionals usually use a temperature-controlled soldering gun for de-soldering projects.
There are so many wonderful models available for purchase, but be sure to read the fine print carefully as they all offer a variant in specifics. Set aside plenty of time to learn and study about the features for each product.
Whether you specialize (or have an interest in learning) roofing, jewelry-making, plumbing, or metalworking, there is a soldering gun fit for your trade of interest. The prices vary widely though, so it would be wise to compare products before making a final decision on which one feels right for you.