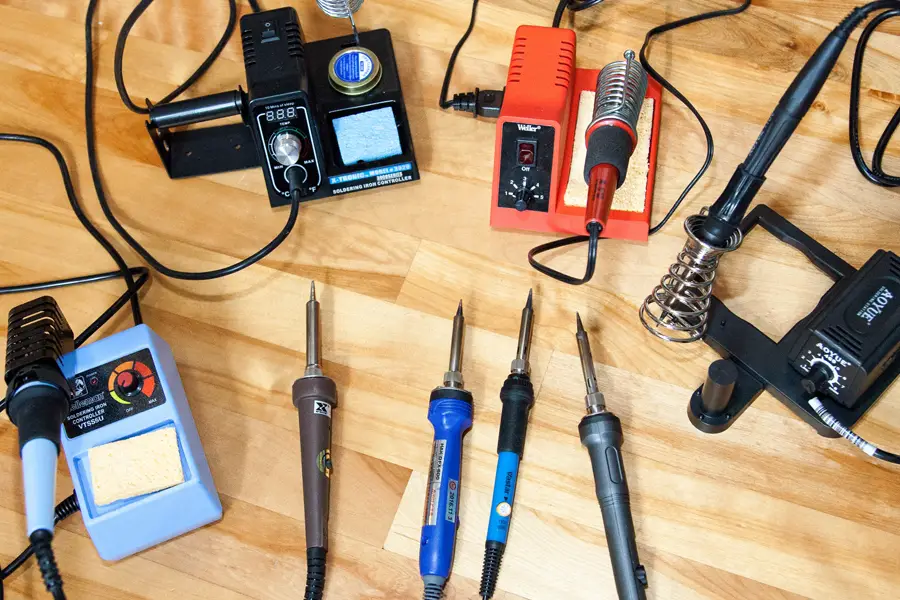 Soldering Kit Reviews
There are so many different kinds of soldering kits on the market, and what you choose will depend upon what kind of projects you often work on. There are some things that must be considered before finding the right kit for you. First of all, look at the wattage, or power level of the tool. Really, the higher the wattage the better, because it increases the type of projects that you can work on. There are also many different types of soldering iron that come in various shapes and sizes, and some are geared more towards electronics while others are better for crafting. Temperature control is a key factor that you should look for, as these super-powerful irons can get incredibly hot. Lastly, look for the appropriate tip size and shape for the kind of project that you're going to be working on. This may seem like too many options, but it really is imperative that you find something that is perfectly suited to your needs, and gets the job done right.
Most Popular Soldering Kit
Weller SP40NKUS
There's no question that Weller makes some of the best soldering kits that you can find. This particular model features a high-performance LED soldering iron that can power up to 40 watts and 900 degrees. The real innovation here is the LED light that allows you to solder with more precision than you thought possible, and offering the very best application illumination. The soft grip ribbed handle only adds to this precision by allowing you a comfortable and secure grip at all times. There's nothing more detrimental to your soldering than having your hand slip, and that's why the co-molded grip is going to give you that extra bit of performance and peace of mind. The triangular area gives you maximum tip control, as well. The package comes complete with the soldering iron with MT10 6mm tip, iron stand, manual, soldering air tool, spare ST3 and ST7 tips, as well as lead-free solder. That's pretty much everything you could possibly need to solder with the best of them.
Professional-grade LED soldering iron
Can power up to 40 watts
Co-molded soft grip handle adds comfort and prevents slippage
Kit includes everything that you need for most soldering projects
– Anthony Dawson
Best Overall Soldering Kit
Weller WLC100
This soldering station from Weller provides everything that you need to successfully join metals and make perfect electrical connections. A wonderful choice for hobbyists and those who love do-it-yourself projects. The kit comes compete with a quality, lightweight pencil iron with variable power control, as well as foam grip with replaceable heating element, and safety guard iron holder. Weller has been the leader in soldering equipment since 1945, so you can trust that they really know what they're doing. The genius behind their whole system is the lightweight pencil iron that makes soldering easy and efficient on all kinds of projects. The cushioned foam grip sits comfortably in your hand and helps you to solder with precision each and every time. With just a simple turn of a knob you can adjust the power level on this device, which makes it much easier than other basic kits on the market.
The perfect lightweight pencil iron
Has its own built-in iron stand
Adjust power from 5 to 40 watts
ST3 iron-plated screwdriver tip
– Anthony Dawson
Best Budget Soldering Kit
Wmore
This handy kit from Wmore Electronics provides all the essentials for your various soldering projects. It comes with a standard soldering iron, de-soldering pump, wick, and lead-free solder. Everything is packaged in a handy storage tube. The soldering iron stand comes included as well. This is a great basic kit if you're looking to try soldering for the first time, or you're a seasoned professional that wants tools they can depend upon for years to come. For over 30 years Wmore has been making affordable soldering supplies that boast of continuous customer satisfaction. That's because they're devoted to their craft, and for those craftspeople that consistently use their products. This particular kit provides all the essentials, and each tool is easy to use and comfortable to hold. If you had a soldering device break on you, or you're just looking to step it up with a system that is well-built but still affordable, then this kit from Wmore is going to get the job done.
Provides all the equipment you need in one handy case
Great for electricians, crafts people, and more
Easy to use and comfortable to operate
An affordable option that works great for professionals and newbies
– Anthony Dawson
Soldering Kit Buying Guide
Soldering kits are frequently used by jewelers to create and repair all kinds of jewelry. Professionals like electricians and plumbers usually own their own soldering kits for responding to customer calls. Novices can also use soldering kits to complete projects around the home like repairing small leaks, fixing chains and jewelry, and other minor everyday tasks.
There are many different types of soldering tools available. Basic soldering kits usually include an iron, a stand, and tips. More expensive kits include extra accessories such as sponges and writing tips. When shopping for a kit, keep in mind the projects you'll need it for. The more accessories included with the kit, the more expensive it's likely to be.
Soldering Tools
While most kits provide basic soldering tools, there are carious other tools available to make soldering easier. Knowing what the various tools do can help you in choosing the right type of soldering kit. Below are some common soldering kit items.
Soldering Iron
Soldering irons are available in different wattages depending on the intended application. For most jobs, an iron with wattage between 15 to 30 watts should be sufficient. For specialty work like wood burning and stained glass work, you'll need a higher wattage iron. Below are several wattage ranges and their ideal applications.
15-25 watts: Ideal for circuit boards, jewelry, and small electronics
25-40 watts: Used for audio wires and large electronics
40-80 watts: Used for wood burning and stained glass projects
Soldering irons are sometimes referred to as soldering irons depending on the kit. A soldering gun has a wire-looped tip that heats up. The small tip allows for precise work, unlike a soldering iron, which has a larger, tip heated by an electrical current.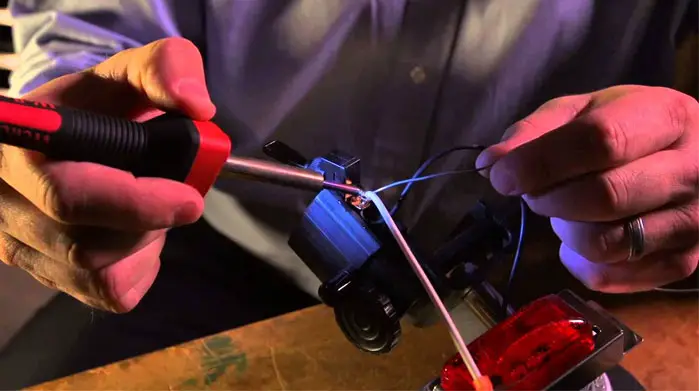 Rosin Core Solder
This is a fusible metal alloy used for joining metal pieces together. It has a lower melting point than items being soldered. Rosin acts like a flux when soldering. This aids in the fusion of the metals. Rosin ranges in thickness from 0.25 to 6.0 mm. Rosin core solder is available in three types: 50/50, 60/40, and 63/37. These numbers represent the amount of tin and lead present in the solder.
It's important to choose the appropriate diameter size for your project. If your solder is too big, it may not melt properly, and can damage the item being soldered. If you're not careful, you can also burn your hands. On the other hand, if a solder is too narrow, you won't be able to join pieces together seamlessly. When completing bigger jobs like pipework, it's best to go with a larger diameter solder. For medium-sized work, like electrical projects, a medium-sized solder should work. The smallest solders should be reserved for small jobs like repairing jewelry or cell phone circuitry.
Most soldering irons come with a tip included, so you won't necessarily need to buy separate tips. However, there are different size tips available for different tasks. In general, you should buy a tip that is a bit smaller than the item you're soldering. This will give you better control over the heating and soldering. For smaller, detailed work, pointed tips are available. If you have large wiring work to complete, you may find a flat, screwdriver-style tip more useful.
Solder Melting Pot
A solder melting pot is a small, temperature-controlled container used for melting solder and tinning wires. They are commonly used for small jobs where temperature consistency is crucial. Solder pots are usually made from cast iron or porcelain.
Safety Stand
An iron safety stand is included in most kits for storing the soldering iron when not in use. The safety stand holds the iron securely and prevents the heat of the tip from damaging the work surface. Safety stand are also handy for cleaning the tip of the iron.
Wiring Tools
Wiring tools such as strippers, pliers, and cutters, are included in some soldering kits. Wire strippers are used to remove electrical insulation from wires, while side cutters cut away unnecessary leads, plastic, or wires. Pliers can be used to hold, clamp, and position carious items. If you already own these items, you won't need a soldering kit that includes them.
Exhaust Fan
You probably won't find this in a basic soldering kit. Exhaust fans help ventilate your workspace. This is handy for getting rid of the strong fumes produced by soldering which can irritate your respiratory system.
Safety Goggles
This is a handy item to have in a soldering kit. When soldering, small pieces of hot material can fly out of the soldering joint. Safety goggles can protect your eyes from this potential soldering hazard.
Sponges
Soldering sponges are used to remove excess solder from the iron tip. Sponges should be dampened before using. It's important to regularly remove solder from the tip of the iron when working so the soldering tool continues to function properly.
When choosing a soldering kit, consider the types of tools and heat you need to complete your project. For everyday applications, you shouldn't need anything more than 15 to 35 watts. For more complex projects like wood burning and stained glass projects, where high heat is needed to join materials, you'll need higher wattage soldering tools. In general, choose a smaller tip than the item being soldered, and be sure to research different brands before making your final choice.
Soldering Iron Buying Guide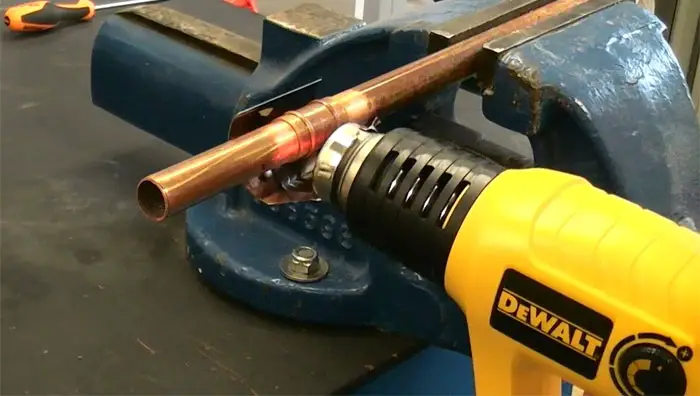 A soldering iron uses heat to fuse together two parts of an electronics product. The heat of a soldering iron is created by an electrical current which passes through a heating element. Soldering irons were once the exclusive tool of electronics repair professionals, but today soldering irons are a handy do-it-yourself tool any novice can learn to use.
Soldering irons are primarily used to repair, install, and do limited production work on electronics. Many different types of soldering irons are available at hardware and home improvement outlets. Below, you'll find descriptions of the different types of soldering irons and their ideal applications.
Types of Soldering Irons
There are different soldering irons available for completing a wide variety of tasks. Some soldering irons produce high heat to ensure quick fusion. Others are designed to allow users to work in small spaces.
Simple Iron
This is the most common type of soldering iron. Simple irons operate between 15 and 35 watts, which is powerful enough to handle most minor electronic repair jobs. Most simple irons operate at uncontrolled temperatures determined by thermal equilibrium.
Soldering Torch
The soldering torch uses acetylene or propane to deliver intense heat in short bursts.These types of soldering irons are frequently used by jewelers and others who need to melt metals like cold, silver, and copper. When using a soldering torch, you need to work in a flame-resistant area and wear non-flammable clothing. Due to safety concerns, this type of soldering tool is recommended for professionals only.
Soldering Gun
A soldering gun has a wire-looped tip and resembles a cordless handheld drill. Soldering guns feature a rapidly cooling tip which makes it safe to store quickly. This rapid-cooling feature also reduces the risk of fire. The soldering gun is ideal for the do-it-yourself, as it has an easy-grip handle and a trigger mechanism. The tip only heats up when the trigger is activated.
Soldering Tweezers
Soldering tweezers are best for use with batteries, capacitors, resistors, and diodes. Many soldering tweezers are designed to offer freestanding operation or operation from a station. This is a specialty iron used for desoldering small components. The tweezers have heated tips on thin arms which are controlled manually by squeezing against a spring. Soldering tweezers require a steady hand grip.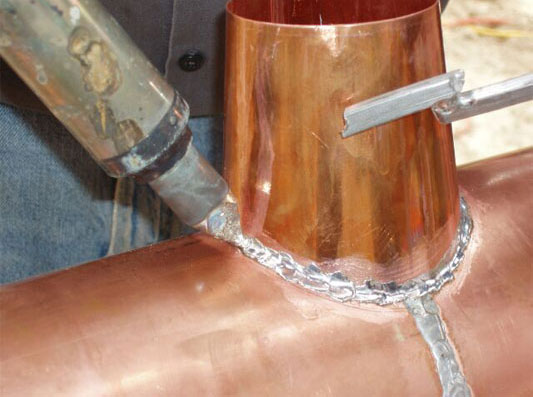 Soldering Station
A soldering  station consists of a soldering iron and a stand for storing the iron when not in use. Soldering stations also have an electrical power supply, as well as temperature and display circuitry. Optional features that can be paired with a soldering station are a vacuum pickup tool, a hot air gun, and a vacuum pump.
Soldering Iron Features
Whether you're a novice or a professional, there are several factors you'll need to consider when purchasing a soldering iron. Below are some common features to think about when choosing an iron.
Corded vs. Cordless
Consider the portability of the soldering iron you're considering. If you don't want to be restricted by an electrical cord, buy a cordless model, which operates on gas combustion using a separate self-contained tank.
Temperature Controls
More advanced soldering irons offer a way of controlling temperature. Some soldering irons have a built-in thermostat that switches power on and off according to how much power is needed for specific jobs. Other soldering irons are temperature-controlled, and can be used for more delicate soldering jobs. Most irons include an interchangeable tip, also referred to as a bit. These vary in shape and size, offering greater flexibility. Common bits include chisel, pyramid, tapered, and fine conical. Consider what types of projects you need to complete before deciding which types of bits to buy. Chrome, copper, and nickel solder iron tips are the most durable types.
Wattage
Wattage refers to the power needed to melt objects. If the wattage of your soldering iron is too high, it can damage electrical components. Novice users should try to stay within 15 to 35 watts. Electronics repair professionals may prefer up to 60 watts.
Manufacturer
Choose a soldering iron from a manufacturer with a long history of producing quality products. The best soldering irons will provide good handling, are easy to hold, and won't overheat.
Price
Name brand soldering irons cost more than generic brands, but the possible trade-off is a better tool overall. Weigh the benefits against the cost of the soldering iron before making your decision.
There are many small and obscure companies that manufacture high-quality soldering irons. Going with one of these companies can save you a lot of money on a product of comparable value to one that costs much more. When choosing a soldering iron, you'll need to consider a range of factors, including brand, temperature control, and corded vs. Cordless operation. Knowing which soldering iron is best for you and your situation will require a full understanding of the myriad of options available. Research reviews and features online to help you narrow down the perfect brand of soldering iron for you.