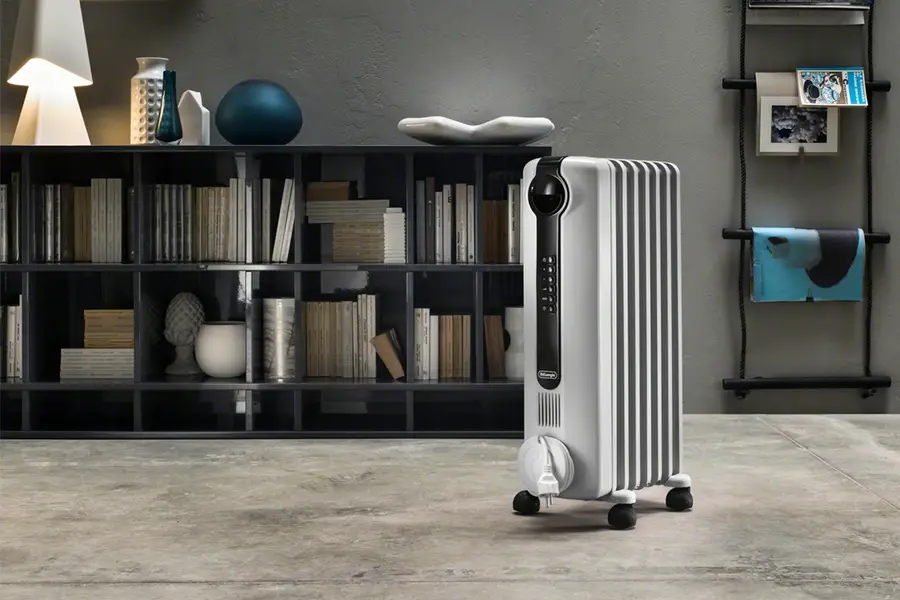 Space Heater Reviews
Space heaters are popular during the winter months because they can save tremendous amounts of money on the household electric bill. Instead of turning up the temperature for the entire house, a space heater allows you to keep the central or gas heat at a lower temperature and add heat to the room you are occupying. With hundreds of heaters available on the market today it can be hard to select one that will do the job. Finding a heater that is a good quality heater and safe is important. We have selected the best heaters for home use to help with your search.
Most Popular Space Heater
De'Longhi Oil Filled Radiator
The DeLonghi-TRD0715T-Safeheat-Portable-Oil-Filled space heater is a radiator oil filled heater. The oil is sealed inside and when on the oil is heated it circulates throughout the patented vertical tunnels to maximize the air flow while keeping the unit cooler. Generally the radiator heaters get very hot and cannot be used with pets and children. This unit has a low surface temperature, as compared to other radiator heating units. The unit has 3 settings for low, medium and high, using 700 watts on low, 900 on medium and 1500 on high. The unit has a total of 96 different settings and includes a 24 hour timer which allows the unit to come on and shut off at established temperatures. The DeLonghi-TRD0715T-Safeheat-Portable-Oil-Filled unit has an antifreeze setting which means the unit will turn on if the temperature falls below 42 degrees F. The unit has an auto overheat protection and will turn off ifthe unit gets too warm. The caster wheels and handle creates easy mobility for moving the unit from room to room. The DeLonghi-TRD0715T-Safeheat-Portable-Oil-Filled space heater comes with a 1 year warranty.
Up to 1500 watts of power
Heats a room up to 350 square feet
Oil filled radiator heat
96 Settings with auto shut on and auto shut off
1 year warranty
– Anthony Dawson
Best Overall Space Heater
Lasko Ceramic Space Heater
The Lasko-755320-Ceramic-Digital-Display space heater is a tower heater that comes with two settings. The low setting uses 900 watts and the high setting gives 1500 watts of power. It provides a wide range oscillation which is great for heating a room and eliminating cold spots. The Lasko-755320-Ceramic-Digital-Display space heater has an 8 hour timer, which allows you to program the shut off time. This does not work for a start time, only a shut off time. The heating element is self-regulatory ceramic heating element and the tower has cool touch housing. The unit also has overheat protection, which will shut the unit off before it overheats. The digital display is easy to read and easy to set. Program the temperature you want and the unit will operate to keep the room comfortable. Add this unit to a bedroom or living room and save on the cost of central heat. The Lasko-755320-Ceramic-Digital-Display has a very quiet operation and can be used in a bedroom. There is a remote control, which makes operating the heater simple. The space heater will heat a room up to 300 square feet and comes with a 3 year warranty.
Tower fan with high and low settings
1500 watts and 900 watts for each setting
Programmable space heater with remote control
Heats up to 300 square feet
3 Year warranty
– Anthony Dawson
Best Budget Space Heater
Lasko Ceramic Portable Space Heater
The Lasko-754200-Ceramic-Adjustable-Thermostat space heater is a small unit with a lot of power. It comes with three settings of high, low and fan only. On the high setting it offers 1500 watts of power and 900 watts on the low setting. The manual controls allow you to set the temperature for the room and let it run automatically. It has a self-regulatory ceramic heating element and comes with auto overheat protection. The Lasko-754200-Ceramic-Adjustable-Thermostat has a quiet operation and is great for small rooms, bathrooms, under a desk or even on a table. It has a convenient carry handle for easy mobility from room to room. This sturdy and lightweight space heater can heat a room up to 300 square feet and offers a quiet operation. The Lasko-754200-Ceramic-Adjustable-Thermostat space heater has a 3 year limited warranty.
Portable ceramic space heater with carrying handle
3 settings for high, low and fan only: uses 1500 watts for high and 900 watts for low
Quiet operation and manual controls
Heats up to 300 square feet
3 Year warranty
– Anthony Dawson
Space Heater Buying Guide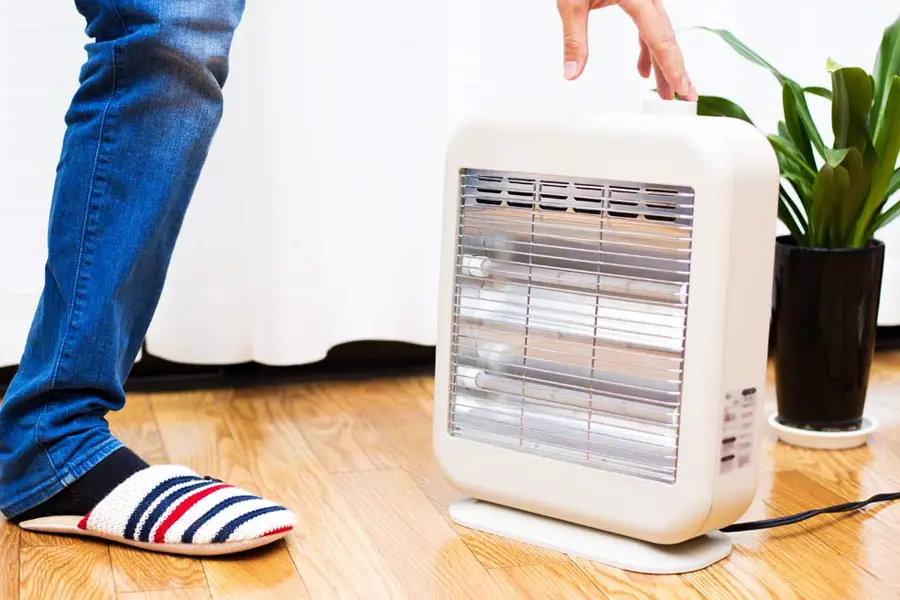 When the tough gets going, the going gets tough. Space heaters are heaven sent when central heating is too pricey and not sustainable or if it doesn't provide adequate warmth. For shifting climates that dwindle on cold and hot extremes, space heaters are most ideal. If you only plan on heating only one room, then a space heater is perfect.
Buy a space heater with a good conservation heating. It just means it's better for the environment and less damaging to your budget in the long run. It commonly runs from 10,000 to 40,000 British Thermal Unit (Btu) per hour. BTU is the amount of energy needed to raise one pound of water by 1 degree Fahrenheit. Burning coals typically range from 9,000 to 12,000 BTU per pound. Therefore the higher the BTU, the faster it can heat up a space. Space heaters run on propane, kerosene and natural gas and should only be handled by adults as these are toxic and highly flammable gases. All space heaters identify themselves using BTU.
How do space heaters work?
Space heaters work in two ways: either heating the room by convection or by radiation. Using convection, space heaters regulate the air it touches and heat is distributed through the flow of air. This is suitable when the room to be heated is large or has a larger volume. Consider the size of the room. A small room with a high ceiling requires more BTU to heat up than a room with the same floor area but with a low ceiling.  Under radiation, space heaters quickly warm up anything within its line of sight using infrared light. Space heaters that use radiation are excellent for people that will stay or sit near the space heater. They also conserve energy better because it warms up the immediate people and the objects in front of it rather than circulating warmth throughout the entire room. Radiant space heaters are also ideal for people with dust allergies since air does not circulate actively.
Space heaters can be unvented or vented. Unvented combustion space heaters are harmful since they emit unwanted gases like carbon monoxide and nitrogen oxide. Unvented kerosene heaters are banned in some states. Vented space heaters are installed indoors but they have a duct that leads to a wall outdoors so that the fuel vent can be released. When buying vented heaters, look for the mark "100% indoor air" and "sealed combustion."
Caution should be exercised. Aside from its use of propane, kerosene and natural gas, the U.S. Consumer Product Safety Commission has reported 25,000 residential fires that are associated with space heaters. In addition, around 6,000 people are treated in the hospital due to burns incurred from contact with hot surfaces of room heaters.
For liquid-fueled heaters, use only the designated fuel. If it runs on propane, never use kerosene, unless permitted by the manufacturer. Let the heater cool down before refilling it. Do not store the fuel near the heater.
Catching up with modern times, electric space heaters are also available. They are also available as convection or radiant space heaters. They look refreshingly sleek and can be mounted on the wall. There are space heaters specially made for smaller rooms (10'x12′). Some are even equipped with low carbon dioxide emission. Electric space heaters are more expensive to operate and are the only unvented space heaters that are safe to use. The cord should be directly plugged to a wall outlet. If using extensions are necessary, choose only a 14-gauge wire or higher. Follow the manufacturer's guide when using extension cords. For models that are not wall mounted, look for a tip-over safety switch. This will shut down the device once it has been accidentally tipped over.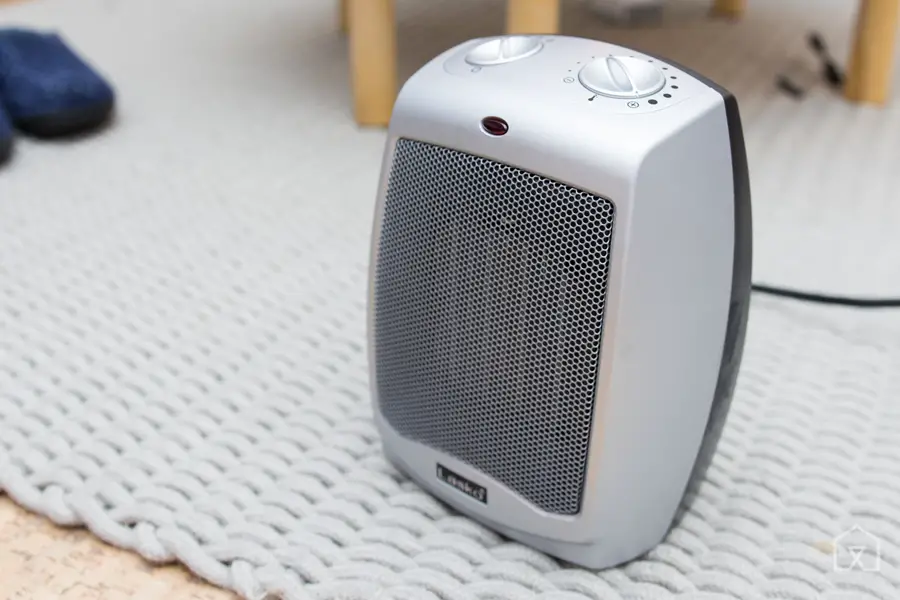 The following are some guidelines when purchasing space heaters
Before purchasing, measure the size of the room. Measure the length and the width of the room then multiply them. The result will be the surface area in square feet (ft2). Measure the height of the ceiling, too. Then allot 10 watts per square foot. Simply multiply 10 watts to the area (ft2). You now have an idea how many watts it needs to heat up your room. Now convert this to BTU. 1 watt is equals to 3.41 BTU. Simply multiply 3.41 by your resulting wattage. Now you have the amount of BTU needed to heat up your room. Now for the final step, estimate the number of windows and insulators of your room. Windows will let the heat escape and insulator (like mattresses, pillows, wood) would keep heat. Consider the size of the ceiling you measured earlier.
Now you're armed with an approximate knowledge of how many BTU your room needs to be adequately warmed up, consider your lifestyle.
Who would use the space heater? How often would it be used? At times, it would be a matter of budgeting at this point. Is a few dollars savings worth sacrificing a few watts?
Always make sure that it complies with Underwriter's Laboratories (UL) standards. Their logo would be on the box or directly on the space heater's sticker. Purchase only current models. If possible, look for thermostatically controlled space heaters because these models can avoid energy wastage by lowering its power output upon detecting once the room has reached the ideal temperature. It may be tempting to buy a big heater for a small room thinking that you could save energy by setting a lower temperature output, but don't. It requires more wattage to start and power up.
A very important word of caution never ever place space heaters behind or near curtains. Also, do not position space heaters where there is high foot traffic such as hallways or junctions in the hallway. Place flammable chemicals away from space heaters, regardless if they could spill easily or in closed bottles. Do not leave children alone with space heaters. Extra caution should be regarded if you have roaming pets at home. Lastly, when leaving the room, turn off your space heater.