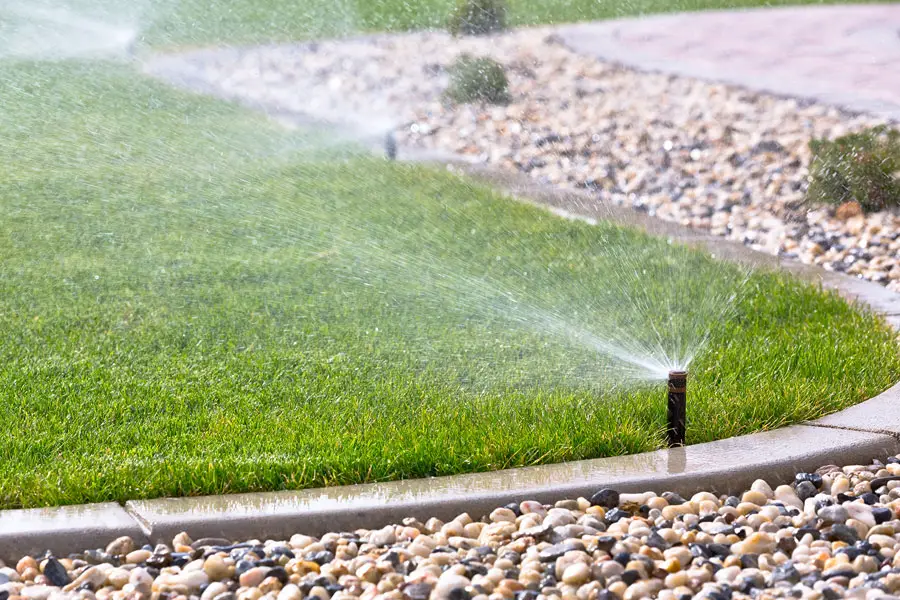 Sprinkler System Reviews
When trying to decide what kind of sprinkler system to purchase for your lawn, it's important to consider the size of the area you are watering, as well as how much you're willing to spend. Also take into consideration how much natural rainfall your lawn soaks up. There are two kinds of irrigation systems; one is above ground, and the other is underground. The underground system is certainly more expensive to install initially, but in the long haul it can save you a lot of money and hassle. It's also an investment that increases the value of your home. Should you have a very small yard then installing a sprinkler system is unnecessary. Simply add a sprinkler fixture to your garden hose and water the yard yourself. Many watering systems also come with electric timers that make it easy to schedule when each day, and each week, the water will come on. Some timers can even gauge saturation levels and cease to turn on during a rainstorm.
Most Popular Sprinkler System
Rain Bird
This is a fantastic drip irrigation system from Rain Bird that is incredibly easy to install and use. It's the ultimate kit that gives you a leg-up when it comes to healthy and beautiful landscaping year-round. The whole system attaches with ease to your outside faucet, and within a short time you can cut and connect the drip system on your own. This is the perfect way to customize your watering system to the size and shape of your landscape or garden. The kit comes complete with emitter tubing, connection kit, barbed couplings, barbed tees, stakes, and so much more. The system is designed to work in a 75 square foot area, and is easy to adjust for just the perfect amount of water that you need. Rain Bird's starter kit is a great choice for those who have never owned or installed a drip irrigation system before, and are looking for something that is fast and simple.
Works for a 75 square foot area
The ultimate all-in-one drip system
Great for spot watering and emitter tubing
Works with the size and shape of your landscape
– Anthony Dawson
Best Overall Sprinkler System
Orbit
If you're looking to water a larger yard or garden space and want to save yourself from any hassle, having a full-fledged sprinkler system simply doesn't make sense. That's why this 3-piece Port-a-Rain from Orbit is the perfect solution for a customized watering experience. Simply attach the system to the provided 15 foot garden hose, choose from one of the 5 interchangeable nozzles and 3 rain sprinkler heads. This is a wonderfully customizable system that also works with any standard garden hose. A remarkably easy way to keep your lawn in perfect shape all year long. If you've never used a hose sprinkler system before, you're going to find the Orbit to be incredibly simple to install and use. The gentle, rain-like spray keeps all kinds of lawns healthy, and doesn't put too much strain on the water supply. The system is also totally portable, and you can position it anywhere on your lawn that you choose.
Works with any standard garden hose
Gentle rain-like spray
Totally portable
Covers up to 24 feet in diameter
– Anthony Dawson
Best Budget Sprinkler System
Orbit Decorative
This decorative kit from Orbit allows you to take the rain wherever you need it. Offering the convenience of an above-ground, transportable sprinkler system, you simply plug one of the decorative sprinkler heads into a hose and you're done. You can choose to water your yard wherever you see fit, and the lightweight sprinkler heads make it easy to move them around to the most ideal locations in your yard. You get a watering diameter of 24 feet, so the system is great for even very large yards. The water spray is gentle, and the ideal flow to keep your lawn at the correct saturation level. No matter how your lawn is configured, you'll be able to find an ideal place to position the sprinkler. There are 3 adjustable nozzles included in the kit, as well as two 15 foot hoses. This is a tremendously versatile kit that is affordable and easy to use. If you've never set up a sprinkler system before, this system will make it easy to accomplish right out of the box.
Includes three adjustable nozzles
Covers up to 24 feet in diameter
Totally portable and easy to use
Gentle, rain-like spray
– Anthony Dawson