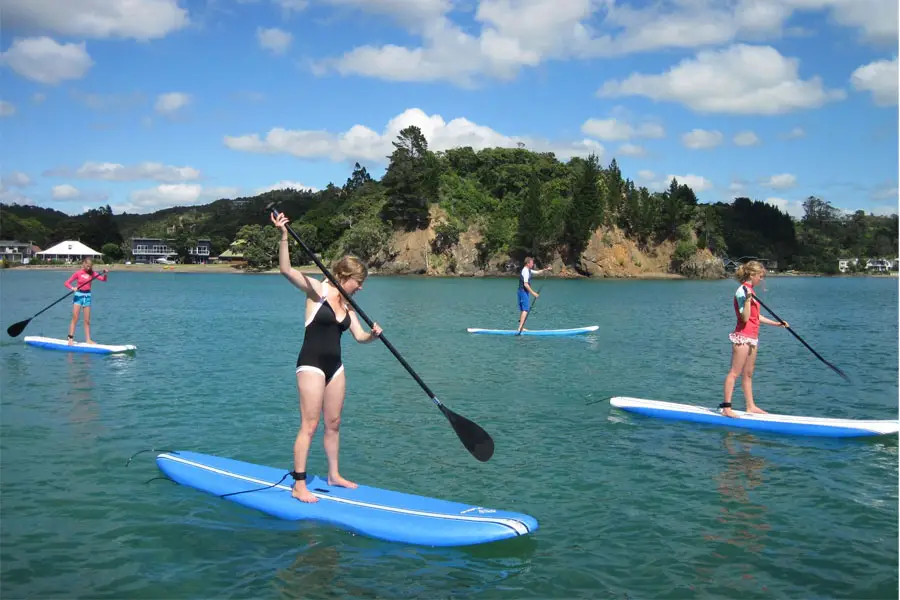 Stand-Up Paddleboard Reviews
Stand up paddleboarding is a great way for anyone to get out and enjoy the water. The best part about it: very minimal gear is required. However, the gear that is required is rather costly. When you do get setup, you can paddle along rivers, lakes, ponds, and ocean surf without needing any waves as propulsion. Among the many advantages of stand up paddleboarding is that it acts as a full-body workout, which has contributed to its popularity with athletes and cross-trainers. Additionally, stand up paddleboarding allows you to navigate through waters that outboards, jet skies, and small inflatable boats cannot reach. This allows you to experience the water, its surrounding scenery, and wildlife from a perspective unlike anything else, giving you a fully immersive experience with the waters beneath your feet and the views on your horizon. All you really need to get started with stand up paddleboarding, also called SUP, is a board, a paddle, and a personal floatation device. In warm conditions, only a bathing suit and sunscreen is required beyond that.
Most Popular Stand-Up Paddleboard
Solstice
The 10-foot 8-inch Solstice Stand-Up Paddleboard is a high-pressure inflatable rig that's great for beginners to stand up paddleboarding and makes a convenient addition for travel for enthusiasts on the go. The Solstice weighs about 40-pounds collapsed, but feels lightweight and moves fast when fully inflated and in the water. Mae of durable, 500 Denier, 3-ply reinforced PVC fabric, the Solstice SUP is designed to become quite rigid and strong to offer a stable riding platform for riders of all sizes. For longer leisure cruises when you want to take along extra food, water, or gear, the Solstice is equipped with four stainless steel D-ring tie-downs, along with a carrying/stability handle in the middle of the deck. At a package price for under 500 bucks, the package includes the SUP, pump, pressure gauge, and carry bag.
Inflatable paddleboard made of 500 Denier, 3-ply PVC fabric
Outfitted with four stainless steel D-ring tie-downs for securing gear
Kit includes SUP, pump, gauge, and carry bag
– Anthony Dawson
Best Overall Stand-Up Paddleboard
Atoll
Perfect for beginner to intermediate paddlers, the Atoll is a full package that includes a 11-foot board, adjustable paddle, paddle leash, and padded roof racks: everything you need to get you out on the water. The Atoll features a high density EPS core that's 100% waterproof, molded in laminated wood stringers. The bottom of the board is a super slick, high-density polyethylene coating that reduces surface friction and enables the board to glide across the water with ease. A tri-fin system enhances the board's ability to sail through calm waters and surf small waves with total stability. The set comes with an adjustable paddle that sizes to fit every-sized rider, a paddle surf leash, and padded roof racks for safe and easy transport on the top of the car.
Made of high-density EPS foam that's 100% waterproof and weighs only 19-pounds
HD polyethylene slick bottom and tri-fin system help the board glide across calm and choppy waters
11-foot board with adjustable-length paddle (included) is suitable for paddlers of most sizes
– Anthony Dawson
Best Budget Stand-Up Paddleboard
SereneLife
Featuring a bow with bungee tie-down rigging for securing your gear on longer cruises and an anti-slip grip platform, the SereneLife will keep you stable and afloat any time you venture out on the water. This SUP from SereneLife includes a flexible, 6-inch rubber fin that improves the board's ability to straight-line track and steer through strong currents. The board also employs the use of SereneLife construction for increased durability, meaning the board will stand up to run-ins with rocks, coral, driftwood, and jetties. The board weighs about 19.6-pounds, making it on the heavier side among similar-sized SUPs, but the added weight enhances the board's overall stability. At 10-feet, the SereneLife is a great board for beginners to learn on and equally suited for experienced, adult riders.
Features 6-inch rubber fin that increases the board's ability to track and steer
Ram-X construction means the board stands up to collisions and damage from various hazards in the water
At 10-feet and 19.6-pounds, the Flow is equally suited for beginners and experienced paddlers
– Anthony Dawson
Stand-Up Paddleboard Buying Guide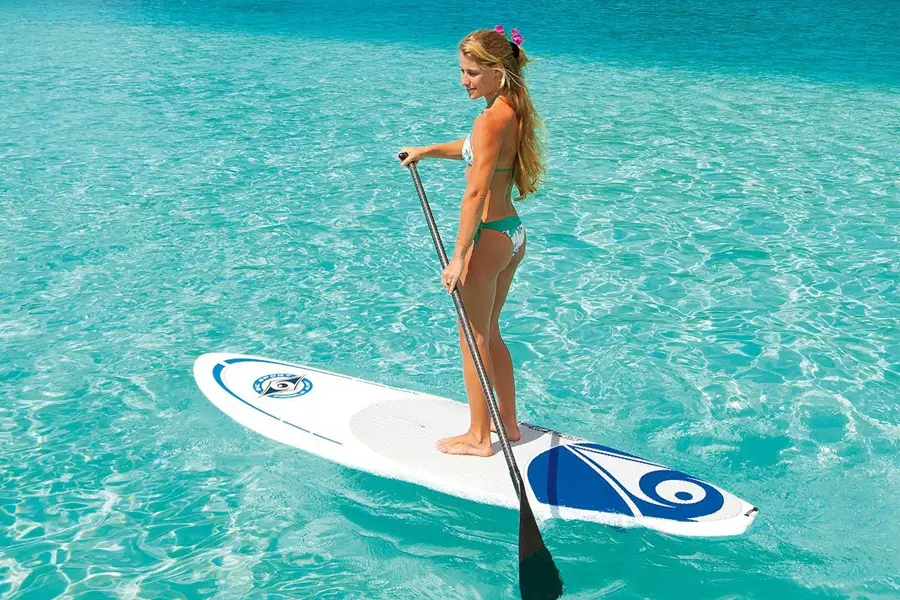 Stand up paddleboards (SUP) are gaining popularity due to the large number of experienced and beginner paddlers who enjoy having fun in the water. It's not necessary to be a diver or an expert swimmer to purchase a stand up paddleboard the essential thing is to get the right equipment that suits your needs. Choosing a stand up paddleboard can sometimes be a difficult task especially if you're a first-time buyer. Below is a guide to help you choose the best stand up paddleboard
Points to Consider
1. Length
Length is the first thing you'll need to consider. Look at the primary use of the board as well as the person who will use it. This is because the longer boards that are over 12 ft travel straight and very fast due to the increased surface area. A longer length also leads to better buoyancy. These long boards are ideal for racing, touring or beginners who are training how to balance.
On the other hand, medium-sized boards of 9-12 ft are ideal for almost all activities. They're best for different water types, experiences and activities such as fishing, yoga and cruising the lake. They're also easier to store and transport compared to longer boards. Finally, the short boards are the easiest-to-handle stand up paddleboards, which makes them ideal for playing in waves and surfing. However, they're normally used by experienced paddlers.
2. Size
There're numerous user-friendly stand up paddleboard designs or beginners. It's essential to select a wide and stable stand up paddleboard until you're able to balance well. However, depending on your body size, you'll have to select a stand up paddleboard that has more volume and is compatible with your weight capacity. The wider, thicker and longer a stand up paddleboard is, the more its volume. A greater volume allows stability and more floatation. Also, choose a suitably sized board depending on your experience. The experienced paddlers can use narrow and more responsive stand up paddleboards.
3. Shape
The shapes of stand up paddleboards can be categorized into two as follows: displacement hulls and planing hulls. However, most stand up paddleboards in the market fall under the planing category. This category is also the most versatile. Flat bottomed and wide planing hull stand up paddleboards typically resemble surfboards. Their stability is excellent and can perform well in whitewater, on flat water and even in waves.
The displacement hulls category has a bow shape similar to a kayak or canoe. Their shape allows them to efficiently slice through the water which makes them ideal for long tours and racing. Their speed is also amazing and they are more suited for the experienced paddlers.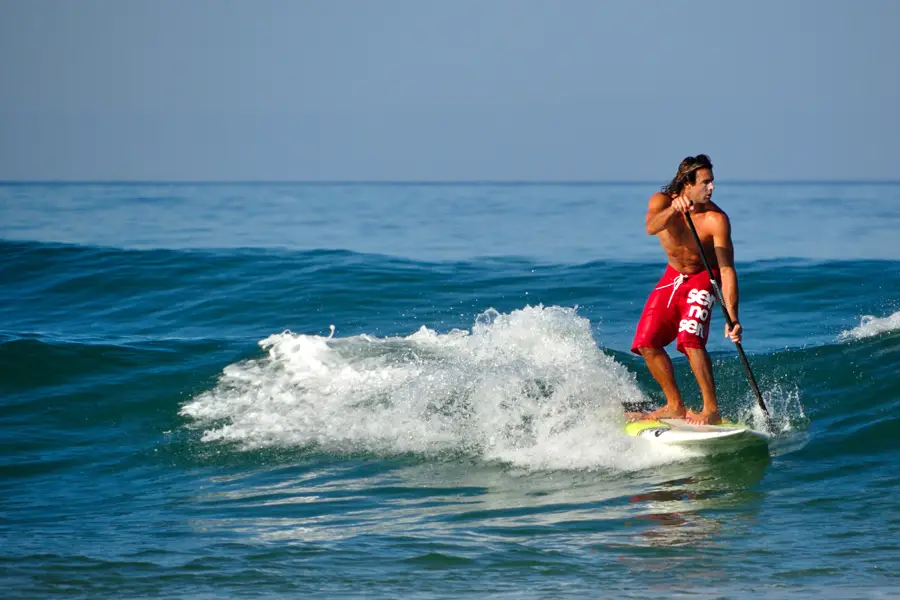 4. Weight
Different models of stand up paddleboards have different variations when it comes to weight. You should be more careful before selecting one because the weight of a board has a direct effect on your speed, stability of the board and the effort required to propel forward.
5. Fins
The fins in stand up paddleboards add stability and allow easy tracking. There's a wide variety of fin configurations out there, although one and three-fin are common. A one-fin setup has a single large fin located in the middle of the stand up paddleboard. It's best for paddling in flat water and straight tracking. A three- fin setup has smaller fins compared to a single –fin setup. However, they've got a staggering pattern that allows easy maneuverability and stability. They are perfect for surfing or whitewater. The fins are made of nylon or fiberglass. They're also removable and replaceable.
6. Solid vs. Inflatable
Stand up paddleboards come in two general styles: solid or inflatable. A solid stand up paddleboard comes with an EPS foam core which is normally wrapped with epoxy and fiberglass. It's relatively affordable, lightweight and durable.
Conclusion
Others are made of carbon fiber which is also lighter and stiffer although it's more expensive. The major advantages of these board styles include perfect stability and good performance. Their major drawback is that they occupy a lot of space during storage. On the other hand, inflatable stand up paddleboards have PVC exteriors. They come with an inflating pump and a storage bag. Their main advantage is that they require a limited storage capacity. In conclusion, these are some of the top things to consider when selecting a stand up paddleboard. Make the perfect choice depending on your budget.