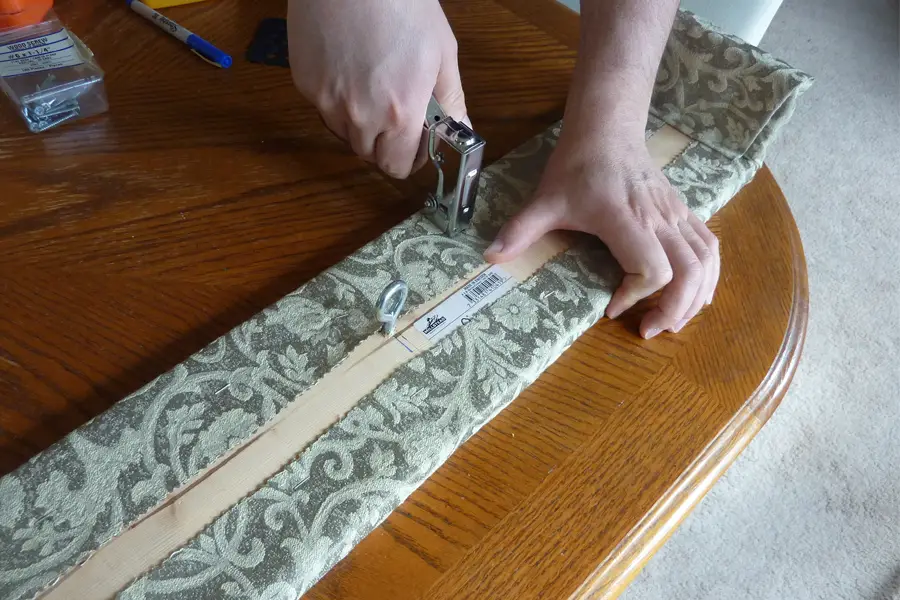 Staple Gun Reviews
If you work on your home at all, having astrong stapler will be a great investment. These heavy duty staplers will help finish projects that look professionally done and will complete the task in a fast and efficient manner. Whether you choose a hand operated stapler or a pneumatic stapler, we have evaluated the best staplers on the market. Included here are the best products available that will provide you with reliable performance every time you need to use the stapler.
Most Popular Staple Gun
ARROW FASTENER
The Arrow-T50VP-Heavy-5-Piece-Staple comes in a box with everything you need to get started. The kit comes with 5/16″ staples and replacement staples are readily available. This is a hand operated stapler that works well on weather stripping, insulation, small fencing, upholstery and other stapling projects. The kit includes the gun and the first box of staples, a wire and screen attachment and a staple remover. There is a carrying case included to keep everything together and organized. The Arrow-T50VP-Heavy-5-Piece-Stapler is made of steel construction and has finished chrome to enhance the look. It also carries a patented mechanism that will prevent the stapler from jamming. This hand stapler has a quick action and enough power that it is used by millions of homeowners for home repairs.
Staple kit includes staple gun, staples, screen and wire attachments, staple remover and carrying case
Patented anti-jamming mechanism
Steel construction with chrome finish
Fits 5/16″ staples
Powerful hand operated stapler does not need compressor to operate
– Anthony Dawson
Best Overall Staple Gun
PORTER-CABLE
The Porter-Cable-US58-22-Gauge-C-Crown-Upholstery Staple gun is strong enough to complete work on upholstery. It is a 22 gauge stapler that provides staples that are between ¼" and 5/8″. The stapler is compact in size and lightweight despite the power it brings to the job. There is a 1 inch extension on the end for clearance. The stop cap is made of steel and is very durable. The Porter-Cable-US58-22-Gauge-C-Crown-Upholstery stapler has a rear channel that directs the air and kick back away from the user. It also provides an easy way to correct jams from the magazine. This pneumatic stapler has all the power needed for most home jobs. The magazine will hold 185 staples. Itis universal and compatible with nearly all air compressors. It comes with a 1 year limited warranty.
22 Gauge pneumatic stapler
Holds staples between ¼" to 5/8″
Compact and lightweight design
1 inch nose extension for hard to reach places
1 Year warranty
– Anthony Dawson
Best Budget Staple Gun
FPC Corporation (Surebonder)
The Surebonder-9600A-Heavy-Duty-Stapler is a pneumatic stapler that is operated with the use of an air compressor, which is not included. The gun offers a quick release and a staple magazine that will hold 100 staples at a time. It uses narrow 18 gauge wire staples between ¼" and 9/16″. Included with the stapler are 2 hex wrenches, a carrying case and the quick release connector used with the air compressor. The Surebonder-9600A-Heavy-Duty-Stapler helps provide professional stapling that is fast and efficient. The magazine is a quick release which makes adding staples fast and easy. The stapler is strong enough to handle any household project. From upholstery to roofing, this stapler will provide reliable performance. The body of the stapler has rubber grips which provide comfort while using the device.
Pneumatic stapler that works with 18 gauge staples
Uses staples from ¼" to 9/16″
Easy to reload magazine holds up to 100 staples
Comfort grip to reduce fatigue over long usage
Kit comes with carrying case, 2 hex wrenches and a quick release connector
– Anthony Dawson
Staple Gun Buying Guide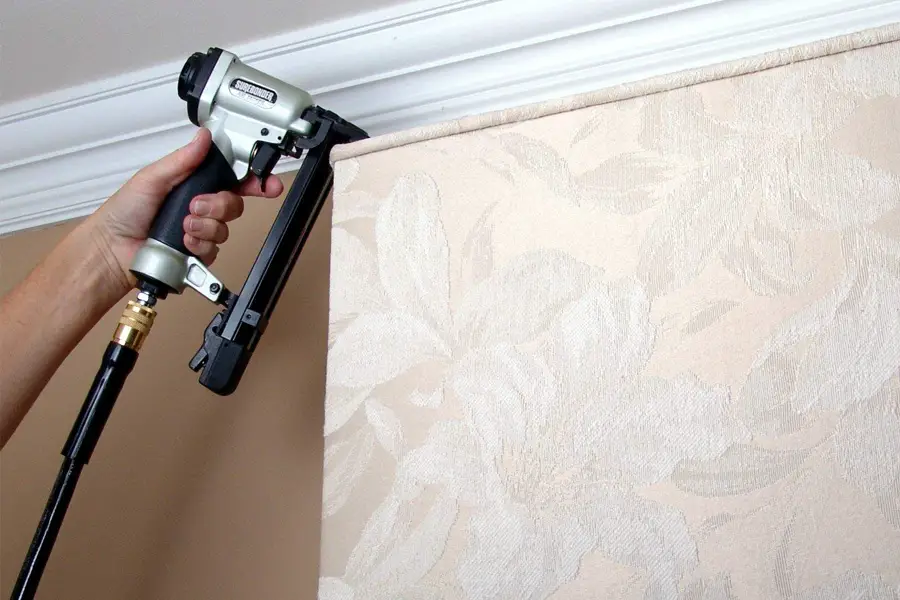 Homeowners everywhere have long loved the all-around, versatile tool that is the staple gun. Whether you need to patch a corner of torn upholstery, replace kitchen chair covers, or installing insulation, a staple gun can make just about any home improvement project easier. Home decorating and craft projects can also be sped up with a staple gun.
The primary purpose of a staple gun is to insert metal fasteners into plastic, wood, carpet, linoleum, and many other materials. Staple guns are considered a very valuable tool in several industries, including manufacturing, food packaging, and even boat construction. Health care practitioners use specialized staple guns to close surgical incision.
With the many different types of staple guns available on the market, choosing the right one can be confusing. By understanding the various models, features, and options, buying a staple gun can be a much less challenging task.
Basic Staple Gun Types
Staple guns are split into three basic categories: electric, manually powered, or pneumatic.
Electric Staple Guns
Electric staple gun models require either battery power or an electrical outlet to provide power. Electric models don't make use of a squeeze lever to drive staples; instead, they have a trigger that needs only light pressure to work properly. Many electric staple guns can tack nails as well as staples, and can be adjusted to accommodate different fastener lengths. They can drive multiple fasteners per minute, but the trigger must be pressed to drive each staple or fastener. The pressure behind the driver of an electric model doesn't vary, unlike with manual models. This results in a more uniform finish.
Some people may not like electric models, thinking that a poorly-aimed staple of fastener could cause an injury. Most electric staple guns have a safety feature, however, which will prevent the gun from firing if it's not positioned or pressed properly. Electric staple gun styles vary according to their intended use. . This tool is great for laying or repairing carpet; tacking screening on window frames or doors; stretching canvas for art projects; and many other tasks. Electric models tend to be more expensive than their manually-operated counterparts.
Below are a few pros and cons of electric staple guns.
Pros:
Can be used with tacks and staples
Has a safety switch to prevent injury
Cons:
They cost more than manual models
They require a power source
Need to be extra vigilant about keeping it out of children's reach, as they are easy to operate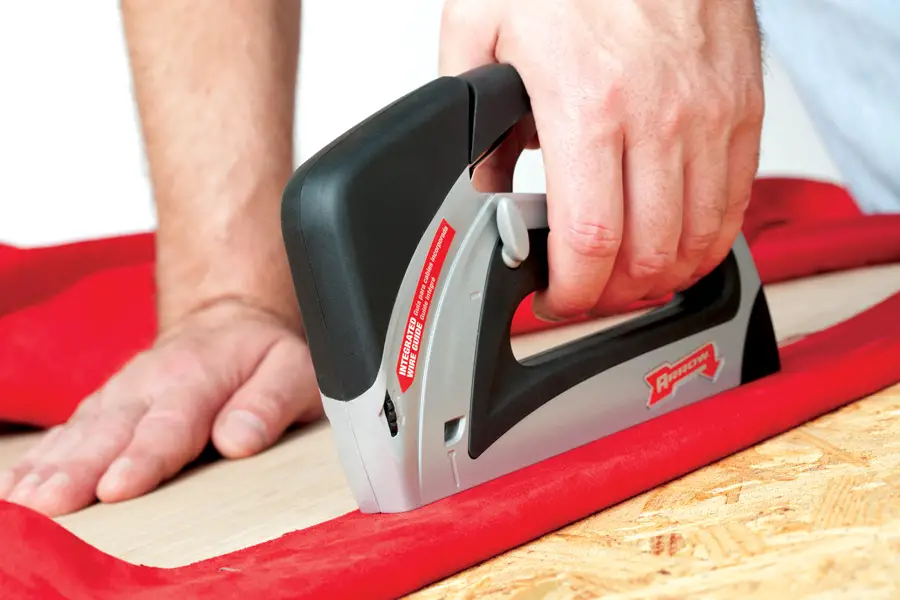 Manual Staple Guns
The manual staple gun is the most common choice for most home projects. They are inexpensive to by and easy to find in a variety of styles. Most manual models require the user to squeeze the handle with each staple they want driven. This type of staple gun is ideal for smaller jobs that don't require to many fasteners.
Among the various types of manual staple guns are carton staplers, hammer tackers, long-nosed models, and all-purpose staplers. Special types of staple guns exist for installing cable and wire, reaching tight spaces, and offering plier-type functions.
Before you purchase a manual staple gun, it's important to test it and see how easy it is to operate with one hand. Keep in mind, that you'll often need to have your other hand free to secure the materials you want to staple. If grip strength is a concern, consider an easy-to-use model.
Some pros and cons of manual staple guns:
Pros:
There are many styles available
They require no external power source
Cons:
Requires sufficient grip strength to use
Pneumatic Staple Guns
Pneumatic staple guns are designed for professional and industrial purposes. Unlike the electric staple gun or the manual staple gun, pneumatic models use compressed air to drive fasteners. These powerful tools are capable of driving staples, tacks, and nails. This tool is not ideal for simple or household projects; they are meant for much larger and demanding projects.
Pneumatic staple guns are frequently used by professional carpet and flooring contractors, furniture makers, construction workers, and electricians. Wile not as effective as a nail gun when completing certain construction tasks, the pneumatic model is versatile and powerful enough to help with heavy-duty projects like affixing roof materials, or installing thick and heavy flooring.
Certain pneumatic models feature continuous loading, so you don't need to worry about putting in new rounds while completing a complex task. Hand-held models are designed to be lightweight and comfortable to use for extended periods of time. They use an external power source, and most models have a built-in safety function to prevent the risk of misfiring.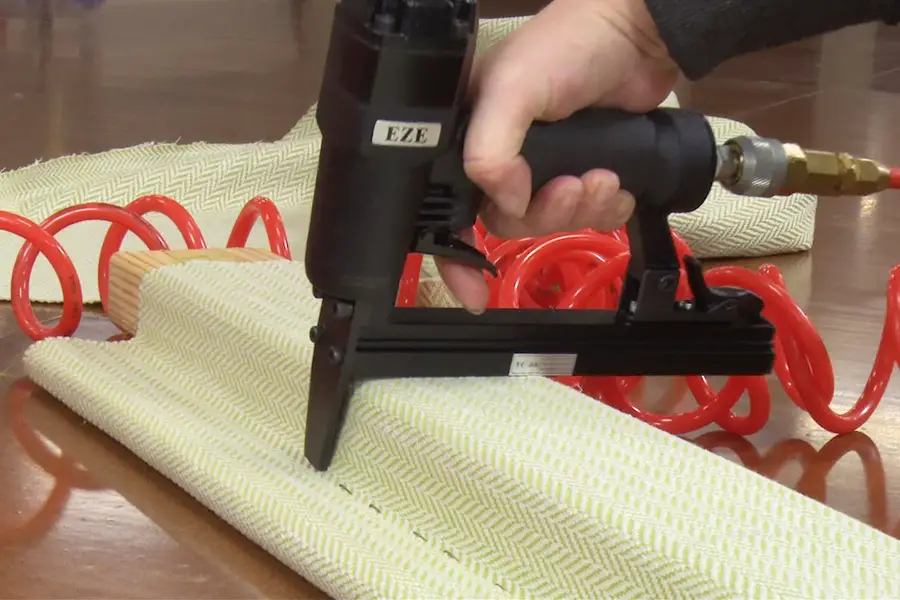 Below are some of the pros and cons of pneumatic staple guns:
Pros:
More powerful than other types
Lightweight and easy to use
Designed for durability and heavy-duty use
Cons:
Can be more dangerous due to its power and large fastener size
They cost more than manual models
Choosing the Right Staple Gun
One way to choose a staple gun is to decide what size fasteners you need for your task or project. Versatility is also a factor, especially if it will be put to different uses or be loaded with multiple fasteners. It's a good idea to choose a staple gun that can accommodate several different types and sizes of staples, tacks, or nails. Staples are measured in inches or millimeters, going by the height of the tines. The crown measurement refers to the width of the rounded or flat top of the staple. When considering staples and other fasteners, factor in what kind of materials you need to staple. Lightweight staples will be ineffective on flooring projects, for example, while heavy-duty staples can destroy more delicate projects.
Staple guns are a handy addition to anyone's toolbox. From the workshop to the craft studio, staple guns are available in a wide variety of styles, options, and features to get your household, outdoors, or arts project done quickly and effectively.