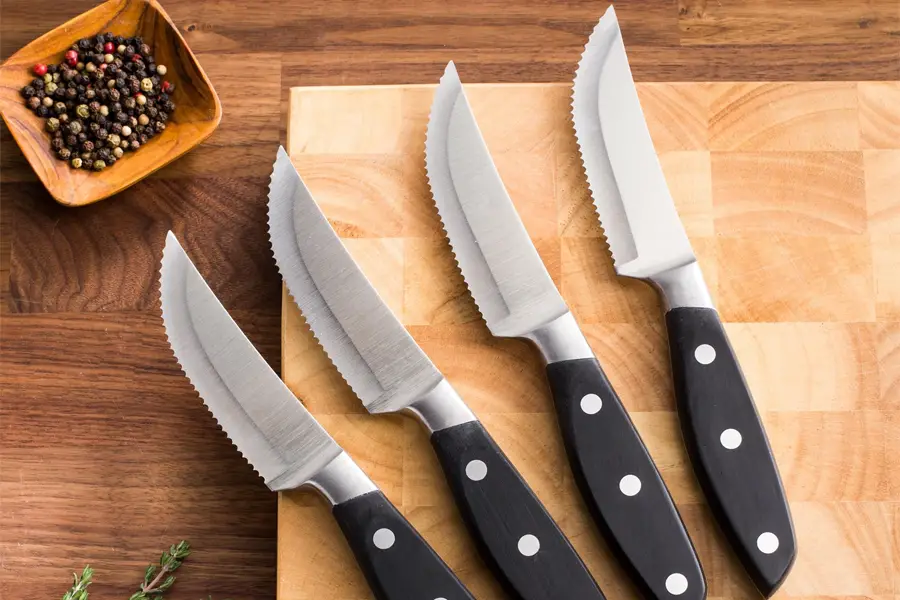 Steak Knives Reviews
A great set of steak knives is always a must have for any kitchen. Steak knives can be used for cutting any kind of meat from steak to pork and comes in handy when you are serving meat in a large portion rather than in casserole form. There are many different styles of steak knives that you can choose from all stainless steel construction to those with solid wood handles. Some have serrated edges and others are sharp but have no real serration. You can get as fancy or as simple as you want when it comes to the style you choose. The steak knives that are listed below are all quality made and will be great additions to your kitchen no matter which one you purchase. A great set of steak knives can make a really good housewarming gift or a gift for a newlywed couple just starting out. They will always be well used and appreciated.
Most Popular Steak Knives
ZWILLING J.A. Henckels – 8-Piece Steak
Another win from J.A. Henckels, this best selling set of stainless steel steak knives will get a lot of compliments due to the unusual, all steel design. These unique steak knives are corrosion resistant and virtually unbreakable. Each knife is made of 1-piece construction with full tang for balance and weight. The serrated edges on each knife will never need sharpening. Put them in the dishwasher for super easy cleanup. The stainless steel construction looks great in any kitchen and matches any décor easily. If you're looking for an unusual gift to give a newlywed couple or someone is having a housewarming party, these are sure to be a hit. Better yet, get a set for yourself too!
Corrosion resistant
1 piece stainless steel construction
Durable and virtually indestructible
Full tang for weight and balance
Attractive all steel design is not like most steak knives
– Anthony Dawson
Best Overall Steak Knives
ZWILLING J.A. Henckels
These steak knives from J.A. Henckels International may very well be the only set of steak knives you ever need to purchase. This great set includes 8 high quality knives that will never have to be resharpened. Each knife has been forged from a single piece of stainless steel that is stain resistant. Full tangs mean great weight and balance and the triple riveted handles provide stability and strength. These are perfect for slicing through any portion of meat on your plate. Hand washing is recommended for this set, but they are dishwasher safe and the heavy plastic handles are designed to resist corrosion. These are also back by Henckels Lifetime Guarantee which makes them the perfect gift to give to a newlywed couple of someone having a housewarming party.
8 high quality knives in each set
Hand wash easily
Stain resistant forged steel
Full tang gives balance and weight
Resists corrosion
– Anthony Dawson
Best Budget Steak Knives
Victorinox
Whether you're serving a nice, juicy steak or a moist, baked chicken breast for dinner, this 6 piece steak knife set by Victorinox will be perfect for your family or guests to use. These knives feature a pointed tip and serrated edge, making them able to cut through any piece of meat easily. Each blade is stamped rather than forged which makes the price more reasonable, but the high carbon stainless steel construction makes them extremely long lasting and durable. The ground, tempered edges stay sharp for years and the polypropylene handles give a good grip.
These handles have no grooves or rivets or screws to have food particles settle in which makes them easy to clean and reduces any chance of bacteria buildup. This set is completely dishwasher safe and all are lightweight and easy to use.
6 knives per set
Polypropylene handles for a good, easy to hold grip
Stainless steel blades are stamped rather than forged for more affordability
Serrated edges and pointed tips on each knife
4.5″ blade length
– Anthony Dawson
Steak Knives Buying Guide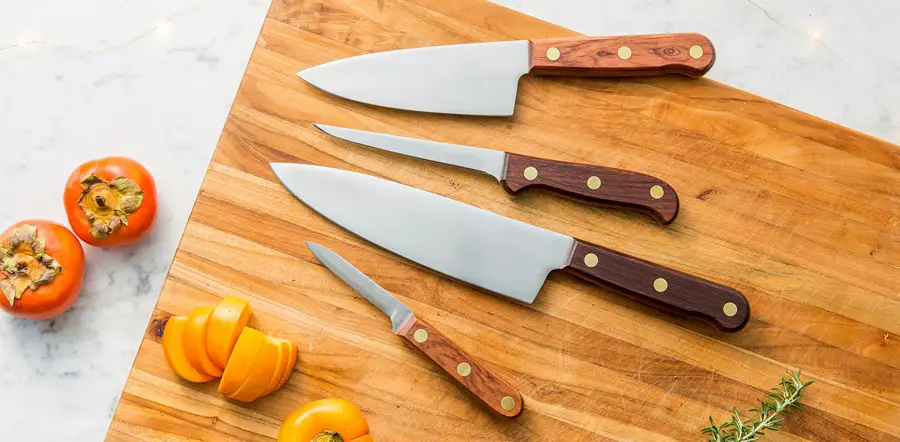 Steak knives are designed to slice through meat easily. Each set, and even each knife, can offer something different. Variations such as the material used for the handles to the length of the blades along the serrated edging. Some edges aren't even serrated at all. It can be easy to choose a set that isn't a good fit for you if you aren't too sure what to look for. Below are some tips that will help you decide what type of steak knives are safe, stylish, and effective.
The Cost
There are a lot of generic steak knives on the market today. The truth is you get what you pay for. When it comes to a trustworthy, fully functional steak knife set, you need to have a quality build. This way, your collection (and your monetary investment) can stand the test of time.
If possible don't cut corners on cost. Save up your money and buy something you really want. Or, if you are giving a steak knife set as a gift, give something you know the other person would honestly want.
However, cheaper steak knife sets can last a long time if not used often and if well cared for. If planning on frequent use it makes sense to invest in something quality. If having steak only a couple of times a year, go with something less expensive.
Materials
Some steak knives have a textured grip so as not to slip when cutting through a steak. More commonly, others are made of different wood grains with polished handles similar to glass. There might be a curve to the handle to make it a sleeker design but what's really important is the blade. Steel is steel. However, the length of the serrated edges varies by design and some are less effective than others. Most steak knives don't have any serrated blades at all and there is a very important reason for this which will be covered later below.
Weight
Believe it or not the weight of the blade makes a big difference in the functionality of a steak knife. Be sure to read the differences in product reviews if you are purchasing a set online or stop in at a local store if possible. If a steak knife is too heavy, it will be difficult to hold throughout the meal. If it is too light, it may not slice all the way through the meat.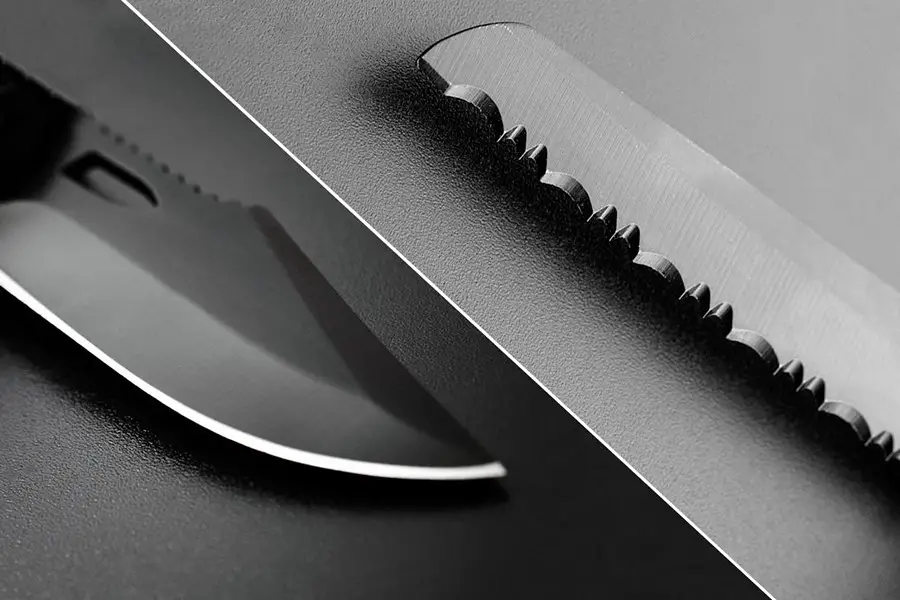 Serrated Vs. Non-Serrated Blades
Serrated blades may seem ideal for smooth cuts, but the truth is they are more difficult to sharpen, and they may more or less tear the meat apart in comparison to non-serrated blades which smoothly slice through meat as if it were butter.
Non-serrated knives also last longer because they are easier to sharpen as the blades become dull with frequent use. Cheap steak knife sets can be either blade type so be sure to do some thorough research before making any final decisions on steak knife collection. Whichever you choose is really a personal preference.
The Cutting Surface
One more thing to consider is the surface on which the steak knives will be used. Usually steak knives slide across smooth plates rather than wooden cutting boards. The more resistance a steak knife is run through (such as the wood on a cutting board) the faster the knife will become dull.
How to Test the Sharpness
If unsure about the sharpness of the blade after purchasing, you can test the blade out by performing a simple paper cutting test. Take a clean sheet of paper and run the new blade through it. If the paper does not cut you will need to sharpen the blades (or throw out the set completely). What good are steak knives if they aren't sharp? If the blade cuts through evenly and smoothly, the metal blades are properly sharpened and all you will need to do is clean them before using them.
Consider all of the options and decide what will work best for your taste and your lifestyle. Whether it is for a gift or a nice dinner at home, there is something for everyone's taste and budget.