Step Platform Reviews
If you are a person that enjoys keeping fit by going to the gym or working out at home, you probably have tried aerobics training. If you don't go to the gym but make use of fitness videos to help you in your training chances are that you do some form of aerobics. Aerobics is a much more fast paced system of working out which is usually a lot of fun. If you want to enjoy aerobics training then you will need the correct equipment, and the most commonly used equipment is the step platform. Some platforms are adjustable in height and can be used in a variety of aerobic workout programs. The step platform is a raised platform usually made of tough plastic that is strong enough to hold the weight of an adult. The platform is normally textured on the top to provide grip as well as rubber pads on the bottom to prevent slipping and avoid the risk of injury when exercising.
Most Popular Step Platform
HomGarden
This step platform from HomGarden has a 2 level adjustment for various aerobic workouts. The 2 levels are at a height of 6 inches and the other one at 4 inches. This step platform is great for strength training, cardiovascular training and overall fitness improvement. The platform may be used on either an incline or a flat surface and the top is textured to provide grip and avoid slipping. The HomGarden Aerobic Step is made of PVC and does not require any assembly. The platform comes with a full workout training DVD to assist in your workouts and the product is backed by a warranty covering 90 days. You may use this step platform to target hamstrings and gluts, and also use it for push-ups to strengthen your back and chest. When shipped the package weighs 7.8lbs though the platform weighs just 7lbs.
Adjustable height settings
No assembly required
It is much larger than competing brands
The HomGarden Aerobic step is great for workouts at home
The DVD that is included provides excellent information
– Anthony Dawson
Best Overall Step Platform
The Step
This step platform is ideal for use at home and will propel you to fitness at home in no time. The block and platform are made of polyethylene of a high density and the top of the platform has a durable, slip proof mat while the floor has rubber pads to enhance grip and prevent nasty accidents. The platform can support a maximum weight of up to 300 pounds. The support blocks are used to adjust the height based on your individual preference and may raise the platform to a height of 8 inches, 6 inches or even 4 inches depending on what you want. The platform is available in 2 colors, grey and teal. If you are a fan of aerobics, you definitely want to get yourself one of these platforms.
Quality design with multi-purpose function
Professional quality platform for home use
You may use the platform as a bench for weight training
The multi-surface non slip pads for safety
Adjustable height for wider range of exercise
– Anthony Dawson
Best Budget Step Platform
Tone Fitness
This very functional platform will provide you with a secure surface for your workouts. The platform is height adjustable to 2 height levels, 6 inches or 4 inches, and you may use the platform regardless of your fitness level. The platform will help you build strength, endurance and your overall fitness level. The platform comes accompanied with a workout chart for extra exercises and instructions. This stepper is good for performing you favorite aerobic routine with a functional and safe stepper.When shipped the package weighs 6.4lbs which is also the weight of the stepper itself.
Easy to use and maintain
It is compact and easy to store
It is a good workout tool for many types of exercises
Adjustable height and versatile functions
High quality, durable design for extended use
– Anthony Dawson
Step Platform Buying Guide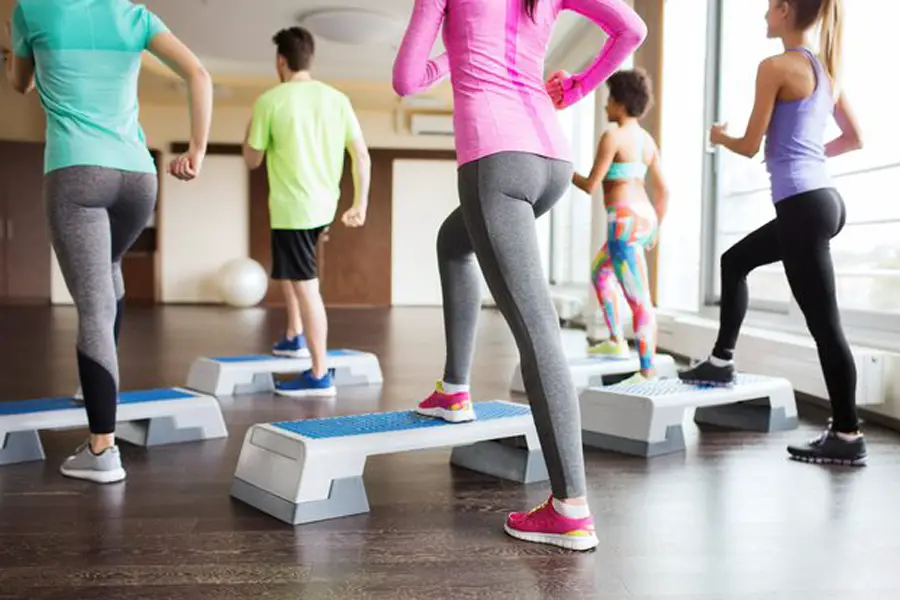 The great thing about exercises is that they can change you into a whole new person completely. Not only do you gain muscles and lose weight, you also exude more confidence, and your physical skills improve. Exercise doesn't mean that you can only get stronger. It also means that you improve your agility, flexibility, balance, and a lot more.
Factors to Consider
While all platforms are assured to be non-slip, it's best that you try them out first. Some platforms are created with some sort of rubber mat that is definitely not slippery when you try it. Others are made of some sort of really hard and grainy rubber which is good in preventing slips and slides. There are also wooden or plastic platforms that are safe for use. The best way to know which platform material is best for you, then you must go to a store and try them out with the shoes you intend to wear while working out. If you are intending to make your purchase online, then you should go and visit a sports shop near you to test out the different materials. Sometimes the soles of the shoes can still be slippery despite the non-slip material on the platform. Common accidents on step up exercises are sliding off and getting off balance resulting to injury. Be smart and prevent this from happening by testing them out in stores. Even if it's not the actual product, it's good to at least have an idea if your shoes are really non-slip on the platform's material. After all, better safe than sorry.
Another important factor to consider is the material itself. While platforms are commonly made with plastic to make it easier for stacking and height adjustments, there have been innovations on the material platforms are made. Now they can be made with steel and sometimes wood. There's not much of a difference in terms of the material used, but plastics are usually very colorful and so it attracts a lot of buyers. Most platforms are made from plastic, which is why it's a popular choice all in all. Wood and metal might be harder to have some form of adjustments, making them less popular choices especially for those who want their equipment to last for a while.
Benefits
Step ups are fairly easy to do. Even kids can start working on step ups without even realizing that it's a form of exercise. Depending on the height and speed, it isn't too strenuous or exhausting, making it a really great exercise routine that beginners will definitely enjoy.
Step up exercises help improve your balance and agility as well as adding strength to your calves and thighs. This is because as you go up and down, you change heights, and if you put weight on the wrong foot, you can actually fall and hurt yourself. Some people do step up exercises really fast, and if they're not careful, then can injure themselves badly. This is why as you do more and more step ups, you get to learn how to balance yourself easier by knowing which certain leg or body part should have more weight in. Step ups make your calves and thighs stronger because they get stretched as you move up and down. As your calves and thighs get stronger, the balance also improves as it helps your body carry you easier.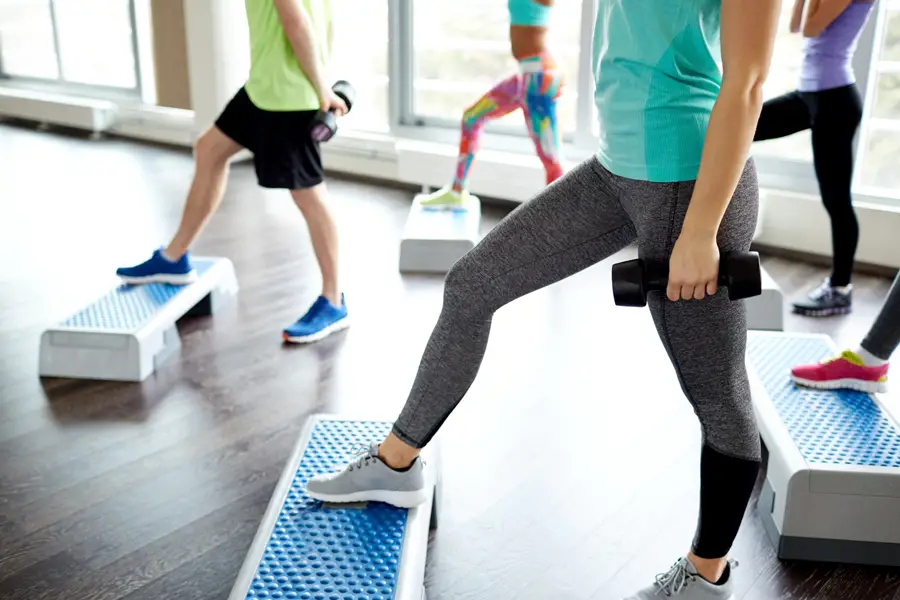 Different Ways of Exercises
There are different ways for us to get exercise. Some go to the gym and focus completely. Others incorporate it into their day to day activities. There are also others that focus on specific exercises but only do it in the comfort of their homes for various reasons such as being incredibly busy. With the rise of aerobic and work out videos, there are so many possible workout routines that you can do even with a small space in your house. Some exercise routines require you to get specific equipment that may even be substituted with some furniture at home.
A popular home exercise routine is step up. This is done by stepping up and then down, as if you are going up a set of stairs. Some people do this exercise on the stairs or in places in their house with steps. Some use stools or chairs or any higher level material they can get. Then there are also people who buy a step platform so that they can do their step up exercises safely.
Considerations
In buying yourself a step platform, the first things you must consider are its height and dimensions. If you have bigger and longer feet, then you might want to opt for platforms that are wider in size. While it may not be necessary, people, especially beginners like to play it safe. The market has different widths of platform available to make it comfortable for you. In fact, some platforms are even square instead of rectangles to accommodate more width for some people's feet to be comfortable!
In terms of height, most platforms are can be adjusted. Usually, you stack some sort of plastic on its feet to add more height on the platform. Before purchasing one, it might be best to test out the lowest possible height and the highest possible height for you. This is most especially true for beginners, since it is not ideal for them to do taller levels of step up exercises for their safety. Make sure that you are comfortable with the starting height of your step platform. Afterwards, you can easily (or slowly!) work your way up, adding more levels.
Conclusion
Since you're a first time buyer, the question you're probably itching to ask is how to know the perfect step platform for yourself. The answer to this question is really straightforward. You have to test it out yourself to see the most ideal platform for you. Also keep in mind that a particular brand doesn't mean a better deal just because it's more expensive or more popular. Every person is different and so it's important that you get the step platform most fit for the kind of body that you have.