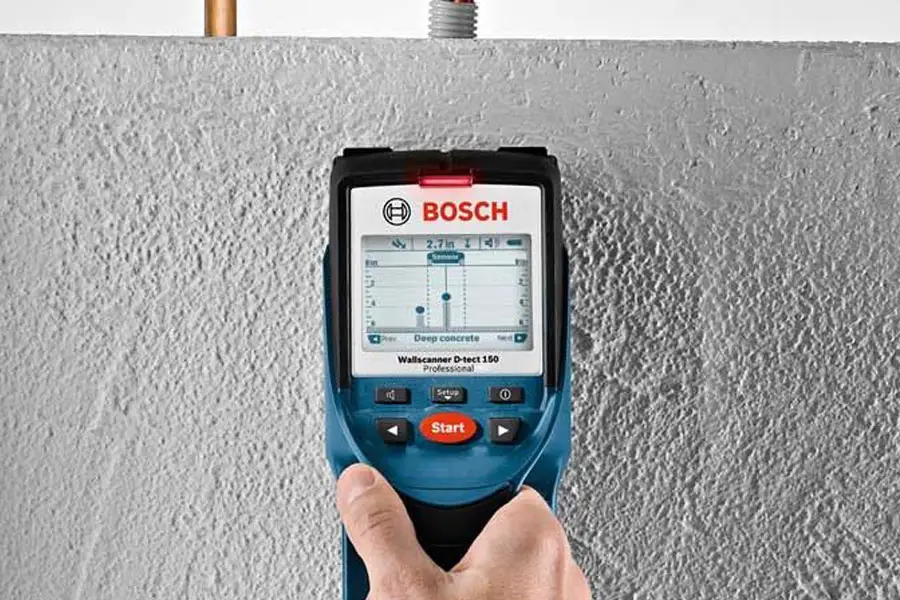 Stud Finder Reviews
Stud finders were originally invented in 1977 by Robert Franklin. Zircon, an electronics manufacturer agreed to build and market Franklin's device. Zircon produced stud finders until 1998 when the original patent expired. When the patent expired other companies were able to build new stud finders and work on creating a product for the customers benefit. Some stud finders can locate metal and live AC voltage preventing household issues. Stud finders can now detect the edges of the stud, the center of the stud or other targets behind the wall using multiple sensors. They can also determine multiple regions in the wall and can sense the regions without the studs simultaneously. Companies are creating stud finders with the customer in mind and creating new factors that allow you to have a very handy tool in your tool box. The following three stud finders reviewed are highly rated and are created with quality in mind.
Most Popular Stud Finder
Zircon
The Zircon e50 Center-Finding Stud Finder with Metal and AC Electrical Scanning is a handy tool to have in your tool box. The stud finder scans for AC wires and metal, which by locating can prevent many household problems. The LCD display is easy to read allowing the ultimate convenience and no mistakes in the readings. The Zircon e50 Center-Finding Stud Finder with Metal and AC Electrical Scanning has an audio tone and a Spotlite Pointing System that indicates the stud center. The stud finder locates the edges and center of the wood or metal studs up to 1 ½ inches deep. The Zircon e50 Center-Finding Stud Finder with Metal and AC Electrical Scanning also has a WireWarning detection application that indicates the presence of live, unshielded electrical wiring up to 2 inches deep. This safety feature can prevent damaging electrical wires. It can also assist in repairs by identifying where a wall needs to be open with the confidence that the right location has been found before work begins.
Scans for metal and AC wires
Spotlite Pointing System indicating center of stud
Warning detection indicating unshielded wiring
Easy to read LCD display
Audio tone
– Anthony Dawson
Best Overall Stud Finder
Prosensor
The Franklin Sensors ProSensor 710 Precision Stud Finder uses multi-sense technology to find studs more accurately through difficult surfaces. The stud finder can find wood and metal studs, as well as other hidden objects behind a wall. The Franklin Sensors ProSensor 710 Precision Stud is very easy to use for all ages. It has a one-step operation. You simply press the button to turn it on and place the stud finder against the wall. The LED lights instantly locate the location of studs or other objects hidden behind the wall. The Franklin Sensors ProSensor 710 Precision Stud has an automatic deep scanner that scans up to 1.5 inches deep. The stud finder is very efficient because it can detect more than one object at a time and identify the width of the objects identified. The Franklin Sensors ProSensor 710 Precision Stud is battery powered that is very light only weighing 9 ounces and being 7.2 x 3 x 2 inches in size. The small size will not take up much space in your tool box.
Can find metal and wood studs
One-step operation
Automatic deep scanner
Detects more than one object at a time
Light weight
– Anthony Dawson
Best Budget Stud Finder
CH Hanson
The Hanson C H 03040 Magnetic Stud Finder is a fantastic addition to a home because it is small, compact and can easily fit in your pocket. Instead of having a large, heavy tool around the house, this stud finder is so conveniently small that it will not take up any space. The Hanson C H 03040 Magnetic Stud Finder is magnetic and the magnetics are powerful enough for hands free use. Many devices that are included in your home need batteries; this stud finder conveniently does not need batteries, which will save money in the long run and you will be able to use the stud finder whenever it is needed without having to replace batteries. The comfort grip allows you to easily hold the stud finder. The Hanson C H 03040 Magnetic Stud Finder also has a 2 way level that makes for even hanging of pictures and other items.
Small and compact
Magnetic for hands free use
No batteries required
Soft grip
Built in 2 way level
– Anthony Dawson
Stud Finder Buying Guide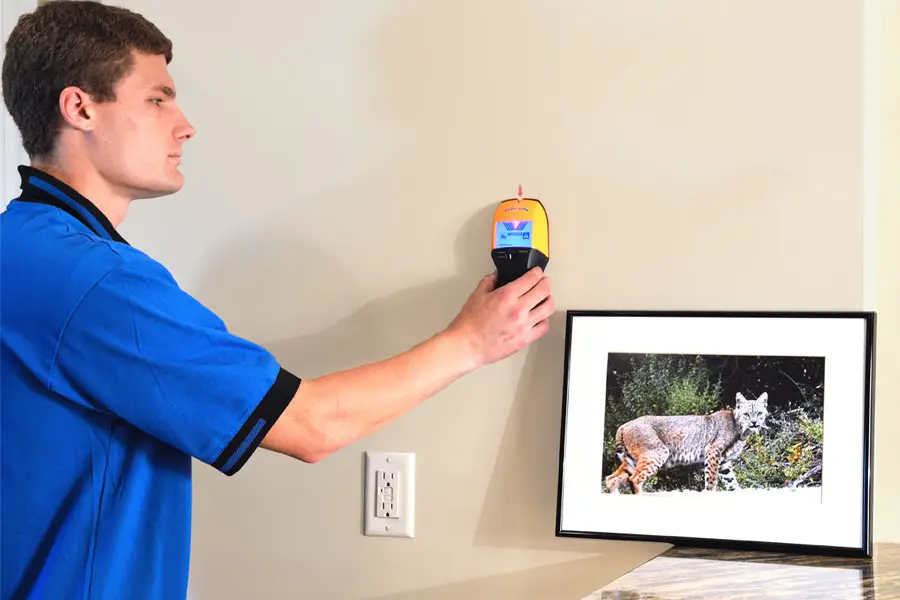 There are a lot of do-it-yourself projects that would require drilling, screwing, or hammering into a joist or wall, such as hanging picture frames or putting up wall shelves. However, before a person is able to do any kind of similar activities, he has to make sure that the wall is capable of carrying the weight. As such, he has to first locate a stud.
A Wall Stud and Its Purpose
A wall stud, one of the fundamental parts of building framing, forms the wall, holds in place any other modification or addition in a wall such as a window, and over-all helps support the entire wall. Because of its function, it is imperative for a person to ensure that the additional weight he is adding to the wall is propped into the stud.
Skilled carpenters usually locate a stud by knocking on the walls. The sound reverberating back would tell the carpenter whether a stud is behind the wall or not. This practice would work best only for experienced people so for all others out there, it would be better to just invest in a stud finder
Stud Finder Definition, Features and Buying Considerations
As the name implies a stud finder is equipment that locates studs in the walls. There are different kinds of stud finders, especially depending on the quality and type of the wall. Here are a few things one could consider when buying a stud finder:
The Main Types of Stud Finder
There are two main types of stud finders and they work in significantly different ways. The first type is the Magnetic stud finder. A magnetic stud finder looks for the metal screws or nails that bind together the wall and the stud. To make sure that the identified metal is part of the stud, there are fasteners to mark the place. A vertically aligned set of fasteners often show a stud behind it. This type of stud finder is the simplest, easiest to use, and is the least expensive. However, they are also not recommended to use on drywalls that are more than a half-inch. This is also not suggested for walls with pipes or wiring. They also have a very low hit accuracy rate; in fact, its accuracy is highly dependent on the nails or screws being embedded into the center portion of the stud.
The other type of stud finder is the Electronic stud finder. This type scans the walls by emitting an electronic field that spots changes in the density of the wall. Before using, a person should first be aware of his normal wall thickness and calibrate his stud finder accordingly. A person should also know where the wiring in the wall lies for safety precaution. This type however is difficult and often tricky to use and is quite expensive. It also runs in batteries.
The electronic is also sub-divided into three categories. The first sub-category is the edge finder. This type of electronic stud finder detects the changes in densities of the wall that would often indicate the edge of the framing building. This is the least expensive type.
The next is the center finders. As the name implies, this type of electronic stud finder have multiple sensors that locate the center of the stud in a wall.
The last one is the instant finders. This type has a lot of sensor plates with multiple sensors. Not only could it identify the center of the stud but it could also locate more than one stud simultaneously.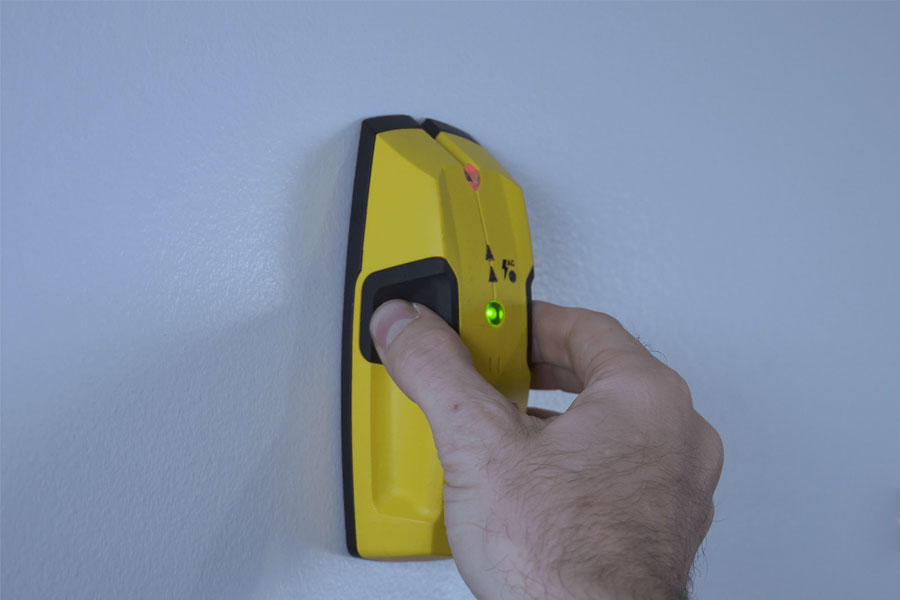 Types of Walls to Be Scanned
Magnetic stud finders are recommended for people who have thin drywalls. To be more specific, stationary magnets could be used in these circumstances. A person just sweeps the magnet over the wall and marks the place where he feels a pull from the magnet. Stationary magnets however, are quite limited. They will not work on plaster walls and other thick walls.
For those who have plaster walls, a Neodymium magnetic stud finder could work for them. This type of stud finder uses a magnet that moves relative to the depth of the metal. When used in a drywall, it will create a solid thump; when used in plaster wall, it will make a softer thud. In both cases, it will make a sound when it finds metal.
For people who have wall thicker than drywall or plaster, the electronic is recommended. Electronic stud finders are often classified depending on the type of wall so it is as simple as identifying the wall type and looking for a matching electronic wall scanner. The best and most effective wall scanners are able to detect studs through tile walls.
For people who have carpeted wall, it is unfortunate to say that no stud finders have been made yet that would work on them. On not only carpeting but stud finders would also not be able to detect shielded electronic wiring, especially the plastic water pipe type.
More Features of Stud Finders
For people who do not know the wall layout of his house and could not pinpoint a location for the pipes and wirings, there are electronic models available that give off warnings when they detect electrical wiring and metal pipes. This warning for live electrical wiring feature ensures that only safe drilling would happen.
To locate studs faster, there are stud finder models available that feature lights and beeps. They immediately identify the user of stud detection by either lighting upor making a beeping noise that would increase in volume as the scanner comes closer to the stud. These models enable the user to use it in odd positions where the screen cannot be seen.
There are models that feature automatic calibration. This is a great help when using a stud finder as it is able to warn the user when he is scanning over a stud and can recalibrate automatically as necessary.
Finally, one of the most important things to consider when looking for stud finders is the budget allocated for that equipment. After identifying the type of wall and the kind of stud finder needed, a person should look at the average price of the identified stud finder and set a budget range for this equipment.
A Review of Stud Sensors
A stud sensor is a relatively cheap piece of equipment that will help you to find studs in your wall. This may seem like an unimportant task, but finding and utilizing studs is a very important part of hanging something heavy on your wall. Some people skip this step altogether however, and are more than shocked when their TV comes crashing to the ground. If you are hanging something heavy on your wall, you need to make sure that it is supported. Placing a nail in a stud will give you that extra support, ensuring that whatever you are hanging stays up on the wall. This is a step that you don't want to skip. Take a quick lesson from home improvement novices and find a good stud sensor immediately.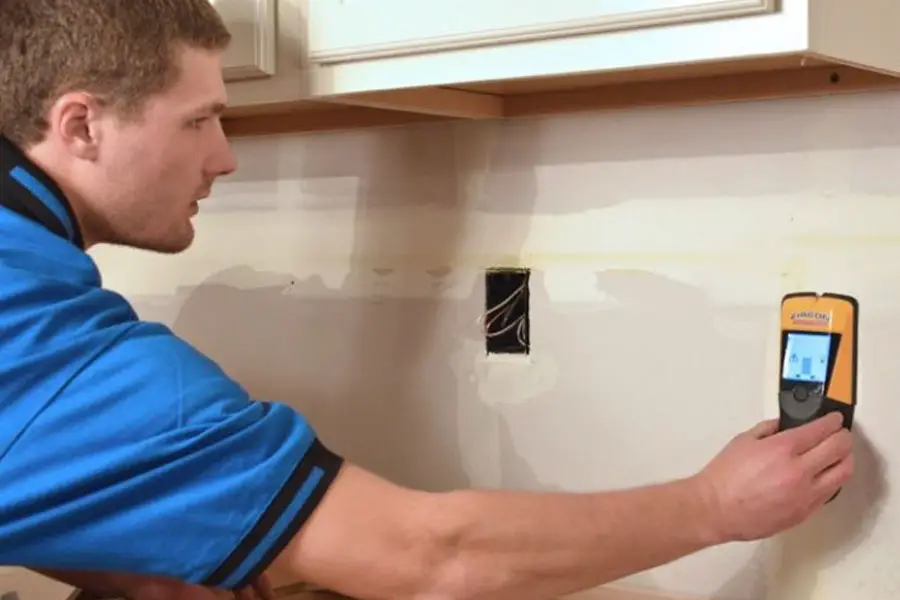 Things to Consider When Purchasing a Stud Finder
While the product is inexpensive, some stud sensors tend to do a better job than others. If you plan on hanging something that is heavy, you will want to get a high quality stud sensor. With this product, you can choose to go digital. A digital sensor will cost you a little more money, but it will give you a more accurate reading. Likewise, it can also depend on the type of surface you are trying to find the stud in. Many sensors will work when there is only one level of drywall. Though if your wall has double drywall, or some other impediments, it might be best to invest in a more expensive sensor.
Type of Technology in Stud Finder
There are a variety of technologies that stud sensors use to find their target. These include ultrasonic, microwave, magnetic, and electronic technologies. You will have to consider what kind of technology would best suit your wall. This depends on the thickness of the wall, as well as the density of the material. Ultrasonic tends to fair better on thick or double drywall, due to its ability to bounce off surrounding areas. While electronic tends to do better with a thinner walls, such as plaster. Costs will vary as you explore these different technologies.
Beware Of False Positives
One of the biggest problems that anyone using sensors reports are the issues associated with false positives. This can actually be a big problem if you are hanging something heavy or expensive. One false move and you might find that your stud sensor has caused your new TV to come crashing to the ground. Oftentimes this problems arise if you are using a sensor on a material that it is not suited for. It's always important to read the instructions and see if your sensor is compatible with your wall. Some people get two separate finders to verify that they have correctly identified a stud. Look for accurate stud finders not just anything out there.
Studs Finders Identify Live Wires
Perhaps one of the most important features of a stud finder is something that you don't hear about very often. Studs sensors are very useful in identifying live wires. These wires could possibly be dangerous, particularly if your drill into them. A good stud sensor will should help to avoid this problem. If you know that you have extensive electrical work, get a high-end sensor that will readily identify all these wires. This is one instance where it pays to invest a little more money upfront. It could end up saving you a much larger medical bill.
Consider How Your Stud Finder Is Powered
Most stud sensors are battery powered, while others charge in the wall. If batteries are not included with your stud sensor, that's just extra money that you will have to invest. You want power that is long lasting and convenient, not stuck to a wall. This is less of a problem with modern stud sensors, but is still worth thinking about. If you are just doing a quick job in your bedroom, worrying about extra batteries can be a major hassle. See if batteries are included, or a relevant charger. This may seem little, but it can help reduce a headache.
Different Types of Stud Finder to Consider
Here are a few cheap options if you have single layer drywall. In this case there is no need for an overly expensive tool.
Zircon StudSensor e50 Electronic Stud Finder
This is an easy to read, easy to adjust stud sensor. You'll find that it is a little more expensive than the cheapest sensors, but you are getting extra quality. It is digital and easily identifies the studs. It has an easy accessible handle and is more than adequate for most home jobs.
CH Hanson 03040 Magnetic Stud Finder
This is another relatively high-quality stud finder. It is one of the cheapest ones on the market, but you might be surprised at the quality that his product provides. This is more than adequate for the weekend warrior who just has to put a few things into the wall. While it's not professional grade, you may be surprised at its offerings. For only around $10, this is one of the most cost-effective purchases on the market.
If you are looking for a professional grade sensor, there are a few additional products that you should put into consideration.
Bosch GMS120 Digital Multi-Scanner
This comes in at a higher market price point than the other sensors reviewed. But you will see the difference in the quality that this sensor provides. This has special deep detection technologies that help to identify a stud in nearly any circumstance. This is truly a professional grade product. It is great if you need to find studs on a regular basis.
Zircon MultiScanner i520 Center-Finding Stud Finder with Metal and AC Electrical Scanning
If you are frequently dealing with heavily powered areas, then this is a sensor that you should consider. The dangers of drilling into electric are very real. This provides electrical scanning that should help prevent this type of problem. No technology is foolproof however. You should always be as familiar with the electrical layout as possible before drilling
Overall, these are some very good tools that would make a great addition to any collection. If you find the right sensor, there is no doubt that you will be hanging like a pro in no time. In combination with other tools, the sensor makes for a powerful home improvement addition.
Resources: