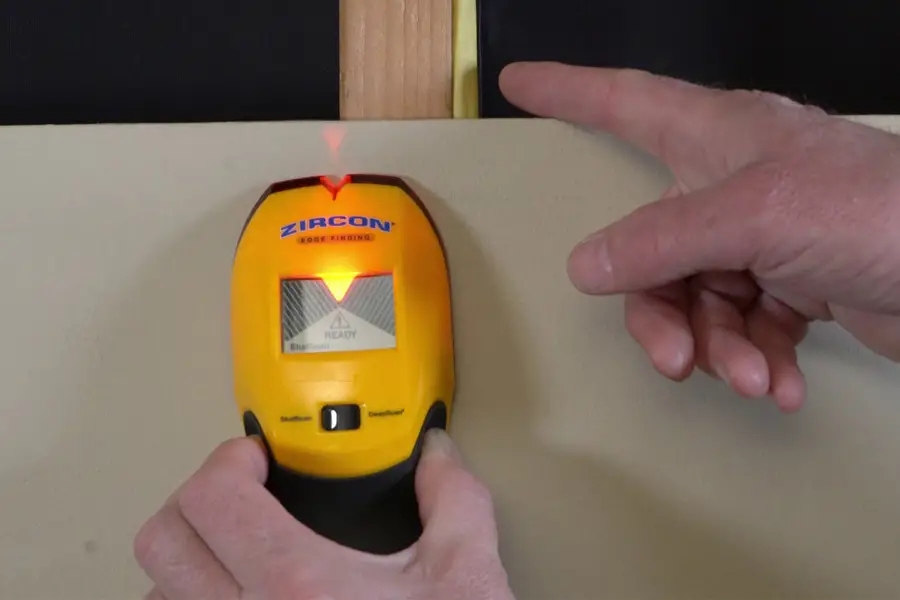 Stud Sensor Reviews
Stud sensors are a must have when it comes to many home applications. Whether you are completing a home project or simply hanging pictures, a stud sensor is essential. This device will help you locate the studs behind the wall. The more advanced models will detect metal, wood and live wires. We have selected the best stud sensors on the market, which will provide years of reliable use.
Most Popular Stud Sensor
Bosch
The Bosch-GMS120-Digital-Multi-Scanner is designed to detect live wires, wood studs and metal objects within the walls of your home. They can detect rebar, steel and copper pipes, beams, and electrical wiring. With the most current sensor technology the Bosch GMS120 can detect into concrete up to 4 ¾ inches. Live wires can be detected up to 2 inches, copper 3 1/8 inches and wood studs up to 1 ½ inches into the wall. The center finder feature will assist you in locating the center of the wood so you can make appropriate decisions. The automatic calibration makes using the device easy and prevents false positives. The LCD display provides clear and accurate readings' letting you know precisely what is behind the walls of your home and where they are located. This product is ideal for contractors, electricians, plumbers, masons, and homeowners who need to have accurate readings before completing work. It also has an ergonomic grip for comfortable applications.
Can detect live wires, studs and copper
Automatically calibrates for easy operation
Ergonomic design for comfortable use
LCD display has back light and is easy to read
Audible on off button
– Anthony Dawson
Best Overall Stud Sensor
Zircon
The Zircon-MultiScanner-740-Center-Finding-Electrical is able to detect both wood and metal studs along with live wires. The finder can determine the edges and center of the stud allowing you to take appropriate actions based on whether you are looking to utilize the stud or prevent damage by avoiding it like in the case of live wires. The Spotlite Pointing system, which specifies the center of the stud, is patented. The Zircon-MultiScanner-740-Center-Finding-Electrical stud sensor can detect studs or wires up to 1 ½ inches into the wall. Live wires can be detected up to 2 inches. It also recalibrates itself automatically for the most accurate reading available. The Zircon-MultiScanner-740-Center-Finding-Electrical also comes with a LCD display that is easy to read.
Detects wood, metal studs and live wires
Detects up to 2 inches for live wires and 1 ½ inches for studs
Finds the center of the stud with patented technology
LCD that is easy to read
Automatically recalibrates
– Anthony Dawson
Best Budget Stud Sensor
CH Hanson
The CH-Hanson-03040-Magnetic-Finder is a small compact stud sensor that is compact enough to fit into your pocket. The device uses rare earth magnets that are powerful enough to detect the location of metal like nails or screws in the stud. It does not need batteries like many stud sensors, meaning it will always be ready to use. In addition to a stud sensor, the device also includes a small level. This can be convenient when finding the stud and then hanging an item on the wall. The CH-Hanson-03040-Magnetic-Finder has magnets which enable you to use the device hands free, if necessary. It also has a soft grip which makes it easy to handle. This strong and sturdy device comes with a lifetime warranty.
Magnets detect metal in the studs
Compact and ergonomic design for comfortable and easy use
Includes level
Magnets offer hands free use with no need to mark the wall
Lifetime warranty
– Anthony Dawson
Stud Sensor Buying Guide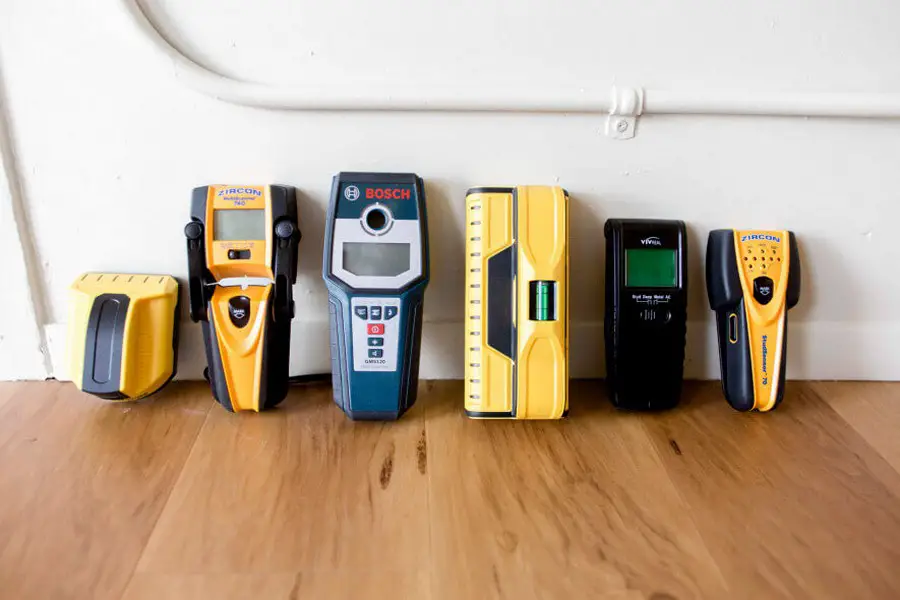 A stud sensor is a tool that is used to locate wall studs. They can be useful for things such as hanging pictures or home remodeling projects that require drilling into a wall. The idea is to locate the nails in the studs to locate the supportive timbers. Not all studs are spaced the same distance apart. It depends on the architect that built the home or commercial building.
Standard stud with is every 16″, but you could have one 14″ towards the end if the space for the wall was cut short. This can make knowing where to drill a bit more complicated.
Stud finders make finding a stud a little easier. There are different types of stud finders available for purchase, but if you don't know their potential issues, you may find yourself a bit frustrated with the product itself. Below is a guide to help you choose the best stud sensor for your next big project.
Types of Stud Finders
There are many different types of stud finders on the market. These include but are not limited to:
Whole Stud Finders – Favored by construction workers because it is not restricted to detecting the edges of a stud, this device type finds the entire stud and helps the user determine wall thickness
Electronic – Offers a visual display but is battery powered
Magnetic – Works without batteries
Stationary Magnetic – Detects both nails and screws, but costs more in price and can't detect nails buried deep in the walls
Moving Magnetic – Most affordable and most straightforward to read
Electronic Edge Finders – Commonly used for hanging pictures on the wall but doesn't give information about where the center stud is located
Electronic Center Finders – Uses sensors to locate the center stud in the wall
Instant Stud Finders – Don't have to be moved around on the wall as it uses a sophisticated algorithm to locate studs
Each stud finder offers something different for each project. Decide what might work best for you before you purchase it. Some of the devices work very simply, and some come packed with multiple features. Depending on its intended use will determine which device is most useful to you.
All stud finders offer the same thing; it's just a matter of personal preference and a basic understanding of how the device works as well as what common issues can arise when utilizing the device. Some of the features include a two-way level, hands-free use option, multi-mode detection, and auto-depth.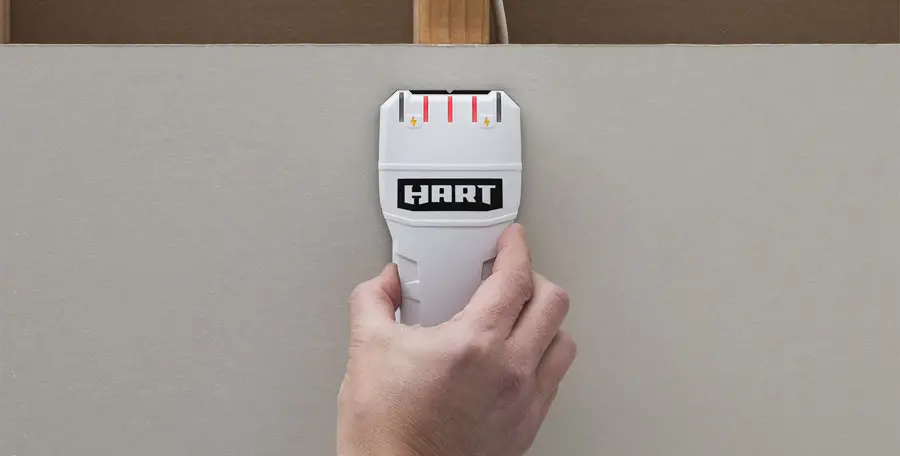 Drywall Versus Plaster
Drywall is a thinner composition than plaster. Stud finders don't have to work too hard to find metal nails. When it comes to plaster walls, these devices aren't beneficial because they are thicker and denser. Another thing to consider is if the structure's age is more than fifty years old. In the 1970s, metal lath was introduced to hold plaster better and cut down on drying time.
So, a device such as a stud finder that detects metal won't be able to distinguish between the lath holding up the plaster and the metal nails in the studs. They also will not be able to distinguish whether they find a metal water pipe, metal electrical line, or metal gas pipe.
If you are finding "studs" all over the wall, more than likely, there are other metal objects that the device is detecting.
How to Tell What's in your Wall
If you've recently purchased a stud finder and still aren't able to tell what's behind your walls, you can always purchase an inspection camera. Simply drill a hole in the base of the wall behind the baseboard and gently insert the camera. As you guide it into the wall cavity, it will show you if there is anything else hiding in the wall.
Also, the old way should never be forgotten. As advanced as technology is, the right tap with yours knuckles works wonders too – if you know what to listen for. Knock against the wall lightly in a horizontal line. As you move, the sound will change. If a stud is behind the wall, the knocking will sound deeper than the hollow portion of the wall.