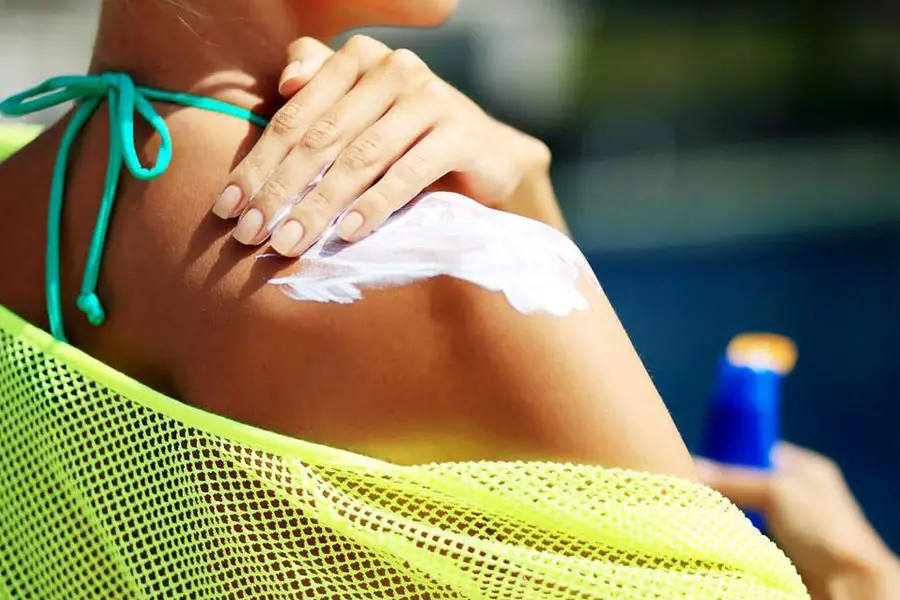 Sunscreen Reviews
Sunscreen products come in many different shapes, sizes and levels of effectiveness. The difference really depends on what your skin tone and type is and how well you react to the sun's rays. Fair and light skinned people will often burn if in the sun for too long and without the correct sunscreen this can be a really painful and uncomfortable experience, so choosing the right sunscreen for you is essential. Sunscreen does not have to just be for sun protection, as it often contains high quality moisturizing ingredients that condition your skin when applied. Along with this is the ability to stay on the skin and keep the skin covered while in the water as well as when sunbathing. There are also products containing sunscreen that are available for the lips, nose, and other sensitive areas, which often come as a complete sunblock or sun cream block out.
Most Popular Sunscreen
EltaMD
The Elta MD UV Shield Clear SPF 46 sunscreen is not your ordinary sunscreen; it also helps reduce the appearance of any blemishes and discolouration on the skin. This is done at the same time as protecting the skin from the sun's harmful UVA and UVB rays. The shield is both lightweight and easy to manage and helps to keep the skin smooth and clean long after the first application. Elta MD UV shield has been designed for all skin types, even those prone to acne or oily skin. The formula is paraben free, sensitivity free and has no fragrance at all. The clear appearance is made with 5% pure niacin amide, which actually belongs to the family of Vitamin B3. Except the when such a small amount is used there is no irritation or flushing caused, along with the being odourless. To apply the sunscreen it is recommended to be used at least 15 minutes before entering the sun and to be applied generously to the neck and facial area.
Works for sensitive or acne-prone skin
Cooling effect helps give the skin a clean feeling
Can be worn underneath makeup or on its own
Lightweight; oil and fragrance free
– Anthony Dawson
Best Overall Sunscreen
La Roche-Posay
This is a great sunscreen to choose for active and fast travelling people, as it's a super-fast absorbing sunscreen in the form of a lotion. The solution is ultra-light yet still gives a remarkable SPF 60 factor of protection. The La Roche–Posay 60 covers the widest range of UVA/UVB protection possible, with an outstanding technology called the Cell–Ox Shield. This means your skin is protected from its outermost layer down to the cellular level. The LR-P Anthelios 60 has such a unique formulation that, due to its powerful and advanced technology, its efficiency is perfect for all forms of sun protection at even the highest level. The antioxidant Senna Alta is an extract from a tropical leaf that is proven to protect and defend skin cells. This extract is added to the sunscreen to give it a holistic element of functionality.
Very high UVA protection with SPF 60
Long lasting protection protecting the skin form UV damage
Fragrance free and water resistant
Great for sensitive skin
– Anthony Dawson
Best Budget Sunscreen
BurnOut
The BurnOut KIDS Physical Sunscreen has been specially formulated to protect babies and children with sensitive skin from the sun's rays. The sunscreen protects against UVA and UVB rays at a very broad spectrum with an easy to apply and non-greasy solution. At SPF 35 without any harmful chemicals, parents can use this product with added safety and peace of mind. BurnOut KIDs has been endorsed as a great sunscreen for kids by professional paediatricians, skin specialists, and dermatologists. The hypoallergenic formula means that even the tiniest of toes can be covered in the cream to stop their little bodies from getting harmful sunburn. Children often play in the water when out in the sun, and this product will not wash off and will not run into the children's eyes. With the help of BurnOut Physical Sunscreen, kids can be kids while letting their parents feel at ease when it comes to their children being protected in the sun.
Ideal sunscreen created especially for babies and children
Hypoallergenic and fragrance free
Perfect for sensitive skin
Has the recommendation of paediatricians and dermatologists
– Anthony Dawson
Sunscreen Buying Guide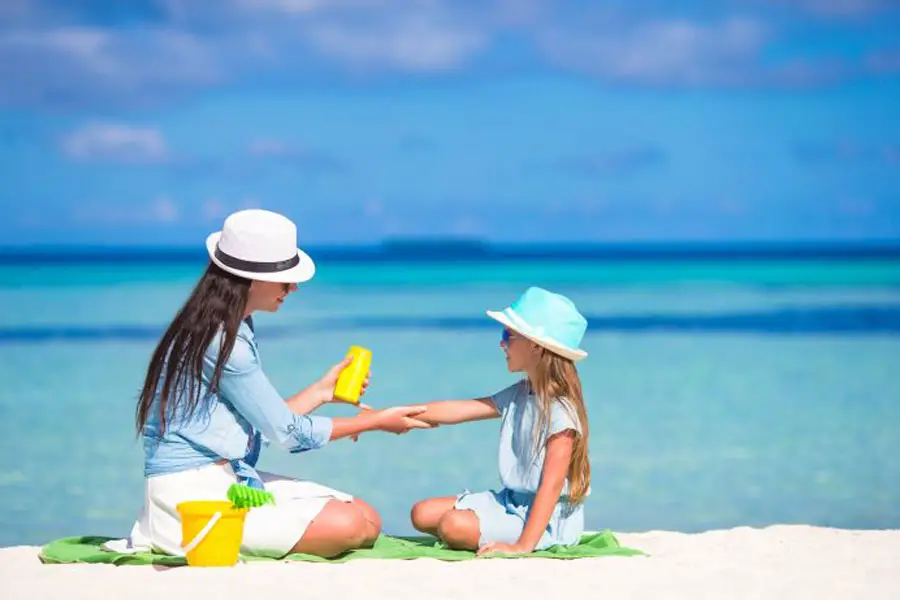 People of all skin color are advised to use sunscreens during daytime, especially when the sun's rays are at its peak angle (10 AM to 3 PM). As a good measure, anyone beyond 6 months old should wear sunblock to prevent skin damage and skin cancer. Some people use sunblocks to prevent darkening of their skin while others use it just to avoid sunburns. Sunblocks offer more than preventing production of excess melanin. Before you decide on buying a sunblock, know the main reasons why the skin needs to be protected from the sun's UV rays.
Choose an SPF
SPF stands for "Sun Protection Factor". Sun protection factor refers to the degree of UVB rays that are filtered out by the sunscreen. SPF can be as low as 10. Some brands even release sunblocks with SPF 90. However, the numerical value of the SPF is misleading. SPF 30 does not offer double the protection of SPF 15. SPF 15 filters out 94% of the sun's UVB rays. SPF 30 protects the skin from 97% of the UVB rays while SPF 45 offers a 98% protection. No matter how high the SPF value is, there is no single sunblock in the current market that can totally shield the skin from the sun's rays. No SPF has a 100% protection.  For people living in countries near the equator, SPF 30 should be the minimum because the angle of the sun's rays in tropical countries enables the UVB rays to be more powerful.
SPF is not accumulative
Most people think that applying a lotion with SPF 15 then another lotion with SPF 30 would give them a total of SPF 45 protection. False. The protection that SPF offers is not accumulative. Rather, if you apply multiple products with varying SPF value, you will be protected with the highest SPF value. So in that case, applying an SPF 15 and SPF 30 lotion would give you an SPF 30 protection.
Be Mindful about UVA Rays
The SPF value in sunscreens protects the skin against UVB rays only. UVB rays do not penetrate the clouds and tinted glass. Most makeup foundations and powders offer only UVB protection. In order to be protected against UVA rays, look for sunblocks with PA+, PA++ and PA+++. "PA" stands for protection grade against UVA. You need to protect yourself against UVA rays because unlike UVB rays, they can penetrate clouds and tinted glass because they are long wave rays. Therefore you skin is still being damaged during a cloudy noon. Moreover, UVA rays penetrate deeper into the skin. UVB rays triggers sunburn and skin darkening. UVA rays destroy the collagen matrix of the skin. Constant exposure to UVA rays leads to photoaging, skin cancer, melanoma and wrinkles. Sunblocks that can protect against UVB and UVA rays are called broad-spectrum or multi-spectrum sunblocks. The difference of broad-spectrum sunblocks from ordinary sunblocks is that they contain ingredients that shield the skin against UVA rays. These ingredients are usually avobenzone, oxybenzone, zinc oxide, mexoryl or titanium dioxide. However, titanium dioxide is white so applying it to your face may give you a white cast in photographs.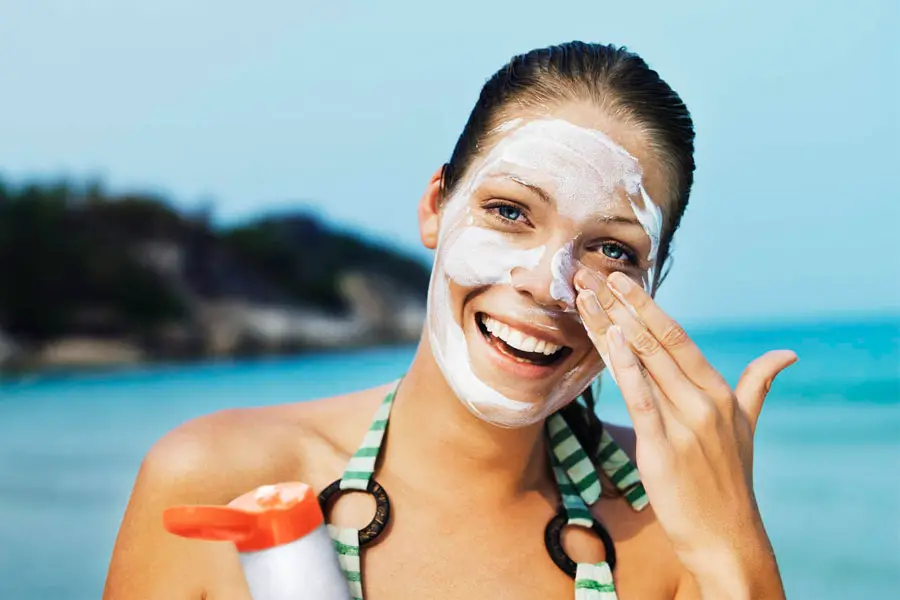 Chemical Filters vs. Physical Filters
You may not know it yet, but sunblocks contain 2 kinds of active ingredients namely chemical filters and physical filters. Chemical filters protect the skin by absorbing the UVA and UVB rays whereas physical filters act by shielding the skin from UVA and UVB rays. All physical filters protect against UVA rays whereas there are only a few chemical filters that can protect against UVA rays. Physical filters include titanium dioxide and zinc oxide. In their pure form, they look like powder so wearing them will give you a slight white cast on your skin. If you have dry skin, the white cast may be more pronounced. Chemical filters include the following in which only the last 3 in the list offer UVA protection:
Aminobenzoic acid or PABA
Cinoxate
Homosalate
Octinoxate
Octocrylene
Padimate O
Octisalate
Trolamine Salicylate
Oxybenzone
Dioxybenzone
Sulisobenzone
Choose a Consistency
Some sunscreens come in lotions, others are available as spray. When applying sunblock, you need to concentrate the product on skin areas that are usually exposed to the sun, regardless if that area is covered by clothing. Studies show that the typical cotton and nylon clothing offer only an SPF 4 protection. Choose a consistency that is apt to your climate. Lotion sunblocks are quite sticky but they offer just the same protection as spray sunblocks. Spray sunblocks are more expensive than lotion sunblock. Sometimes, companies add extra ingredients to spray sunblocks so it would last longer on the skin.
Choose a Right Bottle Design
Sunscreen should be reapplied every 2 to 3 hours. No sunblock can last the entire day without the need for reapplication. If you have ever been under direct sunlight, notice how fast your skin turns red. If your skin turns red within 10 minutes of direct sun exposure, a sunblock with SPF 15 will prolong the reddening for 15 times. As a result, your skin will start to redden within 150 minutes or 2 hours and 30 minutes. Choose a bottle design that will be comfortable to bring anywhere you go. Sunblock in sachets are not ideal for travel because they can get squeezed inside your bag and can be really messy. If you are travelling, transfer the sunblock to 30ml, 50ml or 60ml bottles. Most airlines prohibit any type of liquid (except water) beyond 100ml. Sunblock must be applied 20 minutes before sun exposure.
Health Conscious
Although sunscreen protects your skin, their ingredients may not be the most health friendly. Websites like EWG (Environmental Working Group) has listed most sunblock ingredients as low or moderately toxic. Anything that you apply on your skin actually gets absorbed by your skin and goes to your bloodstream before being metabolized by the liver. If you are concerned about the chemical in sunblocks, then an organic sunblock is for you. These sunblocks, however, are more expensive.