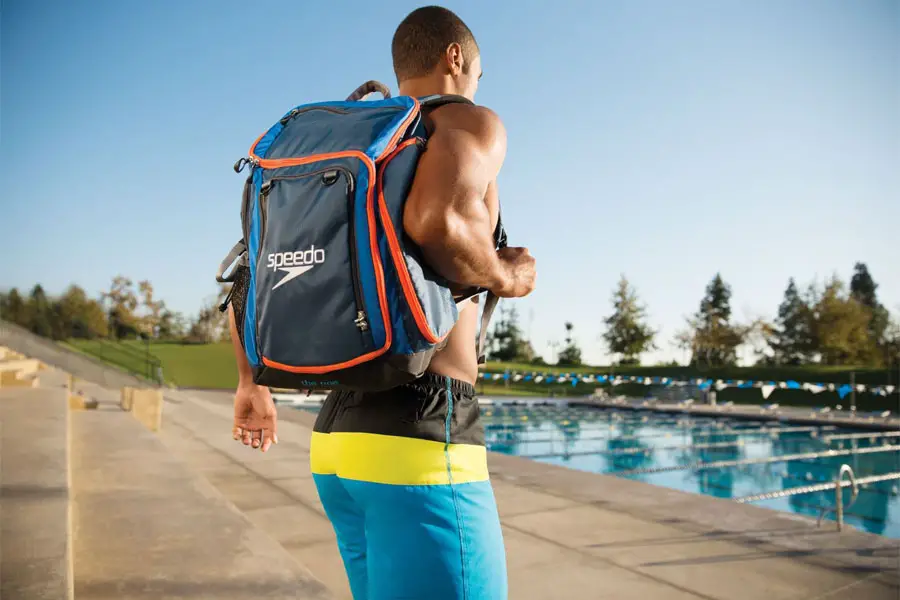 Swimming BackPack Reviews
If you are choosing a bag for swimming or water related activities, the bag should be waterproof or should have water proof compartments so that your personal belongings do not get spoilt and your wet clothes get dried soon without leaving a smell behind. Not only this, it would also help to keep all your other dry belongings in the bag safe. The requirement of a backpack maybe different for different people however there are certain things, which everyone should look intobefore making a purchase. There should be enough pockets to store your little things. Also, it shouldn't be like a tote and should have a sturdy zipper that keeps all the contents inside the bag. The shoulders should also be broader so that even if the bag is heavy it doesn't put any strain on your back. Choosing a right backpack depends on personal preference, but swimmers and other individuals that frequent the water know that not all backpacks are created equal.
Most Popular Swimming BackPack
Speedo
This bag is the sturdy and best choice for use either on water or on dry land. The bag comes with special pockets that provide protection to dry content from wet swimsuits or other wet items. The other pockets and pouches can easily hold cell phones or any other device. Speedo Performance Pro Backpack is very spacious inside and is able to hold many types of material. It is also available in a vast array of colors. Not only this, it is very durable and made up of 100% polyester dobby and PVC textiles.
This bag is perfect not only for swimmers but also for dry use purposes
Shaped shoulder straps provide great comfort
There are different compartments to keep away the dry content from the wet content
Goggle and cell phone pouch
Towel straps and an attractive embroidered logo
– Anthony Dawson
Best Overall Swimming BackPack
TYR
TYR products are known to be used by ironman world champions and also Olympic gold medalists. It was used by Matt Grevers in the Tracer High Performance Swim Line and also worn 3 times by the defending ironman champion. TYR Alliance Team II Backpack is very versatile and can be used for many purposes. It comes with numerous features and offers a classic and elegant design. You can use it for travelling, take it to your campus or can also use it as a gym cum swimming bag. It has 2 large pockets that can be used for either dry or wet gear storage. The bag is huge but the best thing is it only weights around 2 pounds and 12 ounces. The bag comes with a zipper and the large interiors of the bag helps in storing anything and everything. The compartments have openings so that your wet swimming clothes can dry up sooner without leaving any smell. This bag comes in a wide array of colors with the most appealing being black and golden or black and purple. There are also numerous goggle saver pockets inside each pouch. The reinforced interior pockets provide a great place to keep your other essentials. You will be overwhelmed to know that the bag comes with separate pockets to keep your IPods intact.
The bag is made up of 100% nylon.
It comes with a wide shoulder strap which has a length of about 36.5″
There are two different exterior zipper pockets
The handle has a drop of about 2.5″ and the length of &7″
Interior multi function pocket
– Anthony Dawson
Swimming BackPack Buying Guide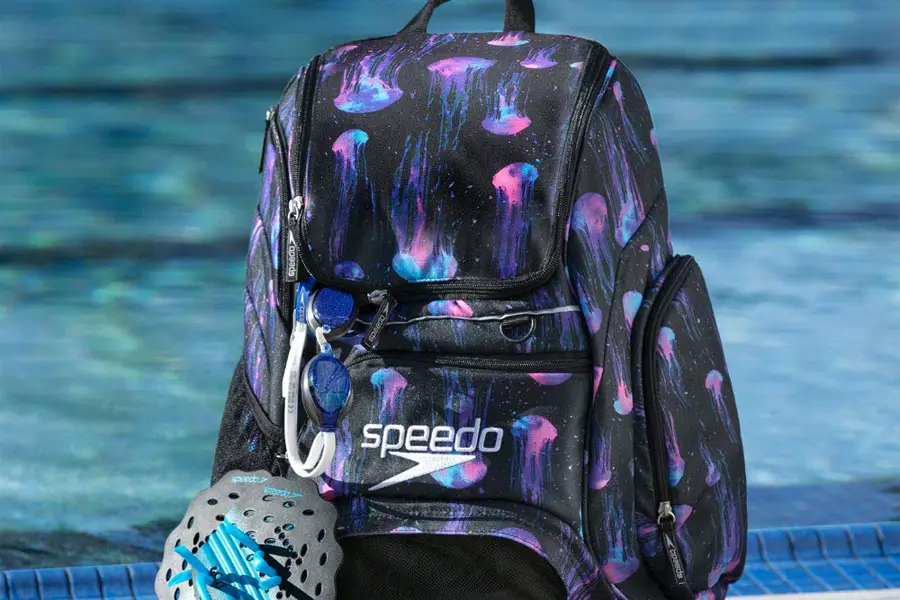 Whether you're heading to a swimming pool or a kayaking trip, it will help you to own a swimming backpack. However, when finding a swimming backpack, you need to make sure that it perfectly secures your belongings. The need for swimming backpacks varies from one person to another. This is the reason why you need to consider certain things before buying one. Although personal preference plays a key role when selecting a swimming backpack, there're other essential factors to consider as follows:
Factors to Consider
1. Size
This is probably the first factor to consider when choosing a swimming backpack. During the past, people used backpacks mostly to carry swimsuits only compared to today where people need to carry waterproof fitness trackers, music tools, MP3 players and also earplugs for swimming. Most of these additional items ensure that you enjoy every minute spent outside. If you are carrying all these items, you need to purchase the right bag size and preferably a large bag. However, you shouldn't forget to check the bag's height, length, width and inside space.
2. Ability to Keep Your Belongings Dry
Apart from the outside beauty of a swimming backpack, it's essential to look for one with at least two chambers. One chamber can be used for wet clothes and the second one for dry clothes. Ensure that the bag has a barrier that keeps moisture from moving into the second chamber. A swimming backpack that can keep your belongings dry is ideal for storing dry clothes if there's no room available.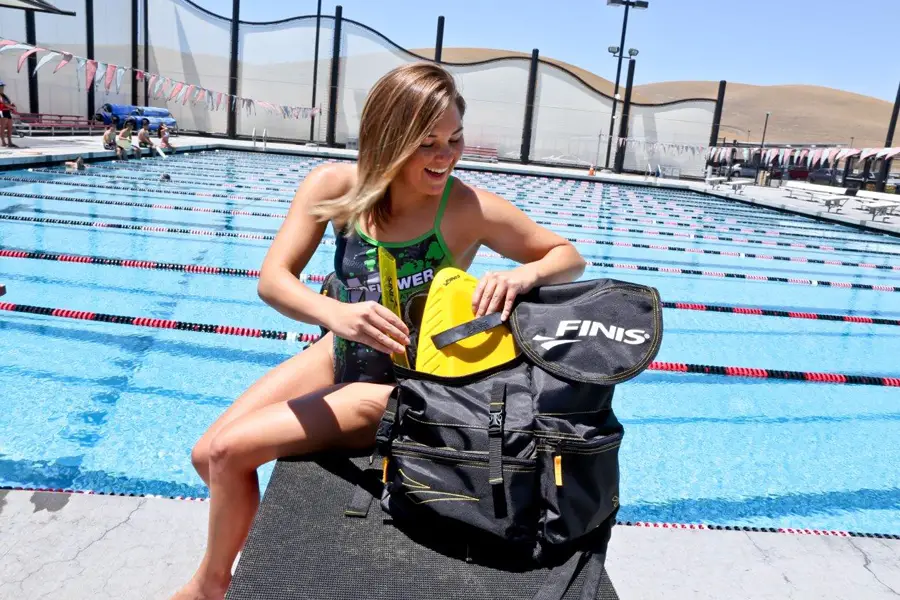 3. Material Used
When choosing a swimming backpack, check whether it's made from a thick and sturdy material. Also, keep in mind that it should be easy to clean and dry. You'll need a bag that's always ready for use if you want to participate in any water activities. Don't also forget to check whether the bag is heat resistant. This is because some backpacks are made from materials that can't stand the heat from the sun. You may forget and throw your bag on hot sand which can damage. Water resistance is another feature that depends on the kind of material used. Remember that you want to keep your belongings to be dry always.
4. Weight and Portability
The weight of the swimming backpack determines its portability. When shopping for a swimming backpack, it's essential to consider its weight. Look for a bag that isn't too bulky to carry. Remember that your movement is also dependent on the weight you'll be carrying. Easy to carry backpacks are the best choice if you want a stress free outdoor adventure.
5. Durability
When checking the durability of a swimming backpack, you should concentrate on its corners as well as stitches. This is because some manufacturers make low-quality pockets, drawstrings, etc. You should also consider the durability of the pocket's drawstring and zipper. Less durable zipper or drawstring can easily break thus exposing your belongings to water.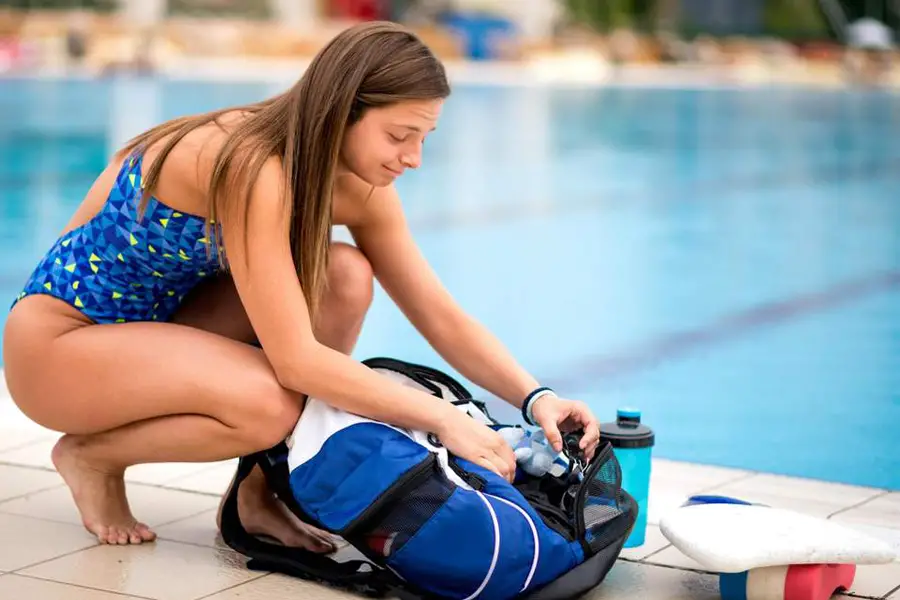 6. Warranty
There're many swimming backpack models in the market today from different manufacturers. It's essential to check if the manufacturer offers a warranty or not in case you find that the bag doesn't serve the intended purpose or is damaged. Make sure you read different customer reviews to ascertain whether those complaining have their complaints taken into account or not. Only buy swimming backpack from a manufacturer with trusted products.
7. Price
Swimming backpacks come in a wide range of prices depending on the material used, size, durability, and manufacturer. You need to be extra careful when purchasing a backpack to avoid spending your hard earned cash on a bag that won't last or serve the intended purpose. You shouldn't always go for the cheap bags because they won't last for long. However, this doesn't mean that you should always go for the expensive bags only. You can get cheap but effective swimming backpacks from some manufacturers, especially those trying to increase their market share.
In conclusion, these are some of the top factors to consider when choosing a swimming backpack. You may also consider color depending on your taste and preference.