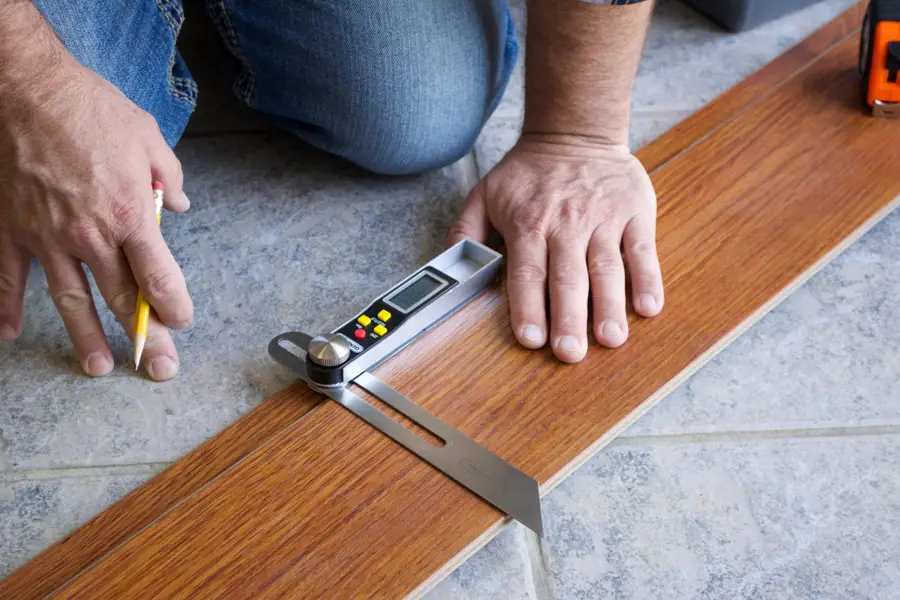 T-Bevel Reviews
T-bevels are adjustable T-shaped tools that are used for setting and transferring angles in construction projects. T-bevels typically have a wooden or plastic handle with a metal blade at the top connected via a wing nut or thumbscrew. The blade adjusts and can be locked at a certain angle by tightening the connector screw. T-bevels are often used to recreate the angle of an existing object or are used alongside a protractor or framing square to set a new angle for measuring or cutting purposes. The simplest forms of T-bevels require the aid of an additional measuring tool like a protractor in order to set an exact angle, as there are no markings or aids that represent graduations. There are some digital T-bevels that incorporate electronic protractors into the device, which allow you to set the shape of the bevel and get a digital readout of the actual angle.
Most Popular T-Bevel
Shinwa
This 10-inch Sliding T Bevel from Shinwa employs a straightforward, classic T-bevel design that's easy to use and great for measuring angle layouts for precision cuts. The entire tool is made of heavy duty, durable stainless steel that feels sturdy and will stand up to constant use and abuse in the toolbox. The blade folds into the handle for protection and can be adjusted to fit any angle using the wing nut tightener. A longstanding problem with many T-bevel tools are their inability to stay locked in place, but the Shinwa Sliding T Bevel does not suffer from that problem. The tool weighs about 3-pounds so you know its built solid and features an eyelet loop at the butt end for easy storage on workshop hooks.
Heavy duty all steel construction stands up to tough use
Wing nut tightener securely locks the 10-inch blade in place at desired angle setting
Simple and effective design with no bells or whistles
– Anthony Dawson
Best Overall T-Bevel
General Tools
T-bevels aren't the easiest tool in the toolbox to use, but General Tools & Instruments makes it easier than ever with its Digital Sliding T-Bevel Gauge. Its actually two tools in one, acting as both T-bevel and protractor, making it ideal for measuring inside and outside angles for cabinets, furniture, frames, molding, and more. The tool has a large, digital LCD display with easy to use buttons that allow you to store and transfer measurements without having to constantly write them down and reset the tool. The digital contractor is built on to the 8-inch stainless steel blade, which utilizes a steel locking knob in traditional T-bevel fashion. The General Tools & Instruments Digital Sliding T-Bevel Gauge features an impact-resistant ABS handle and has a hold/reverse, zero, and display flip button for ease of use.
Combination digital protractor and t-bevel with reverse flip display
8-inch stainless steel blade with locking knob ideal for most framing, molding, and cabinetry jobs
Ease to use function buttons make it ease to set and transfer measurements
– Anthony Dawson
Best Budget T-Bevel
Johnson Level & Tool
The name of the brand is Johnson Level & Tool, so you'd expect the Structo-Cast 8-Inch Sliding T-Bevel to be the definition of a level T-bevel. Priced at less than a fast food meal, the Structo-Cast isn't as sturdy or strong as some other tools out there, but it deserves a place in the toolbox of any handyman or general carpenter. The T-bevel has an impact-resistant ABS plastic handle topped by an 8-inch moveable stainless steel blade. The blade enables you to dial in any angle from 0 to 360 degrees, locked in place with a wing nut fastener, and transfer it onto your working surface. The Structo-Cast is about as barebones as a T-bevel comes, and you'll still need a protractor or speed square for setting specific angle measurements. However, for those who don't want to spend a fortune on a tool they know they'll only use from time to time, the Johnson Level & Tool Sliding T-Bevel is worth exponential its miniscule weight and price when its time for a molding or framing job.
Moveable sliding blade measures angles up to 360 degrees
Impact-resistant ABS handle and stainless steel blade fastened with secure wing nut
Tool backed by 1-year limited warranty
– Anthony Dawson