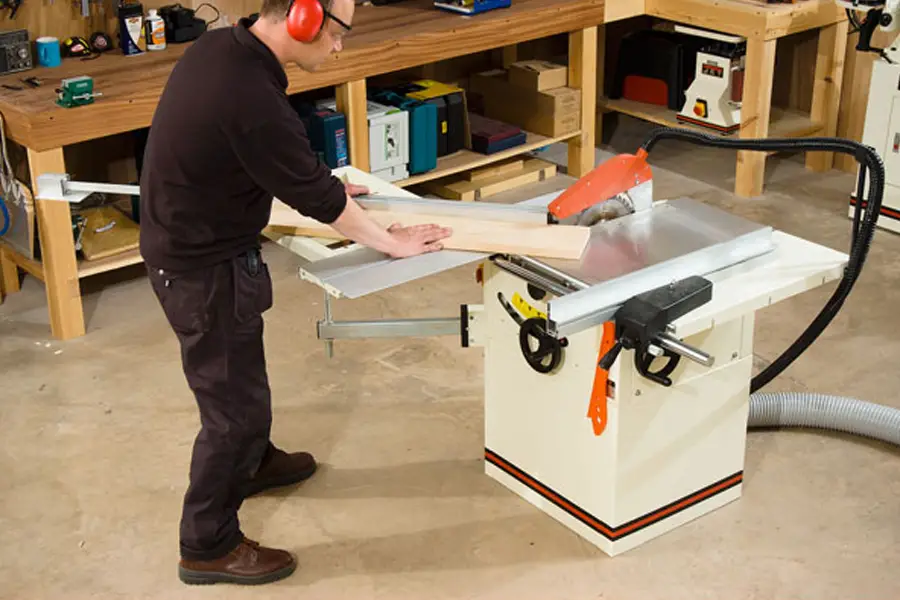 Table Saw Reviews
Table saws are the go to tool for any woodworker. The table saw creates more precision cuts and faster operation than operating a hand held circular saw. Some table saws come with a table for use in a workshop. Others are portable and can be moved to different locations with ease. We have selected portable table saws with the power to get the job done with fast accurate cuts and the mobility to take them where the work is.
Most Popular Table Saw
DEWALT Compact Job Site Table Saw
The DEWALT-DWE7480-10-Inch-Site-Pro-Guarding table saw is used by contractors, home builders and carpenters. It is a rugged build and relatively lightweight for a portable unit (45 pounds). The on board storage makes the unit easy to move from workshop to job site. The redesigned 15 amp motor produces 4800 rpms in blade speed and creates clean fast and accurate cuts of wood and particle board. The unit includes a dust port that collects dust and can be attached to a wet vac for easy clean up, creating a clean work area. It has a 24 tooth carbide blade which improves the quality of the cuts and extends the life of the blade. The DEWALT-DWE7480-10-Inch-Site-Pro-Guarding table saw has a metal roll cage base creating a durable and stable base. The adjustable feet can create even cuts on uneven surfaces. There is a table coating that reduces friction making it easier to use for extended periods. The DEWALT-DWE7480-10-Inch-Site-Pro-Guarding table saw can cut wood up to 24 inches wide. It also makes miter cuts up to 45 degree angles. There is a rack and pinion fence rails which makes tool free fence adjustments fast and accurate. The table saw comes with a 3 year limited warranty.
15 Amp motor up to 4800 rpms
Adjusts to angles up to 45 degrees
Metal roll cage base with adjustable feet for uneven surfaces and sturdy mounting
Dust collection port for cleaner work areas
3 Year limited warranty
– Anthony Dawson
Best Overall Table Saw
Bosch Gravity-Rise Worksite Table Saw
The Bosch-4100-09-10-Inch-Worksite-Gravity-Rise table saw creates a portable work bench that can be used at home or on the job site. The 10″ table saw has 15 amps of power using a 4HP motor it can produce up to 3650 rpms. The patented gravity rise stand provides for quick set up and take downs. It also provides for compact storage and easy transport, when not in use. For easy portability the gravity rise stand comes with 8″ pneumatic wheels and a handle for moving along any terrain. The Bosch-4100-09-10-Inch-Worksite-Gravity-Rise table saw has high precision cutting and can cut wood up to 25″ wide. It includes a smart guard, a T slot miter gauge, and a square lock rip fence for making precise straight cuts. There is a soft start and a constant speed for greater control and cleaner cuts. The Bosch-4100-09-10-Inch-Worksite-Gravity-Rise table saw comes with a 1 year warranty and a 30 day money back guarantee.
1 Year warranty and 30 day money back guarantee
4 HP motor with 3650 rpm's
Gravity rise table for quick set up and take down, portability and compact storage
Square lock rip fence for precision cuts
Electric corded table saw
– Anthony Dawson
Best Budget Table Saw
DEWALT Compact Job-Site
The DEWALT-DW745-10-Inch-Job-Site-Capacity table saw has a portable design that moves from workshop to work site with ease. The metal roll cage base provides stability and durability for a rugged long lasting table saw. It can be used on a table or stand. The DEWALT-DW745-10-Inch-Job-Site-Capacity table saw has a 15 amp motor that provides speeds up to 3850 rpms for the strength to cut any wood, including hardwoods, cleanly. The table saw has a rack and pinion fence rails that make fence adjustments fast, smooth and accurate. It also has telescoping fence rails that retract for easier storage. It will cut wood up to 20″ wide and angles from 0 to 45 degrees. The DEWALT-DW745-10-Inch-Job-Site-Capacity table saw also comes with blade guards to protect hands and fingers and a miter gauge. It has a 90 day money back guarantee, a 1 year service warranty and a 3 year limited warranty.
Metal roll bar cage for durability and stability
15 Amp motor with 3850 rpms
Blade angles from 0 to 45 degrees for precision cutting
Portable electric corded table saw
1 Year Service warranty, 3 year limited warranty and 90 day money back guarantee
– Anthony Dawson
Baseball Buying Guide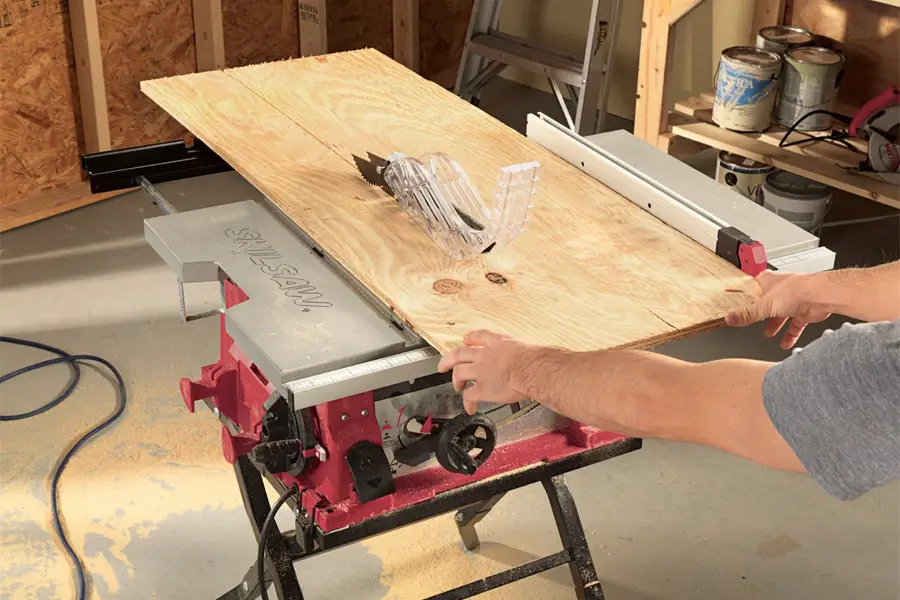 Table Saws could be the single most important equipment any wood shop owner and worker would ever need. A table saw, or saw bench, is a wood working apparatus that features a circular blade attached on an arbor. Table saws are often driven by electric motor and protrude through the exterior of a table for additional support when the wood is being cut. Table saws are not just any simple cheap equipment. It is very costly so choosing improperly would greatly and negatively affect a person's finances. An ill-advised purchase would also lead to a highly unproductive work. It is therefore important to know the different types of table saws, their uses, and additional features before purchasing one.
Types of Table Saws
Cabinet Table Saw
To start, a person should be aware of the four kinds of table saws. The first type is the cabinet table saw. This particular table saw is the biggest and most expensive of all four. It is also very heavy, as it would often have a weighty cast iron table attached to a smooth surface and a heavy-duty trunnions and gearing. On average, it weighs around 600 pounds total. It is called a cabinet saw because the motor is placed inside a cabinet underneath the saw table. Cabinet table saws have a power range of 3 to 5 horsepower (HP) or 2 to 4 kW. The cabinet saw offers bulkier construction for minimal vibration and higher durability.
Contractor's Saw
The second type is the contractor's saw. This is best for people who take their work from one place to another, as this table saw is lighter than a cabinet saw, weighing around 200 to 300 pounds. Since the main feature of this saw is mobility, the effect is a lower accuracy rate and power range, falling at 1HP to 3 HP for larger tables. This is said to be the most versatile has it has an acceptable power range;well enough for heavy-duty job but not too large that standard electrical circuits can be used. This is recommended for building contractors for on-site work or for homeowners.
Bench Top Saw
The lightest and smallest is the bench top saw. It is placed on top of a table or workbench. It weighs just around 50 pounds and is portable, compact, and light, making it best for light duty cutting. Since it weights a little, it often results to stronger vibration, affecting the accuracy of the cut. It is the least expensive and has the smallest power range, with a ceiling of 1HP.
Hybrid Table Saw
The last type is the hybrid table saws. This is a combination of the two aforementioned types. It provides the portability and lightness of the contractor's saw and the improved dust collection of the cabinet saw.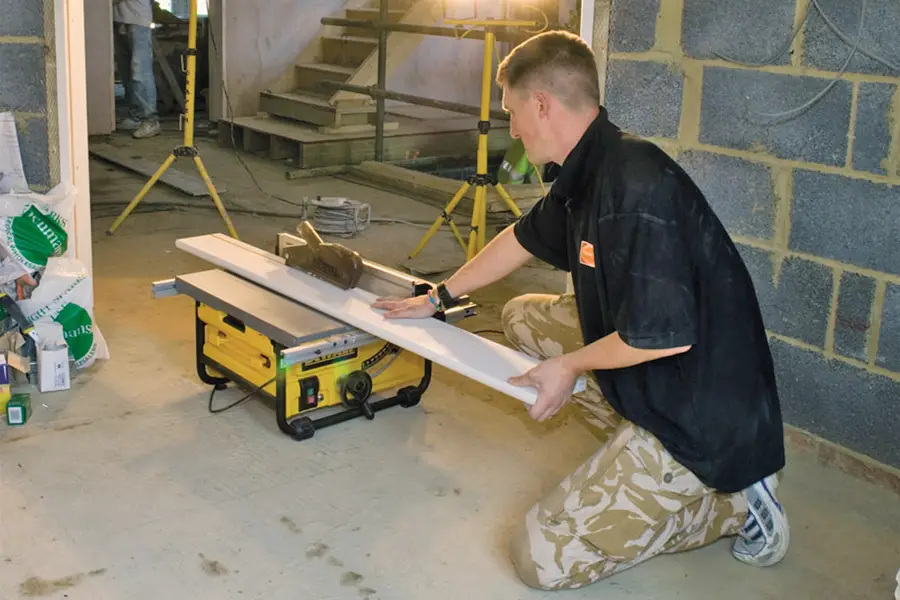 Uses Based On Wood Thickness and Horsepower
Before choosing the type of table saw, a person should first identify the main purpose of the table saw and the type of wood it would often end up cutting.
For homeowners, a table saw running on 1 to 2 HP is enough. Table saws with this power range would only require a circuit of 120 volts, perfect for a standard household. This power range will be able to cut hard wood 2 inches thick or less.
For people who would often cut wood thicker than 2 inches, a stronger table saw is needed. A 3-inch hardwood would need a 3 to 5 HP power range. Table saws with this type of motors would require a 240-volt circuit. For a rule of thumb, a person should always check the amps as this measures the power of the motor. For a stronger cutting power, get a table saw with a higher amp.
Blades and Resulting Cuts
The blade of the table saw often controls the resulting cut. Different blades are created for different kinds of cuts so it is best to know which blades would give the best results for a chosen work.
For clean cuts across the wood grain, the crosscut blade is recommended, while rip blades are best for cuts running along the direction of the grain. For people who would be focusing on ripping, mitering, and crosscutting, they should consider investing on table saws with combination blades.
Must-Have Features in Buying a Table Saw
The most important feature to look for in a table saw is the safety features. One of the most vital safety features a table saw could ever have is the rip fence. This is a guide running parallel to the table. It holds the wood in place, thereby preventing binding. A person should choose a table saw with a long fence, as this offers better control over the cutting and provides allowance for wider cuts. Micro-adjust rip fences also offer finer control over the work while the extendable rip fences are able to slide out or fold to provide for wider rip cutting capabilities.
There are also table saws with flesh sensor. The flesh sensors stop the saw blade and shuts down the motor instantly the moment it detects flesh too near the blade. The break is engaged so suddenly that the ensuing lurch makes the blade fall below the table level. Though this feature may come at a steep price, it is still a highly recommended and almost necessary safety precaution.
A kick switch is also a feature that has recently become quite famous. A table saw with a kick switch could be shut down with the foot, hip, or knee motion. This is done as a safety precaution for moments when the hands of the user cannot be safely removed from the wood while cutting.
Cutting wood with table saw is not always a straightforward action. There are models that permit the blade to tilt to the right or to the left for angled cuts. A person choosing a table saw that has a blade-tilt should consider buying the left-tilt blade rather than the right-tilt, as the left-tilt blades are commonly safer to use.
In connection to angled cuts, another feature that a person should consider is the miter gauge. This feature offers a guide when making crosscuts and miter cuts. It improves the accuracy of the cuts by helping with the 45 and 90 degree angles.