Tandem Kayak Reviews
Kayaking has become one of the most popular water sports in the world in the past few decades, thanks in part to vessels that are more user-friendly than ever. There are kayaks specifically made for recreational use, fishing, and long-distance touring purposes, each with their own set of features to enhance the user experience. Kayaking is a great way for families and friends to get outdoors and enjoy nature together. One option for those that want to experience kayaking in the same vessel is the tandem kayak, a vessel that seats two paddlers on the same plane. Though tandem kayaks are a convenient way to allow two anglers or a parent and their child share the same boat, they are not without their caveats. Since they are designed to fit two people, tandem kayaks are larger and heavier than single-man kayaks. That means they take up more space in the garage or shed and on the roof or trailer and are more difficult to transport. Not to be discouraged, tandem kayaks can be a great way for two people to enjoy and outing on the water in tandem. They are however best suited for stronger and more experienced paddlers with the ability to synchronize their strokes to optimize control over the boat.
Most Popular Tandem Kayak
Riot Kayaks
At 12-feet, the Mako Tandem Kayak from Riot Kayaks is one of the quickest and most agile two-seaters on the market. The Mako has a unique catamaran-style hull that gives both paddlers plenty of stability without sacrificing speed. The Mako has an advanced, custom-fit seating system that features quick-lock footbraces in the front and adjustable sliding footbraces in the rear. The front cockpit features a pilot rudder system that allows for even more control over the vessel, especially in strong currents and high winds. Behind the rear seat and forward of the front seat are roomy storage compartments with Thermolite hatch covers for keeping all of your gear and tackle safe and dry. There is also shockcord webbing atop the fore and mid-deck of the boat for tying down excess equipment and apparel within reach. Front and rear rubber handles make it easy for two people to transport the Mako, weighing in at just under 85-pounds. The kayak also comes with a reflective lifeline in the event one or both paddlers flip overboard and need to cling onto the vessel.
Distinctive catamaran-style hull is strong, fast, and agile
Features dual storage compartments with Thermolite hatch covers and ample shockcord rigging on fore and mid-deck
Custom-fit seating system features front quick-lock and rear sliding footbraces for increased comfort and stability
– Anthony Dawson
Best Overall Tandem Kayak
Perception
Available in brilliant red, yellow, and sunrise color schemes, the Perception Tandem Recreational Kayak combines the smooth ride of a touring kayak with the comfort and stability of a recreational kayak for the most dynamic possible two-person experience. The vessel has two unique seating cockpits with a removable child's jump seat in the larger aft cockpit that allows you to bring along a small child to complete the whole family experience. The rear seat can also be adjusted to be brought toward the center of the kayak to allow for solo paddling, which could also free up the front seat for a child or inexperienced paddler. The seats themselves are designed for total comfort, whether you're on an hour-long pleasure cruise or multi-day expedition. They use an ultra-plush, waterproof EVA foam seat pad that moves with your body as you paddle as to eliminate stiffness and fatigue and increase comfort. A four-way adjustment system allows you to customize the backrest, seat, and thigh support for individualized comfort. A single storage compartment located at the stern of the boat offers room for lunch, tackle, or your personal belongings, while deck rigging throughout the length of the kayak allows you to tie down any extra gear that is allowed to get wet. At 68-pounds, its easy enough for two people to lift the Brooklyn atop the car and haul to the water's edge.
Large aft cockpit can be adjusted for solo paddling and features removable kid's jump seat
Waterproof EVA foam seats move with your body to enhance comfort and minimize energy drainage
Compact and agile design blends the smooth feel of a touring kayak with the comfort and control of a recreational vessel
– Anthony Dawson
Best Budget Tandem Kayak
Pelican
For recreational kayakers looking for a tandem vessel with basic features that won't break the bank, the Pelican Maxim Kayak is one to consider. The kayak has a sleek, low profile design that's equally suited for the calm waters of inland ponds and lakes or the tributaries and estuaries that lead into choppier salt waters. The cockpit spans most of the length of the kayak and houses both of the kayak's adjustable padded seats and their associated adjustable footpegs. For storage, the Maxim has an 8-inch drop-down hatch with an integrated dry bag for keeping your personal valuables dry and secured, while shockcord rigging at the rear of the vessel allows for tying down of sandals, raincoat, or fishing tackle. The roomy cockpit gives both paddlers plenty of room to move around, change their bait, take photographs, or sit back and stretch while their partner does the paddling. It also sits low in the water as to increase the boat's overall speed, though this reduces its ability to track and can cause both paddlers to get splashed with water.
Sleek, low-profile tandem kayak appropriate for fresh and salt water
Single, roomy cockpit with dual adjustable seats/footpegs
Features 8-inch day hatch with dry bag and stern bungee rigging for gear and equipment storage
– Anthony Dawson
Tandem Kayak Buying Guide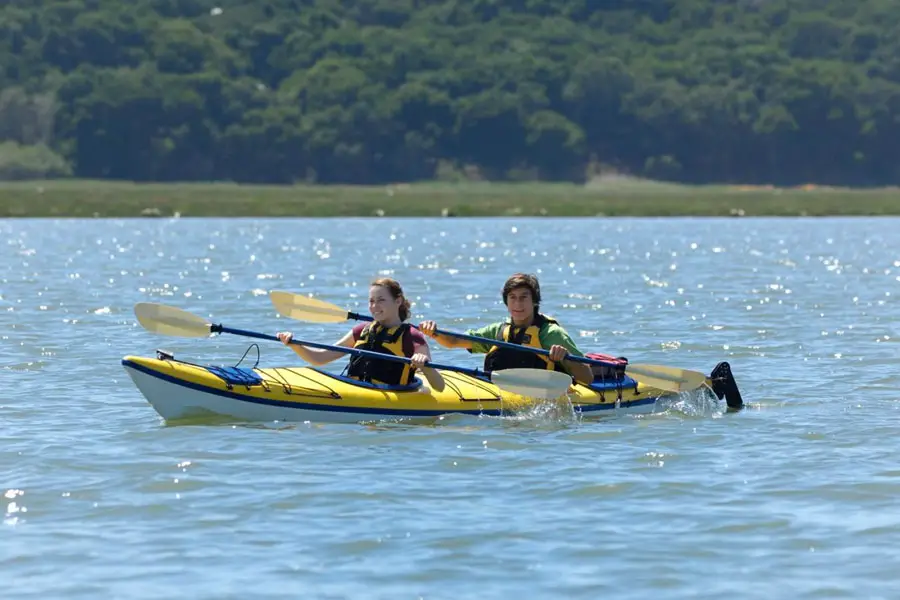 Tandem kayak is a fun boat. It can contain two people at a time. If you want to enjoy a water ride with a friend without using two boats, you can always rely on tandem kayak. There are different kinds of tandem kayak on the market. This makes it a bit difficult for inexperienced buyers to make a choice. Here are some shopping guides that can help you buy your favorite tandem kayak. Before you decide to shop for the boat, you have to consider some important factors that would serve as your guide while you shop for the kayak.
What Are the Benefits of Tandem Kayak
There are many benefits you can derive from tandem kayak, which make it the popular choice of many paddlers. Here are some of the benefits you can derive from it if you purchase one:
You can enjoy a water ride with your friend or a partner using only one kayak
This is the best kayak you can use with your kids because you can purchase a tandem designed in a way to accommodate your kids
Moreover, if you are a pet owner, you can ride on your kayak with your pets. They are accompanied with removable seats, which mean that you can just remove the seats and ride with your pet
Disadvantages of Tandem Kayak
There are a few shortcomings associated with tandem kayak. The major complaint paddlers have against the product is that
It is heavy; it could weigh as much as 100 pounds and more. This makes it extremely difficult for you and your partner to carry. You can tackle this by finding a way of reducing the weight
Secondly, because of the length, it is difficult to find a place to store the kayak unless you have enough storage space in your house
It is not portable because of the length. You cannot even transport it on your personal car because of the length and weight.
It is less stable and sometimes difficult to control. You have to think about stability by reading reviews on various models in the market before you make a choice.
These are some of the disadvantages associated with the boat. You have to bear these shortcomings in mind whenever you want to make a purchase.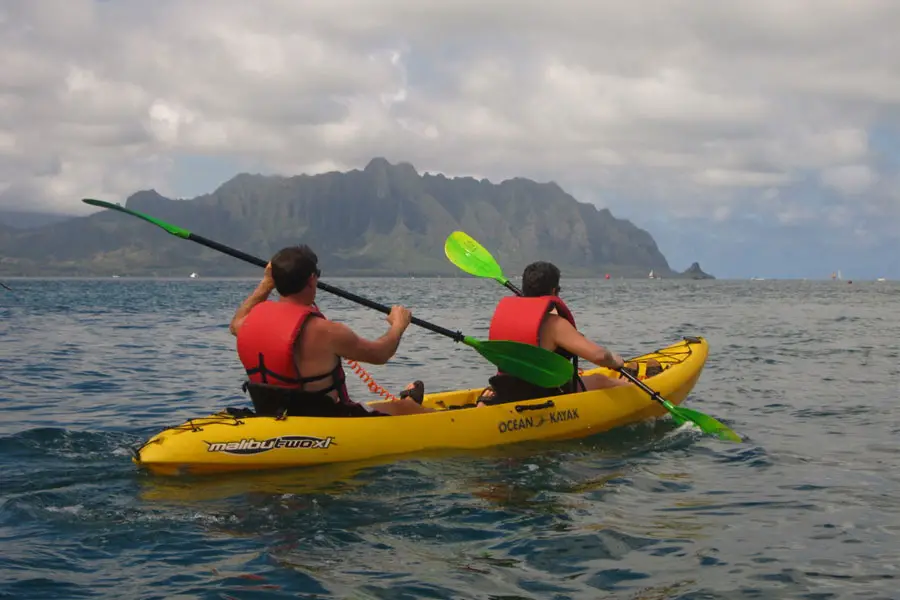 Factors to Consider When Buying a Tandem Kayak
You would be confronted with different options, but if you consider these important factors, you will not find it difficult to narrow down your choice. Here are the factors you can consider while shopping for tandem fishing kayak.
Kayak Weight
The first factor you should look into is the weight of tandem kayak you want to buy. Generally, tandem kayaks are heavy boats. The boat is assumed double the size of solo yaks. If you want to kayak with a friend, you should consider if it is possible for the two of you to lift a weight of 100 pounds. You should always bear the weight of the kayak in mind when you make a purchase. The type of materials used in making them determines the weight. If you do not want a heavy kayak, you can look for a model made of lighter materials.
Composite materials are lighter. If you still want a reduction in weight, you can opt for tandem kayak that is short in length. However, you have to be an experienced paddler to ride on such short kayaks.
Control
Another important factor you can always pay attention to when shopping for your tandem kayak is the issue of control. Because of the length of the kayak, control tends to be difficult. You can opt for a long kayak with a rudder. This will make it easier for you to control the boat. Consider the various models on the market to consider those with rudder. You can easily control a kayak with your friend if it has a rudder.
Who Is Going to Use the Kayak with You
You have to determine who is going to use the tandem with you before you make a purchase. If you want to use the tandem with your kid, then you should look for a tandem with shallow cockpits. These are not deep, which means that you can easily carry your child on the kayak. Your child easily paddles it when it is not deep. If you want to ride your tandem with your pet such as a dog, you should shop for a boat with a removable seat. Experience also matters a lot in tandem kayak paddling. If you want to use it with a friend, you should try to ascertain the experience of your friend in tandem kayak paddling. This would help you in selecting a boat that would be more stable as you ride on the waters. You have to pay enough attention to the issue of stability. It is necessary that you read reviews about various tandem kayaks on the market, compare their features, and make a choice based on your lifestyle and preferences.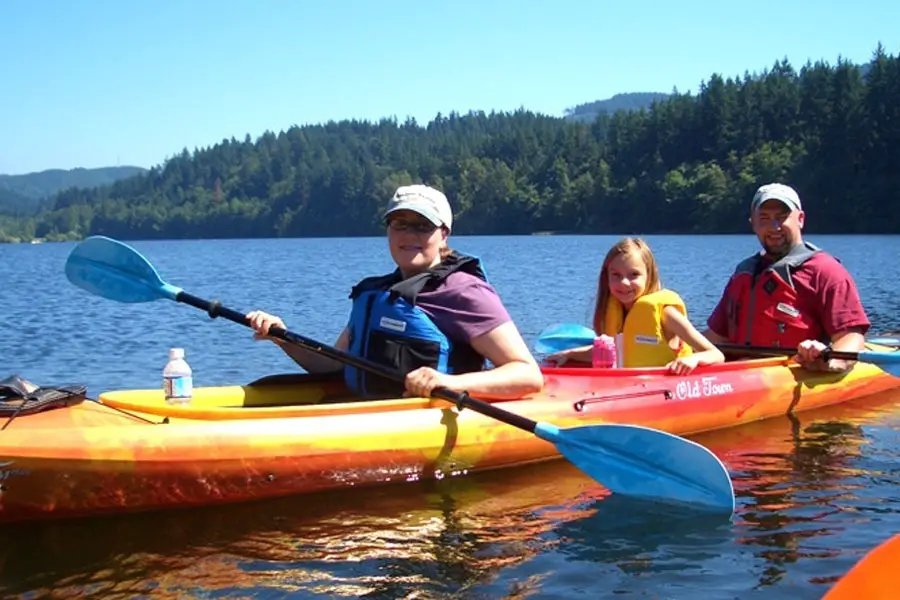 Cost of the Tandem Kayak
Cost is a factor you cannot brush aside when you shop for tandem kayak. The product could be expensive and that depends on the quality of materials used in producing them. You have to compare the various brands on the market to make a comparison of the cost and features. You can always buy an affordable kayak. Some second hand kayaks are strong and affordable.
Where to shop
There are hundreds of outlets you can buy a tandem kayak and any other type of kayak. You can buy them from the manufacturers or you visit any of the manufacturers' representatives and buy from them. You have to read the manuals, which contain all the necessary information about the kayak before buying it. You should consider the issue of weight and quality of materials used in producing the kayak.
Online shopping
The internet is the best place you can buy any type of kayak you want. There are several online dealers. You can visit several dealers, compare their costs including the cost of delivery, and make an order. Many people prefer to source the product from Amazon and eBay because they offer cheaper products.
Local stores
There are local stores around your neighborhood you can buy a tandem kayak. Visit several branches and compare their prices. Make a choice based on your taste.
Conclusion
It is indeed a tough task to make a choice of tandem kayak because of the various products on the market. This simple guide will help you make a choice.