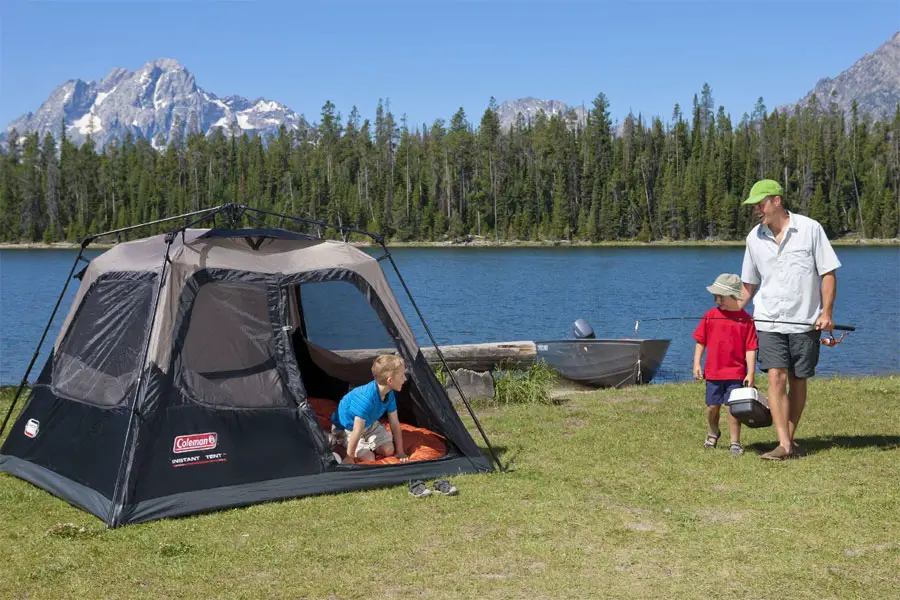 Tent Reviews
Camping is a great American pastime. It provides an opportunity to spend time with family and friends. To spend time in nature and to enjoy the outdoors in a way that day trips don't provide. Selecting the right tent can be the determining factor as to whether it's a great experience or a regrettable one. Tents are all unique and some are simple to put up and some are extremely complicated. Some provide ample room for enjoyment while others are cramped and small. Some stand up to the unpredictable elements, while others do not. We have selected three excellent tents that provide an easy setup, a roomy camping experience, and a top quality product that will withstand any changes in the elements that occur while camping.
Most Popular Tent
Wenzel
The Wenzel-Klondike-11-Feet-Eight-Person-Family tent is a 16 X 11 dome tent with an attached screened in front room. The tent is made out of weather resistant polyester with polyurethane coating. There is a full mesh roof which provides good ventilation. The double staked corners provide additional stability. The seams are double stitched and lap felled providing a shingle affect against water. The frame is a lightweight fiberglass. There are two rooms to spread out in comfort. The screened area can serve as a sun room, and area to put your gear or a second sleeping area. The screened area keeps the bugs out but lets the breezes in. The Wenzel-Klondike-11-Feet-Eight-Person-Family tent is 16X6.5X11 feet and weighs only 27.3 pounds. The 6.5 foot height allows campers to stand up in the middle of the tent for greater convenience in moving around. It comes with a 10 year warranty.
16 X 11 8 Person tent
Made of Water resistant polyester dome shaped freestanding tent
Screened porch ads 60 square feet to total square footage
98 square foot interior divided into 2 rooms
10 Year warranty
– Anthony Dawson
Best Overall Tent
Coleman
The Coleman-14×10-Foot-8 person tent has a two room design and is built for easy set up. The poles come pre-attached to the tent allowing the tent to be set up in 1 minute or less. To assemble simply unfold the tent, spread it out, extend the poles and click them together locking them in place. Take down is just as easy. The tent is built with an exclusive weather tech system that provides thick water proof walls and a welded floor. The Weather Tech design is coated with a polyester fabric and an anti-wicking thread, webbing and zippers. This design will keep you dry during inclement weather. There are two doors and 7 windows providing maximum ventilation. The base of the tent is 14 X 10 and the center height is 6.5 feet. The Coleman-14×10-Foot-Person-Instant set up tent comes with a one year warranty.
14 X 10 foot 8 man tent
Instant setup with poles attached to tent, set up in less than 1 minute
2 Doors and 7 windows for 360 degree views and excellent ventilation
Weather Tech design for water proof camping even in stormy weather.
1 Year warranty
– Anthony Dawson
Best Budget Tent
Coleman
The Coleman-2000001594-Montana-8-Tent is an 8 person 1 room tent. It is 16 X 7 feet with a 74 inch center height. It is built with fiberglass, lightweight poles, and a 75 denier polyester taffeta fly. It has a 68 denier polyester mesh interior and a 1000 denier polyester floor. The leak free seams and anti-wicking deign are built to keep you dry. The dome structure is simple to set up and comes with an electrical access port and reverse angle windows. The shock-corded poles with continuous sleeves and pin and ring design makes set up easy. The poles extend and there are clips that attach to the poles for support. The front of the tent has an extended flap to keep campers dry when entering and exiting the tent. The hinged door creates and easy entry and exit. There is a Cool Air Port that is vented for better air flow. The Coleman-2000001594-Montana-8-Tent comes with a one year warranty.
16 X 7 One room tent with 74 inch maximum center height
Easy set up
Polyester fabric and weather proofing for a dry camping experience
Electrical access port for running electricity from a nearby outlet
1 Year warranty
- Anthony Dawson
Tent Buying Guide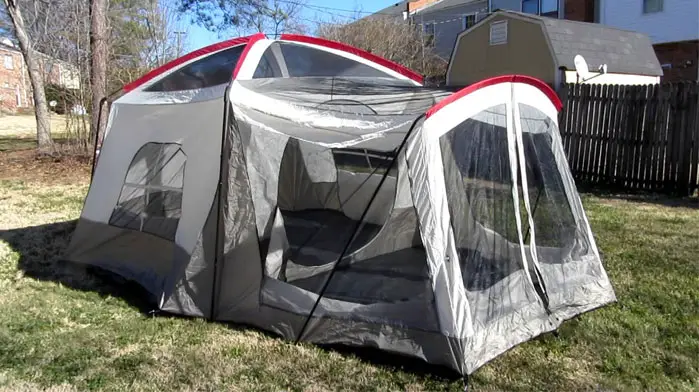 Offline and online markets have a lot of good quality tents to offer these days. If you cannot make up your mind where to pick the tents you need, here are few helpful hints worth considering before buying one.
Tent Design
Tents comes in diverse designs;so, to easily find what type of tent you are looking for, think about how and when you will use it.  The designs are as follows:
Dome – Typically, this is a simple type that has two crossing poles that bends to make a dome shaped top. It has a flysheet placed over the top with an inner fastened to the inside. This may withstand moderate to poor weather however, may struggle in strong winds. Compared to other designs, the dome tents are available at a cheaper price and are perfect for those who need straight forward tents for festivals or family holidays during summer seasons. Average sized dome tents can accommodate 2-3 people, while those larger versions are great for 4-5 people.
Geodesic / Semi-geodesic – This features a set of curved pole pegged across the surface of the tent, down to the anchor point. These poles are ergonomically designed to rest on one another for purposes of distributing tension as well as reducing too much pressure of weather condition in case it is used in highly windy places. Geodesic tents are expensive counterparts of dome tents; thus, you can expect that it is as stable as a rock even in terrible weather. Compared to tunnel tents, these tents remains steady despite being blown by winds from any direction. It is best suited for those who are looking for a steady tent for winter camping or expedition in locations where hostile climes are frequent.
Tunnel – Tunnel designed tents are designed to cut through the wind which might imply that they offer greater stability. This feature can be true when it comes to smaller tunnel tents that are fixed to the ground and remain steady despite very high winds. On the other hand, large tunnel tents may not offer good stability better yet, it is somehow much preferred since it can accommodate big groups of people. So, if you are going on a camping trip along with a large group, choose tunnel group tents that taper down to the ground because they are a little steadier than the barrel shaped tunnel tents. When setting up tunnel tents, see to it that the blunt end points towards the wind.
Weight of the Tent
For those who are planning to purchase tents for cycle touring or backpacking, the weight should be given much consideration. Remember, if you need to carry a tent on your backpack along with the thing you need, it should not be something cumbersome. Consider tents that weigh below 1.5 kilograms for easy and convenient packing and carrying.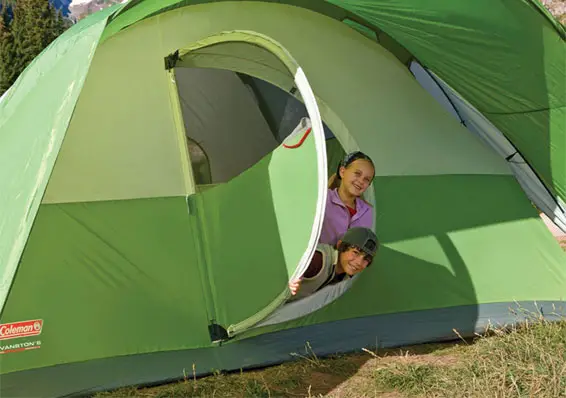 Oftentimes, you will find super lightweight tents in the market with prices that are heavy on the pocket, but they are worth it; at least, you won't compromise on quality and lightness. Slightly heavier tents might allow you to save lots of money but, super lightweight tents can be cooler, since most of them have titanium tent pegs and poles. So, if you are taking part in an extreme backpacking or joining with some friends in mountain marathons, cutting 500 grams from your pack weight will be very convenient as you climb or walk your way up to steep mountains or hills.  So, try to look for super lightweight tents which can be lighter than a pint of beer and very agreeable by the time you approach the mountains the end of the day.
Dimensions of the tents
Keep in mind the internal dimensions: the height, width and length. As to length, the average tents are typically 205 cm to 230 cm long. As a rule of thumb, tents should have inners that taper down underneath the edge. If you stand over 6 feet tall, do not buy the 205 cm, and if you are a little short do not go for 210 cm. Nevertheless, tents that stand over and above 220 cm are not favorable for tall campers.
The width of your tent will depend on the number of individuals who are going to use it. Tents that spans from 70 cm to 110 cm accommodate a single person. Two person tents tend to vary from 100 cm – 150 cm in width, on the other hand if you are looking for tents that can accommodate 3 persons or more, make sure it offers a comfortable width of about 60 cm per person.
The inner height of the tents also comes in various ranges. Probably, this feature is very significant to people who plan to purchase tents good for group of campers, sometimes they get tents that offer an external area for relaxing. If this is the feature of your tent it would be ideal to get a tent with a height that allows the user to stand straight. Tents which are a little smaller stands 80 cm can be uncomfortable for tall campers, nonetheless this low profile one offers great stability when high winds strike.
Hydrostatic Head
Indeed, the most significant feature of a ground sheet or flysheet is the ability of the hydrostatic head (or HH) to suspend water on the fabric. If you get a tent that has 1000mm hydrostatic head, it means that the pressure brought by one meter water can endure the leak or water that might get into the fabric.
Also, if the hydrostatic head is made from a strong material, it can endure highly windy places which might stress the fabric on the flysheet. Consider that you might camp out in stony or pebbled areas that might tear through the groundsheets, thus, it is beneficial to opt for a tent that has a high hydrostatic head because it offers great advantages in a number of ways.
When looking for hydrostatic head of flysheets, you may choose those made from waterproof materials because they are great for summer and spring conditions but their stability may be poor when torrential rains, poor weather or high winds hit your camping location. If you do not want these hostile climes to prevent you from ruining your holiday trip, you look for hydrostatic heads that are good for any type of weather or those made from an all-weather fabric.