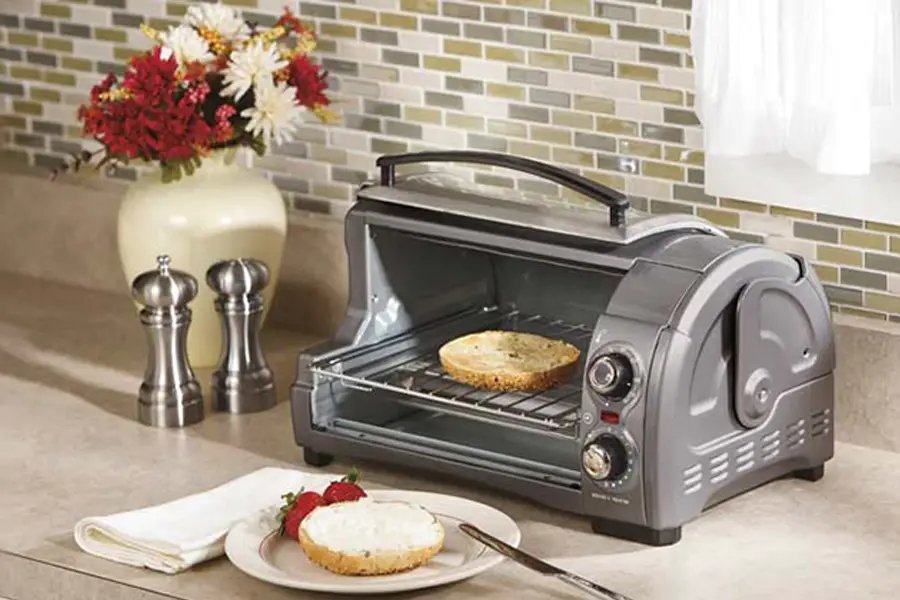 Toaster Oven Reviews
Toaster ovens are used in small and large kitchens alike. When it comes to making small amounts of food, or wanting to reduce the heat in the kitchen, the toaster oven is an excellent appliance to have. They are also used frequently in dorm rooms, RV's, and small apartments. The toaster oven can be very basic for making toast and re-heating cold or frozen pizza. Many of the newer models have additional features that make the toaster oven much more versatile than older models. If you are in the market for a toaster oven it is easy to get overwhelmed with all of the bells and whistles that are available. We have selected a few that will meet all you toasting and baking needs.
Most Popular Toaster Oven
Cuisinart
The Cuisinart-TOB-40-Classic-Toaster-Broiler is an 1800 watt toaster oven that can toast, bake and broil all your smaller cooking needs. The interior of the oven can fit an 11″ pizza or 6 slices of toast. The Cuisinart-TOB-40-Classic-Toaster-Broiler has a stainless steel front and a non-stick interior for easy cleaning. The handles stay cool and are made of a rubberized material, which are also easy to grip. The Cuisinart-TOB-40-Classic-Toaster-Broiler includes an automatic shut off as a safety feature. The rack also has an automatic slide out, which makes food removal safe and convenient. The Cuisinart-TOB-40-Classic-Toaster-Broiler is operated with dials that are easy to read and turn. There are toast settings for light, medium and dark. The temperature settings range from 150 degrees to 500 degrees. The pre-set settings include toast, bagel, bake and broil. The Cuisinart-TOB-40-Classic-Toaster-Broiler has an always even shade control which monitors the temperature and enables you to make perfect toast or bagels every time.
1800 Watts of power
4 Settings
Stainless steel front and non-stick interior
Auto shut off safety feature
Auto slide out rack
– Anthony Dawson
Best Overall Toaster Oven
Breville
The Breville-BOV800XL-1800-Watt-Convection-Toaster oven has a stainless steel finish and combines the benefits of both a toaster oven and a convection oven. The Breville-BOV800XL-1800-Watt-Convection-Toaster oven is 1800 watts and contains 5 quartz heating elements. This enables you to cook food to your specific needs. From Pizza to baking cookies or making toast, this toaster oven can cook all foods perfectly. The Breville-BOV800XL-1800-Watt-Convection-Toaster oven has 9 pre-set functions and is programmable for your specific needs. The door has markings on it that help you know the best place to put the removable rack depending on what you are cooking. The auto slide out feature on the rack makes food removal safe and efficient. It has a LED screen that is easy to read and easy to operate. The non-stick interior makes the unit easy to clean.
The Breville-BOV800XL-1800-Watt-Convection-Toaster oven includes a 12″ X 12″ pan and a 13″ pizza pan. It will comfortably fit 6 slices of toast at a time. This makes cooking easy and convenient without heating up the kitchen the way an oven does. For small cooking jobs the Breville-BOV800XL-1800-Watt-Convection-Toaster oven is the perfect appliance. It comes with a 1 year warranty.
1800 watts of power
9 pre-set functions
5 Quartz heating elements for even cooking
LED screen for easy reading and programming
1 year warranty
– Anthony Dawson
Best Budget Toaster Oven
Panasonic
The Panasonic-NB-G110P-Xpress-Toaster-Silver toaster oven uses an infrared light which cooks food 40% faster than standard toaster ovens. The infrared light also eliminates preheating, which provides fast and delicious food in much less time. The Panasonic-NB-G110P-Xpress-Toaster-Silver toaster oven has a digital timer up to 25 minutes, which is adequate for toaster oven baking needs. The temperature settings range from 250 to 500 degrees, which meets nearly all your baking and reheating needs. It is easy to operate and comes with 6 pre-set programmed cooking choices. This includes settings for bread, frozen foods and reheating. The inside is large enough to fit 4 slices of toast or a 9″ round pizza. With 1300 watts of power this toaster oven will cook food quickly and efficiently. It also includes an interior light so you can watch the food as it cooks. The Panasonic-NB-G110P-Xpress-Toaster-Silver toaster oven comes in silver and has a compact design that looks excellent on any kitchen counter.
Infrared light cooks food 40% faster
6 pre-set functions
Digital timer
1300 watts of power
Instant heating for no preheating needed
– Anthony Dawson
Toaster Oven Buying Guide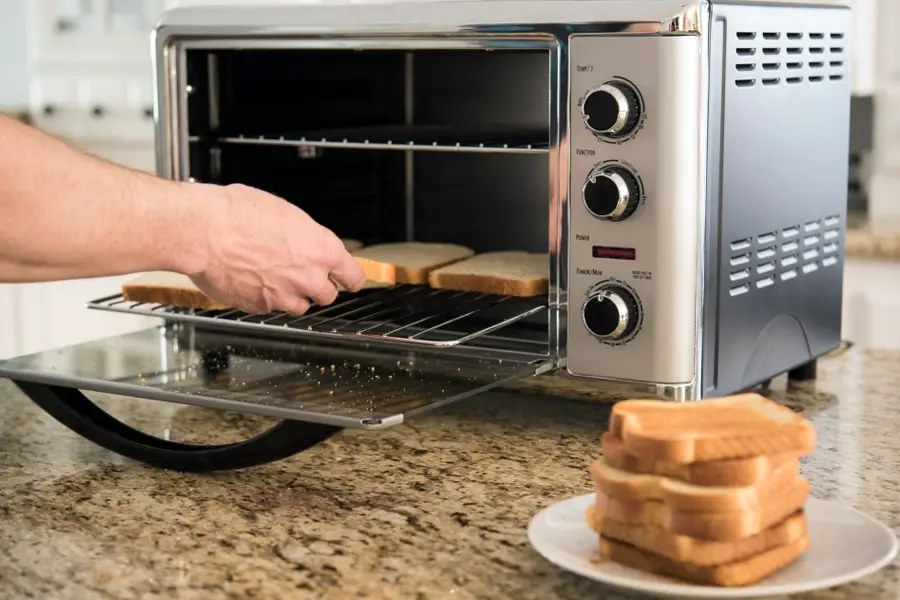 You can now cook food without using a big and a traditional oven by using a toaster oven. Pop-up toasters are just for toasting a slice of bread. When using a toaster oven, you can cook different types of food.
What Is a Toaster Oven?
Inventors created the toaster oven even before the date pop-up toasters were invented. In 1910, William Hadaway combined the toaster and cooker in just one appliance. Even though microwave ovens flourished, toaster ovens are still functional in the kitchen. The advantage of the toaster ovens is that the microwave cannot mimic the way ovens cook the food. There is something different in the taste of the food. The corn cooked using a microwave oven is different from the one cooked by a toaster oven. It would be a waste of energy if you would heat up a big appliance just to heat up a small amount of food. This is the reason why toaster ovens are still cost-efficient. However, one of the shortcomings of the toaster ovens is that it cannot heat up frozen, packed foods. Several types of packaging are not applicable to the heat produced by the oven.
You can easily toast the bread while looking at it through a glass window. In this way, you could prevent the food from being burned.
The Advantages of Using a Toaster Oven
Toaster ovens use up less energy than a normal-sized oven. Having a small space for heating, you could easily achieve the desired temperature.
It is an all-around type of appliance. It can perform toasting, baking, browning, roasting, reheating, and broiling.
Toaster ovens are very convenient to use. This is advisable to use when you are living alone. If you cannot afford the big-sized ovens, you could opt to buy a toaster oven. Plus, they only need a small space and you can keep it when not in use.
You can save up time during special occasions. If you are preparing for a party, you could use the full-sized oven and the toaster oven simultaneously.
You can save up your time as you can clean this up very quickly. Cleaning the walls of the toaster is easier than reaching for the corners of a traditional oven. The racks to be used are smaller. Thus, it will be easier to wash the racks.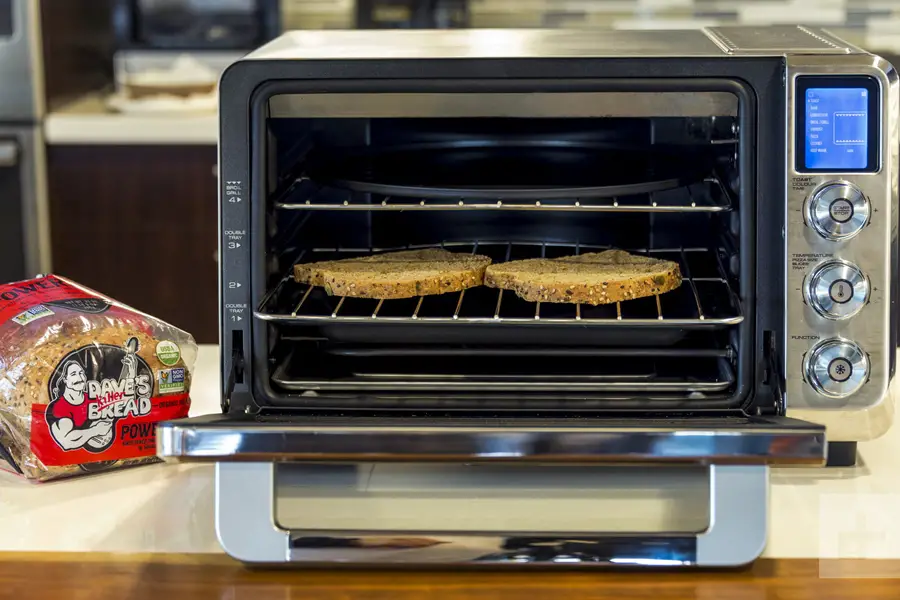 Different Kinds of Toaster Ovens
1. Typical Toaster Ovens
These units are used to toast bread slices for about two to four slices. Large units can usually toast up to 6 pieces of bread. Some units are equipped with an automatic ejection plate, wherein the door will open once the toasted bread is finished. Toaster ovens have a thermostat control to put the designated temperature. You can also set up a time limit if needed. To keep the temperature constant, the coils will switch on and off from time to time. Units vary in size. The large-sized units allow you to customize the position of the racks. This type is recommended for warming, toasting and baking.
2. Convection Toaster Ovens
In this kind, a fan is turned on to blow the heat towards the food. The food heated in this type of oven usually comes out with an even color. Mostly, other types of oven would cause an uneven brown mark to the food. Since the food can be cooked faster than the standard type, you can set the temperature into a low setting. A lower temperature will let you save more energy.
3. Infrared Toaster Ovens
In infrared toaster ovens, the process of heating up the food is unique. Instead of heating up the air, the oven will transfer the heat straight to the food. You do not need to preheat the oven. The desired heat will be produced instantly. As compared to the usual coils, the cooking period when using infrared is just half of the standard cooking time. You can heat up the frozen food without thawing it. The quality of cooking, browning and crisping in this type of oven is better than the standard ones.
4. Rotisserie Toaster Ovens
This type of oven has been praised for the its palatable results. Some units available in the market are only applicable for rotisserie cooking. The size of this oven varies. The normal size of this oven can cook up to four chickens at the same time. Large-sized ovens can cook a 13-pound meat.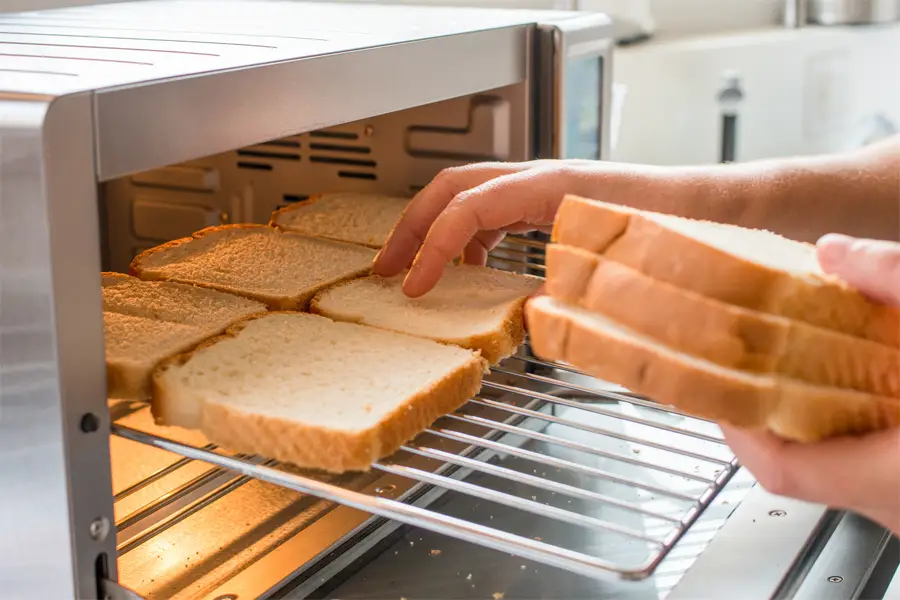 5.Combination Toaster Ovens
This unit combines a convection-type oven and a pop-up toaster. The pop-up toaster is positioned on top of the appliance. The pop-up toaster can toast up to 6 bread slices. You can prepare your breakfast by just using a combination toaster oven. Another type of this unit is a combination of a typical oven and a coffee maker. Some types have a frying plate on top for cooking eggs, ham, and bacon.
Things You Need to Look For
1. Wattage
This feature is different from the ones installed in microwaves. Actually, it does not influence the length of time an oven can cook. However, you still need to check if how much energy an oven consume while cooking in order to know if it is energy-efficient.  You must pick an oven that will only use up a small amount of power.
2. Controls
It is better to buy an oven that has simple controls. If you cannot easily understand the controls, you may burn the food or broke the appliance. Pick an oven that do not have a complicated set-up.
3. Automatic Plate Access
If you do not have time to monitor the oven as it cooks, you can choose an oven that has an automatic plate access. You can leave the oven while it cooks since it will automatically eject the food when it is done.
Non-stick rack and plate
It will be hassle-free to clean up the oven if it is non-stick.
Auto Shut-off and Alarm
Modern-type ovens have auto shut-off and alarm settings. Some foods are cooked within a predetermined time. You can do other stuff while waiting for the oven to alarm. The alarm will indicate that the dish is already done.
There are many reasons why toaster ovens are still preferable than the full-sized ovens. It is very practical and easy to use. A toaster oven will make cooking easier for you.