Toaster Reviews
Toasters are a tradition in American kitchens. Whether you are looking to make a quick breakfast of toast and jam, or want to heat frozen waffles, toasters are used daily in millions of households. This simple operation can be frustrating if you buy the wrong product. From burnt toast to undercooked English Muffins, you want this simple product to work well every time you use it. We have waded through the hundreds of toasters available on the market today to find brands that provide excellent toast and bagels the first time. Products that stand the test of time to provide you with the best toasters available.
Most Popular Toaster
Oster
The Oster-TSSTTRWF4S-4-Slice-Toaster has extra wide slots to hold different thicknesses of bread. There are 7 shade settings for making toast just the way you like it. The toaster is simple to operate. Place the bread you want toasted. Select the shade of toast you want then select whether it is toast, bagel or a frozen item. For the bagel it will toast one side and warm the other side. For frozen items like waffles it will cook the waffle through while toasting the outside. The Oster-TSSTTRWF4S-4-Slice-Toaster has a retractable cord for convenient storage. It also has a removable crumb tray that is dishwasher safe. The Oster-TSSTTRWF4S-4-Slice-Toaster has a brushed stainless steel design that looks good on the countertop, but is small and stores easily in the cabinetry. One other feature of the Oster-TSSTTRWF4S-4-Slice-Toaster is that it has a toast lift. This will enable you to remove smaller pieces of bread easily after it has been cooked.
4 slice toaster
7 settings for toast color
Retractable cord for easy storage
Extra Wide Slots for all types of breads, bagels and waffles
Brushed Stainless Steel finish
– Anthony Dawson
Best Overall Toaster
T-fal
The T-fal-2-Slice-Function toaster has a slated front design for easy bread removal. It looks great on the counter top, but does not take up much space if stored in the cabinets. This toaster has 6 shade settings for getting your toast brown to your liking. There are also settings for bagels, reheating and a cancel button. The extra wide slots are self-adjusting. This means that thinner bread will toast as well as thicker bread or bagels. The T-fal-2-Slice-Function toaster also features an anti-jam function, which will shut the toaster off if the bread becomes jammed. It has a lifter, which makes it easy to get the toast out of the toaster after it has finished. The T-fal-2-Slice-Function toaster has a convenient cord storage, which makes storing the toaster trouble free. The exterior is built to remain cool, while the toaster is functioning. It also comes with an easy to carry handle and a removable crumb tray.
2 Slice toaster
6 Shade settings for toast
Bagel and re heat settings
Cool exterior
Slant design for easy bread removal
– Anthony Dawson
Best Budget Toaster
Hamilton Beach
The Hamilton-Beach-Smart Toast-Extra-Wide-Toaster is a 2 slice toaster. It has 7 setting for the darkness of the bread you are toasting. It also has settings for bagel and frozen foods. There is a cancel button which allows you to eject the bread at any time. The Hamilton-Beach-Smart Toast-Extra-Wide-Toaster has extra wide slots for bagels and thick pieces of bread. The slots are 1 ½ inches wide. It also has a removable crumb tray that comes out of the front of the toaster. This feature makes crumb removal easy and not messy. The housing of the Hamilton-Beach-Smart Toast-Extra-Wide-Toaster is made of a heavy plastic. This creates a cooler exterior than most toasters. The interior heating elements are shock resistant and the toaster is programmed to turn off if toast gets jammed. The Hamilton-Beach-Smart Toast-Extra-Wide-Toaster includes tongs for easy toast removal. It also has the toast lifter, which will elevate toast that would ordinarily not be tall enough for easy removal.
2 Slice toaster
7 settings for toast color
Extra Wide slots are 1 ½ inches wide
Outer casing stays cool to touch
Removable crumb tray from the front
– Anthony Dawson
Toaster Buying Guide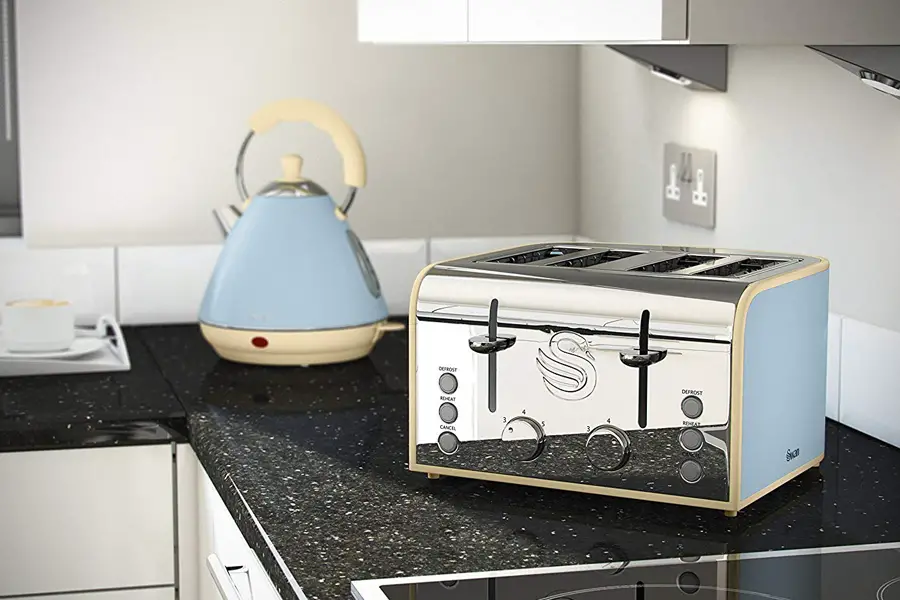 A toaster is used to cook slices of bread and other bread-based foods. Toasters vary in capacity, quality and materials. You need to be aware of the qualities that a good toaster acquires.
More Details About Toasters
The bread or any other bread-based food is placed in a vertical position in the pop-up toaster. You will push the lever to put the slice inside the appliance. You can set up the time and temperature you prefer. The toaster will withdraw the bread from the machine when it is done with the toasting process.
Capacity
You need to know about the capacity of the toaster before buying it. It is more efficient if it can toast several slices of bread all at the same time. The toaster with an individual lever for each slot is advantageous because you can set different settings on it. It will be easier for you to cook a different type of bread simultaneously.
Materials
Stainless steel, hard plastic, and chrome are some of the materials used in toasters. It is recommended to match the material with the other appliance you have in your kitchen. For instance, you can buy a toaster made of stainless steel to complement with your stainless steel gas range, dishwashers and refrigerators.
1. Chrome Finishes – This type of material is very shiny. Once you lay your hands on the toaster, your fingerprints will be left.
2. Hard, Colored Plastic – A white toaster gets dirty easily. A colored one would be better because it is less likely to fade.
3. Stainless Steel – This is the most durable material for a toaster. It does not easily accumulate dirt. Fingerprints and scratches are less likely to appear.
Timing
Different people have different preferences on how they like the bread to be toasted. There are various browning settings. The settings have numbers, wherein the highest would result to a browner and crispier toast.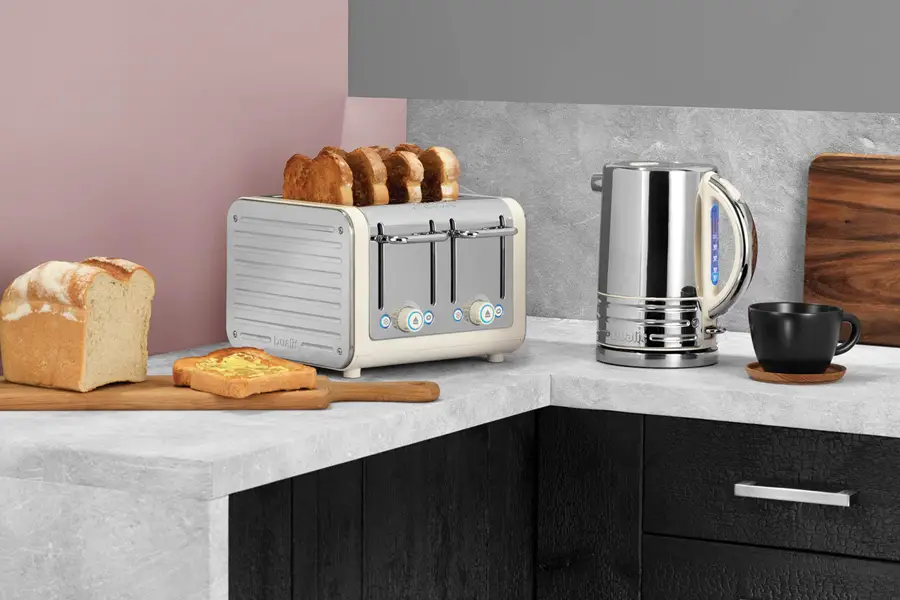 Special Features
Typical Toaster
The typical toaster provides different features you can use for different styles of cooking.
1. Auto Centering – This feature puts the bread in the center to prevent an uneven toast. This is useful when toasting a thin slice of bread. Some units have a manual adjustment control for centering the bread slice.
2. Auto Shut-Off Alarm – There is a bell sound when the toaster pops out the bread, which means it is already cooked.
3. Bagel – There is a bell sound when the toaster pops out the bread, which means it is already cooked.
4. Cancellation Control – If you think you made a wrong setting, you could push the cancellation button to stop the toaster from heating up the bread.
5. Cover – This is to keep the bread slice from dust, dirt and debris. It can also prevent children from putting their hands inside the toaster.
6. Crumb Tray – Some bits and crumbs of the bread are left at the bottom of the toaster. This tray catches the crumbs to ease you in cleaning up the machine.
7. Defrost – You can easily toast frozen food without waiting for it to thaw.
8. Digital Controls – These controls are for easy-reading purposes. However, manual controls are more accurate.
9. LED Lighting Features – The lights are switched on when the heat is activated. Different colors indicate defrosting, toasting, bagel, and reheating.
Reheat: Without having brown marks, you can heat up your bread using the toaster.
Tongs: The toasted bread is hot and you need tongs to transfer it to your plate.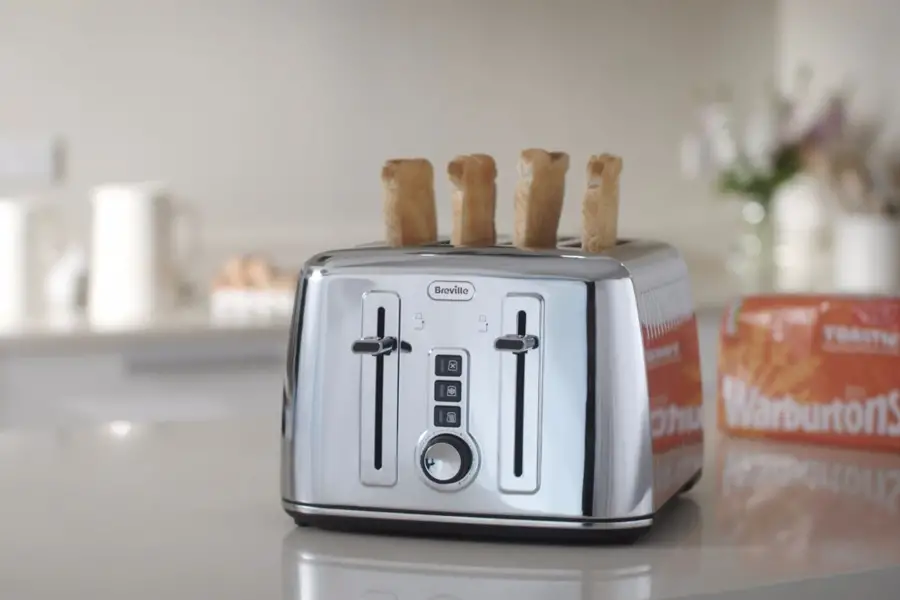 Conveyor Toasters
When you need to toast more than 4 bread slices, you must consider buying the conveyor toaster. In this type, the slices of bread are situated on the installed wire conveyor. The bread will be surrounded by the revolving heating constituent. A common conveyor toaster can handle as much as one thousand bread slices per hour.
1. Capacity – The feeding tray of this type provides a space that can handle three bread slices at the same time.
2. Catch Tray – The bread is caught by the catch tray. When you failed inputting the bread in the slot, this tray will help you retrieve the bread.
3. Crumb Tray – You can easily throw the remaining crumbs at the bottom of the toaster with the use of this tray. The crumbs are accumulated here.
4. Control Panel – The control panel has two types: a digital and a manual type. This feature regulates the power and speed of the machine. The slower movement would result in a longer cooking time.
Toaster Size
You can save up time when the toaster has more slots. This is also an important factor to consider when buying toasters.
Heating constituents
The heating constituents are the ones responsible for the toasting process. A filament grid provides a directed heat towards the food. You must choose a toaster that has easy-to-heat elements You can heat the bread faster when the elements are instantly heated.
Safety
You should also consider this when buying toasters, especially if you have children living with you. To prevent accidents, you must ensure the types of food the toaster is capable of cooking. Do not just put different types of food in the toaster. You must monitor the machine while it is activated to prevent burning the food and creating fire. Always clean up the toaster after every use. This is to prevent the growth of pests and molds. Check the length of cord if it is compatible with the available outlet in your house.
Allocate Enough Budget
You cannot buy the best toaster if you do not have enough budget. Mostly, the high-quality ones belong to the expensive category. You can still purchase the cheap toasters, but you must be very meticulous in choosing and careful in using it.
You need to consider a lot of factors when purchasing toasters. Do not just buy the good-looking ones. Be able to examine every important feature. If your family is composed of many members, it is advisable to use the conveyor toaster.So be wise in choosing!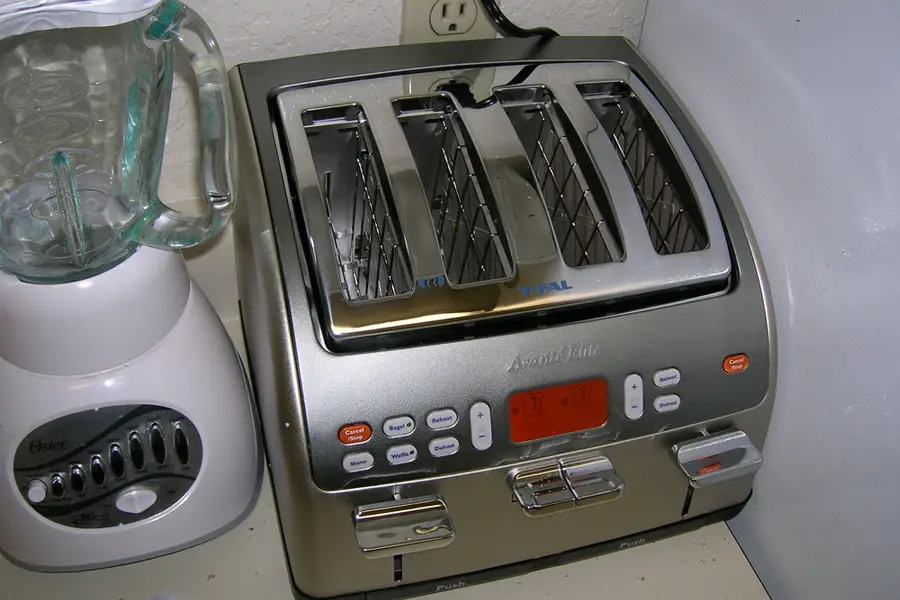 Breads and Toasters
Whether you like to make toast every morning for breakfast, or toast for lunch, there are numerous occasions to bake some delicious toast throughout the day and you are going to need a quality toaster for this. For toasters, they have become highly sophisticated over the years. No longer to you just simply pop a few pieces of bread in and leave it, not you can adjust the temperature to effect how brown you want your bread to be, you can time your toast, and a lot more.
Making Toast For Two or More
When you approach the idea of investing in one of the quality toasters available today on the market, you need to consider how often you are going to be using this machine. How do you want it to work for you? Do yo you want to make more than two pieces of toast at one time? Do you want it to last a long time? If you want a quality toaster then you are going to want to invest a decent amount of money toward purchasing one that will meet your toasting needs.
Toaster Brands Galore
There are so many different toasters on the market for you to choose from, surely there is the right one out there for you it's only a matter of finding the best model that fits your needs. Black & Decker offer a variety of quality toaster models, along with Hamilton Beach, T-fal, Proctor Silex, Cuisinart, Oster, and others. Some toaster models allow you to cook four slices of bread at a time, while others only allow two. Depending on how much toast you think you will need to make, consider whether you want to cook one set and wait or if you would like the convenience of being able to cook more in the same amount of time.
From toasting settings to defrost, cooking bagels, and more, the new toasters can be adjusted to cook your food item specifically. The toaster models available on the market today are high quality for the most part and they will easily toast your bread within just a matter of minutes. You don't need to waste much time before you can enjoy a freshly toasted sandwich for breakfast, lunch, or dinner. Just pop your toast in, get your other ingredients ready, and before you know it it's going to be time to chow down.
With adjustable browning control, easy crumb removal trays, there are plenty of attributes to consider when selecting your own toaster model for the family. Make sure that you look online for the reviews of various toasters in order to see how other customers enjoyed their toasters. This is a great way for you to see exactly how the toasters were able to stand-up to the test of time and continue to toast fresh bread on a daily basis. You want a machine that will continue to work for you for years to come, so invest wisely in a quality toaster that can get the job done.
Not All Toasters Are the Same
Toasters are a common household appliance. However, not all toasters are created equally. The type of toaster that you decide to purchase will depend dramatically on how often you use it and how important its presence is to you and the other people living in the house. If you only plan on using it once in awhile and it is not the most important small appliance in your household, you can probably get away with buying a small toaster that is priced at the lowest possible end of the spectrum. However, if you have a large family and you use a toaster often or the quality of the toast produced is very important to you, you may want to invest more money and buy a different brand.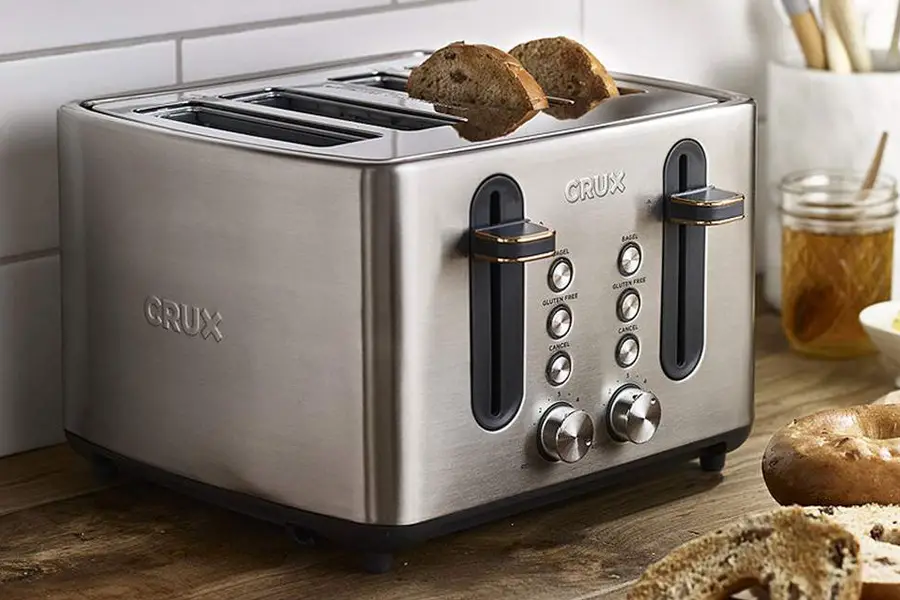 View the Toaster Reviews
In addition to quality levels associated with different brands of toasters, they come in so many different shapes and sizes that you can find one to fit virtually any need. The smallest toasters will toast only two pieces at a time and they are typically designed only for toasting bread. However, you can find toasters that can toast up to eight slices at a time and you can even find toasters that can be customized for bagels and even waffles. This will help you find exactly what you need in order to get you and the other members of your family up and running in the morning, even when there is very little time to do so.
As is the case with most things, toasters are now being personalized to an extent that was never before thought possible. People have been personalizing the outside of toasters for a long time, by engraving them or choosing colors that were specifically designed to go with the decor of the room. However, toasters are now being offered that will personalize the toast that comes out of them. You can now buy a toaster that is completely personalized that will allow you to burn a specific image onto the toast. The toasters are customized so you can choose any image that you want. Imagine being able to eat toast with the image of your favorite football team emblazoned on it. You can now order toasters with images that range from football to virtually any other image or symbol you want to use.
When it comes to toasters, you can buy virtually anything you want these days. There is hardly any limit to the different shapes, colors and capacities that are available. All that you are required to do is pick out the toaster that you want and then enjoy the delicious food that it can produce. Whether the appearance of the toaster is the most important thing to you or you place a premium on the quality of the product it produces, you have the option of choosing exactly what you are looking for. In addition, finding the right toaster gives you the chance to fix breakfast and get out the door quickly, even on the busiest of mornings.