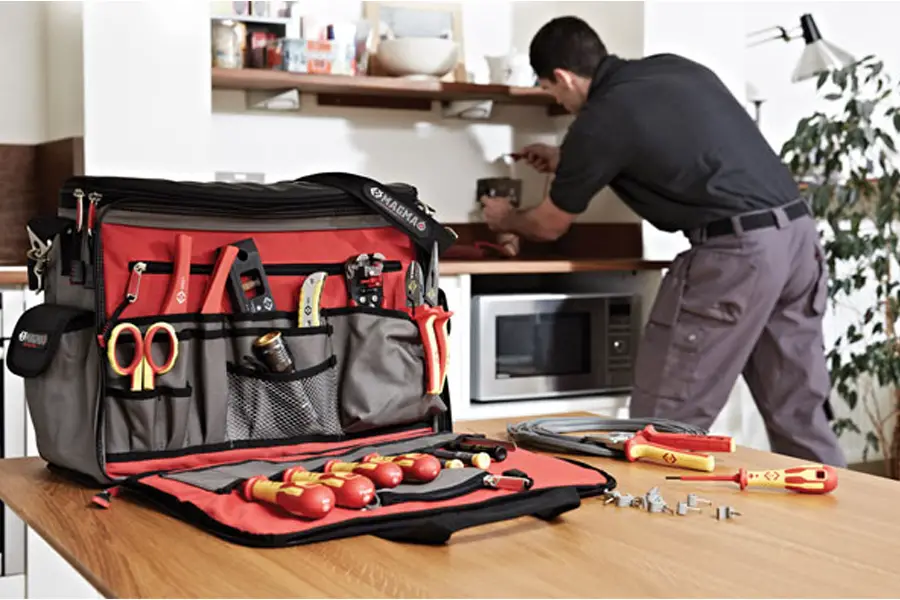 Tool Bag Reviews
Having a nice sturdy bag to carry your tools is a must. If you're a professional mechanic, plumber, electrician, or the like, then you know that not any old bag will do when it comes to safely and comfortably transporting tools from one house to the next. Most tool bags are designed for durability and easy organization. If you have a serious amount of tools, then you're going to need to find a bag that has a number of inner and outer compartments to help you find a place for everything. Ask yourself whether you carry around large, medium, or small tools; but perhaps a bit of each. The size of your bag will be determined by the size and amount of your tools. A lightweight bag that is still strong enough to carry everything that you need is ideal. Also, think about what kind of material you'd like. Whether canvas, leather, plastic, or nylon, you're going to find a number of different materials to suit your tastes and preferences.
Most Popular Tool Bag
Stanley
This FatMax 18-inch tool bag from Stanley has a sturdy central zipper that provides quick access to the contents within, as well as maximum visibility to locate exactly what you're looking for right when you need it. Great for taking hand tools on the go, as well as other small or medium-sized items. The numerous easy-access pockets allow you to organize your bag just how you'd like it to be. Everyone has a system for where they put their tools, and with so many compartments in this bag, you get to choose exactly where you would like each item to be. The durable 600 x 600 denier polyesyter can endure some serious wear and tear, and is the main component that makes this bag last for so many years of successful tool carrying. The nice rubber grip and padded shoulder strap make it easy and comfortable to carry this bag around, even when there are very heavy tools inside.
Tough 600 x 600 denier fabric
Waterproof plastic bottom is rigid and durable
Many different tool compartments and internal tool loops
Comfortable to carry at any weight
– Anthony Dawson
Best Overall Tool Bag
Custom Leathercraft
This multi-compartment tool carrier from CLC 1539 is the ultimate carrier for all your various tools, parts, and accessories. With the many nooks and crannies within, you're going to find just the right spot for everything so you can easily locate what you need and replace it to the proper spot when you're done. The bag is incredibly durable and easy to carry wherever you need to go. There's also 54 pockets inside and 4 outside, so as you can imagine there is ample storage room. This is the ideal choice for those who work in industries such as carpentry, electrical, plumbing, general maintenance, telcom/networking, and so much more. The zippered side panels provide the ultimate protection from any tools falling out of the carrier, and vertical tool pockets are designed to keep everything in sight for the fastest access. All in all, this is a fantastic carrier by Custom LeatherCraft, a trusted name in tool storage and organization.
Features 54 pockets on the inside and 4 outside
Easily organize and carry all your tools together
Zippered side panels keep tools secure
Measures 18L x 7W x 14H
– Anthony Dawson
Best Budget Tool Bag
G & F Products
The fine olive color of this G.I. Style mechanics tool bag is just one feature that makes it so unique, but it also has excellent construction, is made of durable materials, and just plain looks good. It's nice and compact in size, but still has enough compartments to carry everything that you need with comfort and ease. There are 4 pockets sewn into each side and they can comfortably hold a screwdriver or socket wrench. This is the ideal bag if you're looking to carry around a lot of tools that are small to medium in size. The fine canvas material is treated to withstand the occasional wear and tear, and it's easy to fold the bag down to be even smaller in size. Many people forget that the way the bag looks adds to your enjoyment of it, and this is hands-down one of the best looking tool bags. Perfect for mechanics, electricians, and all around handy-men. What you get for the extra expense of this bag is fine quality that you can see and feel.
Made of quality, durable canvas
Lovely olive green color
Lightweight 1.1 Lb. bag
Perfect for small to medium sized tools
– Anthony Dawson
Tool Bag Buying Guide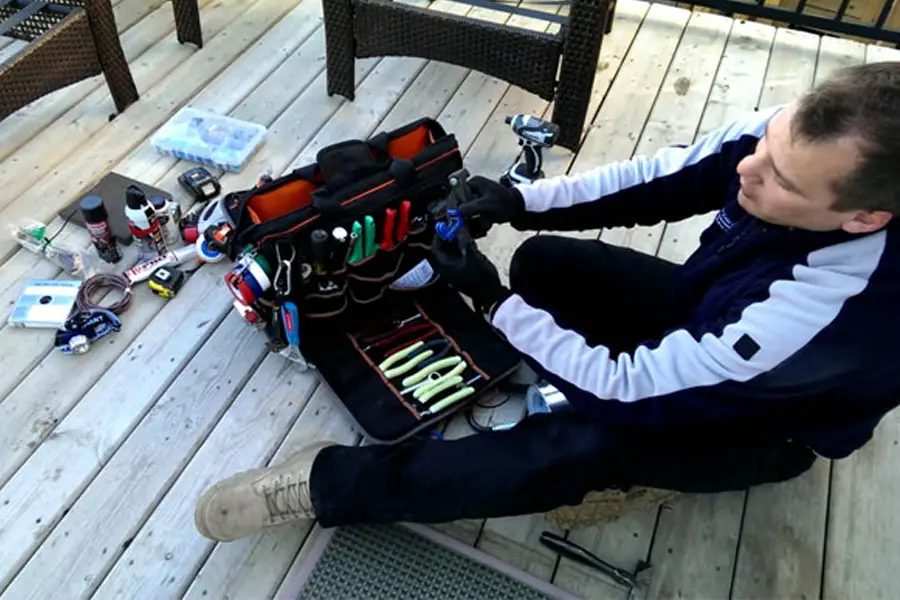 Tool bags are carrying containers that are designed to transport tools and equipment to work sites. Primarily people who are involved in professions such as building, maintenance and repair use them. Construction workers, handymen, electricians and repair personnel typically use tool bags. They are designed with different materials and they have a different style. Each bag can be used to serve a basic or complex function for a worker while they are out on a job site.
Uses for Tool Bags
When workers have to leave their shop to perform their duties at onsite locations they will need to carry tools to complete a job. Sometimes they will have their trucks set up with tool chests and cabinets but they will need to have personalized bags on them so that they can work on a project without having to run back and forth. At other times they will not be able to use their trucks and having a tool bag will come in handy.
Mechanics who perform onsite repairs also need to have their tools at their side. Again, a tool bag saves time and energy with getting tools. Weekend mechanics or handy men husbands who have to fix things around the house can also use tool bags for minor repair jobs.
Types of Tool Bags
Manufacturers make a variety of tool bags that come in different styles. Some tool bags resemble backpacks while others are constructed with handles and straps. Many tool bags have separate compartments for holding screwdrivers, wrenches, pliers and wire cutters. They also have small pockets and spaces for containing supplies. Some mechanics even use a specially made knap sack like bag to transport their tools. Knapp sack styled tool bags are typically closed with drawstrings.
A few tool bags are designed to hold large power drills or other large-sized hand held items. They can be constructed with zippers to secure pockets and have large storage areas. Other types use snaps or buttons. Pockets are also made on the outside of some tool bags. There are some bags that have a small design and can be included in belts. They can fit inside of pouch holders that are attached to a belt while others can be clipped or fastened. Tool bags can be folded open and accessed from the top part of the unit.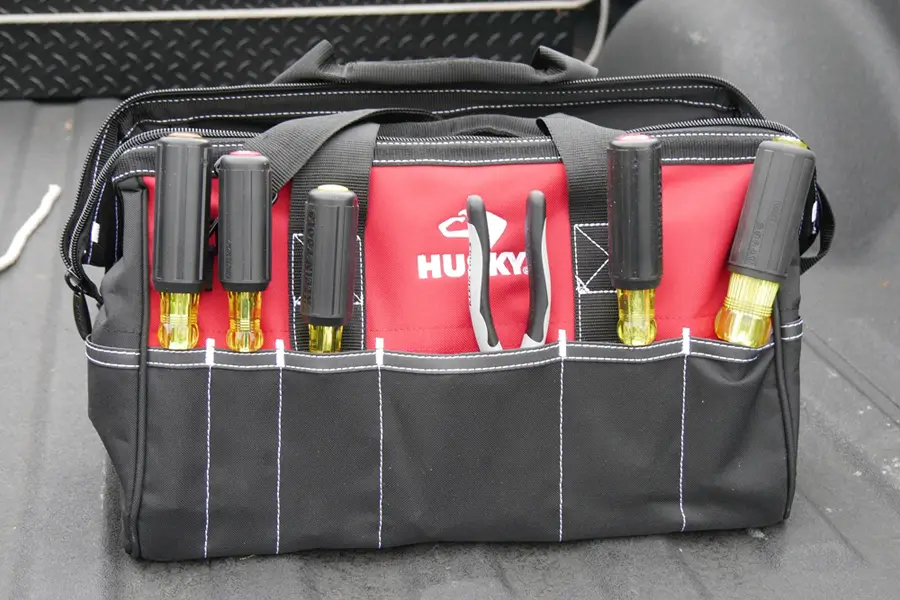 Materials for Tool Bags
Many tool bags are made out of materials such as nylon, denier fabric or leather. Other types of fabrics such as acrylic, vinyl, and even a marine type of fabric known as Seamark. Many more materials are used for tool bags as well. A few bags are waterproof but many are only good at repelling moisture. Tools will probably get wet in many different types of bags if a worker has to perform their duties in the rain or in an environment filled with moisture. Some tool bags are fire resistant and others have a coating and design that makes them hard to scratch, rip or tear.
Specially Designed Tool Bags
Some tool bag brands are designed with lights and chargers. In other words, repair men and builders can work in low light conditions by using their bags to provide light. The lights are basically flashlights that have been stitched into the design of the bag. Having a lighted bag is great for working at sunset or during the dark when a project has to be completed.
Some manufacturers use a solar panel design added into their bags that can also be used to shed light. This type of feature does not need batteries to power the light. Instead it uses the panels to collect UV or sunlight to power up the light.
A battery operated or solar charger can also included with a tool bag. This type of equipment is great for people who have power tools that need to be recharged while out in the field. It can also power up small pieces of equipment as well. Tool bags with these kinds of features are usually made out of really durable materials that will protect these pieces of equipment from the elements and damage.
Customizing Tool Bags
Workers can customize their tool bags by changing the number of pockets, altering the size and by increasing the number of hammer holders. Customizing a tool bag is sometimes necessary for workers so that they can carry all of their tools or have better access to equipment and supplies.
Tool Bags Cons
The only real drawback with tool bags is that they might not be big enough for certain jobs that are performed out in the field. Sometimes a repairman or construction worker will need to have access to more tools than what they can carry within a bag. At other times they might need to use equipment and supplies that cannot be effectively transported inside of a tool bag.