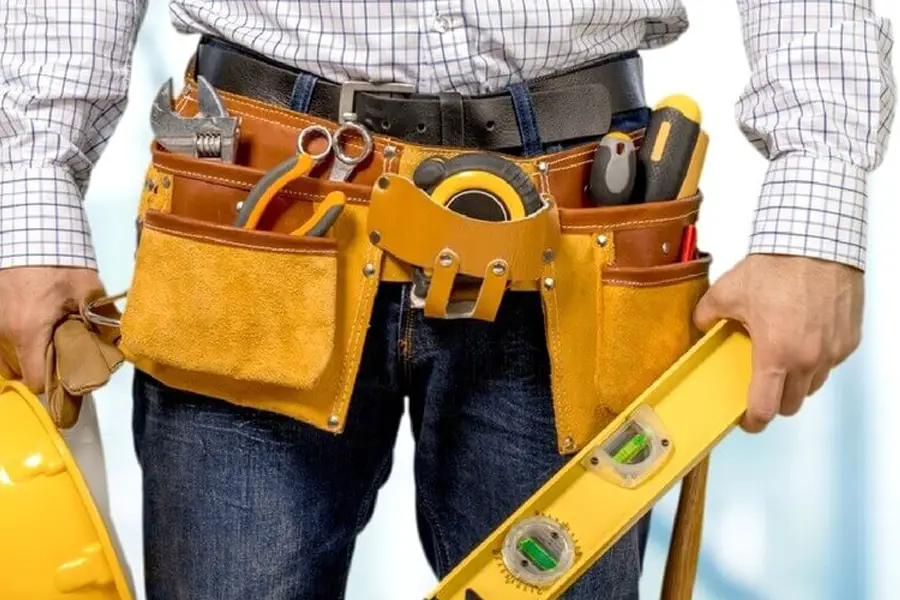 Tool Belt Reviews
There's nothing more iconic than the plumber, electrician, or carpenter with his/her tool belt. There's something amazing about being able to carry around all those awesome tools in a hands-free manner, and be able to find just what you're looking for in a second. Above all, tool belts must be ergonomically designed and comfortable. It's possible to get some serious injuries to your back if you're carrying around all that weight without reinforced support. That's why, when choosing a tool belt, you should definitely look for one that is designed to support and work with your body. You'll also want to look for a belt that is specifically designed for the kinds of tools that you're going to be carrying around. Most designs have many different loops and compartments, and some come with added accessories like padded suspenders and cell-phone cubbies. Once you find a highly durable, effective, and affordable belt, you're going to see that your work day will get a lot easier.
Most Popular Tool Belt
CLC Custom Leathercraft 1614 20 Pocket
Whether you're an electrician, repair technician, or installer, you're going to find that this Framer's Rig tool belt has everything that you need to safely and comfortably store your tools around your waist. This is the convenient and hands-free way to take everything with you and know where each tool is, without having to lean over to look into a tool box or bag. The 6 large pockets and 13 additional sleeves make it easy to find a place for everything. The two hammer holders and measuring tape clip give you specific spots that you can count on to quickly find your most essential tools. Custom LeatherCraft always does a fine job with their tool storage and carrying products, but this belt really stands out from the rest because of the addition of padded suspenders that help take the strain off of your back and supports a comfortable standing position. The heavy duty web belt comes with a double tongue roller buckle that ensures that all pouches stay in perfect place.
Fits waist sizes 29-49
6 large pockets and 13 additional sleeves
Comes with padded suspenders for added support
Durable and professional-grade materials
– Anthony Dawson
Best Overall Tool Belt
Bucket Boss 55135 Mullet Buster Suspension Rig
With a name like the Mullet Buster Tool Belt, it sure as heck better be good. This massive rig belt has more storage than most of the other designs on the market, so if you have to carry an obscene amount of tools througout the day, then this is going to be for you. The added bonus of padded suspenders helps you to carry your heavy load throughout the day without strain. The reinforced pouch rims ensure that the compartments stay wide-open at all times for the quickest and easiest access imaginable. Even if you're on the larger size, you're going to get a good fit with this belt for waists up to 52-inches. Made of professional-grade ballistic nylon, you're getting unsurpassed durability, as well as the added strength of PVC reinforcement at key stress points. To add to the comfort of wearing this belt, there are even hip support pads that add to your overall waist comfort.
Ergonomically designed
Works for waists up to 52 inches
Comes with padded suspenders and hip support pads
Cell phone pocket
1680 denier fabric
– Anthony Dawson
Best Budget Tool Belt
MagnoGrip 203-017 Magnetic Carpenter's Tool Belt
This 100% polyester tool belt from MagnoGrip will not only save you some money, but it also works great and allows for hands-free tool transport. The 12 storage pockets are ample for bringing with you everything you need for a day of work in plumbing, electronics, carpentry, and so much more. The magnetized nail pockets will halt spills from occurring. The double layered 1,680 denier nylon is known for its amazing durability under any tough working conditions. The key stress points are reinforced with rivets for the ultimate in comfort and safety. Wide-mouth, PVC pockets stay open at all times so that you can automatically find what you need without having to search forever. One size tool belt will fit most. All in all, this isn't as expensive and flashy as other tool belts, but it gives you all the space and comfort that you need to securely bring your tools along with you, without feeling the strain of all that weight.
Made of 100% polyester
Ample 12-pocket storage space
Magnetized nail pockets to prevent spills
Stress points reinforced with rivets
Main pockets stay open at all times
– Anthony Dawson
Tool Belt Buying Guide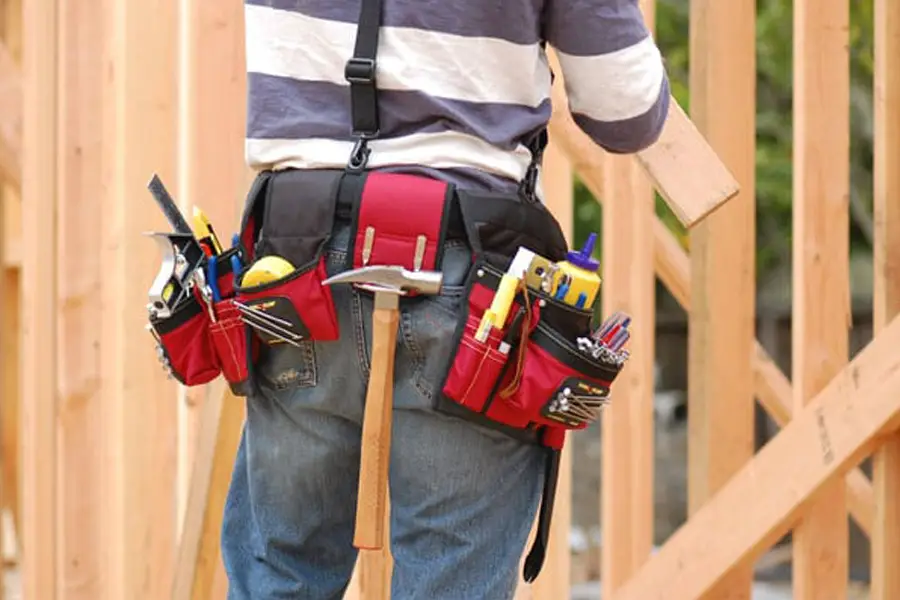 Tool belts are important pieces of equipment for construction workers, handy men, electricians and repairmen. These devices help to efficiently organize and store workers basic tools and supplies that they will need to complete a job. There are different types of tool belts. Some have a simple design while others serve a more complex function. Here is a breakdown of the different types of tool belts, their material composition and the best uses for each type.
The Different Types of Tool Belts
Personal Equipment
Tool belts are often used as personal equipment for performing repair work out in the field. Construction and repair companies often provide this type of equipment to their workers or they require workers to purchase their own belts. Professional construction and repairmen will probably purchase their own tool belts so that they will have this contraption around when they need to carry tools.
Tool Belt Design
There are varieties of tool belts that are produced by manufacturers. Some belts are made from leather and others are constructed from synthetic materials such as nylon, canvas or denier. A few are made out of materials such as denim or clothe. Many tool belts buckle from the front while others fasten from the side. Some have shoulder straps or suspenders that help to hold the belts into place. Some tool belts have straps that fasten with clips or buttons.
Snap on pouches and pockets can be attached to tool belts and workers can also clip on tools. Many belts are adjustable and can be configured to meet a person's size. So if an individual is a little heavy in the stomach and waist area that should not be a problem. There will always be at least one tool belt that is big enough for them wear. Small bags and pouches are included on some belts for carrying supplies.
Tool belts can also be altered to meet the specifications of certain jobs. They can also be designed to work with harnesses or other types of personal equipment such as tool bags or workbench suspenders. Certain professions can have their tool belts specifically adjusted for their particular field. Electricians can have them set up with special compartments for carrying fragile electrical parts or carpenters can have compartments for nuts and bolts.
Light Attachments
Tool belts can be outfitted with light attachments for workers who have to perform their duties in low light or dark conditions. The light can fast to the belt from the front or sides and they are usually battery-powered devices. Small solar powered lights can also be attached to tool belts as well.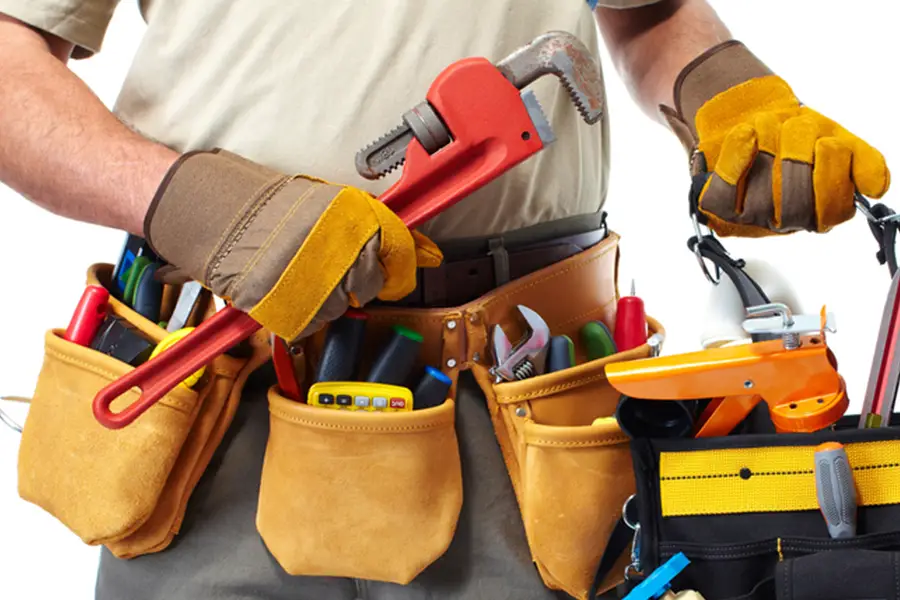 Customization
Tool belts can be made to fit just about any person's size or frame. Manufacturers are now making ambidextrous designs so that workers can access tools from either side of their belts without a problem. These types of belts will have a more universal appeal. Other considerations for customization includes fit and finish, durability, quality, adaptability and comfort. Hammer holders and number of pockets are also taken into consideration.
Tool Belt Cons
Sometimes tool belts are not practical for completing a job where a lot of work has to be done. In other words they might not be practical for carrying all the tools and equipment that a worker might need. Also, some workers might not find tool belts to be a practical way for them to carry around their equipment and supplies. Sometimes belts can be heavy or bulky or have an irritating design. Workers should test their belts out before putting them on.
Tool Belt Considerations
Tool belts are versatile and flexible personal pieces of equipment for workers. They can wear by almost any worker to complete just about any job. They might not be practical for every situation but they are useful for workers who perform their duties out in the field. Workers who have tool belts should take advantages of these pieces of equipment to help them to complete their assignments.