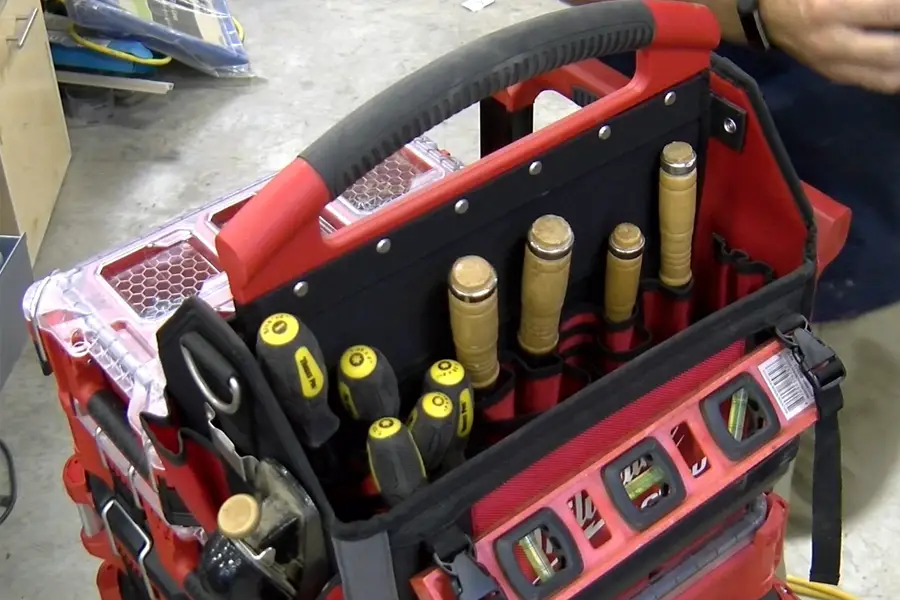 Tool Box Reviews
For the modest handyman, a small number of tools will usually do the trick for DIY projects around the house, but as a fixer-upper gets more proficient, then the number of tools will grow. Certainly, professionals carry a vast amount of tools with them each and every day, and the size of the tool box they need is always growing. Whether you're looking to find your first tool box, or a box to fit your ever-increasing collection of tools, you're going to find a number of different models out there to choose from. Some are cheap as dirt, and some are ridiculously expensive. Whichever one you choose will depend upon how many tools you have, as well as how many you're planning to have in the future. Building your own tool box can be a lot of fun, but if you want something more along the lines of a tool kit that has everything you need already inside, then this might be a simpler solution.
Most Popular Tool Box
Stanley One-Latch Tool box
If you have previously owned the Stanley 16″ tool box, and needed just a little more space, then this 19″ is what you've been wishing for. Built with all the toughness and convenience of other Stanley tool boxes, this has that added amount of size that makes it supreme for holding a large number of tools. The one hand operation latch allows you to quickly open the box when the other hand is occupied with a job. It shuts automatically, and the lid offers spots for storing of small parts. Right when you open the lid you'll see the handy 3/4″ carryout tray that has compartments for storing various sized items. The construction of this box is incredibly solid and has a nice sturdy and durable feel to it. Keep in mind because of the enormous size of this tool box it's going to be a bit heavy to carry around, but it's ideal if you plan to stow it in your garage or on the back of your truck. This is an amazing choice when you have a serious amount of tools that need a home that's built to last.
Durable 19″ tool box
Easy one hand operation latch
Shuts itself automatically
Nice for storing small parts on the lid
– Anthony Dawson
Best Overall Tool Box
STANLEY 65 Piece
There's only one thing more gratifying than being a home owner, and that's buying your first tool kit. It's enjoyable to fix things around the house and always have the proper tool to do it. This comprehensive kit from Stanley makes it easy to find every tool you could possibly need in one place. Buying each tool separately is a pain, and it ends up being more expensive. This 65-piece kit comes complete with pretty much anything you could possibly ever need for all your DIY projects around the house. The durable box gives you a wonderful storage system, and still is portable should you need to move it out of the garage or work space. Stanley makes a point to always exceed its customers needs, and every tool in the kit meets and goes beyond all ANSI specifications. Drive tools are made form high quality steel that helps to maximize performance and strength for whatever you're working on.
Ergonomic ratchet handles
Max-Drive design for 15% more torque
Comprehensive 65-piece kit
Tools surpass all ANSI specifications
– Anthony Dawson
Best Budget Tool Box
Stack-On
The rugged all-steel end cap construction of this fine tool box makes it durable enough to carry even the heaviest load of tools. Its nickel plated, steel draw-bolts only add to this strength and performance. With a durable baked epoxy finish, you get a box that is resistant to rust and solvents. The comfortable steel handle will never break, and never show signs of wear and tear. The black color of this tool box is nice because the box will look clean all the time, even when its been put through the ringer. All in all, Stack-On has made a fine 16″ tool box that can be used for a number of different purposes, and will accommodate those who work in a variety of trades. It's designed to handle all basic supplies and tools, and will certainly last you for a number of years thanks to its fine durability and construction.
16W x 7D x 7-1/2H
Fine black finish is resistant to rust and solvents
Basic 16″, multi-purpose tool and supply box
Durable baked epoxy finish
– Anthony Dawson
Tool Box Buying Guide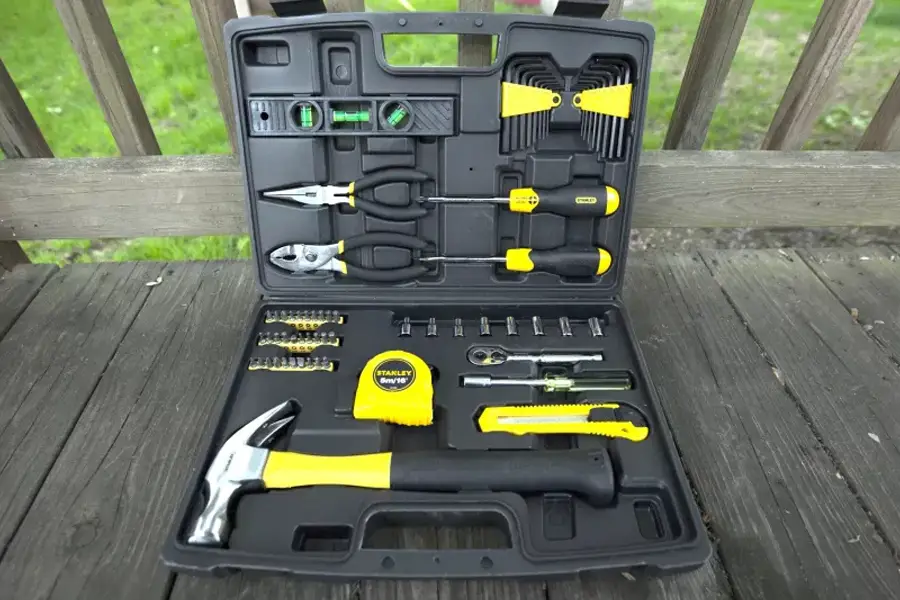 Tool boxes are great for storing tools and for transporting them to work sites. Tool boxes are designed for professional people who have to travel to different locations to complete their work. They are also useful keeping track of supplies and equipment while working out of a main location. Tool boxes are made out of different materials and have different designs. This information will break down each design and explain to consumers about the best way to use these devices.
Tool Box Design
Tool boxes are typically made out of metal or wood but some are constructed out of synthetic materials or cloth. Synthetic tool boxes usually have a material cover placed over a wood or metal frame. In some cases they are made completely out of material and resemble a sturdy bag. Materials such as nylon or denier are used for this type of tool box.
Metal tool boxes are the most common types and they usually come with handles that make it easy for a person to carry their items. The metal variety is normally used in off site locations. Wood is also a common material for tool boxes as well.
All tool boxes are made in different sizes. Some are small and compact and designed to hold a minimum amount of tools while others have a large construction that makes it easy for them to store lots of items. Boxes can open up or drawers can fold out. They can also have a design that is similar to a bedroom dresser that allows workers to pull out the drawers from the side of the box.
Some tool boxes have simple construction that only has a handle and a space for storing tools. While most tool boxes are small enough to be transported by hand some are designed to function like a chest or cabinet. They can be positioned into one particular area so that workers can access them while they work. Some boxes are made of plastic and are easy to transport though they are not designed for long-term use.
Tool boxes are sometimes referred to as tool carts and they too make it easy for repair personnel and construction workers do their job while out in the field. These units are highly mobile and practical for field applications because they are good at transporting items all throughout an area.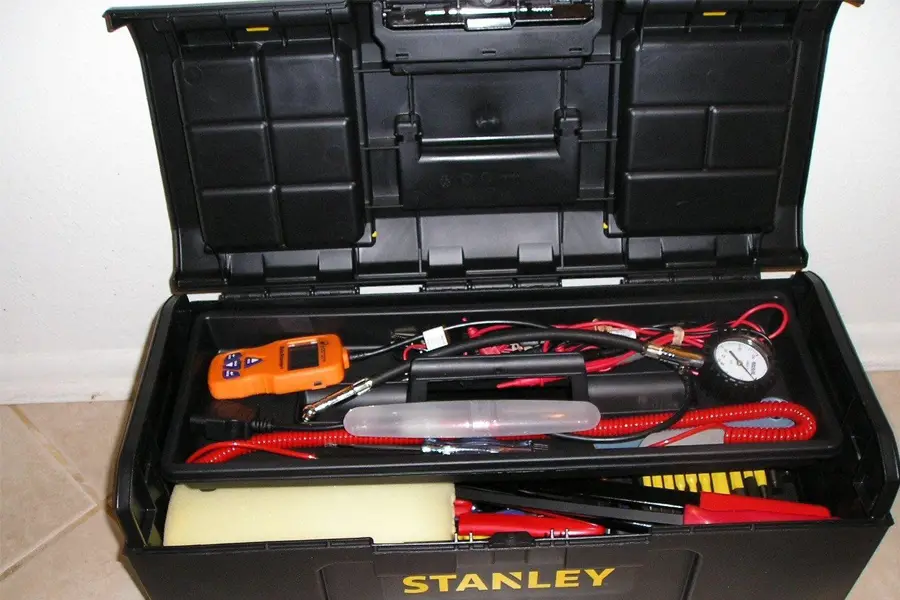 Considerations and Special Features for Tool Boxes
Some manufacturers add lights and built in chargers to their tool box models. A few are outfitted with solar lights and chargers. The charging units that are built into some tool boxes are great for powering small power tools and other equipment. A good tool box should last a worker for at least 20 years. The durability of a box will depend on how a worker is taking care of this item. Ultimately, many tool box products are built to last for along period of time.
Alterations can be made on some boxes so that they are better suited to hold tools and equipment. Parts of the box that can be adjusted include the tool holders and drawers. Some boxes are ambidextrous allowing people to use the box from different sides and angles. They can also be adjusted to increase space.
Tool boxes can be rather heavy items to lug around all day. If a worker is out in the field and they have a tool box that has been constructed from a heavy material this could slow them down while they perform their job. Workers should make sure that the tool boxes that they purchase are light enough for them to transport when they are performing their tasks at an off site location. Otherwise, they will probably grow tired from expending the extra effort and energy with moving a box.
Cons with Using Tool Boxes
Some tool boxes might not be practical for use out in the field.
In a few instances, tool boxes can be too heavy to carry around.
They can also be impractical for use if they do not have enough storage space for equipment and tools.
A tool box should also have a simple enough design so that workers can quickly and easily find what they need while they work.