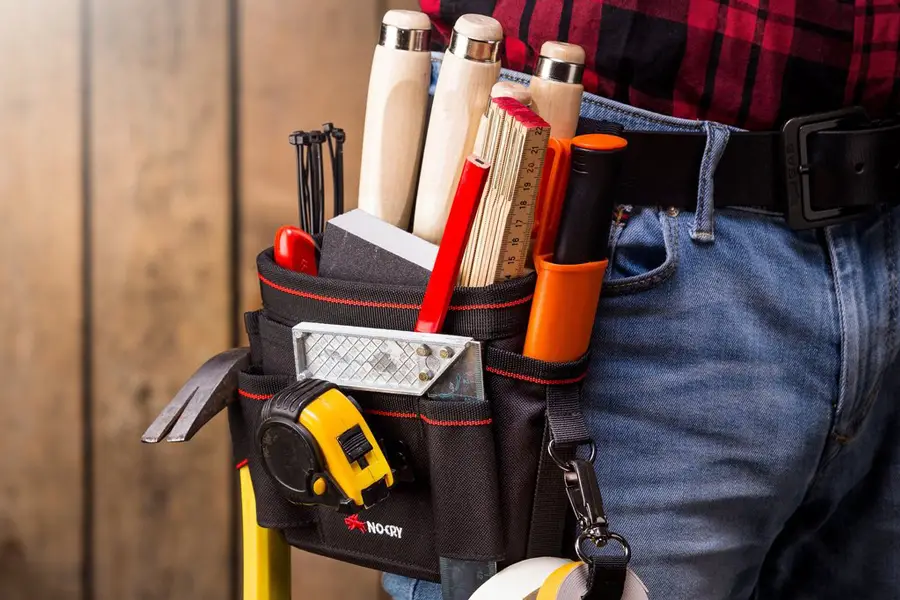 Tool Pouch Reviews
It's one thing to be able to store your tools in a cabinet or a vehicle, it's quite another when you need to be walking around all day carting everything that you need. If you're a professional electrician or maintenance worker, then you know that you have to be prepared for anything, and that means having a number of tools at your disposal at all times. To accomplish this, you need a lightweight pouch that has a number of slots and sleeves to organize your various tools. Added features like clips and loops only add to the variety of items you can stow and quickly find when you need them. A good tool pouch will be customizable, ergonomic, and safe. There are a great variety of styles to choose from, and when you're looking for the right pouch for you it helps to take inventory of just how many tools you'll need to carry with you on a daily basis.
Most Popular Tool Pouch
Custom Leathercraft Ziptop Utility Pouch
This handy zip top utility pouch features a double-pull zipper cover that is perfect for securing all your tools and parts while also being able to accommodate larger items. It's easy to keep the cover out of the way with the snap back feature. All the various sleeves, straps, and slots within the pouch make it versatile and convenient for finding a special spot for everything that you need to store. If you're always carrying a lot of tools around, you know what a challenge it is to organize everything, and nobody likes digging in their bag never being able to find what they need. With wonderful added features like the J-clip, measuring tape clip, and tape strap, you're guaranteed to find everything you need in a snap. It feels good to get organized, and this utility pouch from LeatherCraft allows you to customize where you put everything.
Snap-back design keeps the cover out of the way
Perfect for a variety of hand tools
Customized slots, sleeves and straps
Accommodates larger tools as well
– Anthony Dawson
Best Overall Tool Pouch
Custom Leathercraft Professional Electricians
This professional electricians tool pouch features a pocket zippered design that prevents tools from falling out when not in use. Made of double layered 600D polyester fabric, it's both lightweight and durable at the same time. There is extra padding on the back to add to your comfort when carrying it. The are also 3 large outside screwdriver holders, as well as metal hammer holder, web tape strap, and tool snap. This makes the pouch one of the most efficient and organized that you can find. Custom LeatherCraft are masters at understanding exactly what the modern electrician needs to stay organized and efficient at all times. The ergonomic rubber handles make it incredibly easy to carry this pouch around, and the padded shoulder strap allows you to customize how you choose to carry it. Everyone knows what a strain it can be to carry a loaded pouch, but this design certainly makes it easier than ever to have everything you need with you at all times.
Professional quality 21-pocket pouch with zipper design
Perfect for electricians with numerous tools
Padded shoulder strap and rubber handles for easy carrying
Outside pocket for cell phone
Lightweight 600D polyester fabric
– Anthony Dawson
Best Budget Tool Pouch
Custom Leathercraft DEWALT
This small maintenance pouch is great for those handymen and electricians that need to crawl into tight spaces and don't want to carry a bag of tools with them. Securely stows all your pliers, needle noses, ratchets, nut drivers, screws, clips, flashlight, and so much more. It's designed to have a large main pocket and then a smaller front pocket to conveniently take everything you need for the day. You gain easy access at all times to all your various parts and tools, without having to fumble around looking for exactly what you need. Thanks to the web loops and sleeve pockets, you can easily find everything that you're searching for in a snap, and you can customize how you store your tools. The ballistic poly fabric pouch is incredibly durable and resistant to wear and tear. It comes with its own handy flashlight and large tool sleeve, as well as electrical tape strap and carabiner for keys. Dewalt yet again provides the ultimate in convenience and organization.
Sleeve pockets and web loops for customizable storage
Made of tough ballistic poly fabric
Sleeve for flashlight and large tools
Electrical tape strap and key carabiner
– Anthony Dawson
Tool Pouch Buying Guide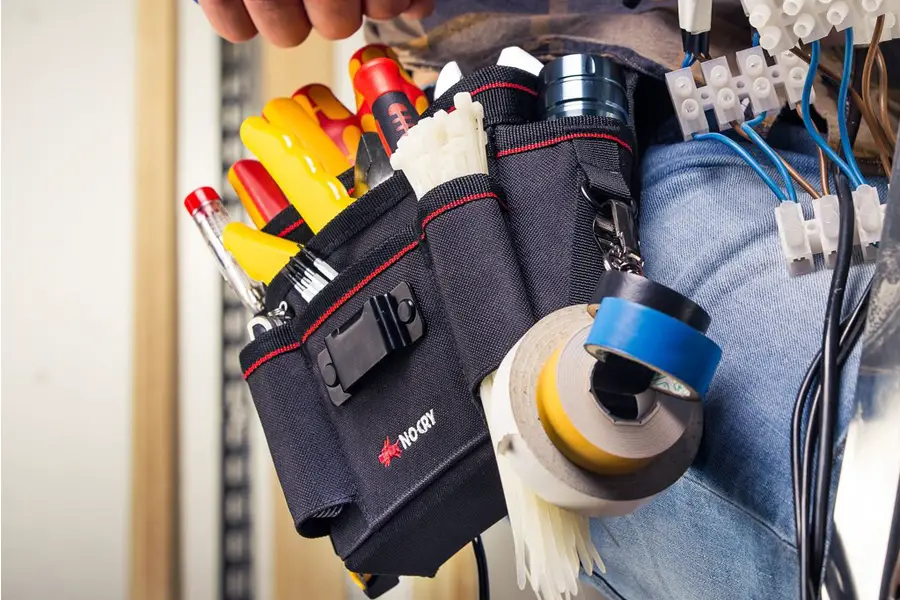 Tool pouches are a cross between bags and belts. They are designed with the same type of style as a bag but they also can be worn like a belt. Tool pouches are smaller in size and are generally worn when a worker only needs a limited amount of tools and supplies to complete tasks. Tool pouches come in a variety of different styles and are made out of different types of real and synthetic substances. The information below will describe tool belts and the best way to use these carrying cases to complete a specific job.
Uses for Tool Pouches
Professional construction workers, electricians, mechanics, carpenters and handymen use tool pouches. Other professions such as carpenters, wood workers and repairmen also use tool pouches while they work. Tool pouches are great for construction work, remodeling projects and for general building projects. Mechanics and handy men can also benefit from the use of tool pouches as well.
Tool pouches can be used in a variety of different ways. They can be attached to a tool belt or attached to work bench suspenders. Some of the smaller attachable pouches can be adjusted to different sizes. These bags give field workers the flexibility they need to get a job done.
Factors to Consider
Materials for Tool Pouches
Tool pouches are made out of a variety of different materials, which include leather, nylon, canvas and water resistant denier. The pouches can have snaps, fasteners or zippers. Pouches come with a strap design while others use handles. Some are made to look like minor backpacks and others resemble small carrying cases. Most tool pouches are made to resist water and a few are completely waterproof. Scratch resistant coatings and tear proof stitching are also implemented for some tool pouch design.
Tool Pouch Lighting
Some tool pouches come with lighting attachments that workers can use to work in dark areas or during the nighttime hours. These lights are often small flashlight units that have been sewn into a pouch. Some of them have solar lighting included so a person will not have to use batteries.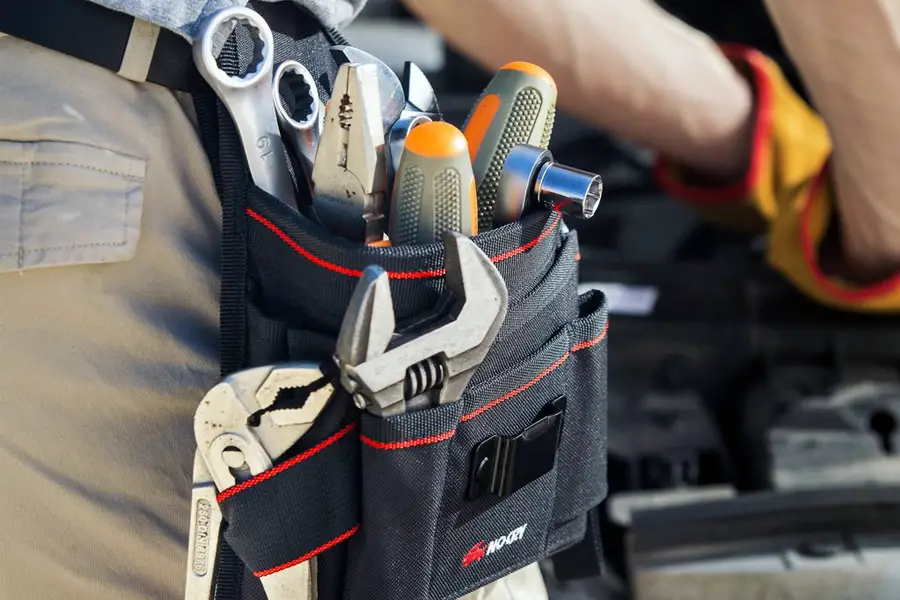 Personalizing a Tool Pouches
Workers can personalize their tool pouches to ensure that they are the right size and that they can carry the right amount tools. Parts of a pouch bag such as the pocket and tool holder and screwdriver holders can be adjusted and altered to fit specific tool sizes and equipment. Straps on bags are usually adjustable to fit just about any size and some of the pockets within pouches can also be altered to fit a desired specification as well. Tool pouches should also be durable enough to protect against ripping and tearing.
Consumers who use tool pouches should remember that this product might not be as durable as the professional grade. Residential homeowners typically do not need to use their pouches outside of their home. Since they do not, the pouches that are designed for home use are probably not as strong as those used for professional purposes.
Tool pouches can also be purchased in a variety of colors, patterns and even with sports logos. The primary colors for tool pouches are black, brown and tan. However, manufacturers create tool pouches that show case football, basketball, hockey and baseball teams. Each of these items can be worn in support of a team or organization.
People have been known to include their names on their tool pouches. Sometimes they can be painted or stitched on this gear. This is especially beneficial for workers who perform their duties in huge working environments where it is necessary for keeping up with gear. People can personalize their own pouches or have a professional sewing or signing company to perform this task. The possibilities for personalizing pouches are virtually endless.
Issues with Tool Pouches
Some attachable tool pouches have a tendency to fall off of a belt or suspenders while a person is working. A tool pouch bag might not be big enough to carry all of the tools that a person would need to complete a specific job. Also, some people do not like wearing or toting tool pouches because they are impractical for them to use.