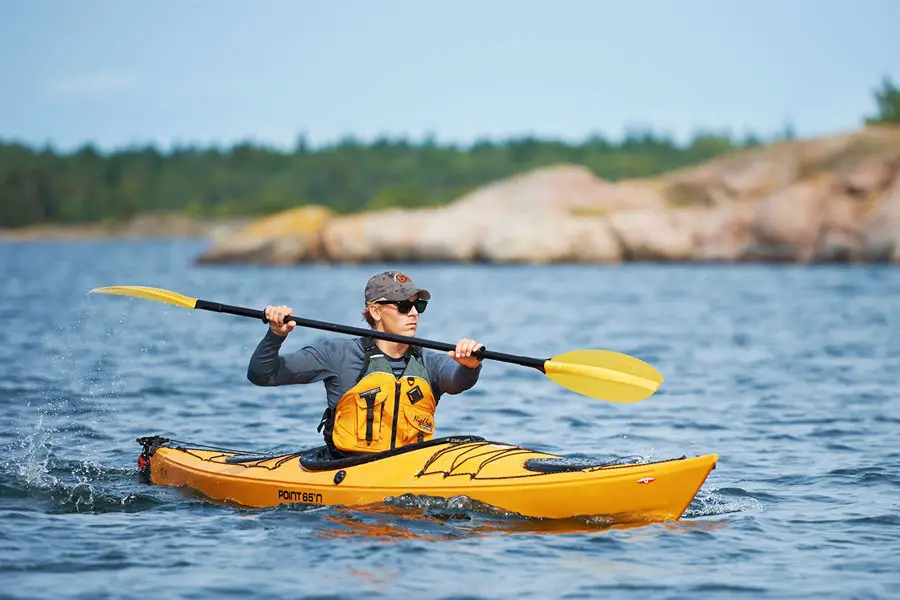 Touring Kayak Reviews
Unlike recreation, angling, whitewater, and sit-on-top kayaks, touring kayaks are specifically designed to travel long distances on open water, both fresh and salt. Though primarily designed for speed and endurance, they also provide the stability needed to maintain propulsion and control in rough waters and weather conditions. They are also more versatile than other types of kayaks in that they are equally suited for paddling around calm ponds, lakes, and rivers to touring through inland waterways and open seas. Touring kayaks typically measure between 12 and 16-feet and have hulls that designed to give more lift in waves and choppy waters.Like other classes of kayaks, the touring models normally have bulkheads that feature storage compartments with sealed hatch lids, along with bungee cord rigging on the deck for safekeeping of various gear, apparel, and equipment. Most touring kayaks are outfitted with a skeg or rudder to enhance tracking abilities and control in adverse water and wind conditions. Sometimes the cockpits on touring kayaks are more confining then recreational models, which is meant to make paddling more efficient and stabilize the vessel. Touring kayaks typically come in two styles: day touring and sea kayaks. Day touring kayaks are shorter and have enough storage space for overnight outings, while sea kayaks are longer and offer the most storage space for longer outings.
Most Popular Touring Kayak
Perception
The Carolina 14 Kayak by Perception Sport is packed with features to benefit both beginner and expert paddlers. Whether enjoying a leisurely lake cruise or pushing through choppy inland waterways, the Conduit will get you to your destination and back again in total comfort. It starts with the Zone seat with Zone knee/thigh pad support system, which are fully padded and contoured to offer industry-leading comfort, even in the roughest of winds and waves. At only 14-feet, the Carolina 14 offers enough stability to help beginners master the learning curve, while providing enough speed and tracking abilities to allow distance paddlers to go further, faster. The kayak features bow and stern bulkheads with built-in hatches for keeping gear and valuables dry, along with fore and aft bungee deck rigging for tying down extra gear. The Conduit weighs just over 50-pounds and has carrying handles at each end to make transport easier.
Available in sand, blue/white, red/yellow, red, camo, and lime/white
Zone seat, knee and thigh pad system and Keepers Foot Brace System allows for adjustable, individualized comfort
Versatile 14-foot kayak optimal for lazy rivers, open lakes, and flatwater estuaries
– Anthony Dawson
Best Overall Touring Kayak
Riot Kayaks
Slender, slim, and sleek, the Riot Kayaks Edge 14.5 LV Flatwater Day Touring Kayak is designed to take you the distance. The vessel has an advanced custom-fit seating system with adjustable sliding footbraces that size to fit shorter and taller paddlers. The hull has just enough keel to allow for straight-line tracking and the perfect amount of mass to give the kayak lift in waves and choppy waters. At 14.5-feet, the Edge LV Flatwater can cruise through the open seas, lazy rivers, and calm lake waters with equal speed and precision. There are sealed storage compartments on the front and rear bulkheads with dual-density hatch covers that not only keep your belongings safe and dry, but also keep the kayak afloat in the event of a turnover. Other features include reflective lifelines, hull drain plug, paddle hook with safety straps, and security bar. This kayak employs the use of a pilot rudder system to give the kayaker the most possible control in the water.
Dual sealed storage compartments on front and rear bulkheads to keep gear and equipment secure and dry
Adjustable sliding foot braces and integrated thigh braces allow for customizable cockpit fit and comfort
Slender bow kayak with pilot rudder system offers optimal control in calm and choppy waters
– Anthony Dawson
Best Budget Touring Kayak
ADVANCED ELEMENTS
The Advanced Elements AdvancedFrame Expedition Kayak is both folding frame and inflatable kayak. It uses AE's AdvancedFrame aluminum rib-frame technology along the bow and stern to give the boat the ideal rigidity to increase paddling speed and performance. At thirteen feet with an integrated tracking fin, the Expedition has the tracking abilities of a longer, thinner touring kayak yet offers the speed and stability of a recreational model due to its low center of gravity in the water. The Expedition has nine individual chambers that inflate to give the vessel its buoyancy and kayak hull shape. Twistlok and high-flow spring valves allow the kayak to be inflated easily, allowing it to go from the storage bag (included) to the water in just minutes. The Expedition has a raised deck and a comfortable seat with adjustable lumbar support to prevent you from stiffening up on long days out on the water.
D-ring tie downs and bungee deck rigging offers room to lash down your extra gear
Easy set up with new twistlok and high-flow spring valves
9-chamber inflatable setup with AdvancedFrame aluminum ribs creates stable hull in just minutes
– Anthony Dawson
Touring Kayak Buying Guide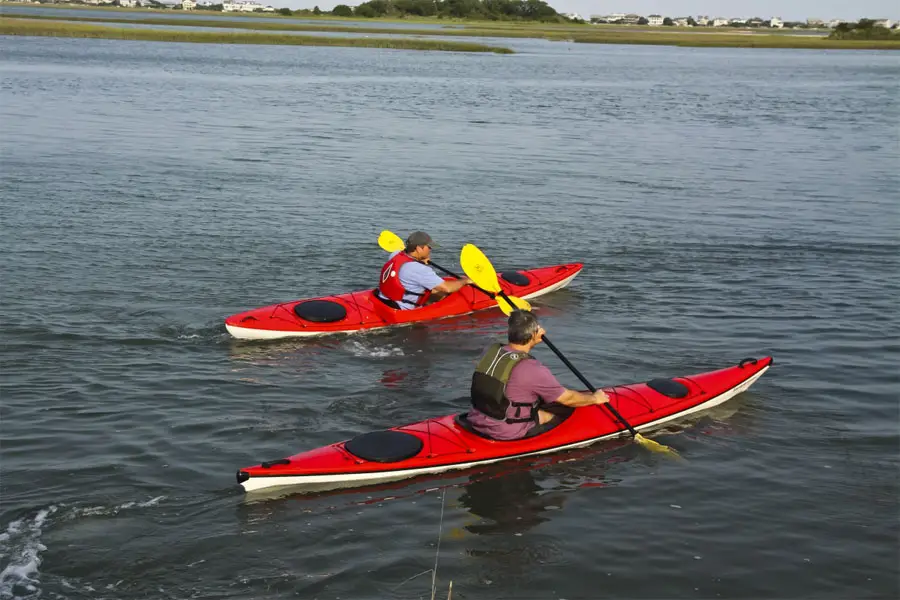 Kayaking is a fun and an adventure. Many people prefer touring kayak because of the enormous fun they get from it. There are different types of kayaks on the market. Many buyers, especially first time buyers do not usually find it easy to make a choice. Here are important purchase guides that can assist you with choosing the right kayak.
Factors to Consider Before Buying a Touring Kayak
What Type of Kayak Do You Need
The first thing that will guide you is deciding the type of kayak you want to buy. Do not be influenced by the sales pitch, which claims that touring kayak could be used in all types of waters. You should know that you could only use your touring kayak on oceans and lakes and nothing more.
Size of Touring Kayak
There are different sizes of touring kayak on the market. You can select only those that are suitable for your purpose. If you want to carry a few gears with you, you can choose a slightly bigger kayak. Larger kayak offers more stability, moves faster, and track straighter. You can always make a choice based on what you want.
Kayak Materials
Useful information you should seek before you decide to buy a touring kayak is the material used in the manufacture of the boat. Most strong kayaks are produced with polyethylene plastic. These make them durable, reduce their weight, and reduce the prices. However, not all touring kayaks are made of these polyethylene plastic materials like its recreational counterparts. Only a few of them are made of this material. You have to consider the type of materials used in its manufacture. Many models on the market are made of composite material. The composite materials are made of fiberglass boats, aerolite materials and so on. You should determine whether you want a kayak made of composite materials.
Advantages of Using Composite Kayak Materials
You can derive some benefits when you buy kayaks made of composite materials:
They offer better rigidity
They are lightweight
It has more speed and
Better control in water
However, you should know that although the composite materials are better, you are going to pay more money for it, as they are more expensive than their plastic counterparts. You can always distinguish a boat made of composite materials from its glossy finishing. Many of them are finished in two colors. This makes it look beautiful and easily recognizable than its plastic counterpart. You should know that prices the touring kayak are sold is determined by the type of materials used in making them.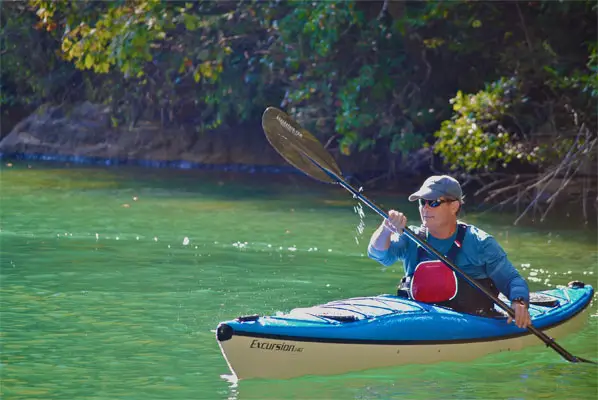 Consider the Kayak Volume
Every touring kayak should have a volume it can carry. Try to determine the volume from the manufacturers before you buy it. If you want a kayak that you can fit in, you will go for the correct size. If you buy an under volume boat, it is possible that water would enter into its cockpit often. Many manufacturers also publish the ideal paddler weight of their kayak so that you know it before buying it. Always consider your weight and go for the right weight.
Type of Camping
You can use your kayak for different purposes, including multiple night trips as well as overnight camping. While shopping for the product, you have to accommodate the additional weight your gear and other things could take to your kayak. Size and volume are important, as they must support items you will use for your camping and overnight trips.
Consider The Issue of Riding Stability
First time buyers are always concerned about kayak stability in water than any other factors. Some people might opt for wide and short touring kayak, as they tend to be more stable in the water. Two issues add to kayak stability. They include the primary and secondary stability. It is important that the kayak you want to buy have both primary and secondary stability. This enhances its riding balance and ensures that it does not tip over as you ride it in the water.
Do You Need Rudder?
If you are a beginner paddler, you may decide to buy a touring kayak with a rudder. It makes things easier for the beginner rider. You should know, however, that a rudder might prevent you from becoming an expert paddler. Expert paddlers steer their kayak with their body and paddle and not with the rudder. For night trips, it is better that you combine your paddle, body, and rudder as it ensures speedy and safe ride during the dead night hours. If you want to engage in ocean touring, you can use a kayak with rudder, as it is safer and faster for your trips. You bear all these factors in your mind when you are shopping for your touring kayak.
Cost
You have seen many things that can affect the price of touring kayaks. In all these, it is important to say that your pocket decides the features you want for your touring kayak. If you have the money, you can shop for kayak with all the qualities that guarantee comfort, stability, smooth ride and so on. If you are a limited fund, you have to consider all these features and go for the ones you can easily afford. You should never compromise safety, and quality while making your budget for your touring kayak.
Where to Purchase Touring Kayak?
This is the greatest challenge confronting many new buyers. They do not know where they will purchase their touring kayak. There are different sources you can purchase it.
Buy from the internet: internet offers a better opportunity for those people who want to shop for touring kayak. There are different online portals you can buy any type of kayak you desire. You can buy from www.eBay.com ,www.Amazon.comand a host of other sites.
Buy from chain stores around: you can also buy from different offline dealers. The price could be higher when you buy from offline outlets.
Conclusion
Touring kayak is all you need if you plan to tour with your kayak. You have to consider the issue of size, volume, and cost and so on. This guide will assist you in buying a profitable touring kayak.