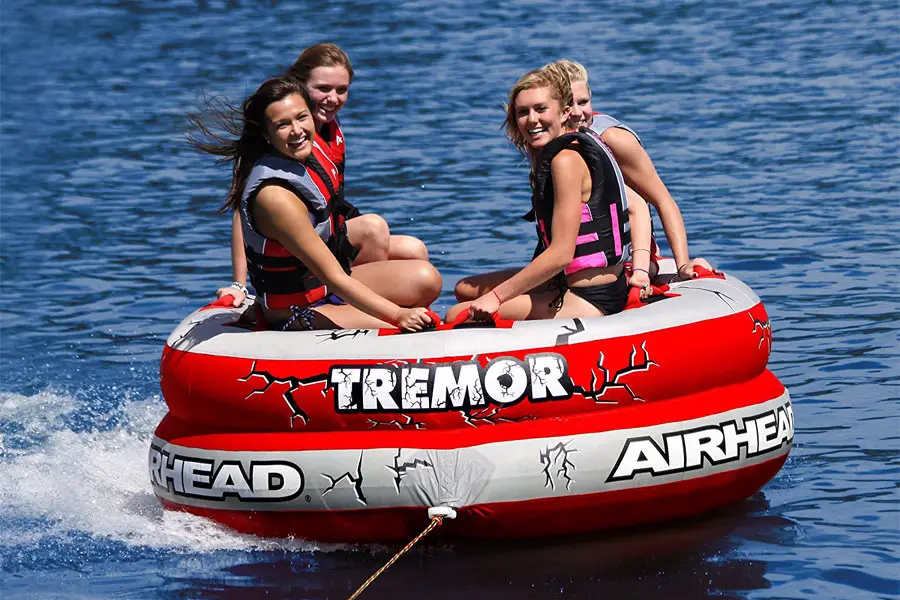 Towable Tube Reviews
When it comes to enjoying the local lake inflatable towable tubes are a hit for people of all ages. They are safe for children who are old enough to hang on tightly. These tubes can be shared with friends as they take turns enjoying being pulled around the water. Nearly any boat is strong enough to pull the tubes and they are a big hit for both family and friends. We have selected the top towable tubes for your family's enjoyment. It is important to purchase a product that will provide both fun and safety. Failure of the product could result in injury, making it an important decision which brands and companies to trust when choosing a towable tube for your water enjoyment.
Most Popular Towable Tube
Airhead
The AIRHEAD-AHGF-3-G-Force-Inflatable-Towable tube from Kwik Tek can carry up to three passengers. The inflatable tube has handles and knuckle guards for a more comfortable ride. The handles are covered with a nylon that provides a firm grip for the riders. There are 6 knuckle guards available to the passengers. The nylon cover is made of 840 denier and 30 gauge virgin PVC. The AIRHEAD-AHGF-3-G-Force-Inflatable-Towable has a valve that makes it easy to inflate and deflate the tube. The tube has a quick connect safety value feature that makes it fast and easy to attach the tow rope to the tube. This allows passengers to glide safely across the water. This towing tube is 72X62 inches deflated and is compact enough that it is easy to transport and store in the boat. The AIRHEAD-AHGF-3-G-Force-Inflatable-Towable tube comes with a 90 day warranty.
Boston safety valve for quick inflation and deflation
Carries up to 3 passengers
840 denier nylon cover
Handles and knuckle grips for riders
90 Day warranty
– Anthony Dawson
Best Overall Towable Tube
SportsStuff
The SPORTSSTUFF-53-2213-Big-Mable-Towable tube is inflatable and has been recently redesigned. There is an improved backrest and the side walls have air cushions. The new designs are built to provide a safe and fun ride for passengers that will prevent falling off. The inflatable tow tube allows passengers to ride as they are kneeling, lying down or in a seated position. The SPORTSSTUFF-53-2213-Big-Mable-Towable tube can be pulled both forward and backwards. There are two tow points on the back and the front of the towable tube. The fabric is made of heavy duty nylon. It has a zipper that allows you to remove the cover and wash separately as needed. There is a patented Aluminum Quick Connect tow point. It also has a safety valve provides for quick inflation and deflation. The foam pads are made of an EVA material. There are also grab handles for riders and knuckle guards to protect the riders. The SPORTSSTUFF-53-2213-Big-Mable-Towable tube comes with a 90 day warranty.
Dual towing in both the front and back
Provides passenger riding positions of sitting, lying down, or kneeling
Heavy Duty Nylon fabric with zipper
Patented Aluminum Quick Connect
Hand grabs and knuckle guards
– Anthony Dawson
Best Budget Towable Tube
SportsStuff
The SPORTSSTUFF-53-1329-Big-Bertha-Towable tube will hold up to four passengers. This is a classic fast round towable tube is built to last for many seasons of water use. This towable, inflatable tube is built to please the biggest sports fan. The tube is built with a heavy duty PVC interior and a cushioned air floor. There are handle grips ad knuckle guards that are padded. The handles are cushioned with a slip proof material for a firm grip. The SPORTSSTUFF-53-1329-Big-Bertha-Towable tube comes with a Quick Connect tow system that makes it easy to pull. Just connect the tow rope to the tube and pull it safely. The tube can pull up to 650 pounds of weight. There is also reflective safety piping.
Pulls up to 680 pounds
Carries up to 4 passenger
Quick Connect to easy towing
Heavy duty nylon cover with handles and knuckle grips
Air cushioned floor and nylon PVC cover
– Anthony Dawson
Towable Tube Buying Guide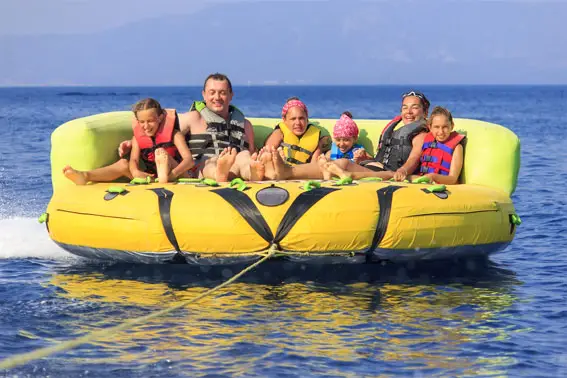 Using towable tubes is a cool and exciting way to make the most out of the hot weather. You can surely go swimming, canoeing or kayaking, but the ultimate fun happens when these awesome water activity items are taken out on the water with your personal watercraft or boat. This is a cool and refreshing water activity whether you are at the lake or the beach.
Factors to Consider
If you want to experience a one of a kind summer, then using towable tubes is the only way to go. These water activity accessories are available in a wide variety of shapes and styles. You can surely get the one you need when you take time to do a little research. They also come in a wide range of sizes that can accommodate up to 12 riders. Riding on a tow tube will give you an exhilarating experience that you will remember forever. You do not know what you have been missing until you get to ride on one of the best tow tubes available today.
When looking for the best tow tube, it is highly essential for you to do some research. Here are some important factors to consider when picking the perfect towable tubes.
Capacity
The first thing to consider is the number of people who will ride on a towable tube. Remember that the more the merrier, so you might want to consider picking the one that accommodates the most number of riders. In addition, no one will miss out on the fun and excitement when everybody gets to ride.
Experience Level of Riders
It is also essential to consider the level of experience of the riders. This factor is extremely important when it comes to the safety of the riders, most especially the little ones.
Safety Features
You have to pick the tow tube that offers safety features such as a safety harness and the overall strength and durability of the inflatable.
Style
The style of the tow tube to pick is also an essential factor to consider. When you get to pick the perfect style, you and your family will definitely be satisfied not only with the item but also with the experience.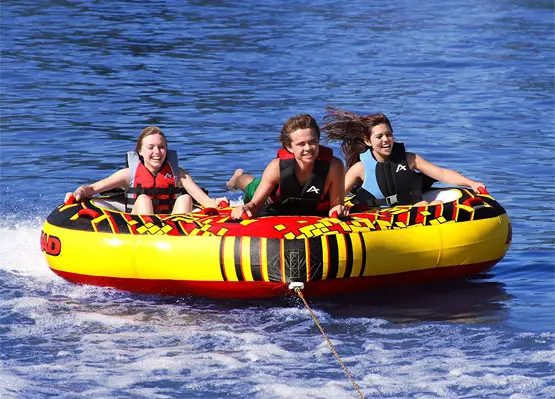 Popular Types of Towable Tubes
Here are some of the most popular types of towable tubes that you will encounter on your search for the perfect item.
Round Donut Tow Tubes
Round Donut is the original type and thus the oldest shape of inflatable tow tubes. This can typically accommodate one rider. However, there are larger units which are designed to accommodate one or more riders. This style is quite tippy and a bit difficult for little kids to ride. A comfortable ride is quite hard to achieve because of the hole in the center. On the other hand, this type of tow tube is considerably one of the most cost effective of all the types. This makes this type a nice choice if you are buying a tow tube for the first time.
Deck Tow Tubes
Deck tow tube is the type which has a flat design. It typically comes in round, a Delta, or a D shape. You can lay flat on top of this tube while you speed close enough to the water to achieve an exhilarating experience. You also have to hold on tightly to avoid flying off around whip turns and over wakes. This type is definitely perfect for teenagers and adults who want to a more exciting and thrilling riding experience.
Ride-in Tow Tubes
Ride-in tubes are available in a wide variety of sizes and shapes. This type of towable tube can accommodate a maximum of four riders. The most popular shape of this type is like a mini boat that has seats. These seats help in keeping you and your family safer and dryer. This type offers more safety features than other types particularly deck tow tubes. Therefore, it is perfect for young kids or riders who cannot or do not want to exert force when holding on extremely tight. This will provide you with a great riding experience at high speeds.
Ride-on Tow Tubes
This was the style of inflatable tube which was made even more popular by the film Jaws. This type allows you to sit on top and straddle this towable, which has the shape of a torpedo. Compared to other types such as the deck tow tubes or the donut tow tubes, this type does not experience much "whip" because of its torpedo-shaped design. However, this can be quite unstable due to the high center of gravity. Thus, this style is not advisable for the little ones. Nevertheless, this is perfect for you and your group who want to have an adventurous and exhilarating feeling.
Towable tubes are available in a wide array of options that can suit your needs and preferences. However, when looking for an item, it is necessary that you figure out first some important aspects.
Conclusion
One of the most important points to consider is your budget. By doing a little research, you can surely find an item that will not cost a fortune. There are a lot of tow tube styles which are affordable without compromising the quality and safety features. If you are purchasing for the first time, a round tow tube is one of the best options. In addition, you have to be very particular with the safety features loaded in a tow tube, which can include harnesses. Of course, you do not want to compromise the safety of your loved ones just because they are having fun. With this in mind, you can go for ride-in tow tubes that offer maximum safety for riders.
As soon as you have chosen the perfect towable tubes, it is time to start having fun. Take out your tow tubes on the water to experience a one of a kind entertainment that can last for hours. These fun and exciting moments shared with your friends and family will surely last a lifetime.